First look: Muc-Off pressure washer and off-road bike cleaning kits
Muc-Off are known for their off-road motorcycle, MTB and street bike cleaning products but did you know they also make a pressure washer? Enduro21 takes a look at their off-road bike washing bundle.
Muc-Off are calling this the world's first pressure washer designed and built purposely for cleaning both bicycles and motorcycles – the USP is to get your bike clean while looking out for delicate areas like bearings, electrical connectors and such with adjustable pressure options.
The washer is part of Muc-Off's expanding range of products which includes bike care sprays, cleaners, oil filter care and chain lube. The jet washer can be bought individually or part of a bundle which is what Enduro21 has to test here.
What's in the bundle?
Muc-Off's bike washing bundle features 11 separate components including three lances to cater for specific cleaning needs, as well as a Snow Foam Lance which fits with the included one litre bottle of Nano Tech Motorcycle Cleaner.
The kit also includes a waterproof dry bag, protection spray and microfibre cloth, connectors and basically everything except the power source and water supply hose (standard lock-type hose connector).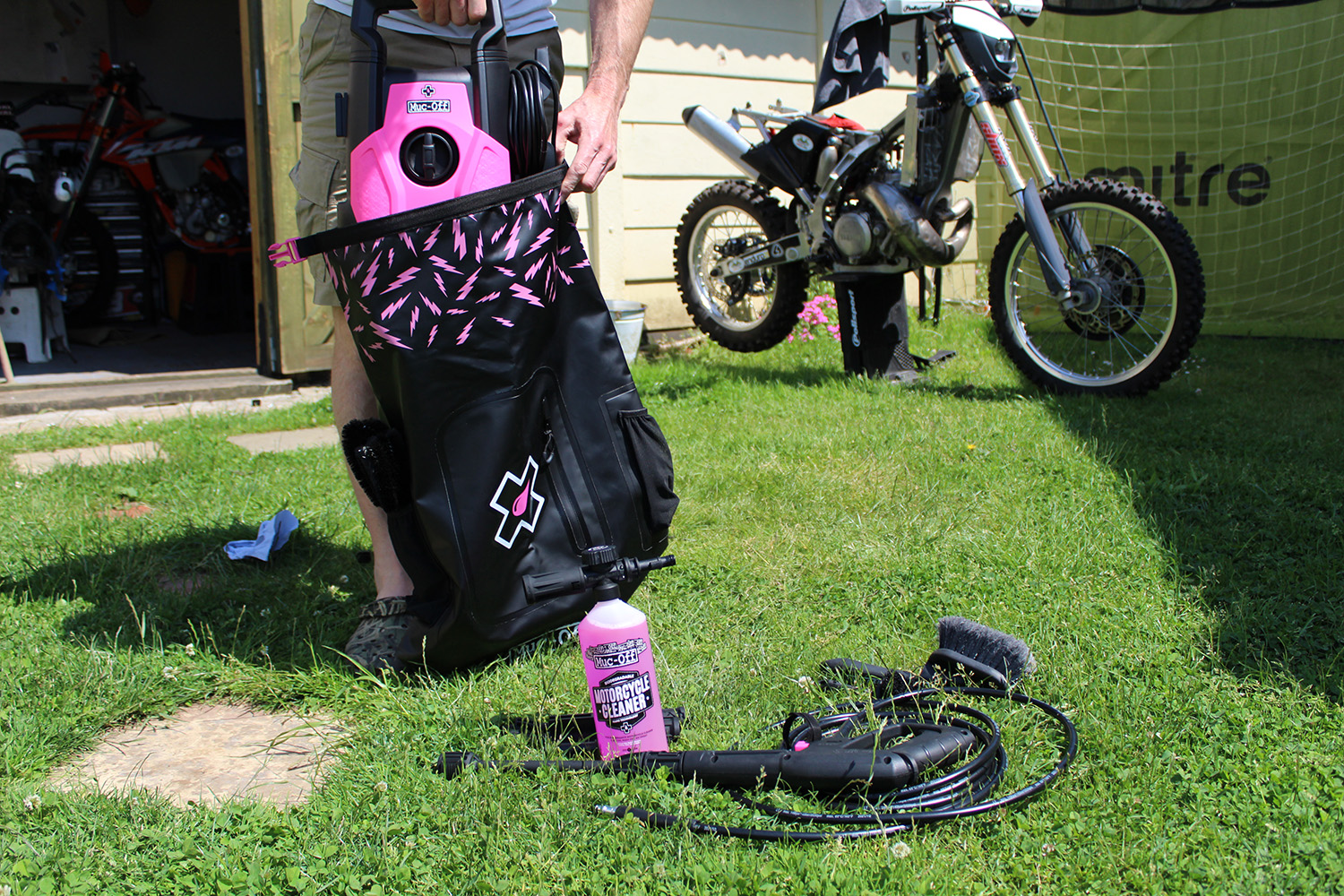 Enduro21 tested treatment
Enduro21 has this washer on test and first impressions are good and it is nice to find the 'bundle' includes all the things you might need – although take note the five-piece brush set we have is an additional cost.
The washer itself is surprisingly light and once out the box, putting it together was simple. The connectors for all hoses, lance extensions and the additional cleaning fluid attachment have a good 'positive' feel and aren't wishy-washy like some can be. It's nice to have a five metre long power cable too.
The jet washer is adaptable for dirt bikes and mountain bikes and as such comes with different extensions to enable different water pressure and jet strength. The giant, 30 litre drybag is a handy addition and has external pockets for the brushes and spray. The washer fits inside easily to either hang up in a garage or be portable.
Enduro21 will crack on with using it on our test bikes and let you know how it fares.
Muc-Off pressure washer specifications:
Motor Power: 1200W
Volt/Freq: 220-240V~50/60Hz
Motor Type: Carbon brush motor
Rated Pressure: 70 bar
Permissible Pressure: 100 bar
Max. Inlet Water Pressure: 1.2 MPa
Rated Flow: 5.5L/min
Max. Flow: 6.5L/min
Max. Water Temperature: 50°C
Water Protection Class: IPX5
N.W. / G/W.: 5.5/6.2 kgs
Carton Size: 290 x 265 x 413mm
Power Lead Length: 5M
Cost for the full motorcycle washer kit shown: £169.99/€203.95/$289.99 (five-piece brush set is an extra £34.99/€41.95)
More information: www.muc-off.com
Photo Credit: Enduro21