First look: Muc-Off 'Punk Powder' bike cleaner – just add water
Purveyors of all things for dirty bikes, Muc-Off have a new practical and easy solution for bike cleaning – 'Punk Powder' bike cleaner in a sachet, just add water.
Billed as "the world's first plastic-free bike cleaner", Punk Powder sachets are the newest solution for Muc-Off to deal with the chores of bike cleaning.
The concept is simple enough: add a sachet of Punk Powder per litre of water, mix and spray on as normal. But it hasn't been easy to perfect the solution – three years in development they say.
They say: Punk Powder delivers the signature cleaning power but with readily biodegradable ingredients and 92% less packaging than two of our standard one litre bottles.
The fast-dissolving formula means it's ready for use within seconds of water being added, and if you want to go full eco-warrior you can even use collected rainwater!
Simply reuse your old Muc-Off bottle or grab a new aluminium Bottles for Life and get busy cleaning – it even works with our pressure washer to create an awesome foam for the fastest clean possible.
Punk Powder works just the same as ready-mixed motorcycle cleaner and uses biodegradable ingredients (75% plant-based) and is safe for use on all bikes, finishes and on all parts including discs, carbon fibre, plastics and seals.
We say: It's simple stuff and we're not trying to blow smoke up anyone's backside here – we know you know how to clean your bikes and there are a range of products out there from different manufacturers. The idea of a simple sachet though is handy, taking up way less space on the workshop shelf for a start and in our quick test, on a dirty MTB we had laying about (!), it works.
Simply it's a good new product, practically minded and designed for (and by) people who ride off-road.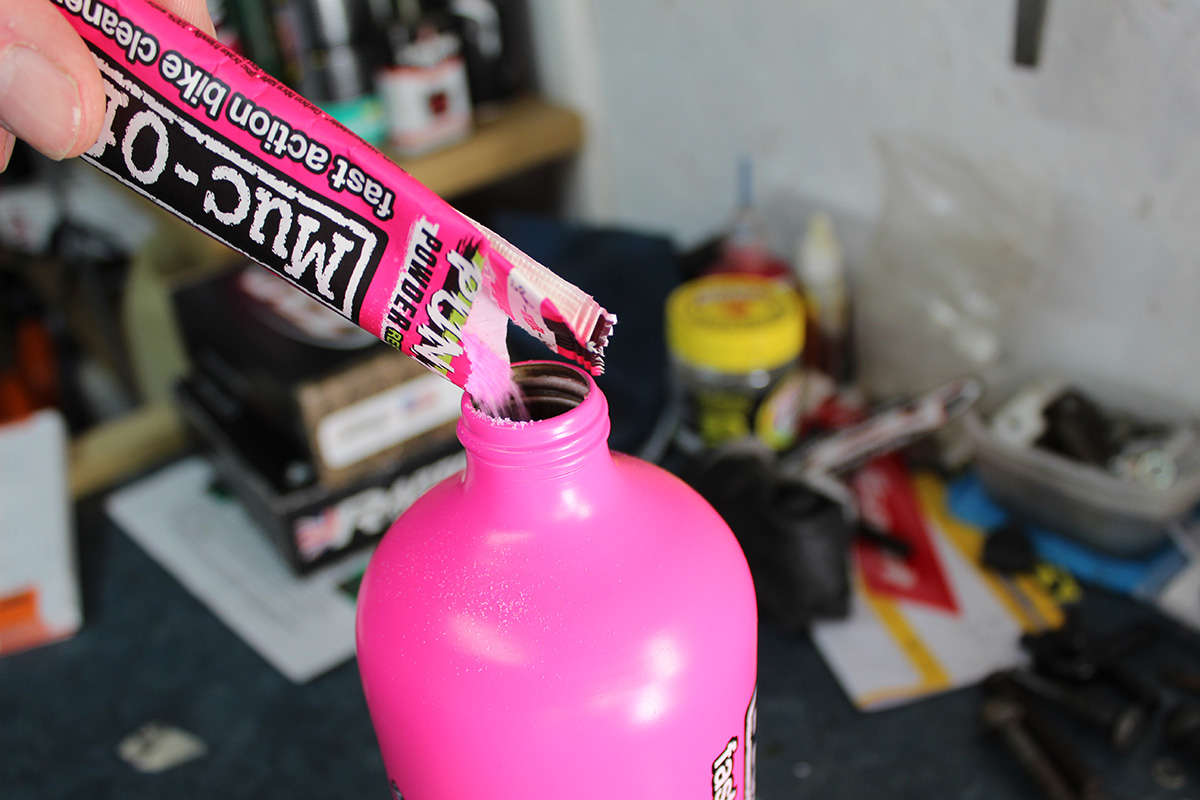 Cost: £14.99/€17.95/$19.99 for the sachets (enough for two litres of cleaner) or £29.99/€35.95/$34.99 for the bundle with the alloy bottle.
More information: www.muc-off.com or www.us.muc-off.com