Robert and Walton share WORCS wins at Blythe
Taylor Robert and Austin Walton shared the wins at the WORCS double-header for rounds six and seven at Shorty's Sports Park in Blythe – Walton took his maiden WORCS win while Robert edges closer to the title.
With a modified race format of 75 minutes plus one lap, the 2020 World Off Road Championship series hosted a double-header weekend at the tough and sandy Shorty's Sports Park this past weekend.
On Saturday, Taylor Robert powered his FMF KTM to the holeshot and then diced back-and-forth with fellow KTM rider, Dante Oliveira, through the first hour of racing before Robert finally made a pass that stuck on lap nine. From there, Robert was able to break away from Oliveira and ultimately build up his lead to about a minute-and-a-half as he took the checkers for the Round 6 victory ahead of Oliveira and Honda's Trevor Stewart in third.
Good starts prove key
After a challenging start on Saturday, Rockstar Energy Husqvarna Factory Racing's Austin Walton came out swinging on day two with a holeshot and a series of fast laps to stretch a lead. Meanwhile day one winner Robert made a slow getaway from the line and had to work hard through the Pro class field.
By lap four, Taylor got Oliveira for second and set about closing down Walton. The pair pitted together for the final time and from there it became an all-out drag race to the next turn as they came together, nudging Robert off the track and onto a haybale. Robert unstuck himself and closed Walton down again but then pushed too hard through a dusty section and ended up crashing.
Walton kept on keeping on and came away with a 41-second victory after leading all 12 laps of racing for his first WORCS career win.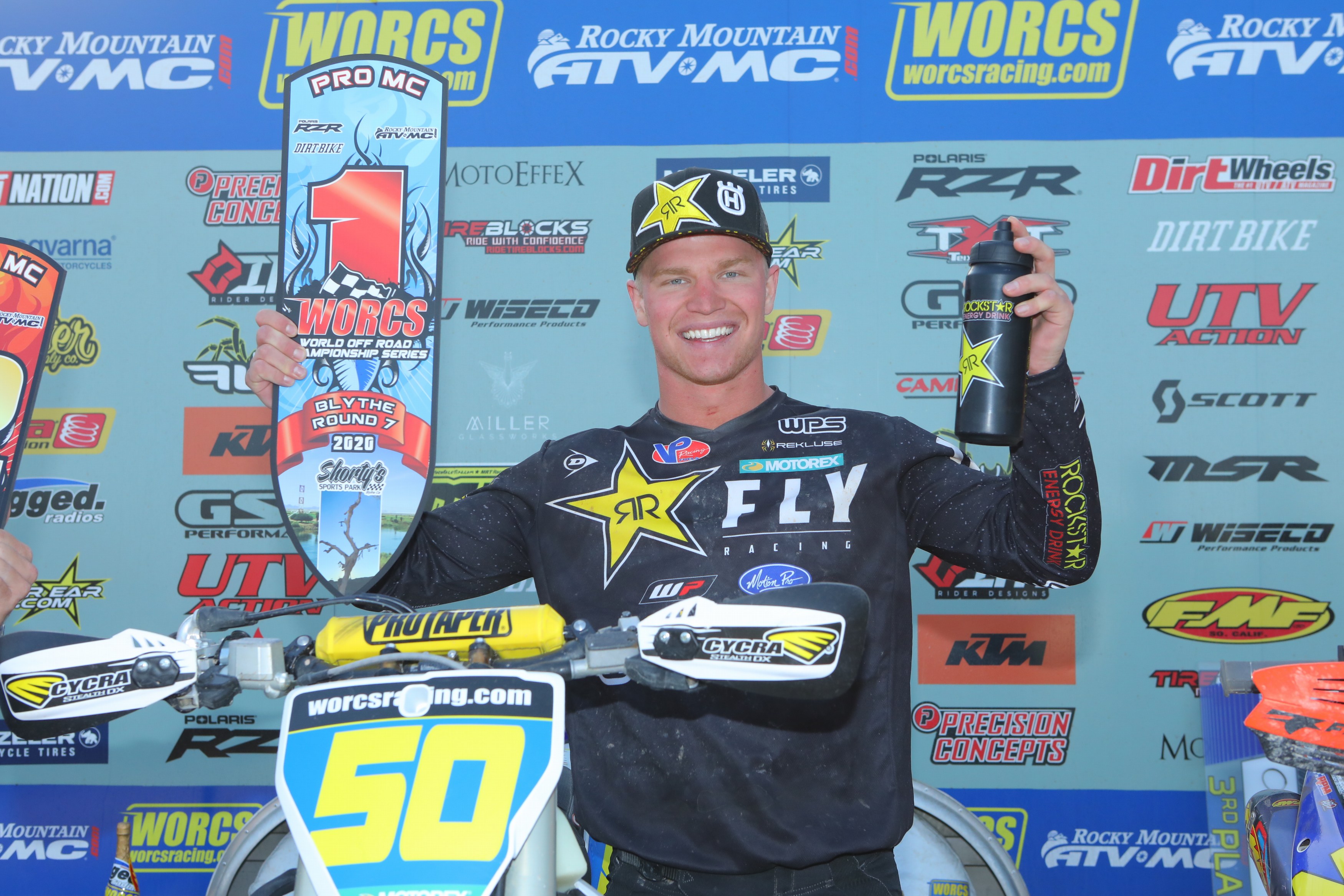 "Today's racing was great, I learned a lot from yesterday's mistakes on the start, where I kind of created my own chaos by not getting a good start and then having a big crash." Explained Walton. "I definitely had some frustrations coming into today and lots of intensity with it so I was feeling good and ready for the start. I felt awesome on the bike, my fitness was great and I was happy to get win, especially to beat a rider like Taylor Robert, you don't just do that, so that was an awesome feeling and I'm very happy with my performance today."
Robert hones in on 2020 title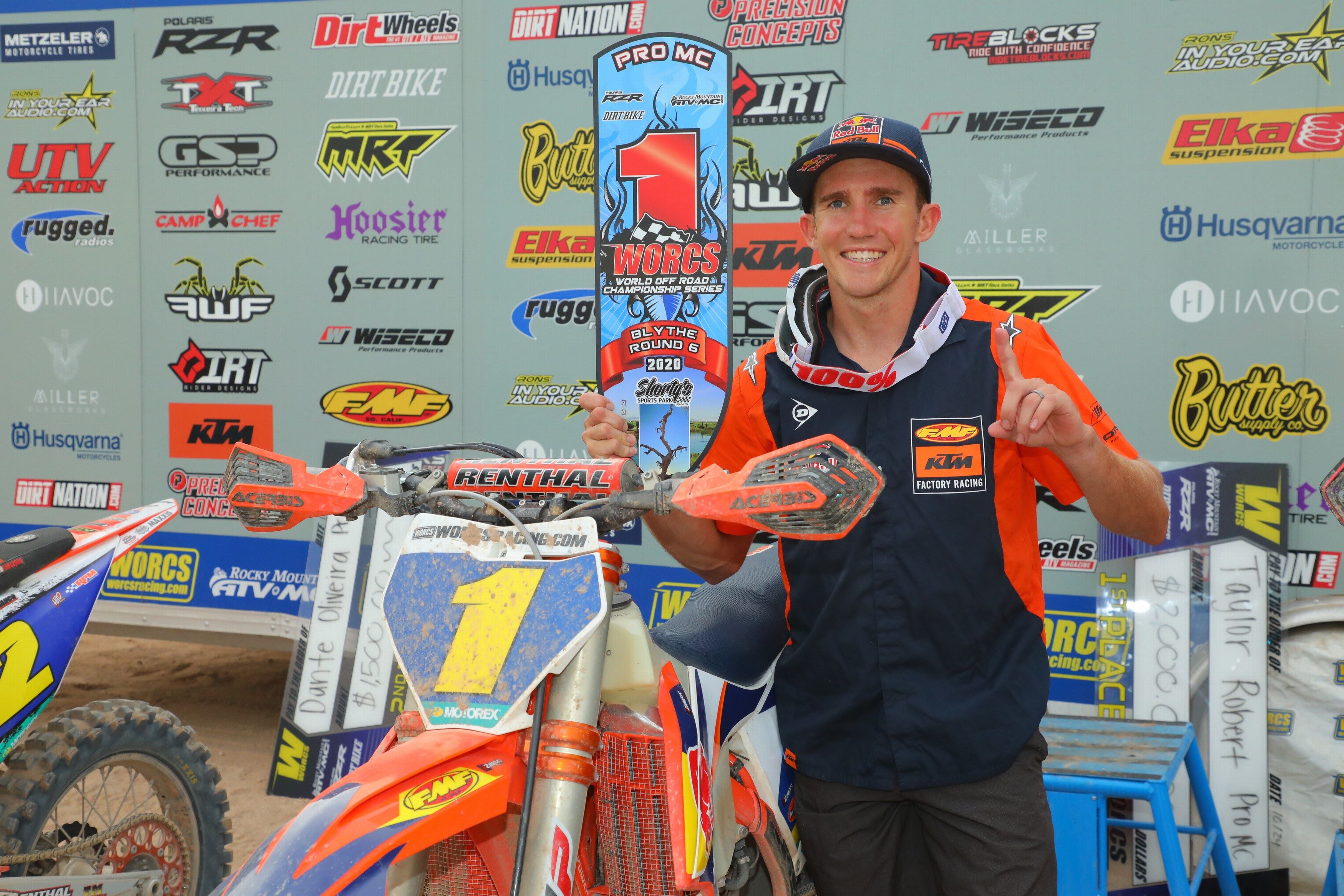 "Saturday was a great day but Sunday was a little rougher." Said Robert. "I got on the gas too soon on the start and my bike didn't fire right away so I was dead last.
"I caught the guys by the second lap but they were going fast and the track was kind of one-lined so I had to be pretty creative in trying to get around them. The battle with Austin got pretty intense, I kept trying to apply pressure and force him into a mistake but he was riding really well.
"I put in a good effort to fight for the win today but that crash was pretty big, I was seeing stars, so at that point I just decided to salvage second-place for the championship and gain some points."
FMF/RPM/KTM Racing Team Maxxis' Dante Oliveira was consistent throughout both days of racing, where he came away with two solid podium finishes on the weekend. With seven rounds in the books, Oliveira sits 27 points behind and Taylor Robert's nearest challenger for the 2020 Pro Class championship standings.
Next Race: (Round 8) Primm, Nevada – November 13-15, 2020
Round 6 Results – Saturday:
Pro (MC) Results
1. Taylor Robert, KTM
2. Dante Oliveira, KTM
3. Trevor Stewart, HON
Pro 2 (MC) Results:
1. Mateo Oliveira, KTM
2. Tallon Lafountaine, HON
3. Todd Sibell, KAW
Pro 2 Lights (MC) Results:
1. Angus Riordan, KTM
2. Tyler Lynn, YAM
3. Thomas Dunn, KTM
Round 7 Results – Sunday:
Pro (MC) Results
1. Austin Walton, HQV
2. Taylor Robert, KTM
3. Dante Oliveira, KTM
Pro 2 (MC) Results:
1. Tallon Lafountaine, HON
2. Todd Sibell, KAW
3. Kai Aiello, HQV
Pro 2 Lights (MC) Results:
1. Tyler Lynn, YAM
2. Angus Riordan, KTM
3. Jake Alvarez, KAW
Pro (MC) Championship Standings:
1. Taylor Robert, 169 points
2. Dante Oliveira, 142
3. Austin Walton, 131
Pro 2 (MC) Championship Standings:
1. Mateo Oliveira, 156 points
2. Tallon Lafountaine, 147
3. Mason Ottersberg, 101
Pro 2 Lights (MC) Championship Standings:
1. Tyler Lynn, 147 points
2. Angus Riordan, 147
3. Jake Alvarez, 137
More information: www.worcsracing.com
Photo Credit: Harlen Foley