WORCS 2020: racing resumes, Robert keeps winning
Taylor Robert picked right back up with his winning form as the 2020 WORCS series resumed at Glen Helen Raceway but not without a battle with Dante Oliveira and some underpant problems.
The 2020 World Off-Road Championship Series (WORCS) returned with a double-header at Glen Helen Raceway to serve as rounds four and five of the nine-race series. KTM riders Taylor Robert and Dante Oliveira split the race-wins over the two-day weekend in the Pro class making it a dominant weekend for the orange brand in southern California.
With four total wins through the first five rounds, FMF KTM Factory Racing Team's Taylor Robert remains in the championship lead but it's not without contest from rising star Dante Oliveira, who has positioned his FMF/RPM/KTM Racing Team Maxxis in second overall with a series of consistent performances this season.
With a modified race format of 75 minutes plus one lap, day one saw Robert get off to a second-place start but a crash early on caused him to lose time to the leader. He put his head down and charged to reel in the leader of Oliveira, making a strategic decision to pit opposite of Oliveira on lap seven and it paid off as he overtook the lead. However, Robert made a couple of mistakes which allowed Oliveira to get back by and from there it was a head-to-head battle to the finish.
Taylor was so keen to speed up his final pit stop in an effort to make up some time he left before the fuel dump had disconnected and ended up with fuel all over his nether regions…
https://www.instagram.com/p/CFYtbOQH2be/
Day 2 dominance for Robert
On day two, Robert grabbed the holeshot going up the Talladega section but got pinched off going into the second turn and he dropped back to third. He quickly charged up to second before making his way into the lead halfway through the first lap. Despite a couple of tip-overs, Robert was able to maintain the lead from start to finish, besting his competition by 11 seconds for the win.
"I was cruising the whole time in that second race." Explained Taylor. "Those guys were riding great, I actually went down twice during that race, which wasn't ideal because I felt like they were hunting me down the whole time but it was a good race, definitely kept me honest, but I'm glad to be on top."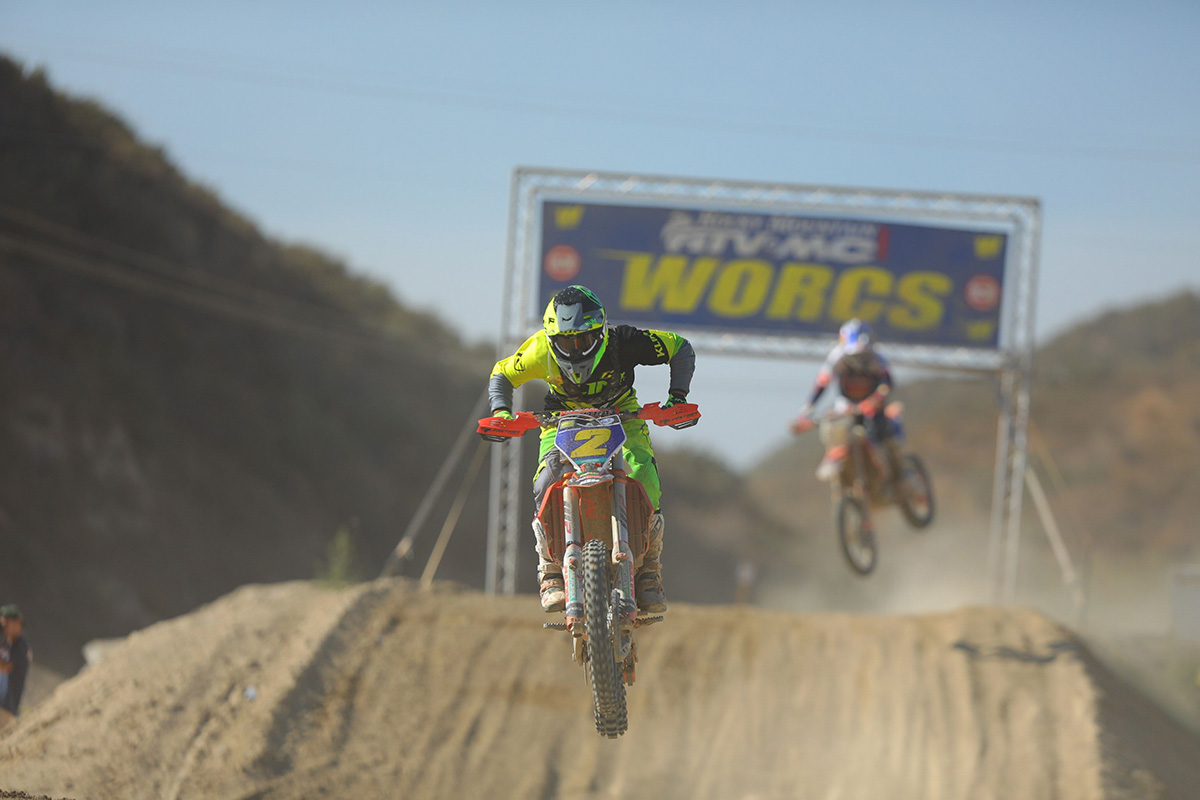 Oliveira scored his best finish of the season on Saturday with an impressive victory over the Reigning Champion, Taylor Robert. On Sunday, the FMF/RPM/KTM Racing Team Maxxis rider maintained a solid second-place running before experiencing a crash that would leave his bike banged up, losing substantial time to ultimately finish third on the day.
In the Pro 2 division, FMF/RPM/KTM Racing Team Maxxis rider Mateo Oliveira swept both days of the double-header weekend, where he now extends his points lead to 17 in the class. In Pro 2 Lites, KTM-mounted riders Thomas Dunn and Angus Riordian both enjoyed podium finishes at Glen Helen.
Next event: Rounds 6 & 7: Blythe, California – October 23-25, 2020
Round 4 Results – Saturday
Pro (MC) Results
1. Dante Oliveira, KTM
2. Taylor Robert, KTM
3. Cole Martinez, HON
Pro 2 (MC) Results
1. Mateo Oliveira, KTM
2. Tallon Lafountaine, HON
3. Carlen Gardner, BTA
Pro 2 Lights (MC) Results
1. Tyler Lynn, YAM
2. Thomas Dunn, KTM
3. Angus Riordan, KTM
Round 5 Results – Sunday
Pro (MC) Results
1. Taylor Robert, KTM
2. Austin Walton, HQV
3. Dante Oliveira, KTM
Pro 2 (MC) Results
1. Mateo Oliveira, KTM
2. Colton Aeck, HQV
3. Mason Ottersberg, YAM
Pro 2 Lights (MC) Results
1. Tyler Lynn, YAM
2. Jake Alvarez, KAW
3. Angus Riordan, KTM
Pro (MC) Championship Standings
1. Taylor Robert, 122 points
2. Dante Oliveira, 100
3. Austin Walton, 94
Pro 2 (MC) Championship Standings
1. Mateo Oliveira, 117 points
2. Tallon Lafountaine, 100
3. Mason Ottersberg, 83
Pro 2 Lights (MC) Championship Standings
1. Jake Alvarez, 101 points
2. Tyler Lynn, 100
3. Angus Riordan, 100
More information: WORCSRacing.com
Photo Credit: Harlen Foley