Stuff that works: Polisport fork leg bottom protectors
No glamour, no hard sell, just stuff that Enduro21 tested (to destruction) and found it works for off-road riding – Polisport's fork leg bottom protectors.
The simple things in life are often the best and these Polisport fork bottom (fork foot) protectors are just that. In a nutshell they are relatively cheap, quick and easy to fit and prevented big-time damage to a fork leg and potentially a massive dip into the wallet.
How did it get smashed? Because we were sailing through a rock garden in an extreme enduro, basically trying to be like Billy Bolt and failing. A bit of airtime off one rock meant the KTM 300 EXC test bike landed right on a triangle-shape rock and the right-hand side fork leg took a hell of a whack.
We saw the black protector go flying at the time but hoped for the best and, because it was in a race, didn't stop and start looking what had happened. Back in the garage after jet washing, we found the protector had done its job and the fork leg foot had got away with just one small nick to the underside.
Yep, the protector broke up and that isn't ideal but we've fitted these protectors before and this honestly is the first time one has been hit so hard (or maybe at such an angle?) that it went flying. Normally they take a beating and stay put but the fact remains, it worked and saved a costly repair or severe damage to the fork leg foot.
You can get metal fork leg protectors and there are different schools of thought. Metal guards are obviously stronger but can transfer impacts, sometimes breaking off at the bolts. Robust plastic types like this tend to deflect, absorb and do what we can see here, leaving bolts intact and in place.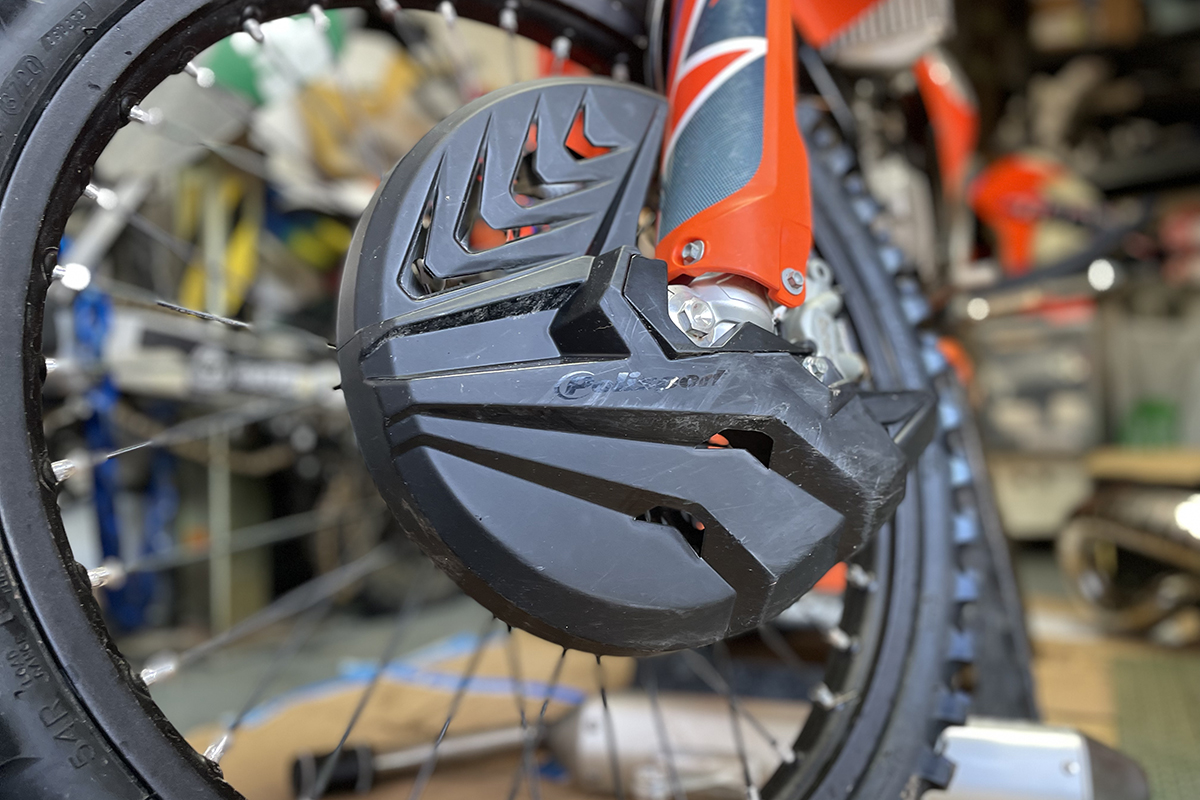 Easy to fit
The impact abrasion resistant plastic guards are an easy install, they simply bolt in place using existing fork bottom pinch bolts and the outer fork protector bolt (we're talking an EXC here, how they attach varies between different motorcycles). The kits come with hardware needed including two additional longer bolts which replace the inside OE pinch bolts.
These fork bottom protectors are compatible with Polisport's front brake disc guard (sold seperate or as a kit) which also protects the disc and brake caliper. Model specific guards are required but the range is comprehensive for European and Japanese manufactured bikes with matched colours plus black and white options.
Cost: $45/£35/€38 (with disc guard)
More information: www.polisport.com