Tested: Scott Prospect Super WFS goggles – mud masters?
Scott's Prospect Super Works Film System goggles claim to deal with the major issues every off-road rider knows too well – flying dirt and lens fogging. Enduro21 gets hot and mucky to find out if these off-road goggles are a match for the worst riding conditions…
They say:
The Scott Prospect Super Works Film System (WFS) is the ultimate off-road racing goggle with the same features as the Prospect WFS, but with a double WORKS lens featuring unique premium anti-stick dots for hyper-smooth sliding action plus an upgraded mudflap with sealing tape for maximum performance.
They come equipped with a WFS 50 roll-off system for a large and clear field of vision when the mud starts flying. The canisters can be clipped directly on the WORKS lens pins for quick and easy installation, with no tools required. Tear-offs can also be easily installed on the same pins for extra vision protection.
Scott Prospect Super WFS goggles technical highlights:
Large 50mm film
Click-on film canisters
Anti-stick dots grid with mudflap
Lens lock system
Articulated outriggers
NoSweat, three-layer moulded face foam
Extra-wide, no-slip silicone strap
TruView double WORKS lens
'NoFog' Anti-Fog lens treatment
Two extra rolls of film
Microfibre goggle bag
Noseguard
We say:
There's no getting away from the fact that wet and muddy riding conditions are a pain in the backside. In mass-start enduros, during those early minutes away from the flag until riders settle down a bit, the chances of getting a face full of muddy roost are high.
This set of Prospect Super WFS goggles have done their testing time with Enduro21 in exaclty those kinds of events, around 20 hours racing by now and in some seriously testing conditions.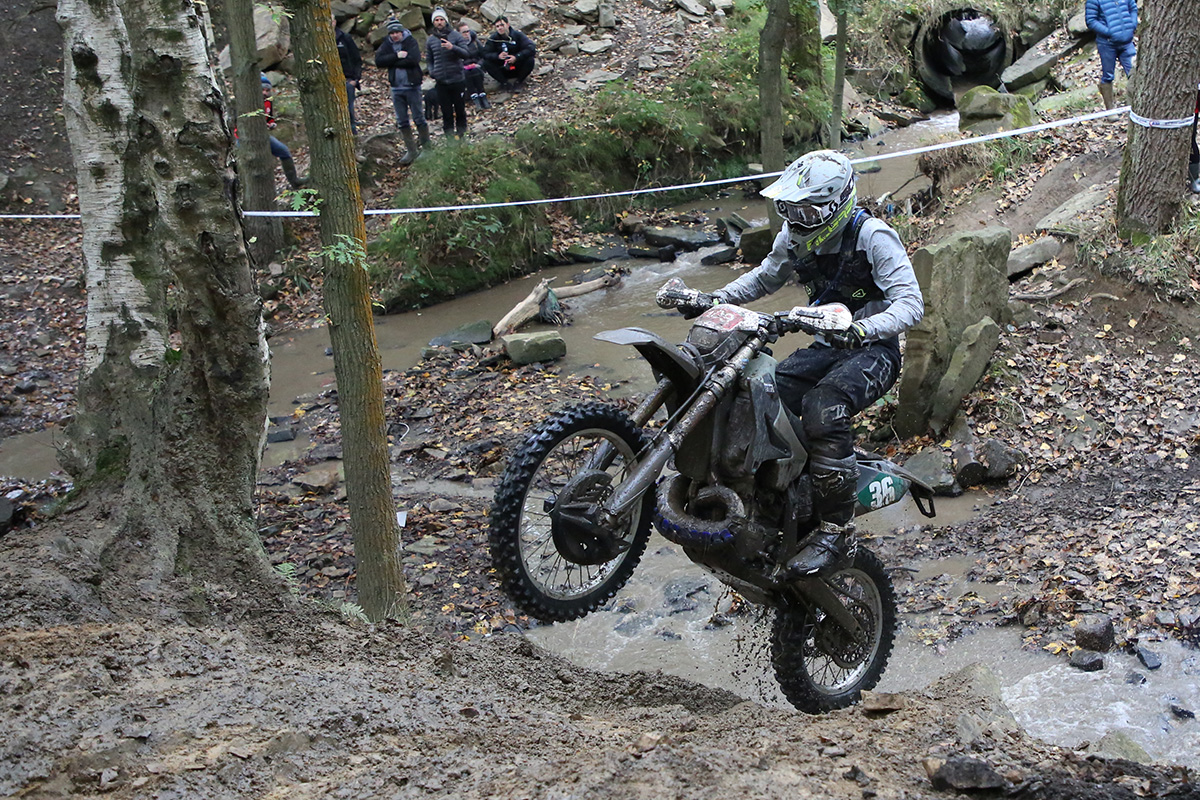 Importantly, we tested them at different ends of the barometer too: a hot and really (and we mean really, really) wet XC race plus a cold extreme enduro which tested both the roll-off system and the anti-mist abilities.
The range of riding conditions included open mountain countryside (sometimes in the clouds), getting roosted in peat bogs, tight single track in woods, rock streams and boulder gardens. One of the events was intense racing too, all in the trees, no higher than third gear all day and with a whole heap of pushing and getting hot in the helmet.
Hopefully you'll get the picture they've been tested in very typical muddy conditions when the dirt and fogging are so often an issue.
What are they like to use?
The simple stuff all works just as you'd expect from any quality set of goggles and certainly from the Prospect range. The strap is strong and does not slip, padding on the face is comfortable, there's a nice open field of vision with a good fit to different helmet types.
Installing the film is as easy as Scott says too and needs no tools, just care on the initial install of the film roll to make sure it goes under the (clear) mud flap at the top of the lens but on top of the transparent framework which lifts it off the lens surface.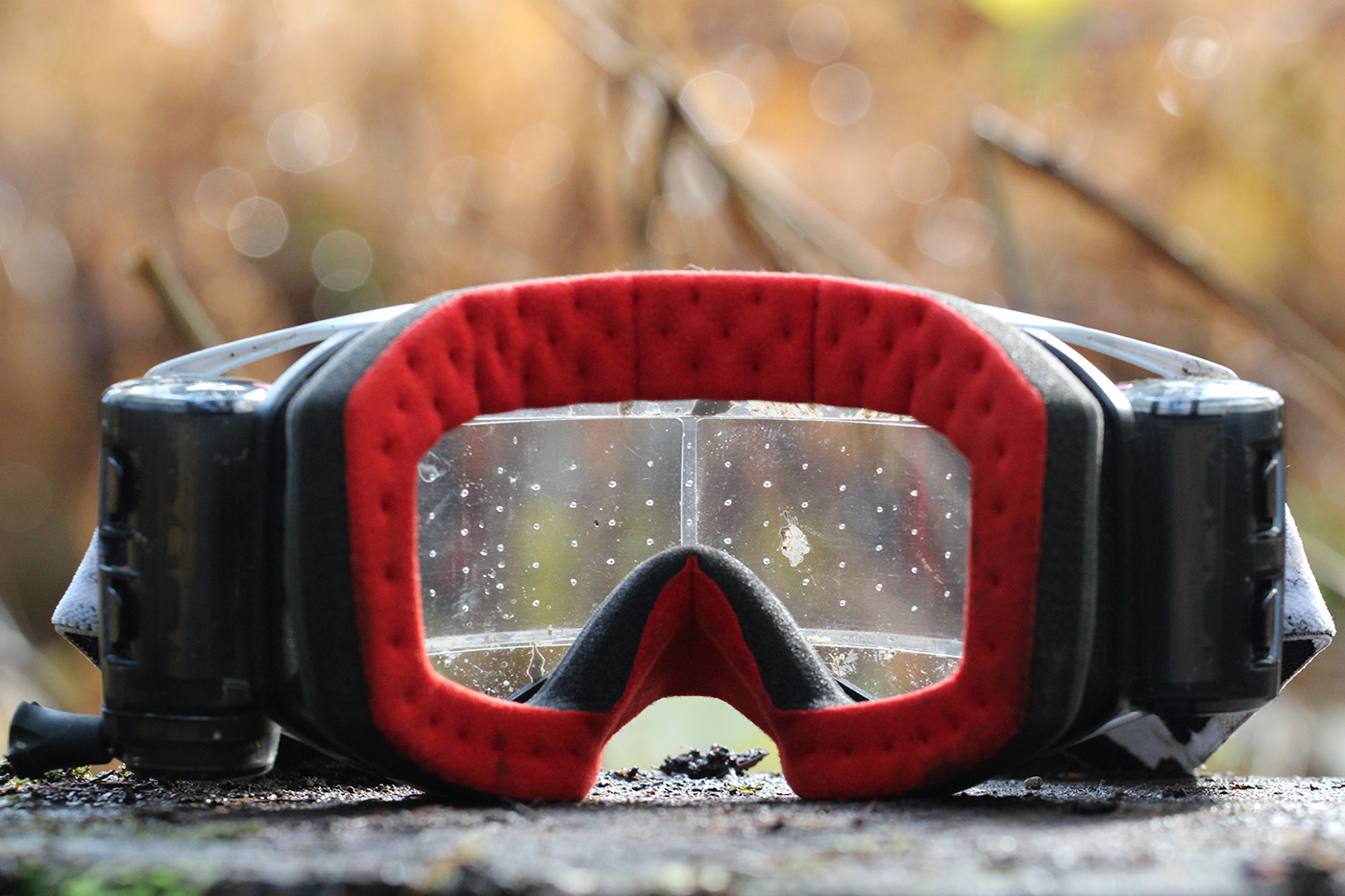 That framework (for want of a better word) and the venting holes are visible when you ride and as such interrupt the view you have when compared with a 'normal' lens. But it's one of those things you notice much more when you notice it, and don't if you don't.
The benefit of the venting is obvious when you're in the middle of a three-hour hard enduro and caught in a world of pushing and getting roosted. It's improving the air-flow but it also aids the gliding of the film roll.
The framework is helping here too because it lets the roll sit clear of the lens surface which means it isn't dragging dirt across, water isn't getting stuck behind it and generally it feels like the film has a simpler time pulling across and into the canister.
Yes, you can see the vent holes and framework in your field of vision but their benefits outweigh the negatives and it's worth remembering other roll-off options are available including the non-'Super' version of the Prospect WFS.
50mm of clear vision
The 50mm width of the roll is noticeably better than many goggles from other manufacturers we've tested. When you get a proper face-full of dirt from the bike in front these are an instant cure, like having windscreen wipers.
Of course, that is as it should be with a roll-off goggle. But after so many years of crappy systems which work for a bit then fail once water or dirt gets behind the film roll, or they get clogged up because the pull mechanisms can't actually deal with dirt, this is a big positive.
The roll-off system itself has worked without issue and the canisters keep out the wet and dirt well even when large lumps of dirt hit the lens. The flap on top of the lens, which sits over the top of the film roll, does a seemingly good job of helping keep water outside too.
Do they fog up?
The short answer is 95% of the time, no. During 'regular' crappy, wet and muddy riding conditions (!), the lenses stay fog-free. If you're one of those riders who're prone to taking goggles off and turning them backwards on your helmet when you get hot and the riding is hard work, these goggles remove the need for that much, much more. The proof of that was doing a whole two-hour extreme enduro recently, the goggles went on and never came off from start to finish.
In extremely bad conditions, and we mean off the scale – when you've been pushing constantly for ages, slogging up a steep mountain side in mud you can't stand up and which is making your boots 10-times heavier, then and only then was there a bit of fog creeping across.
To be fair on the goggles, constant heavy rain had gotten everywhere at that point, saturated the helmet, the rider was roasting and blowing out his backside and the truth is nothing was going to work in those conditions (that's the extra 5% of the time btw).
The holes in the lens, plus the general air flow through the foam barrier between the face foam and the goggle frame, lets body heat and moisture dissipate well which in turn helps the Scott 'NoFog' lens do its thing. Any amount of movement lets air flow and generally these are cooler than a lot of goggles can be too.
One hidden positive is being able to sit at the start on a cold, damp morning and not have the lens fog up as you wait for the flag to drop. Making sure they are well-prepped, clean and dry before you leave home is very important but to be able to put goggles on at the van, ride to the start and 15 minutes later twist the throttle and start the race made life easier.
Is it all positive?
The only negative in all the bike time we've put on these goggles is the strap has gone a tiny bit saggy. It's not normal for Scott goggles in our experience but this strap hasen't fully returned to its original shape after being stretched around a helmet.
It's a small thing (as you can see from the image below) and makes no actual difference when you're riding at all, only visually back at home.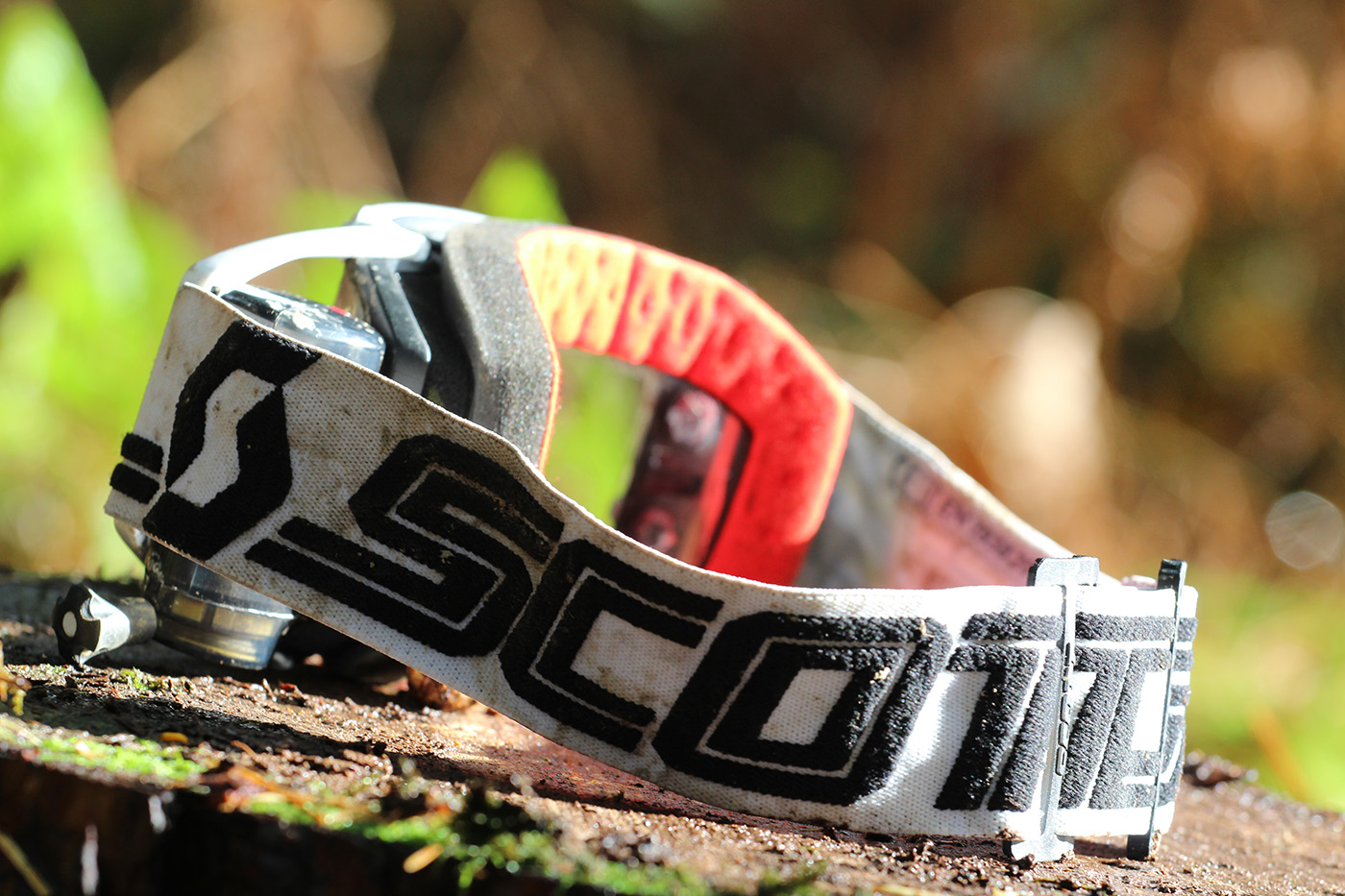 A lot of people are going to look at the price too, particularly in Europe where it is quite a lot more than the USA for example. €170/£150 is a lot but you're paying to guarantee clear vision and for a high-end product designed specifically for purpose. Ultimately those who take riding seriously usually seriously consider buying the best they can get…
Verdict
The conclusion is a simple one: you can put these goggles on in typically horrible off-road riding conditions knowing they will keep working and you'll be able to see what's in front of you all day.
The super-effective roll-off system on the already proven Prospect goggles is a winner. But the additional 'Super' element here is the key when conditions are really bad. The venting and the slender framework under the film keep it running free and help keep the lens clear of misting in all but the worst conditions.
Getting these compared to other roll-off systems is like replacing any tool in your workshop, one which worked well but a newer version came out. Suddenly you realise how good things can be and don't know how you survived without it.
Cost: $114.95/£150/€169.90
Contact: www.scott-sports.com
Photo Credit: Enduro21 + Phil Hodges