2023 EnduroGP results: Four-way fight sees Freeman victorious on Day 2 in Italy
Results from day two of the 2023 EnduroGP World Championship in Italy where it's double delight following a four-way fight for Bradley Freeman who seal victory ahead of Andrea Verona, Steve Holcombe and resurgent Josep Garcia.
2023 Italian EnduroGP Day 2 in a nutshell:
In hindsight it seemed like Brad Freeman had an easy day yesterday. A near 25 second winning margin on day one here in Italy looked comfortable by comparison but day two was a very different story.
Everyone should be ready for round one after a long winter but this first GP of 2023 proved a tough start with over seven and a half hours on the bike both days testing physical and mental stamina.
Day two saw determined performances and a four-way fight for the podium which raged all day between Freeman, Andrea Verona, Steve Holcombe and Josep Garcia – with everyone else realistically cut adrift during the first lap this morning.
As yesterday, the damage was done in the long enduro test where Brad clocked a fast time on lap one to establish the gap he then had to manage.
Which was the hard bit he says, judging how hard to push and after "nearly throwing it all away" in the last Enduro test, just as Andrea Verona was coming on strong, it could have been a different story. "I was really focused this morning on a plan to start the day strongly and focus on the first enduro test and I put some good time on everyone. I built a 20 second gap but after that it was difficult to judge how hard to push. I made mistakes and it was really difficult. I crashed in the last enduro test and I was so, so close to throwing it all away. I was lucky I finished the day. But I'm happy to get the day win again and what a perfect start to the season."
Andrea Verona took a while to get going this morning but closed out the day strongest of all to jump ahead of Holcombe for second scratch and take a maiden E2 class double victory. "Overall I am happy with my first race with the new bike, but for sure the bike and I need to improve a bit. We are in a good place because I am second overall and the winner in E2 on both days. I wasn't so good in the first lap but I closed the gap between me and Steve. Thanks to me team because we worked all weekend to try and improve the feel with the bike and the crowd in some of the tests today were incredible."
Steve Holcombe wasn't immune from taking test wins and was up for the see-saw fight with Verona and Garcia. In the end it was a repeat performance of third scratch and second in E2 for what he admits was a much better start to this season than last. "Considering I am just over eight weeks back from surgery on my shoulder I can't complain. Honestly, I didn't expect to be on the overall podium this weekend but the bike felt good, the body felt good and though I made a few mistakes it is awesome to get through the first round without an injury! It's always good to win tests and with everyone riding so well at the moment, especially in some varied terrain, it is great to start the year this way."
After a confidence knock from a crash on day one, Josep Garcia was always up there on the time sheets today. He still doesn't look to be on all cylinders yet but admits he has someting work on for round two next month. "Day two went much better than yesterday, at least I had my feeling back on the bike. I was fighting for second overall all of the day but in the end I am fourth. I'm happy to get back that feeling and win the E1 class but we know we have to improve."
Sherco's best rider today wasn't the flying Frenchman Zach Pichon, he dropped to P11 today, but Kiwi Hamish Macdonald who completes the top five and claims the best of the rest award behind that dominant top four.
Nathan Watson shrugged day one's broken chain DNF to claim P6 with Mikael Persson, Thomas Oldrati, Theo Espinasse and Antoine Magain completing the multinational top 10.
The Junior class was equal to its senior counterpart with a top five putting in super-competitive day two in Italy with Sherco's youngster Jeremy Sydow claiming a narrow margin over day one winner Jed Etchells. It was a maiden class win for Sydow and the first German victory since, honestly, we can't remember. Maria Frank took to the women's podium a couple of years back but the last German man? Ask yer grandad...
Max Ahlin and Sergio Navarro leap-frogged Axel Semb in the last lap to complete the J-class top five.
The Youth 125 class also saw a fight for supremacy between the day one leading contenders, and this one came right down to the wire. Kevin Cristino and Thibault Giraudon were one-two in the tests all day long and right at the death, the Italian nabbed it by 0.10s from the Frenchman. Leo Joyon was a distant third.
The Women's class saw Jane Daniels have things far from her own way today but while she conceded a hat full of tests, crucially she was consistent across them all and took her second win of the season by 19 seconds.
Spaniard Mireia Badia turned up to the party after a steady day one and traded test wins with Daniels and day one runner-up, Jessica Gardiner and Francesca Nocera on the way to P2.
Gardiner took third and stands second overall in the championship after an impressive and closely fought weekend for the women's podium.
The Open class scratch win again went the way of Frenchman Enzo Marchal, today just 1.46 seconds ahead of Spaniard Alejandro Ceballos-Escalera Lopez as they also fought for Open 4T honours. Open Senior winner Alessandro Rizza was third scratch ahead of Robin Wiss who claims the Open 2T victory.
2023 Italian EnduroGP scratch day 2 results: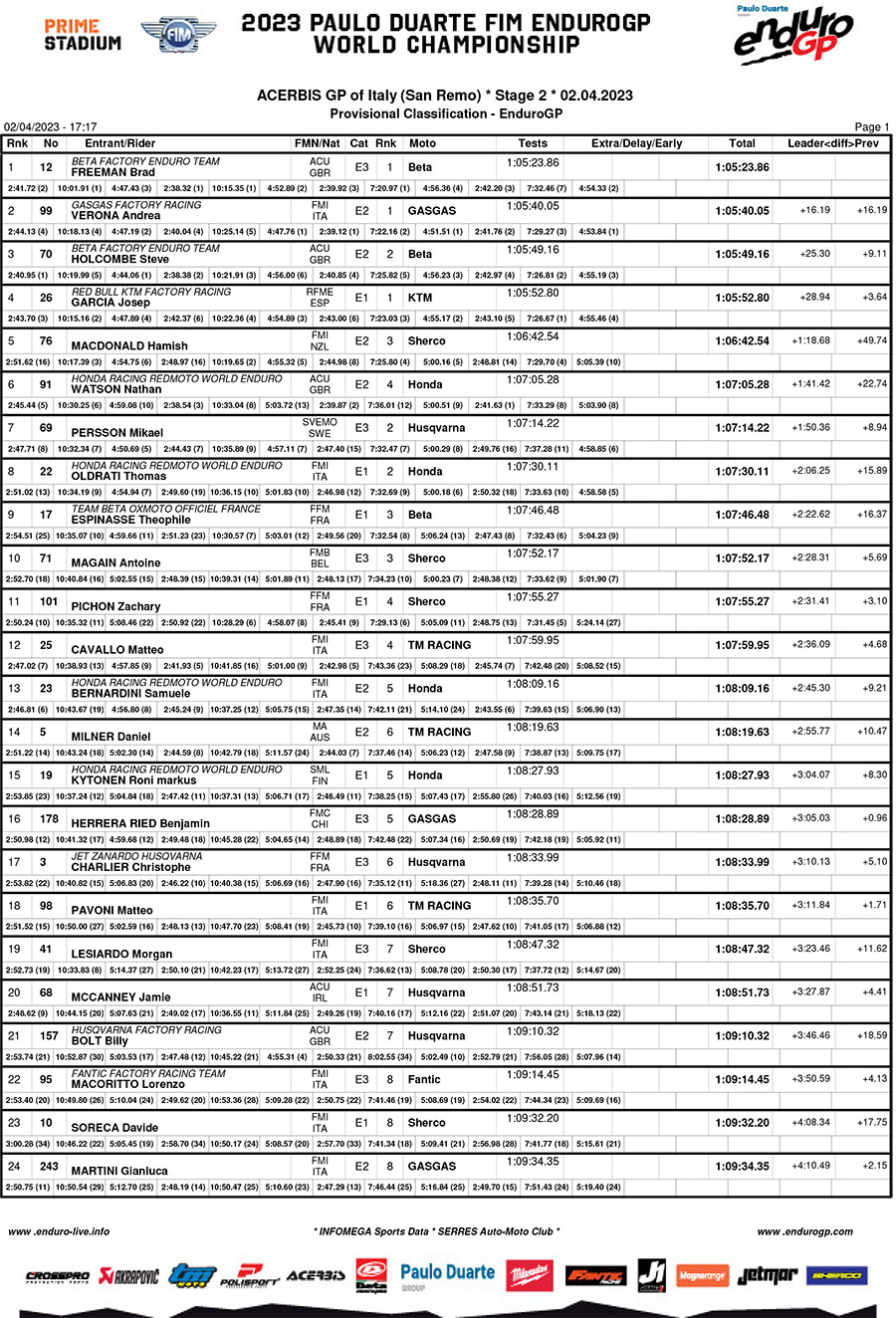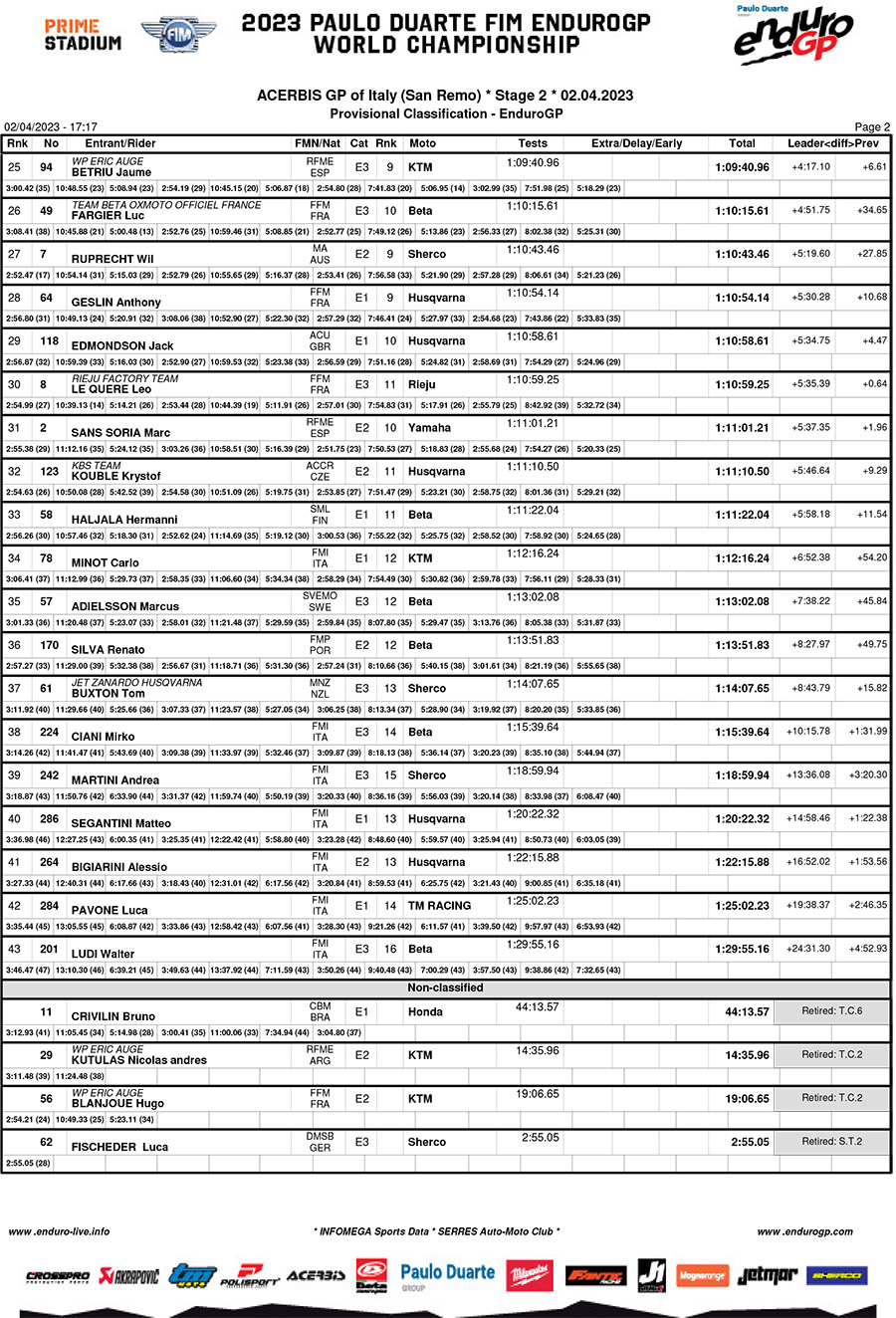 E1 class results: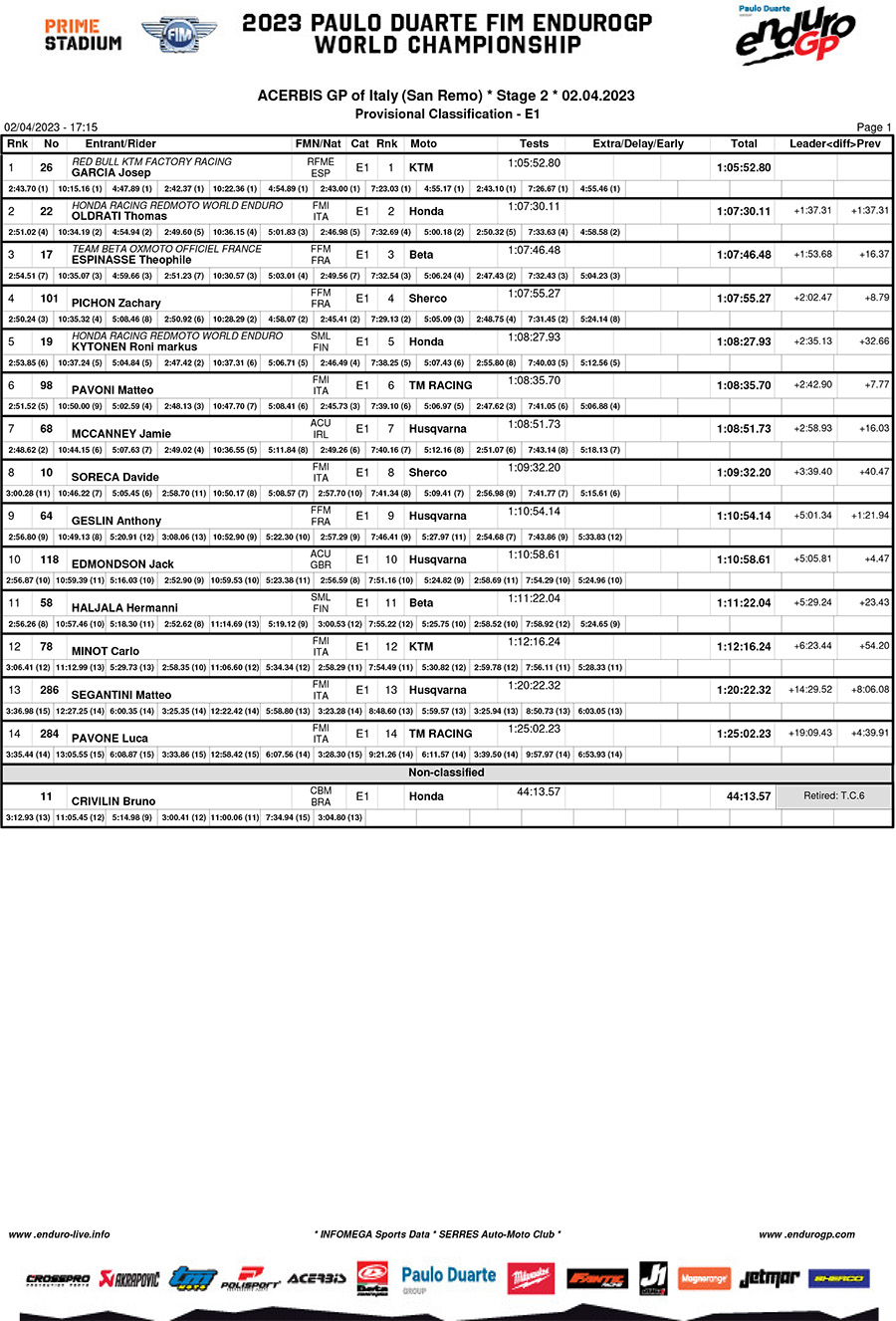 E2 class results: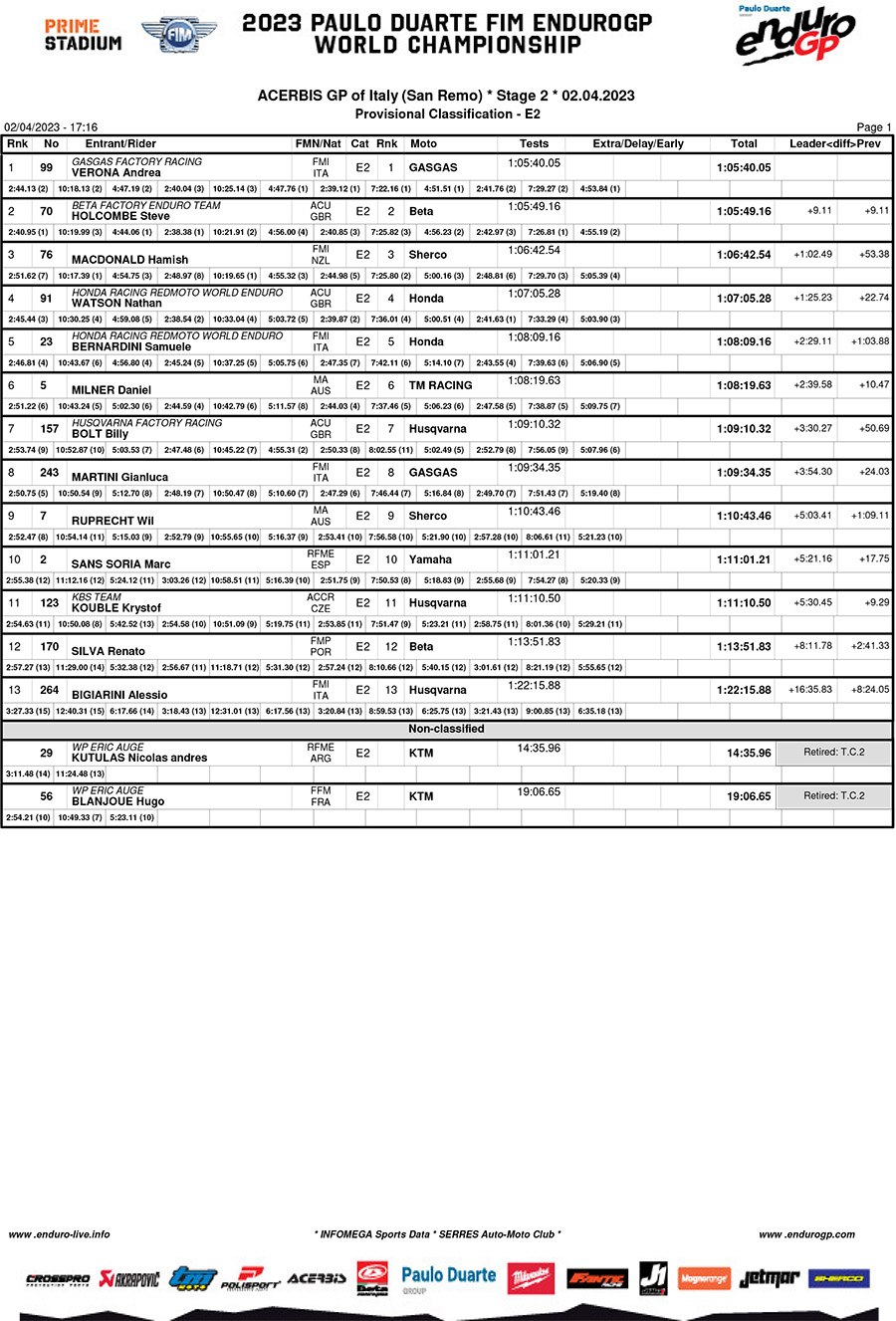 E3 class results: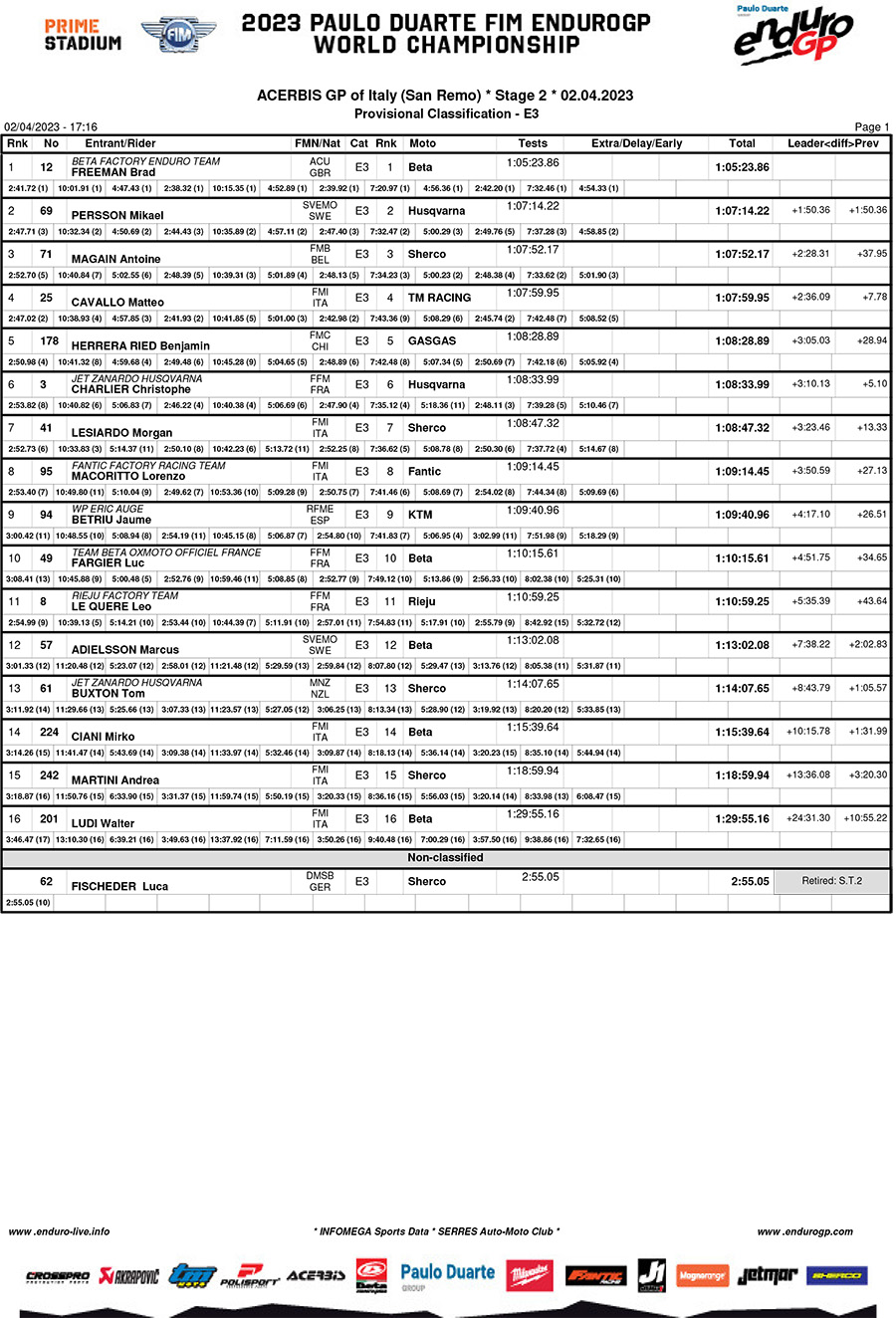 Junior results: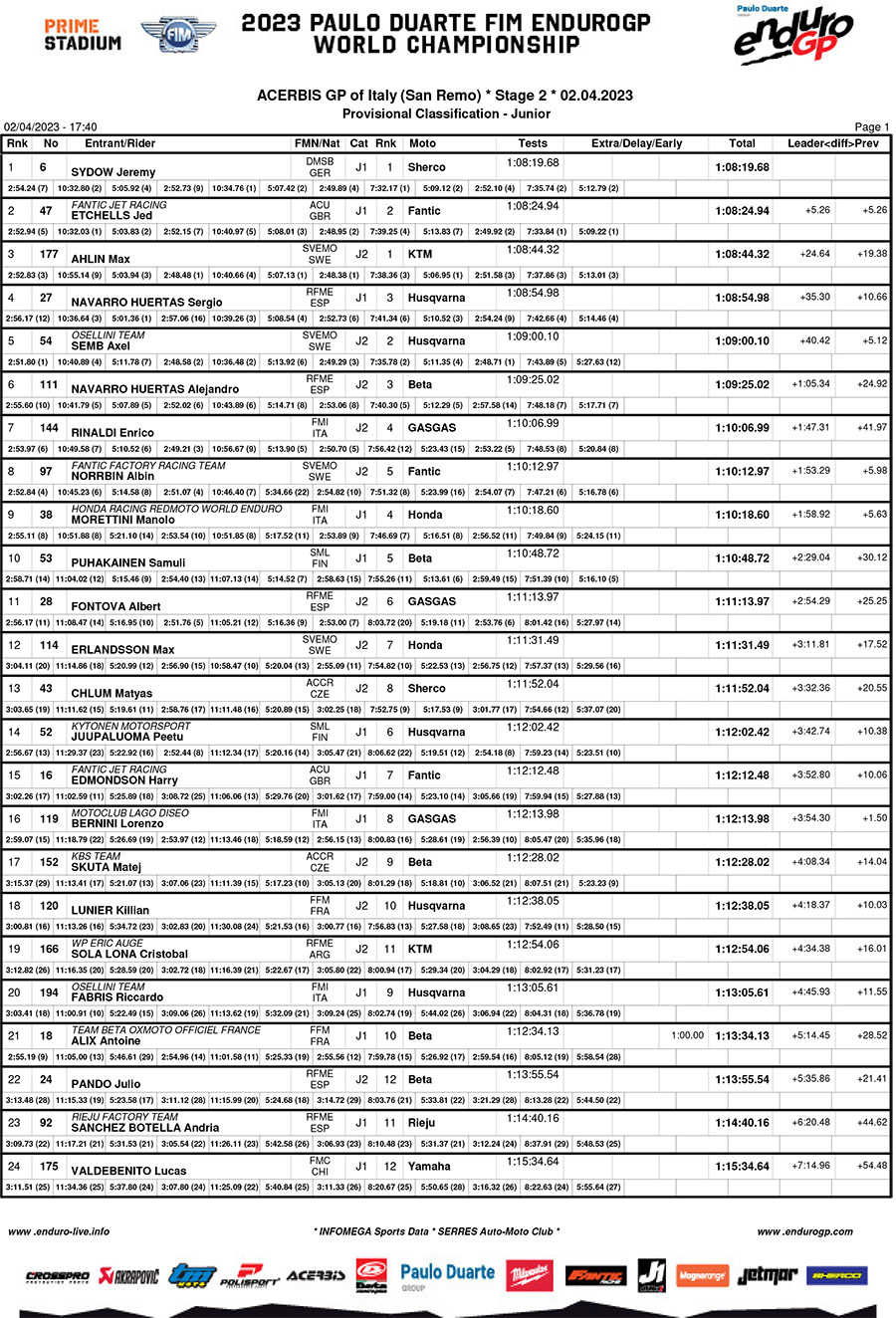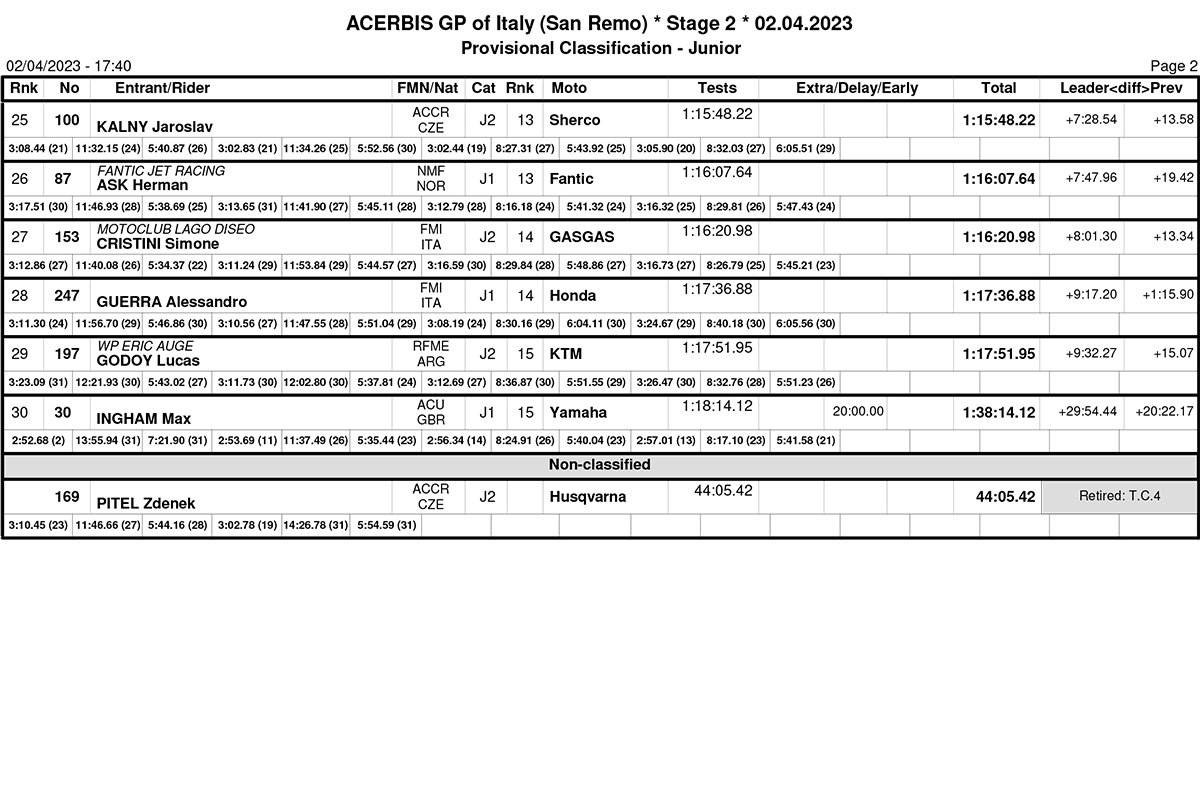 Youth results: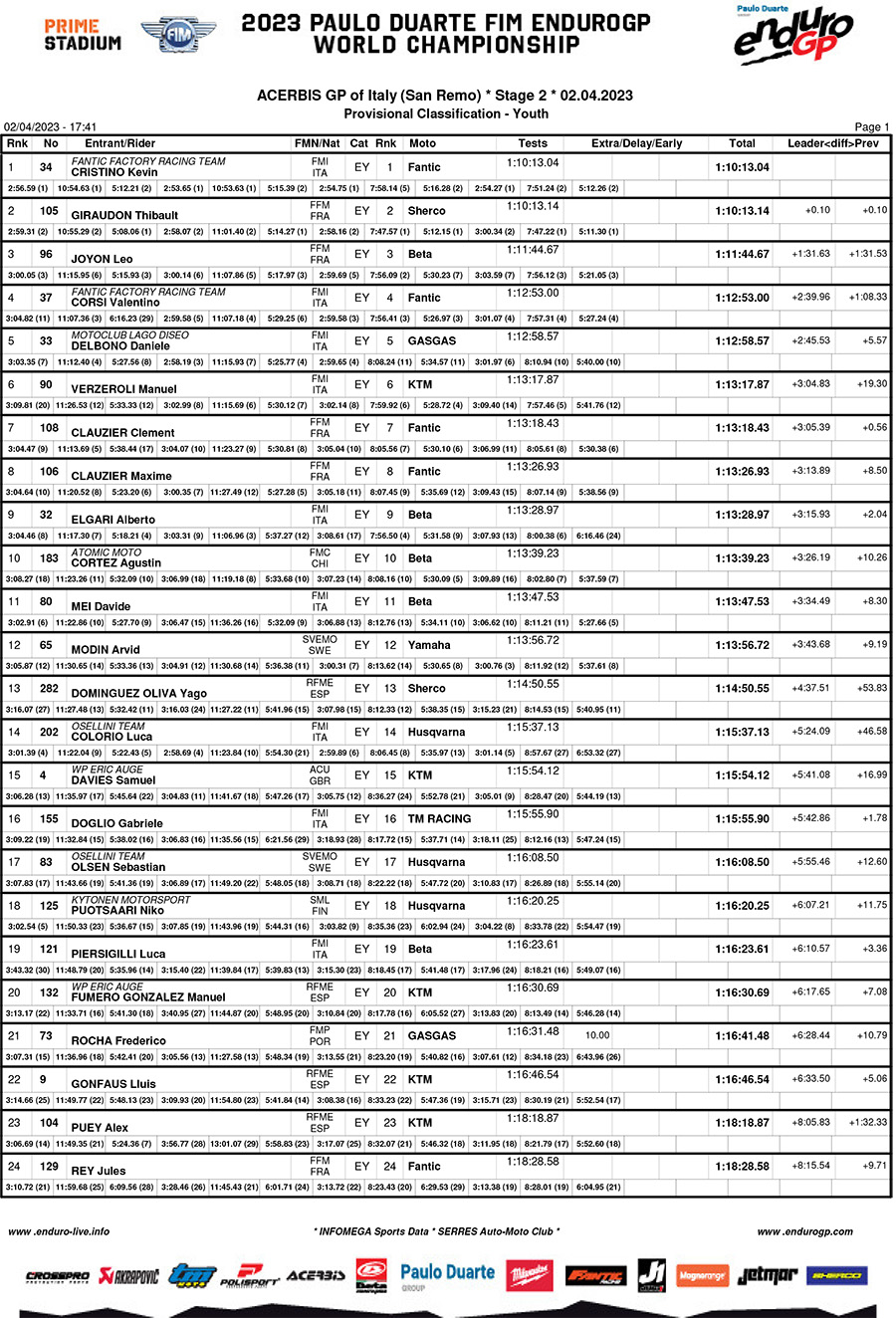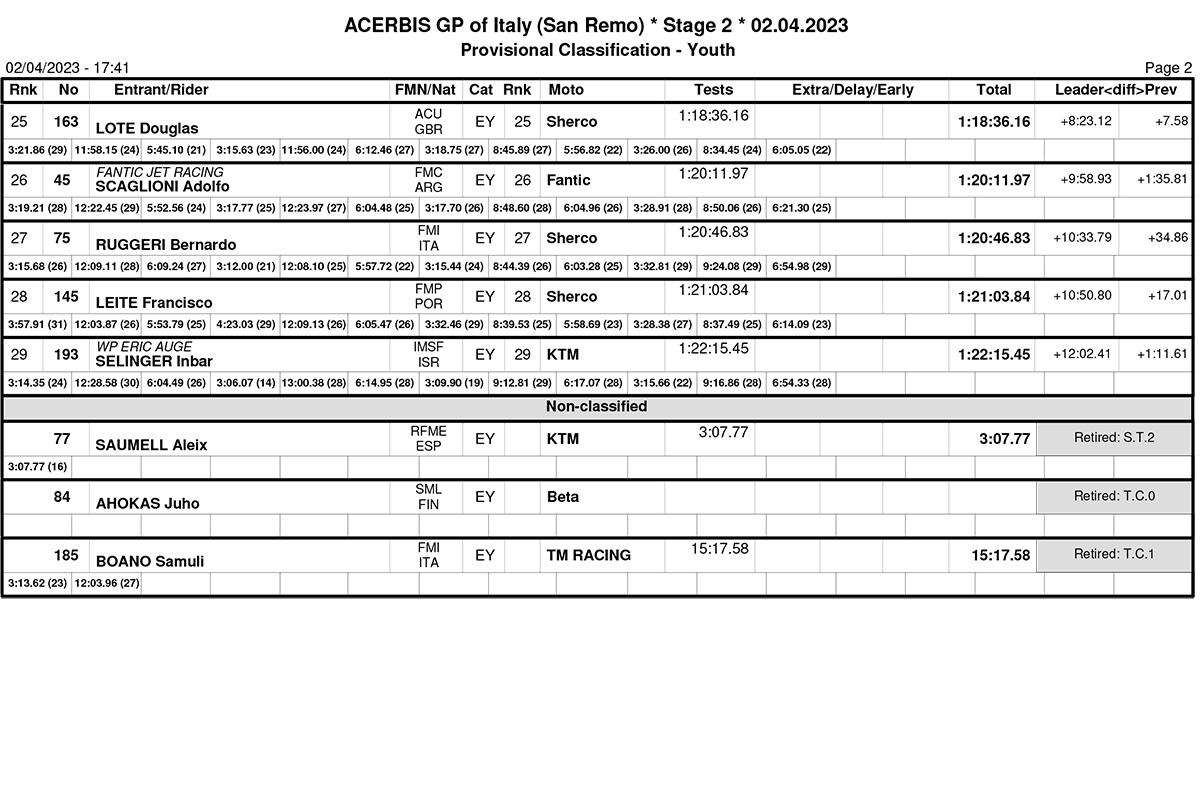 Women results: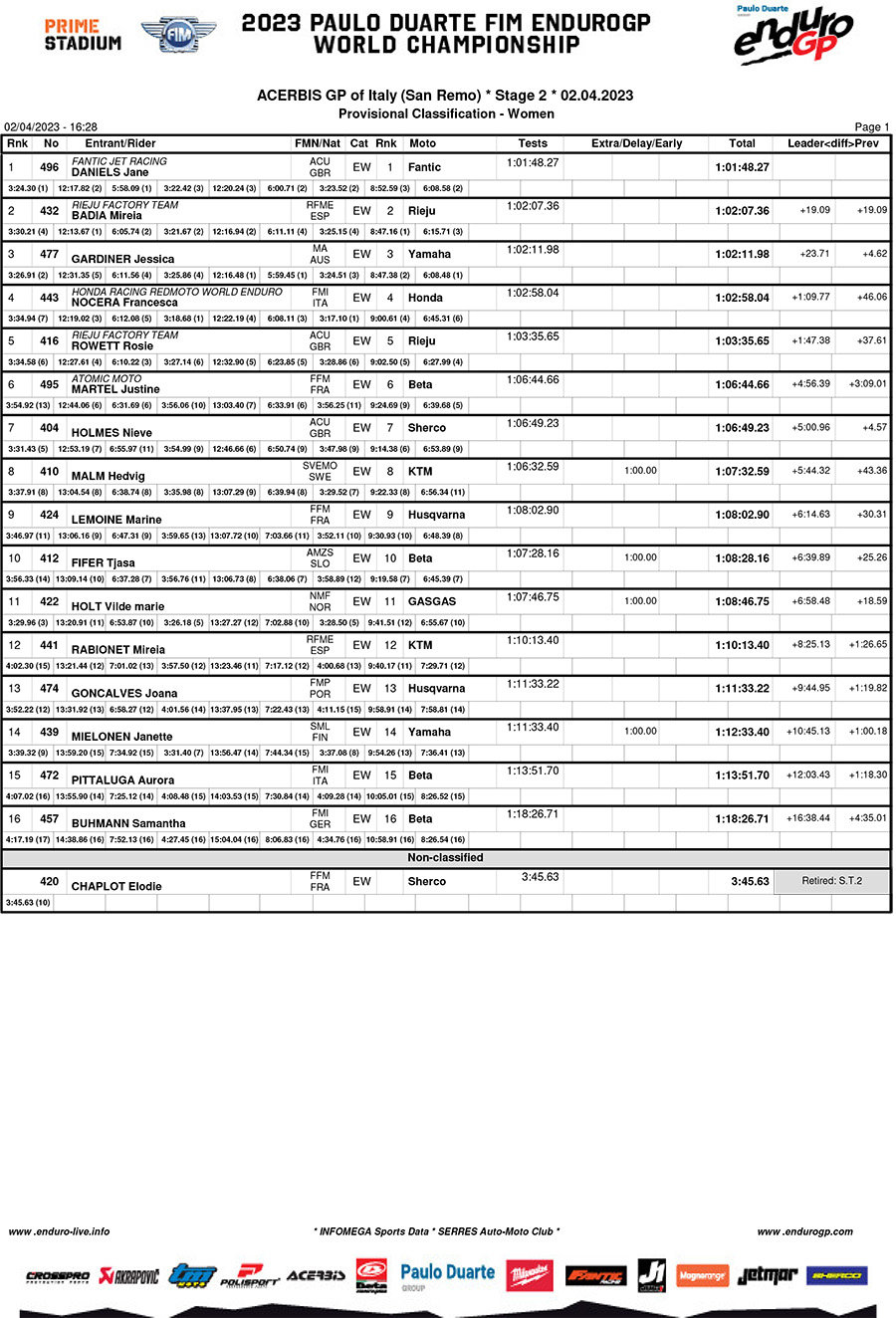 Open results: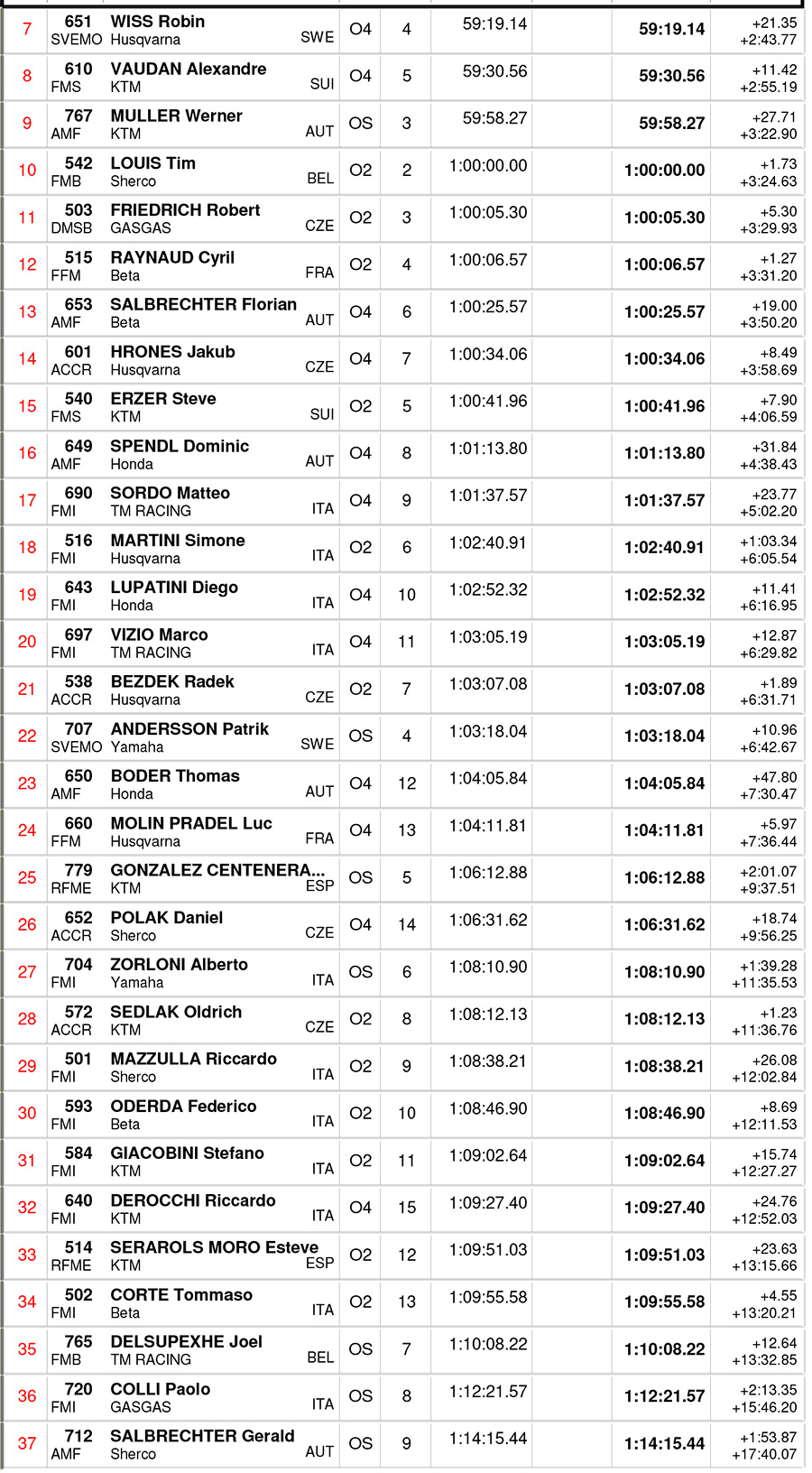 Photo Credit: Future7Media