2021 G2 Grup (Jotagas) 300 two-stroke riding impressions
After months of speculation, Jotagas – now called G2 Grup – have finally shipped a 2021 enduro motorcycle out and across the Atlantic. The Jotagas North America importer gives Enduro21 his honest, 'first look' opinion on the new bike fresh out the box from Spain.
"Things are good except I need a container of bikes to sell so I can make some money!" Says Clay Stuckey as he takes delivery of his first bike after a long, Covid-enforced delay on delivery to North America.
In 2020 images of the 300cc two-stroke model which had rebranded into G2 Grup, with the X-Trem model name, finally emerged. It was a pre-production bike but almost complete and littered with quality parts including Ohlins suspension and a programmable ECU and bolted to the Jotagas frame and engine.
Stuckey was so keen on getting his hands on the new bike they shipped one over to him despite the 'official' model launch still yet to happen. Enduro21 wanted to know more though and, as Stuckey is an honest kinda guy, we asked him for his opinion on the new bike. Like any dirt biker, the first thing he did was build the bike up and get out in the woods for a ride. Here's what he told us…
"The bike is really good and I was able to get a good feel for it, honestly it is better than I expected." Says Stuckey. " The fit and finish are really good but I dented the header pipe already – I haven't ridden for a while!
"The 300 2T engine felt super torquey and it's the best shifting bike I have ever ridden. It starts easy off the electric starter and the kick start works well too."
"The chassis feels light and turns really good, very neutral. The Ohlins suspension felt harsh though but I think I outweigh it by about 40 pounds so it was hard to get a good feeling. I've just ordered springs for a typical American and hope to have them installed next weekend so I can ride it properly."
"Clutch pull is good and the Brembo brakes work well, as you'd expect. It has a Nissin rear master cylinder that allows for brake pedal height adjustment too which is a nice touch, not separate like on the Brembo."
The new bike is built around Jotagas' own frame and 300cc, two-stroke engine which are all hand-built at the small factory, just like the trials bike models. The connection is strong with the Spanish parts brand, S3 Parts, which is based just down the road and there are family links between the two companies. S3 Parts on the bike include handlebars, Hardrock footpegs and brake pedal tip.
"Air filter access – it has a Twin Air filter – is from the side and is a tight fit but it has to be on a bike this slim." - Clay Stuckey
The ECU is a programmable one from Italian tuning specialists JD Racing and is fitted to the bike with two riding maps, one full power and a softer map for wetter conditions although Stuckey says he couldn't feel much difference between the two settings.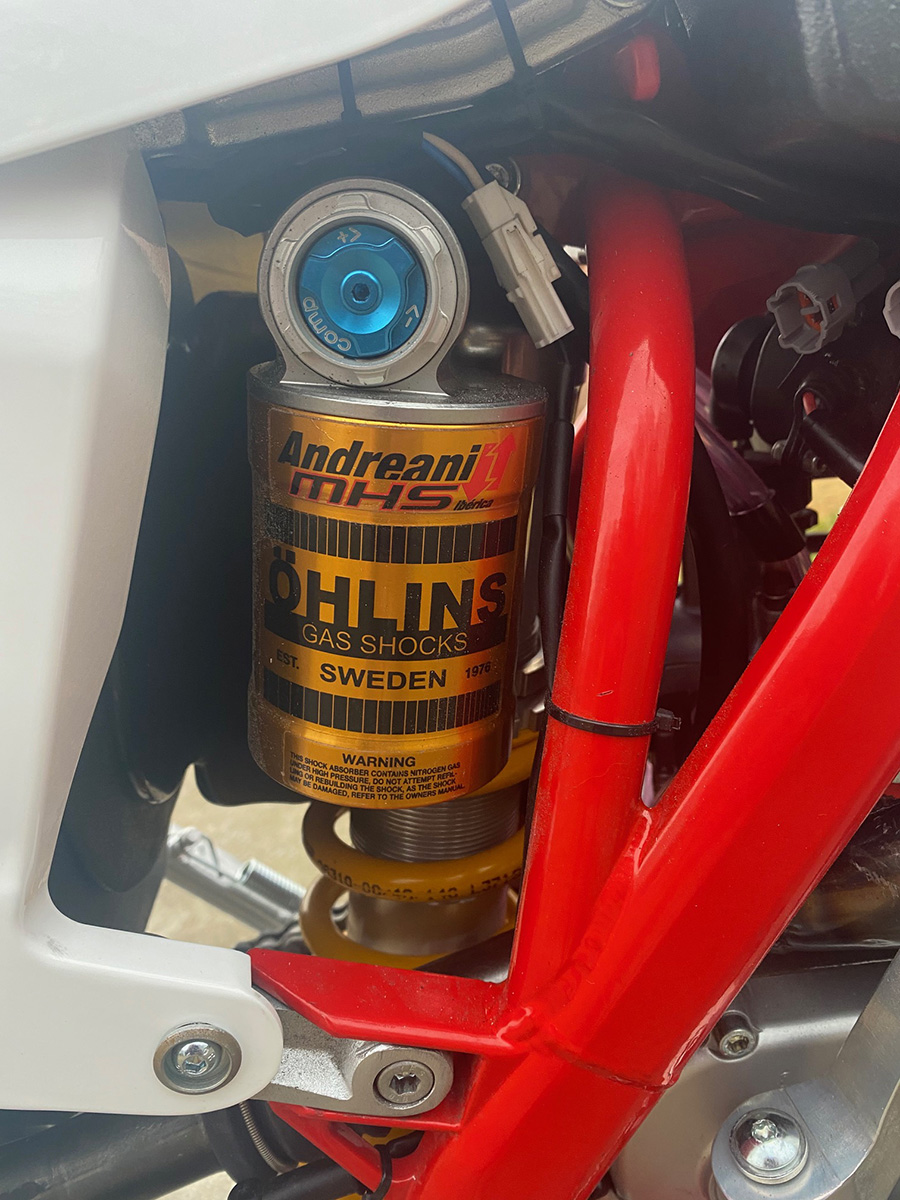 VMX Racing supply the billet hubs fitted to the front and rear wheels which also feature Excel rims but Stuckey was less impressed with the, "crappy Michelin FIM rear tyre".
"The seat sucks too, it's as hard as a rock!" Adds Clay. "I also hate the gas cap and black tank so I've requested a normal spec filler cap at least to fit. Overall though I'm pretty dammed impressed!"
Jotagas and their 300cc two-stroke has been just about as mysterious as any in the off-road market in recent years. The Spanish brand is famously run by a former high-level racer turned joint original founder of the Gas Gas factory, Josep Pibernat (in fact he lives just up the hill from the old factory in Salt, Northern Spain).
Fast-forward many years and Jotagas as a brand has been hand-building trials bikes for almost a decade with an enduro model always seemingly on the cusp of landing but never quite materialising.
As Enduro21 reported when Jotagas is back – 300cc two-stroke in final development stages, the price and specifications are not yet set officially, nor the actual model name, more on both when we get official communication. But Jotagas Off Road in the USA have set the price at a very competitive $8500, which favours well by comparison.
More information: www.jotagas.com (Europe)
www.jotagasoffroad.com (North America)