First Look: 2021 GPX MOTO Chinese four-stroke racing models
Chinese motorcycle manufacturer GPX Moto is set to launch new, four-stroke, off-road racing models alongside their TSE 250R two-stroke from May 2020...
GPX Moto have set a May 2020 arrival date (in the USA) for their 2021 FSE 450R and FSE 300R off-road models. The new FSE (four stroke enduro) machines will arrive in the two capacities and in much the same spec as the already established TSE 250R two-stroke – standing alongside the 'softer' four stroke models also in the range, like the air-cooled XTR 250 model.
Specification highlights of the new FSE 450/300R
450/300cc, EFi motors
Stainless exhaust
Adjustable suspension
Six-speed gearbox
Electric start
CNC triple clamps and hubs
Skid plate with linkage guard, hand guards, frame guards,
LED display and headlight
HD Enduro X wheels
Gripper seat
3M graphics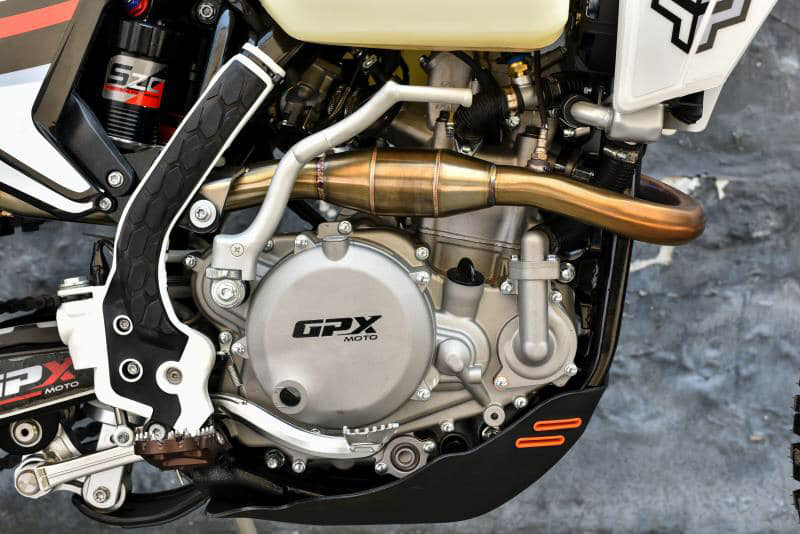 We have not tested these bikes at all but have noticed GPX machines are beginning to prove themselves at the races including finishing the testing 2020 Mint 400 desert race and taking a class-winning result at the 2020 Blueberry Hill Hare Scramble. Since we reported on the new 250 two-stroke model, some two years ago now, the range has grown to also include more trail-friendly four stroke models and kids bikes.
The pick of the off-road/enduro-focused range and prices
TSE 250R six-speed, two-stroke MSRP $4999.99
FSE 300R six-speed, four stroke MSRP $4999.99
FSE 450R six-speed, four stroke MSRP $5599.99
FSE 250R six-speed, four stroke, MSRP $N/A
FSE 250E five-speed, air-cooled, MSRP $3499
Walkaround video of the FSE 250R and FSE 250E models
https://www.facebook.com/pitster1/videos/480040232864930/?t=17&v=480040232864930
More information: GPXMoto.com
Photo Credit: GPX Moto