First look: 2022 Beta USA 300 RX two-stroke
Beta USA has announced the second generation of their special edition 300 RX two-stroke 'soft motocross' model – updates include chassis, suspension, clutch and seat height on a bike they say is growing in demand.
Yep, we know it's billed as a motocross bike but Beta USA's 300 RX is an eye-catcher of a two-stroke and we like that. They tag it with "rideability meets motocross" which, as a concept, makes perfect sense because it's based on the RR enduro models. Electric start, 300cc two-stroke, adjustable power valve, KYB front forks, two position map switch and a controllable Beta chassis.
People are using these bikes for cross-country racing and why not, they sound like a sweet blend – soft motocross or is it 'hard' enduro? Who cares? The only problem is they are only available in the USA and in limited numbers.
2022 Beta USA 300 RX highlights:
Frame: Changes in welding locations provide less stress on the frame while improving overall feel
Suspension: New internal settings of the KYB closed cartridge front forks provide better feedback to the rider while reducing harshness & bottoming
Seat Height: ½" lower seat for improved turning/control
Graphics: Updated graphics to match the 2022 Race Editions in the Beta line-up
Beta USA say the new seat drops "roughly ½" lower than the previous model and that helps turning and feel in the corners. Beta have been testing and taking feedback since launching the RX model last year and found adjusting some weld locations and lengths improved flex, which in turn also helps rider feel.
The new diaphragm spring clutch on the 2022 RX is already fitted as standard to the RR enduro models and boasts lighter lever feel and more progressive control. They say both "engagement and disengagement" have been improved, while the clutch is beefed up to be "capable of transmitting more torque".
This new clutch also has three different settings so you can personalize the RX's clutch feel to meet your riding style. It's a simple process, you rotate the support plate behind the outer clutch cover and that affects how smoothly or firmly the clutch releases depending on the rider feel.
The other detail change is an upgrade to the KYB front fork valving has been updated to provide less bottoming and harshness.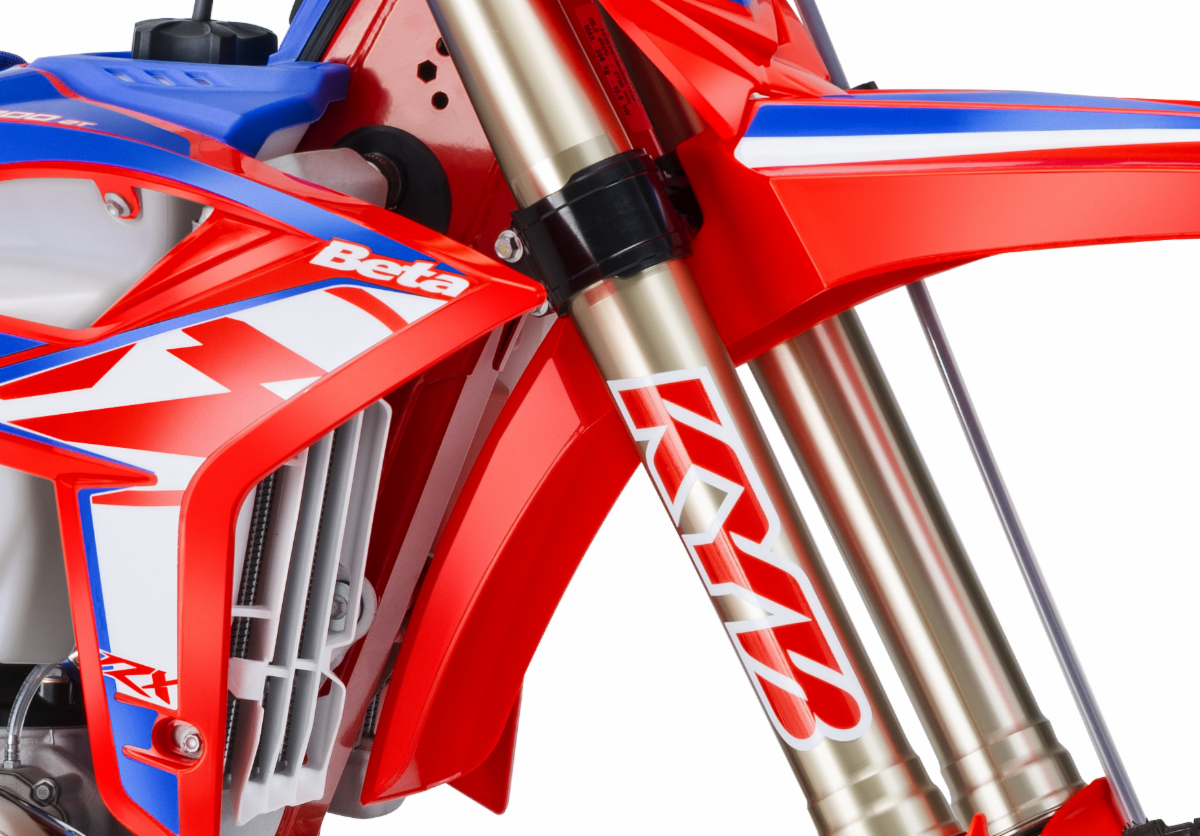 Other features on the RX model:
Electric Starter (optional kick start kit available)
Adjustable power valve, provides a power delivery suited for each rider
Nickel plated Arrow exhaust pipe with a tuned aluminium silencer
19 inch rear wheel for moto tyres (18 inch is available)
Two-position map switch alters ignition timing for wet or dry conditions
Push button seat removal with side air filter access
Silicone cooling hoses for durability
Moto style handguards
Dual material rear sprocket, steel teeth with aluminium centre
Free paddock stand with every bike
Price: $9199.00
Availability: January 2022 in limited numbers
More information: www.betausa.com