First look: 2024 KTM EXC enduro range revealed
KTM have revealed the long-awaited, 2024 EXC range of enduro motorcycles – take a first look at a gallery of the "95% new" two-stroke and four-stroke models and check the details.
They've been a while coming and in the end there are few surprise as KTM reveal their new, 2024 EXC Enduro range. The Austrian manufacturer's line-up in orange houses six models which includes a new 150 EXC fuel injected two-stroke alongside the 250 and 300 EXC. Add to that the four-bike 250, 350, 450 and 500 EXC-F four-strokes.
In North America that range is: 150, 250 and 300 XC-W two-stroke enduro models, 350 and 500 EXC-F Dual Sport bikes alongside the 350 and 500 XW-F, plus a 450 XCF-W, enduro four-stroke.
As expected from the updates for the EXC range follow a pattern already set by the SX and XC machines last year, albeit with some significant changes across what they call 95% new machines.
Those include an all-new black powder-coated frames with a two-piece subframe bolted on, orange seats with a new mounting system and grab handles make a welcome return, new electronics which do away with fuses, new closed-cartridge forks, tool-free suspension adjustment, new bodywork, LED headlight, and "industry-defining technology", i.e. Throttle Body Injection (TBI) fuel injected two-strokes with separate oil injection (unlike premix XC models) and no option for a kickstart, at all, ever....
Below are the bullet points, if you want more details and our opinion, head here: 10 things: 2024 KTM EXC enduro model range digested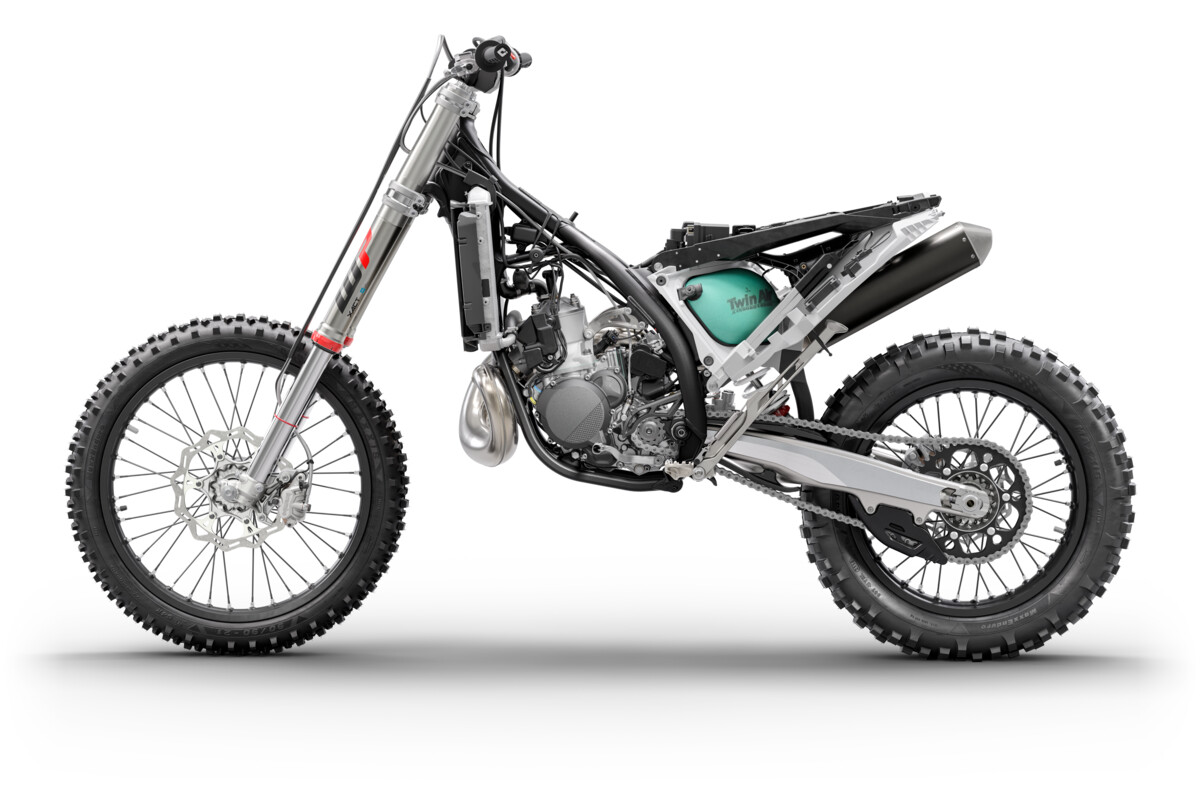 2024 EXC enduro range highlights:
All-new hydro-formed, laser-cut, and robot-welded frame
All-new 48 mm WP XACT Closed Cartridge spring fork, featuring a new mid-valve piston and tool-free adjustment
New setting WP XPLOR PDS rear shock, fully adjustable for compression and damping with tool-free adjustment
All-new lightweight two-piece subframe, polyamide and reinforced aluminium construction
New design triple clamps
All electronic components, including an all-new Offroad Control Unit, are fully integrated into the subframe
New bodywork all around developed with input from the Red Bull KTM Factory riders
New front fender design with mud-repelling fins
New orange seat removable with front bolt and grab handles
New 8.3 litre/2.2 US Gal (4T) and 8.9 litre/2.35 US Gal (2T) transparent, polythene (XPE) fuel tanks
"Totally independent" electronic control unit (OCU) under the seat replaces the use of electronic fuses and relays
Throttle Body Injection two-stroke engines
New plastic flaps outside the reed valve case for improved sealing of the intake tract
New electronic exhaust control allows two different engine maps, selectable via an (optional extra) select switch
Four-stroke engine have improved centre of gravity with engine tilted 2° backward and repositioning the front sprocket 3mm lower (like SX models)
New chassis design aids anti-squat behaviour for improved traction
4T option for traction control and quickshifter function for the first time ever on an enduro machine
Note: retrofitting of kickstarter is no longer possible on any engine capacity (300 EXC engine shown below)
No prices are yet known FYI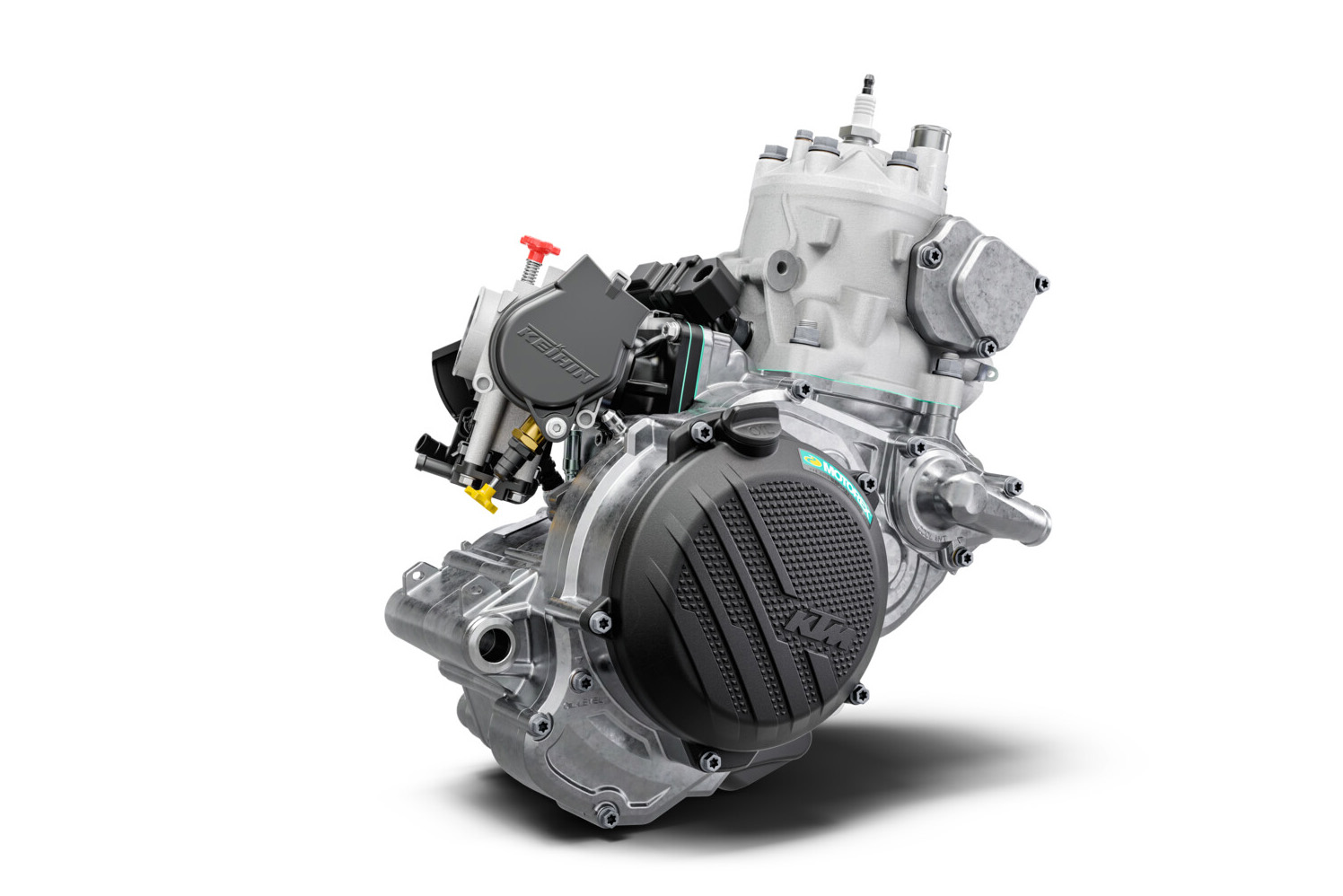 New Frame updates are significant enough for a separate list:
Tailored longitudinal rigidity improves rider feedback, energy absorption, and stability
Repositioned rotating masses in the frame and forged steering head connection
"Topology-optimised" frame wall thickness for improved rigidity and improved reliability in high-stress areas
New shock mount, significantly improving anti-squat behaviour
New parallel frame mounts for improved flex characteristics on two-stroke models
Footrest mounts are moved inwards for less risk of hooking in deep ruts or when scrubbing (!)
Durable finish with frame protectors as standard
Forged one-piece side stand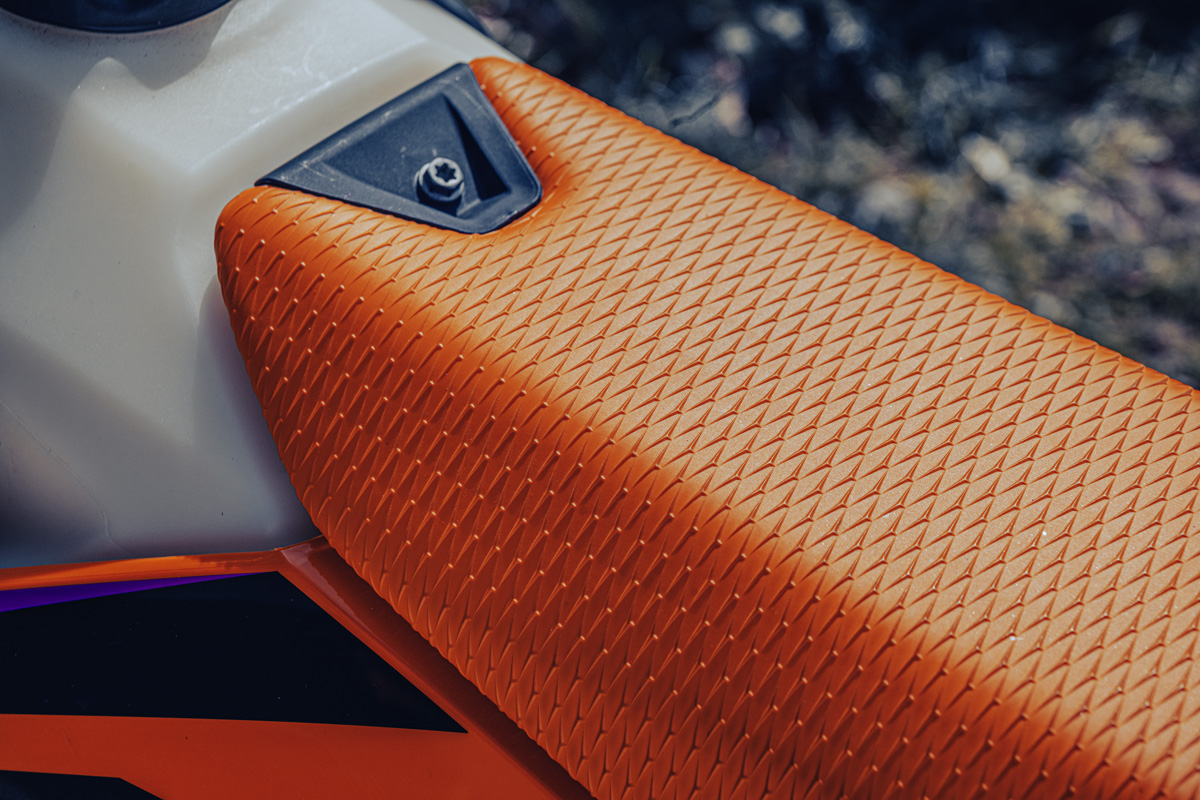 Enduro21 will digest the information and update with more details later and ahead of the world press test of the bikes next week, stay tuned.
KTM say the 2024 EXC and EXC-F range will be available in dealers from June onwards.
More information: www.ktm.com
Photo Credit: Rudi Schedl