First look: 2024 Yamaha WR450F – "lightest, slimmest and fastest Yamaha 450 ever"
Yamaha announces the updated 2024 WR450F enduro model with significant changes to engine, chassis, suspension and electronics to create "the lightest, slimmest and fastest 450cc enduro bike that Yamaha has ever built".
The "lightest, slimmest and fastest bike we've ever built" are the kinds of words we like to hear from a manufacturer. For a bike based on its motocross model brother (as most Japanese manufacturers traditionally do) they are the noises you want to hear, particularly from Yamaha who's WR models can get feel like they are a step behind other European manufacturers.
Based closely on the new-generation YZ450F motocross bike, Yamaha has taken all the hard work put in to adapt the "next generation WR450F" and create a bike which they say is more controllable. A new chassis and suspension, a new "rider triangle" for more feel and control plus more controllable engine performance and tuneable power character promise the best big WR yet.
The 2024 updates also include a revised ECU and fuel injection mapping, revised chassis rigidity and KYB suspension settings specific to the WR and a lower ride height – as well as a larger fuel tank (compared to the YZ450F) plus of course kickstand and 18-inch rear wheel.
All of this also applies to the closed-course YZ450FX, the cross-country model popular in the US market which has no lights, is not homologated but is essentially is the same machine.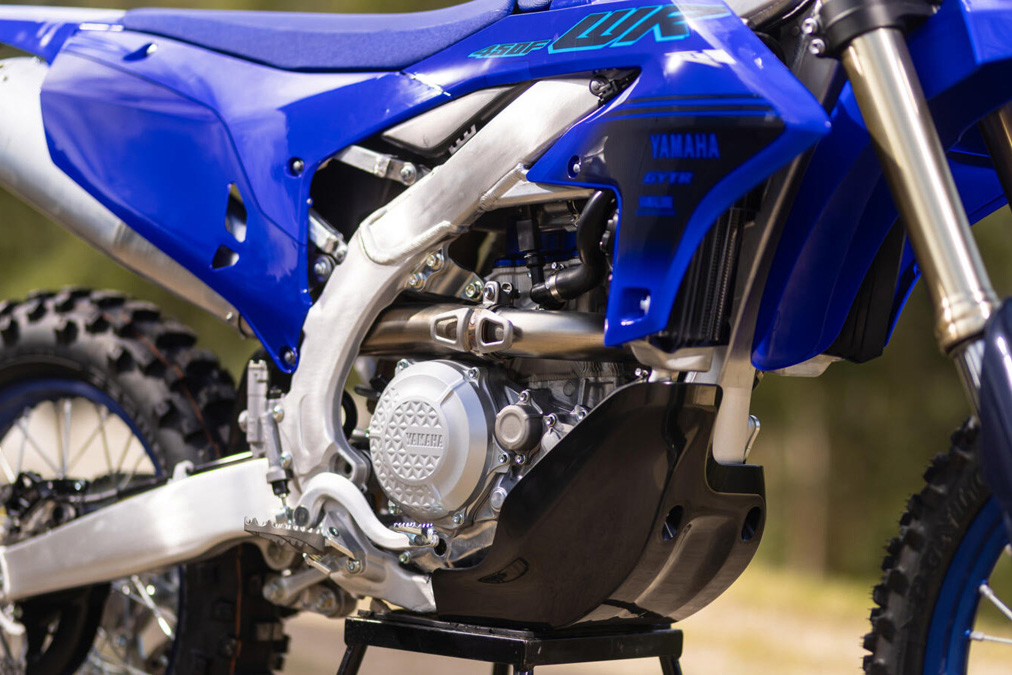 2024 YAMAHA WR450F technical highlights:
All-new stronger and lighter YZ450F-derived engine
Higher efficiency air intake
New disc spring clutch with lighter feel
Lightweight wide-ratio 5-speed transmission
Compact new aluminium chassis
Shorter stroke KYB suspension for lowered mass
Tool-free front suspension adjustment
Stronger fork seals and redesigned fork guards
Slimmer and more compact bodywork for easier rider mobility
New footrest and handlebar positions for improved rider triangle
Simplified Power Tuner App for total controllability
New traction control system
Full enduro-ready specification
Iconic blue
Yamaha blue is Yamaha blue is Yamaha blue. This much we know. It feels like the overall look of the WR models has changed little in recent years but some how they always seem to tweak it subtly enough.
The 2024 WR styling isn't "radically updated" as Yamaha would have you believe but it is sweet with a turquoise edge helping the graphics stand out on the otherwise "icon blue" coloured panels.
All-new stronger and lighter 450F engine
Developed for the YZ450F, the 2024 WR450F's reverse-head engine develops more power Yamaha say thanks to the new, "high-efficiency" intake port with a redesigned inlet tract which allows a straighter path to the larger 39mm titanium intake valves.
As well as being lighter and slimmer than the previous model, the dry sump 450cc engine also features a new forged piston, lightweight cylinder body, plain big-end bearing and a new cam chain.
New air intake system and FI settings
Yamaha say the 2024 WR450F airbox draws in air from the rear of the machine via ducts in the new side panels, frame and tank. The result is a more responsive power character and improved efficiency.
As seems to be the trend for four-stroke bikes these last few years, a new shorter muffler improves mass centralisation and underlines the WR450F's compact feel.
Yamaha has also worked on the ECU, adapting it to the WR power with specific FI settings for more controllable power at lower rpm for enduro. "Strong, linear torque and outstanding medium to high-speed performance" Yamaha say.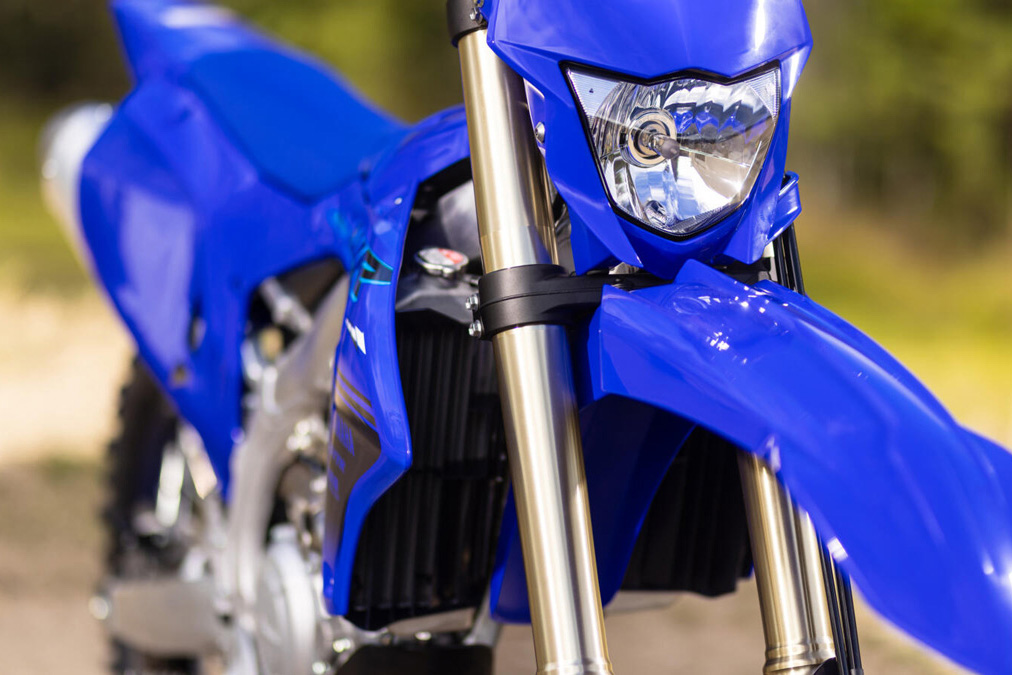 New lighter, disc spring clutch
Reduced weight and a lighter, more connected feel are also words we like to hear about an enduro bike. Yamaha say the 2024 WR450F has a new design disc spring clutch with eight WR-specific friction plates and the primary gear and housing integrated into the new design.
Another big difference is the previous model's six springs are replaced by a single disc spring that claims better controllability when pulling away and slipping the in slow and more technical riding conditions.
5-speed transmission
Yep, the WR450F still has a wide ratio five-speed transmission and doesn't adopt six as you might prefer for enduro and trail riding. It is wider ratio than the motocross gearbox however and with different final drive gearing it is therefore capable in a wider range of terrain and riding conditions.
The '24 transmission features a larger spacing between the main shaft and drive shaft Yamaha say, with new, wider main shaft's gears for increased durability and reduced weight too.
Compact, new aluminium chassis
The WR450F's new chassis is the same overall design as the latest generation YZ450F, as you'd expect. But it does feature a number of dedicated technical changes to make it more pliable for enduro and cross-country riding.
The key change on the new frame is the repositioned header pipe 15mm lower than previously. Modified tank rails with a new U-shaped profile at the rear means the 2024 aluminium bilateral frame gives a lower centre of gravity for more agile cornering.
Compared to the design used on the YZ450F, the WR450F's frame also has revised frame flex characteristics and engine mount adjustments to improve bump absorption. They say it allows a slight lateral flex when absorbing shocks from uneven terrain which means it gives a more forgiving ride to help reduce rider fatigue and improve feedback.
Slimmer bodywork
The WR450F's all-new bodywork features slimmer shrouds, 50mm narrower than previous models, plus a slimmer mid-section and a flatter seat profile. Combined that makes it easier for the rider to shift their body position during braking, acceleration and cornering Yamaha say.
The new compact side panels also form part of the new rear duct air intake, plus the airbox design means (as previous) you have tool-free access to the air filter at the front of the seat.
The new bike also has smaller front and rear fenders with the front design helping improve airflow to the radiators for more effective cooling, while the new shape rear fender incorporates a contoured underside making it easier for the rider to grip when physically handling the bike.
Shorter stroke KYB suspension for lower seat height
Plenty of enduro riders complain about the seat height on the Japanese enduro models which are derived from taller MX bikes. Yamaha has addressed that further on the '24 WR450F's KYB front and rear suspension with 10mm less travel to give a lower seat height and a lower centre of gravity making a "significant difference" to the bike's handling.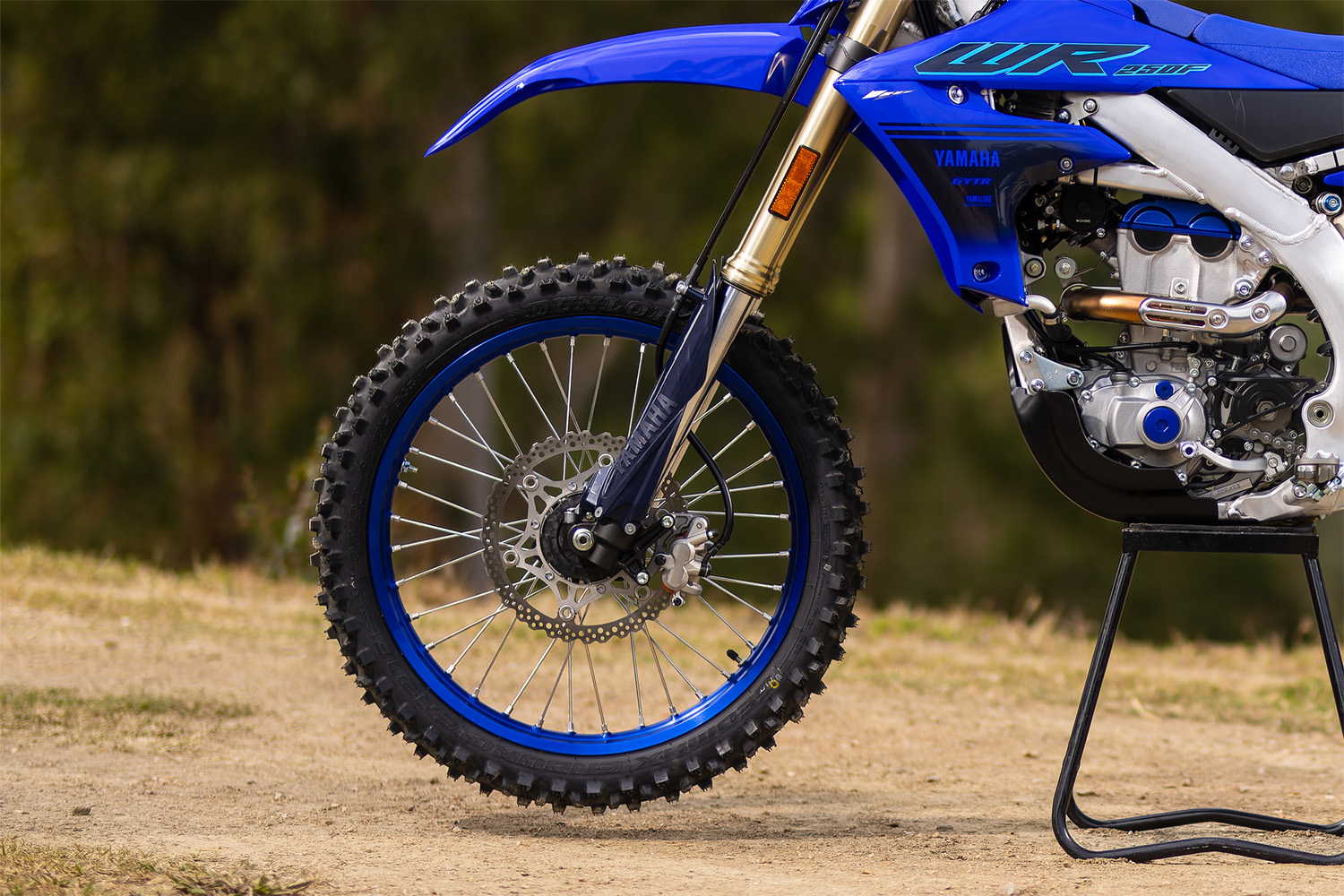 The KYB forks have a new hand adjustable compression damping adjuster for tool-less suspension tuning too – a welcome addition for many of us who ride different terrain regularly on our bikes.
The forks get a tweak for service life also with new stronger fork seals and redesigned fork guards giving the tubes more protection from dirt and debris and helping prolong seal life.
Revised riding position
The 2024 WR450F's riding position is revised too by relocating the footrests lower to give a 10mm increase in distance between the rider's hips and feet – and the handlebars are now moved slightly closer to the rider.
It creates a new rider triangle which they say gives a more natural riding position and naturally more feel and control.
'Quick Tuning' function Power Tuner App
Yamaha pioneered wireless tuning on its four-stroke Off Road Competition models, and the WR450F's Power Tuner App is developed even further for the new model.
The app now features a 'Quick Tuning' function that lets you easily select any engine setting from 'Smooth' through to 'Aggressive' by tapping on a scrollbar on your smartphone.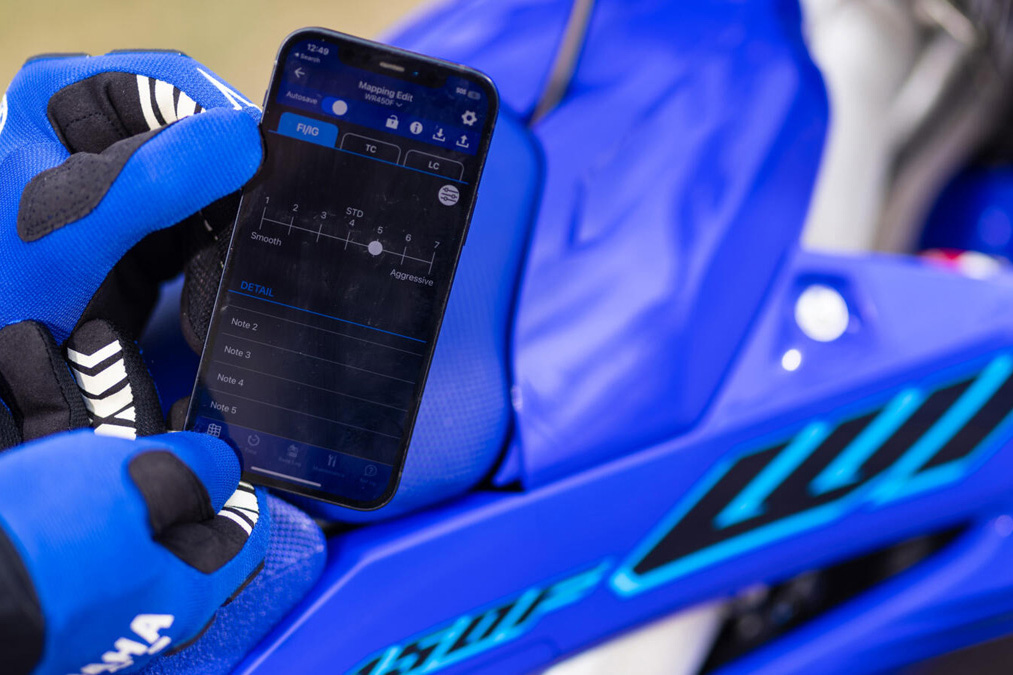 It's always been simple and easy to use but Yamaha say this update is more "intuitive" and allows the rider to select different engine power character settings to match the conditions easier.
A new Lap Timer function is updated too if you are into keeping tabs on your times.
The Power Tuner App also retains the previously available 4x4 (16 value) matrix that gives riders the opportunity to make more detailed changes to fuelling and ignition timing values.
New traction control system
A new traction control system is another example of Yamaha aiming the WR450F at all levels of riders and riding conditions. Plenty of high-level riders will tell you on the big bikes, they are happy to use a softer map in certain conditions because it makes them quicker and life easier.
The '24 WR450F has two levels of traction control assistance as well as an OFF function. Put simply it electronically controls power, temporarily suppressing it using ignition control when rear wheel slip is detected.
Multifunction handlebar switch
You can select different engine maps and traction control settings using the multifunction handlebar switch on the left side of the handlebars. Personal maps can be uploaded to the bike using the Power Tuner App also, with your favoured settings selectable 'on the fly' depending on riding conditions.
Enduro-ready specification
The WR450F naturally comes prepared for enduro 18-inch rear wheels, enduro tyres (may vary in brand depending on your country), lights, instruments, side stand and a radiator fan as standard.
Fuel tank capacity is higher than the YZ450F at 7.4 litres (2 US Gals), there's a basic plastic sump or engine guard and enduro muffler as standard.
WR250F? – new graphics only for 2024 after big updates last model year. Read all about that here: Tested: 2022 Yamaha WR250F
The 2024 WR450F will available from November 2023. The WR250F is available from October 2023.
Prices: $10,199 ($8999 WR250F)
*Price not yet known in Europe
More information: www.yamahamotorsports.com/motorcycle & www.yamaha-motor.eu