First look: eMR electric enduro and 500cc twin Adventure models from Rieju
Spanish manufacturer Rieju made some big reveals at the 2022 EICMA show with a new 500 twin cylinder Adventure lite/Maxi trail bike plus new enduro models including the electric eMR – Enduro21 takes a look.
Rieju eMR electric enduro
Rieju says they are making a commitment to developing its Hard Enduro models and preparing for the future with the new Electric eMR.
On the face of it, it is good to see the established Rieju platform (formerly GasGas as was) with an electric motor. Although the chassis has been around a while, it's a good one with KYB suspension and Nissin brakes.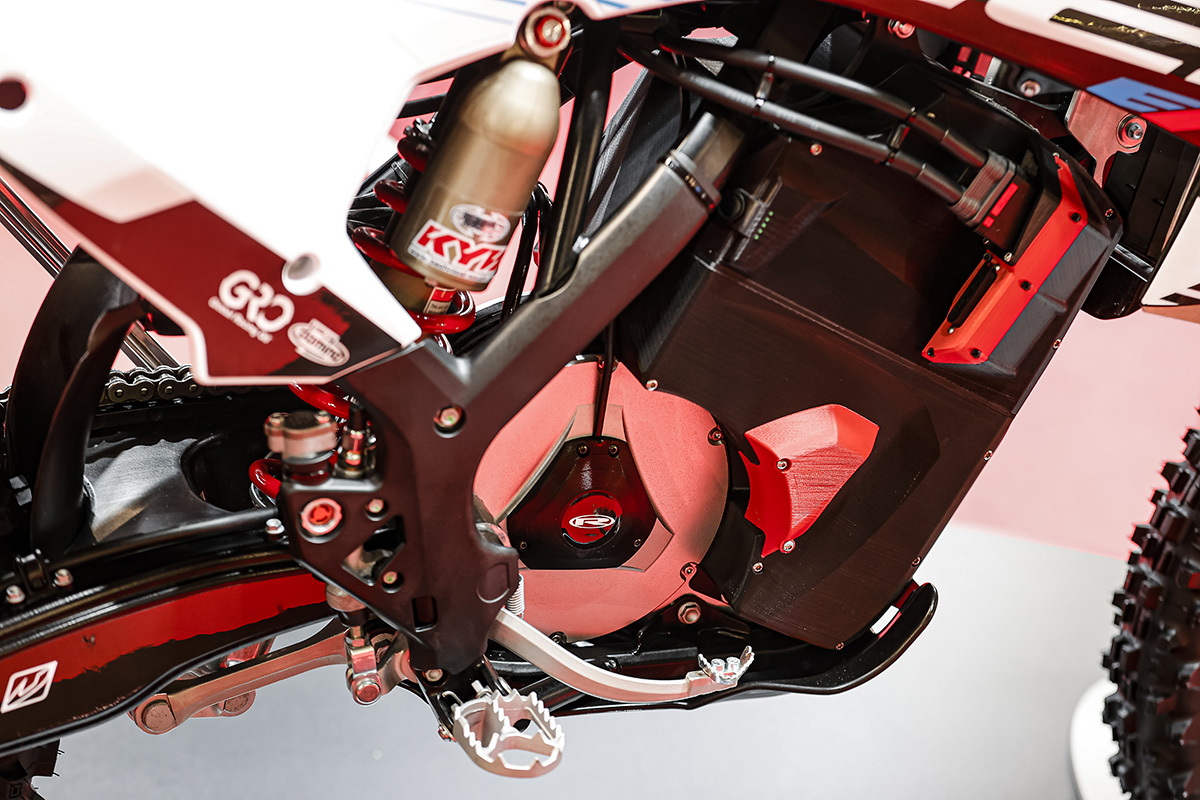 The question mark (apart from why it has a petrol tank...?) is how the electric motor rides the dirt and how long it lasts – plus we're not clear if this is a prototype for the show or will be an actual bike you can buy.
"Great battery range" Rieju say with an electric motor which looks a lot like one they already use in some of their street models. It's also weighing it down a bit with a claimed weight of 120kg it is a bit beefy.
That said, if they can make sure the motor and battery are both reliable and work on the dirt, plus it has that claimed range, this bike is worth keeping an eye on as the market continues to grow.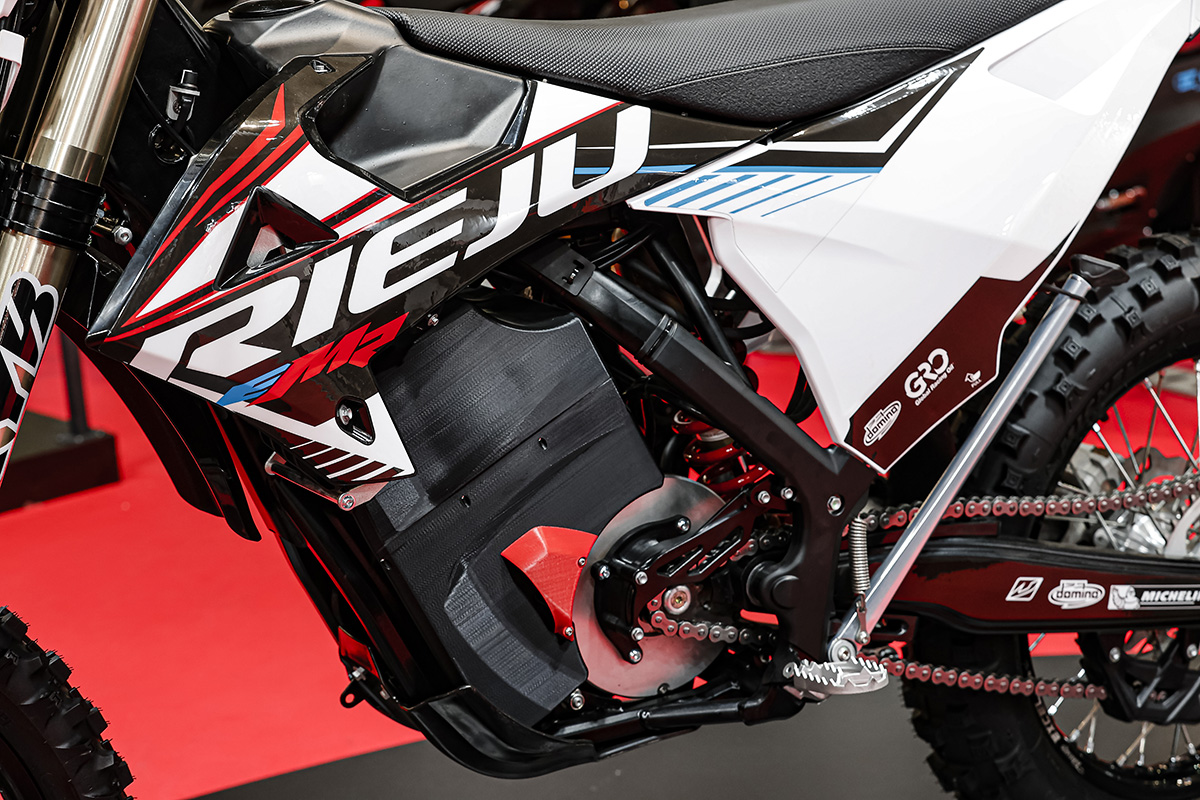 Rieju eMR Pro specifications: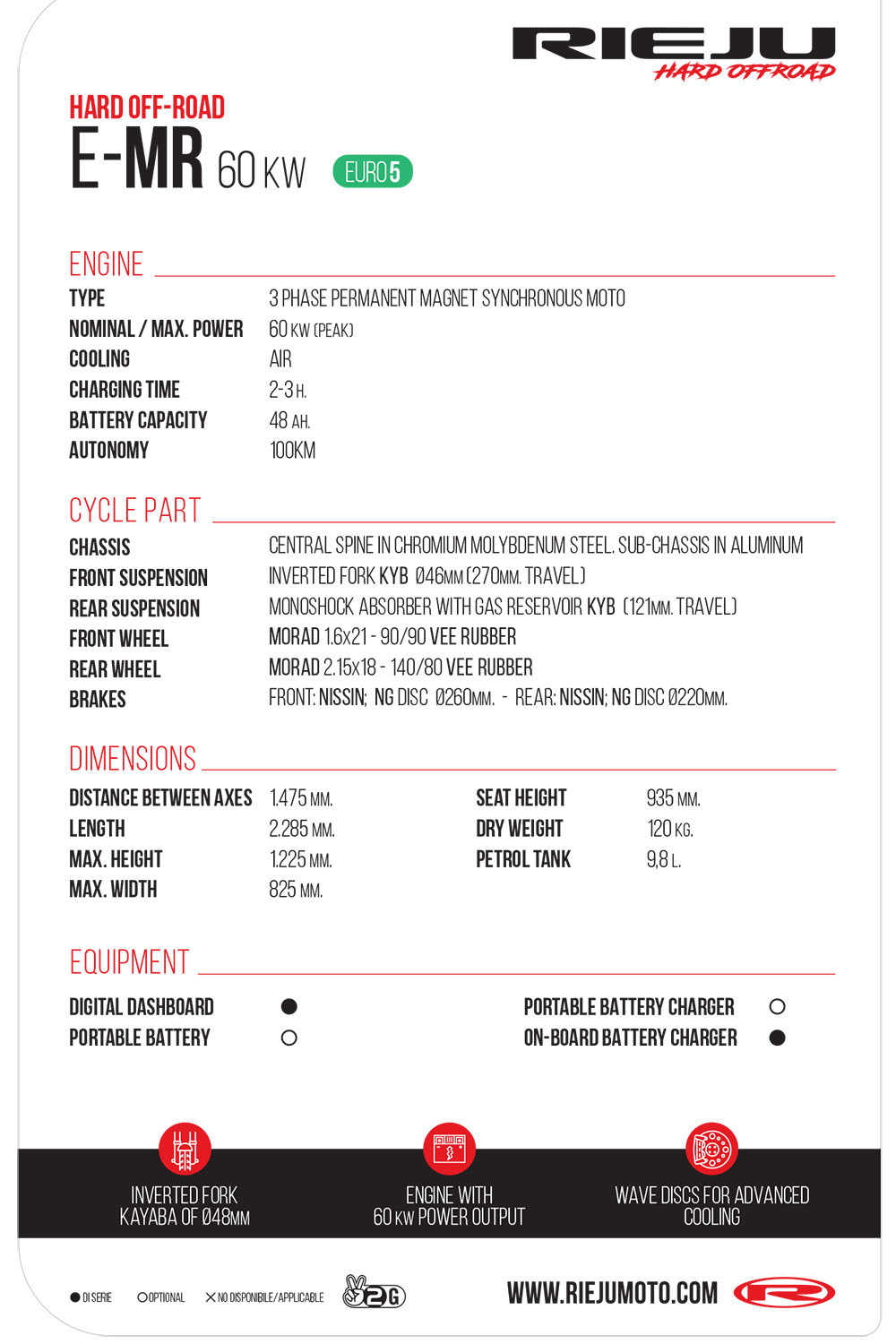 Rieju Aventura 500 Legend
Rieju is marketing its history pretty strongly of late and that continues with a "Legend 1942" range of models.
It includes new graphics options on the MR enduro line up plus this new Aventura 500, a twin-cylinder maxi trail bike and the largest displacement motorcycle Rieju has ever manufactured.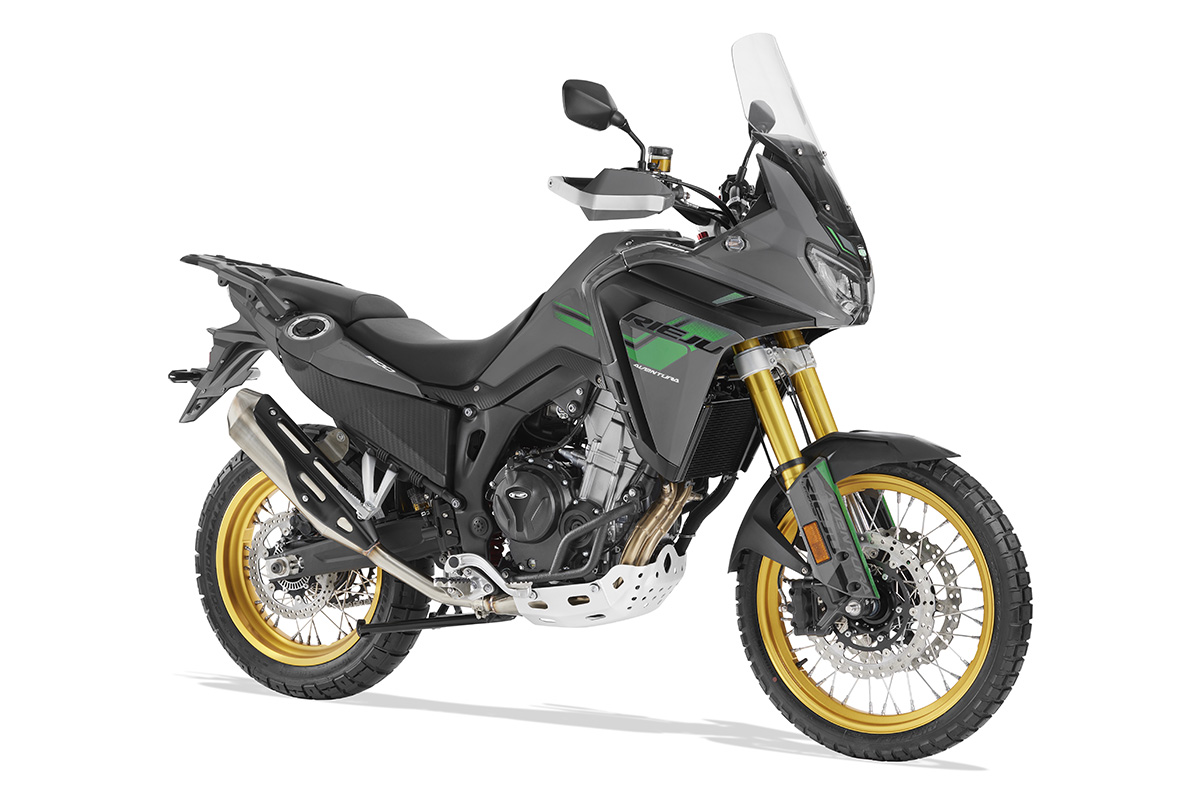 The 500cc twin-cylinder engine will surely make it an Adventure lite bike, something event softer than many of the other bikes out there. But with two fuel tanks (20 litre front and 19 litre rear), 21"/18" spoked wheels and something about it which reminds us of some trail bikes from 20 years ago (think Yamaha XT660, Aprilia Pegaso, Kawasaki KLE500, or the original Honda Transalp), the Aventura 500 could potentially be a shrewd move for Rieju.
Aventura 500 Legend specifications: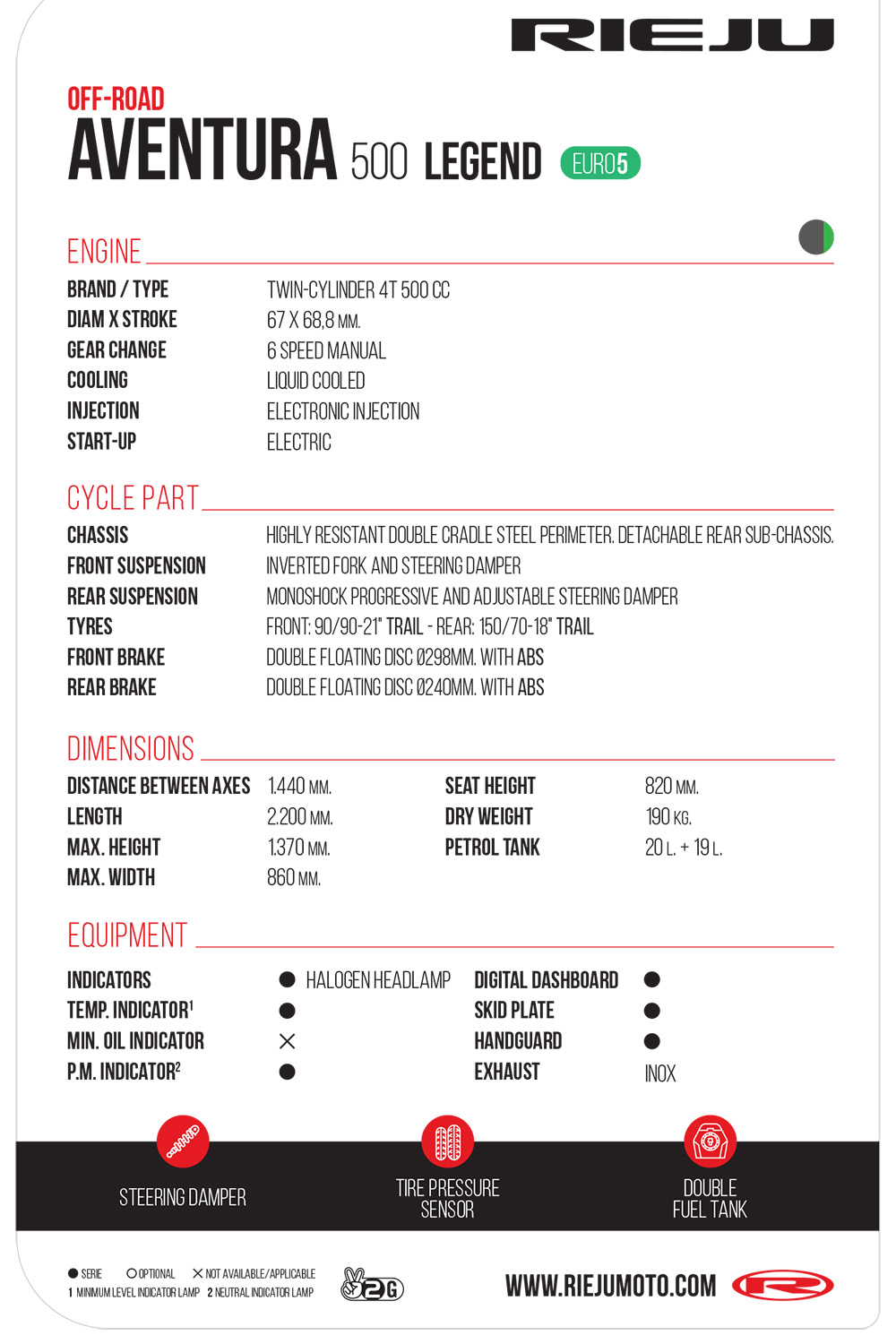 New MR 125 four-stroke
The other bike Enduro21 picked out from the crowd in the Spanish manufacturer's 2023 line-up is the MR 125 four-stroke. The MR range is the off-road or enduro line-up to be clear, and adding this 125 four-stroke into it brings a new, lowest rung to its ladder.
In theory that means the MR125 gets the same specification as the MR250 and 300 models but on close inspection it's not quite up to that and looks more like a halfway house, upgrading their existing Marathon 125 (where the engine comes from).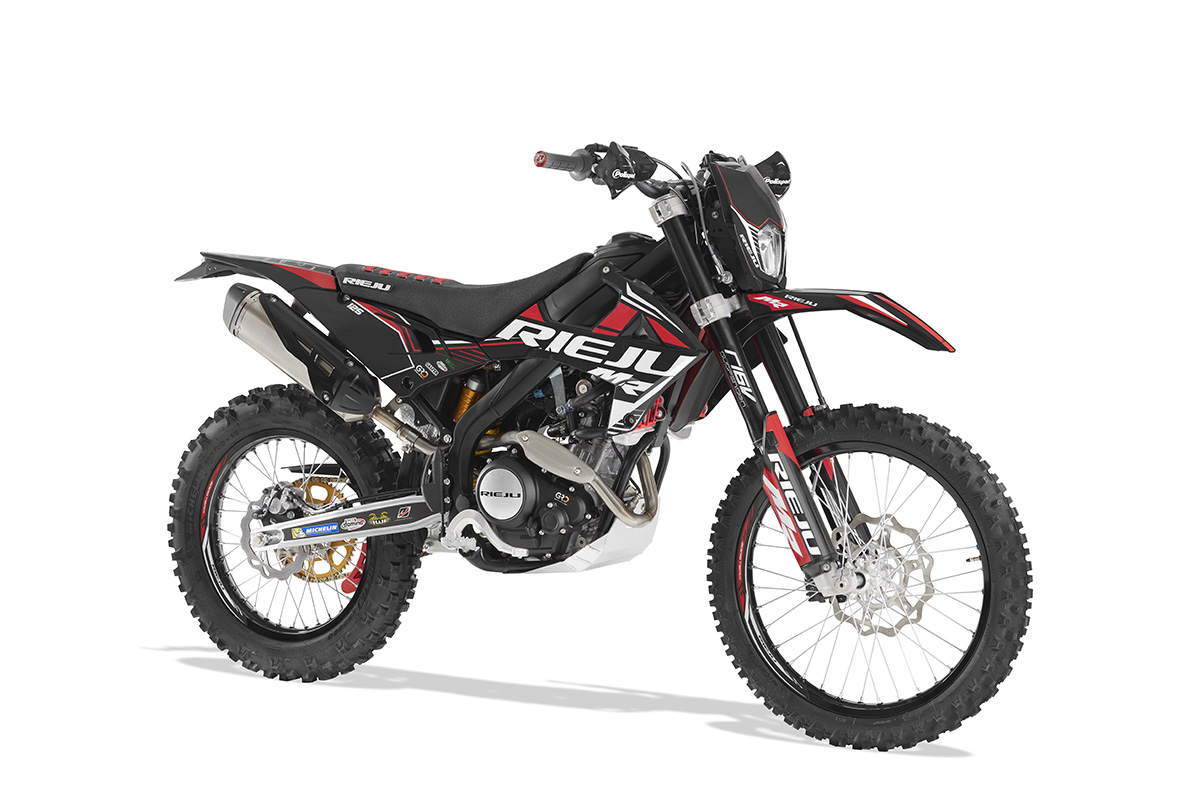 That soft engine is aimed at young and novice riders who want performance from a chassis, fully adjustable suspension and the MR family looks, it is "the perfect machine for getting started in enduro" Rieju say.
They kinda already do that with the Ranger, which has the same concept but with more usable power. A 125 two-stroke might have been more what the enduro market wants but this one is learner legal, meets emissions regulations and is therefore an easier addition to the production line.
MR 125 four-stroke specifications: