First look: 2023 SUR-RON Ultra Bee – trail-friendly new model with lights and knobblies
Electric motorcycle manufacturer Sur-Ron has announced the trail-friendly new Ultra Bee models are heading to global dealer networks – it's got lights and knobbly tyres...worth a look?
The latest model in electric motorcycle manufacturer Sur-Ron's line-up of e-bikes, the Ultra Bee, was announced late last year (2022) aiming to be a "mid-sized powerhouse that packs state-of-the-art technology and proven performance features into a newly-designed platform".
Like its siblings in the Sur-Ron line-up, the Light Bee and Storm Bee, the Ultra Bee is essentially forging a new line somewhere between the ever-growing e-mtb market and conventionally powered enduro/dirtbikes (what is it with the bees btw?). It's also available in two specifications: the Ultra Bee T (trials variant – homologated for road use) and the Ultra Bee X (more off-road focused).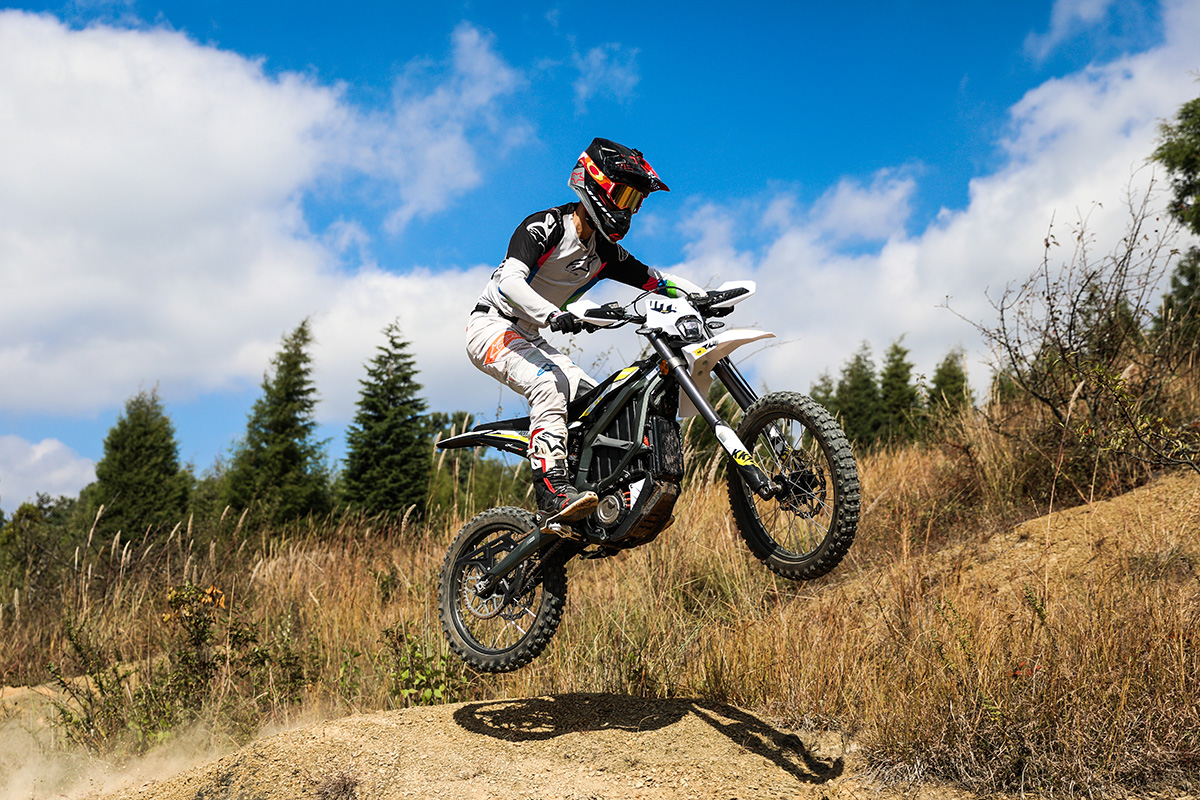 Fourth Gen e-motor
The Ultra Bee houses Sur-Ron's fourth generation powertrain system, designed specifically for the Ultra Bee platform they say with a "PMSM motor and full isolated electrical architecture for an interference-free ride".
We confess that is mumbo jumbo to us but e-bikes are all about the torque power but the 74V/55AH battery pack with a claimed 12.5KW/440Nm torque drivetrain promises strong acceleration yet smooth power output they say, helping "inspire rider confidence" with a range of settings depending on terrain and preference.
Three rider modes (including reverse?!)
Power is controlled by three different riding modes – eco, daily and sport mode – that can be easily selected via an ergonomic switch and which also includes a reverse setting if you should need it.
Sur-Ron's own developed traction control system (SRTC) features three selectable settings for further control depending on conditions and rider preference.
Claimed performance figures look interesting with a top speed of 56mph, 0-30 mph in 2.3 seconds, and a maximum range of 87 miles on a full charge, as well as a maximum recharge time of only four hours. Rightly or wrongly plenty of enduro riders will look at that range and scoff at the idea of just 87 miles on a charge but hold your horse and compare it more favourably to an e-mtb, then come back to the comments…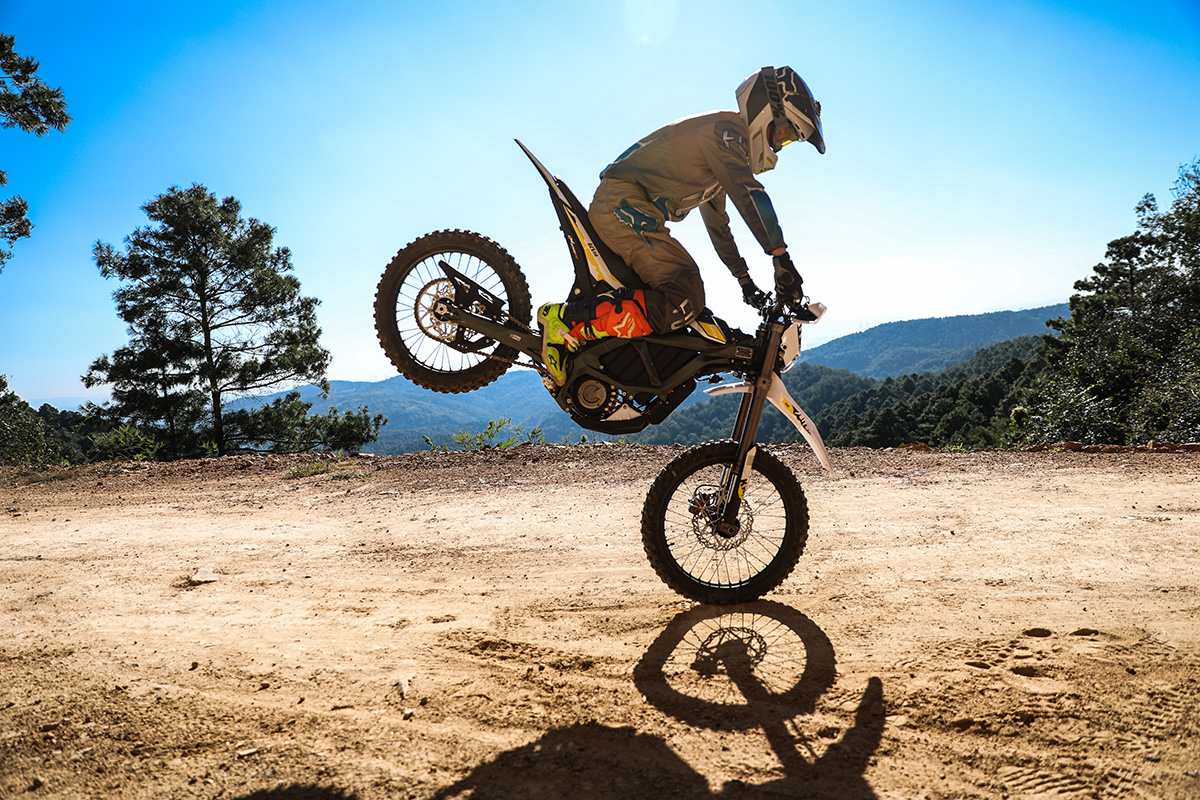 The Ultra Bee also has a regenerative braking system to help keep the lithium-ion battery topped up while you ride. Practically speaking there is also a space under the seat, designed specifically for the charger, so you can stop and charge anywhere you find a power outlet – although four hours would be a long time drinking coffee while it recharged.
2023 Ultra Bee Highlights:
5 KW peak power
440 Nm peak torque
87 miles (140 KM) maximum range on full charge (@ 50 km/h)
56 mph (90 km/h) top speed
3 seconds 0-50 km/h (0-30 mph)
3 riding modes (Sport-eco-daily) + reverse gear
SRTC traction control
Regenerative braking
4 hours recharge time
85kg curb weight
Emissions free
Hydraulic braking system front and rear with twin piston front calipers
Fully adjustable off-road front and rear suspension
240mm of travel front and rear
Aluminium forged frame and swingarm
Available in two models: Ultra Bee T (trials variant – homologated for road use), and the Ultra Bee X (off-road variant)
"Balancing on the cutting edge"
The Ultra Bee is designed with the concept of "Balancing on the cutting edge", the aluminium alloy forged frame claims 50:50 front and rear weight distribution and that 85kg claimed weight.
Enduro21 hasn't ridden the Ultra Bee (though for sure we'd like to) but the geometry and size looks compact and we know the previous models have carried a low centre of gravity for a stable ride.
The aim with this new model is to be more versatile and useful for everyday commutes on the roads as much as a serious off-road electric performance dirt bike.
Sur-Ron Ultra Bee X has an MSRP of £6299.00, whilst the Ultra Bee T has an MSRP of £6699.00 in UK dealers.
Sur-Ron offers the lightweight and ultra-versatile Light Bee; the mid-size trials bike Ultra Bee; and the high-performance enduro bike, the Storm Bee.
More information: www.sur-ron.com or www.sur-ron.co.uk