Pro Bike: Josh Toth's Enduro Engineering GASGAS MC 350F
Enduro21 takes a closer look at Josh Toth's 2023 Enduro Engineering GASGAS USA MC 350F Pro bike built for purpose in the AMA National Enduro series, plus US Sprint Enduro (among other bike sports Josh is racing in '23!).
It's fair to say Josh Toth has been mixing it up a bit in 2023. Signing for a new team, Enduro Engineerign with the support of GASGAS USA, Josh has been trading different disciplines and model bikes as he runs freely between different US races series'.
That has included a GASGAS 300 two-stroke in US Hard Enduro and at Snowshoe GNCC much to the applause of the 2T fans, this 350F in AMA National Enduro and US Sprint Enduros, plus Pro Motocross and even Hillclimbing.
This MC 350F is the main focus however for his season and that's where we're focusing too with a close look at the details behind it. At this stage the team bike is still the 2023 model and as you can see, an MC 350F MX model. The changes to suit enduro make great eye-candy viewing as well as great inspiration for anyone building their own bike.
Details include Honda CRF rear brake spring, factory-spec ECU (no details included, sorry!), and a sweet set of rims, billet hubs and Brembo billet rear brake caliper…
Engine and transmission:
Factory engine & ECU (specs not available) Delivers more torque for turn-to-turn bursts on enduro woods tests.
FMF 4.1 Ti exhaust system
Standard radiators with cooling fan and Enduro Engineering billet radiator guards
Silicone Radiator Hoses
Funnelweb Pro Line air filter
Enduro Engineering rubber mounted skid plate with linkage guard
Enduro Engineering billet water pump guard
Enduro Engineering Ignition Guard
Enduro Engineering Clutch Cylinder Guard
Sunstar Works sprockets (13-50)
Sunstar 520 XTG Works Chain
Pro Wheel billet hub wheel assemblies
Enduro Engineering Front /Rear Hard Anodized Wheel Spacers
Dunlop 3SF front & 81 rear (18") for most conditions, Dunlop MX 14 paddle rear for sand tracks.
Dunlop mousses
Motorex 15w-50 engine oil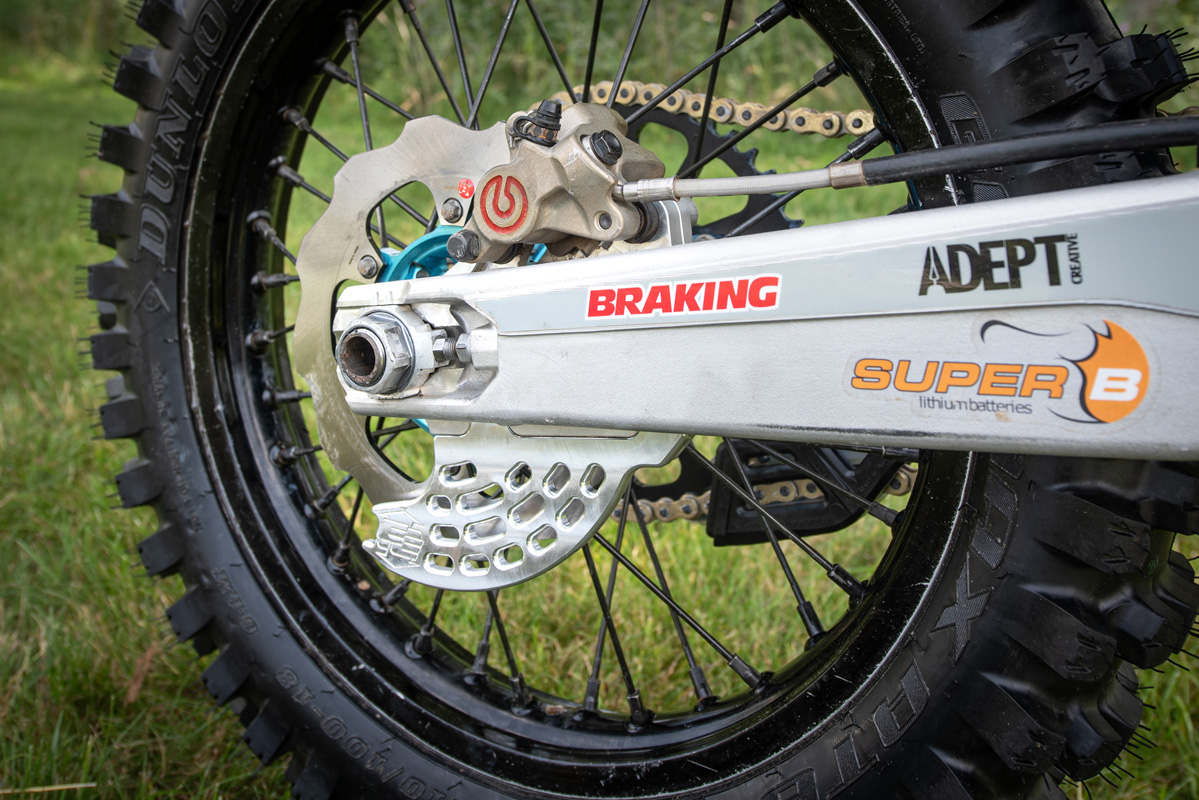 Suspension:
Enduro Engineering tuned WP Cone forks & Trax shock (.46 fork springs-4.6 shock spring) Valving is pretty light, but stiffens sharply at the end of the stroke for g-outs. As a stand-up kind of rider, the rebound is fairly light, because he is very loose on the bike
SKF seals
WP quick preload shock spring adjuster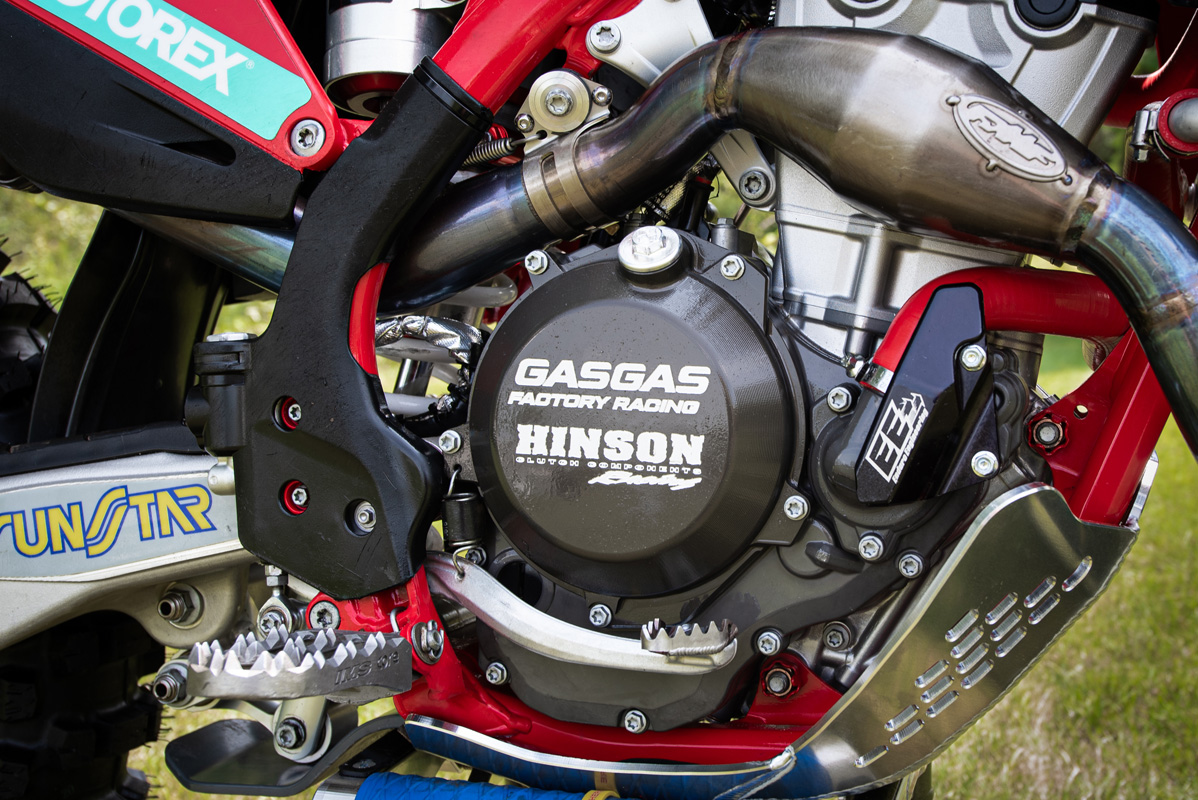 Controls:
GASGAS factory triple clamps with bar mounts forward for better standing position.
ODI CFT Podium MX Handlebars McGrath bend, ODI Half-Waffle V2 LOCK-ON MX Grip
Enduro Engineering clutch & brake perch Aluminum Open Ended Moto Roost Deflector
Enduro Engineering EVO2 Plastic Outer Mount Roost Deflectors
XC GEAR Mako 360 bar mount with (Green bar polymers) & (blue shark bite polymers) to reduce vibration and sudden shocks
Enduro Engineering billet rear disc guard
Brembo standard (KTM) front brake caliper and master cylinder, factory rear billet caliper fitted with CM46 Braking pads for power without the squeal from overheating
Braking solid rear rotor that has better pedal feel, pad life and reduces heat because of more surface area
Braking wave brake front rotor provides more braking grip for highly reactive brake performance
Enduro Engineering lever grippers
Enduro Engineering stainless brake pedal tip that is large, has more aggressive teeth and will bend instead of breaking if impacted.
IMS Core Enduro Foot Pegs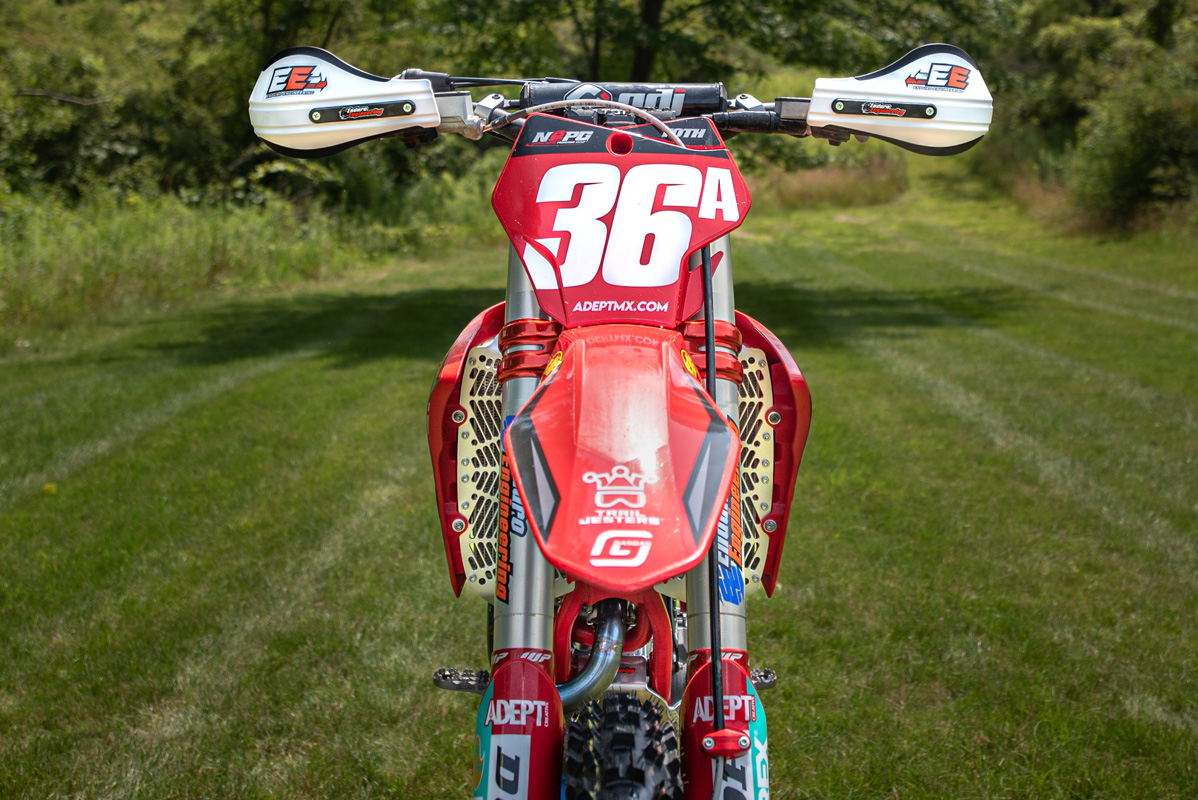 Extras:
Enduro Engineering comfort seat with gripper seat cover (with added seat bump)
Adapt Creative graphics for a clean look
Super B Lithium Power Battery
Honda CRF Moto Rear brake arm return spring
Rear Axle on fixed side has been drilled and a set screw installed to prevent unwanted loosing.
Nihilo Concepts self-locking Ny-Lock Axle Nut
CNC machined billet aluminum factory fuel pump connection tap
CV 4 Fuel line Sleeves also used on rear brake line
Thanks to Enduro Engineering for the details and photos.