10 Things: Husqvarna's 2019 models tested
With a fresh new look, plus chassis and engine mods across all models, Husqvarna's 2019 TC and FC range updates might be new now but they point to the future enduro models.
With Husqvarna's enduro range rebooting last year, and new model updates usually arriving every other year, the focus for 2019 is on the MX and Cross Country (closed course) models.
We got the chance to test the new TC and FC models at the infamous Baker's Factory, Florida – training ground for many championship-winning racers and a hell of a place to launch some new dirt bikes.
We accepted the chance to try out the TC and FC models (TX and FX Cross Country models weren't on this launch but are largely the same except for larger tanks and smaller rear wheels) to get a handle on what's changed for 2019 and what we might expect for 2020 enduro bikes*.
*Disclaimer – this is pure speculation on our part and Husqvarna neither confirmed nor denied anything about 2020 bikes.
What's new – Husqvarna MY19 Highlights: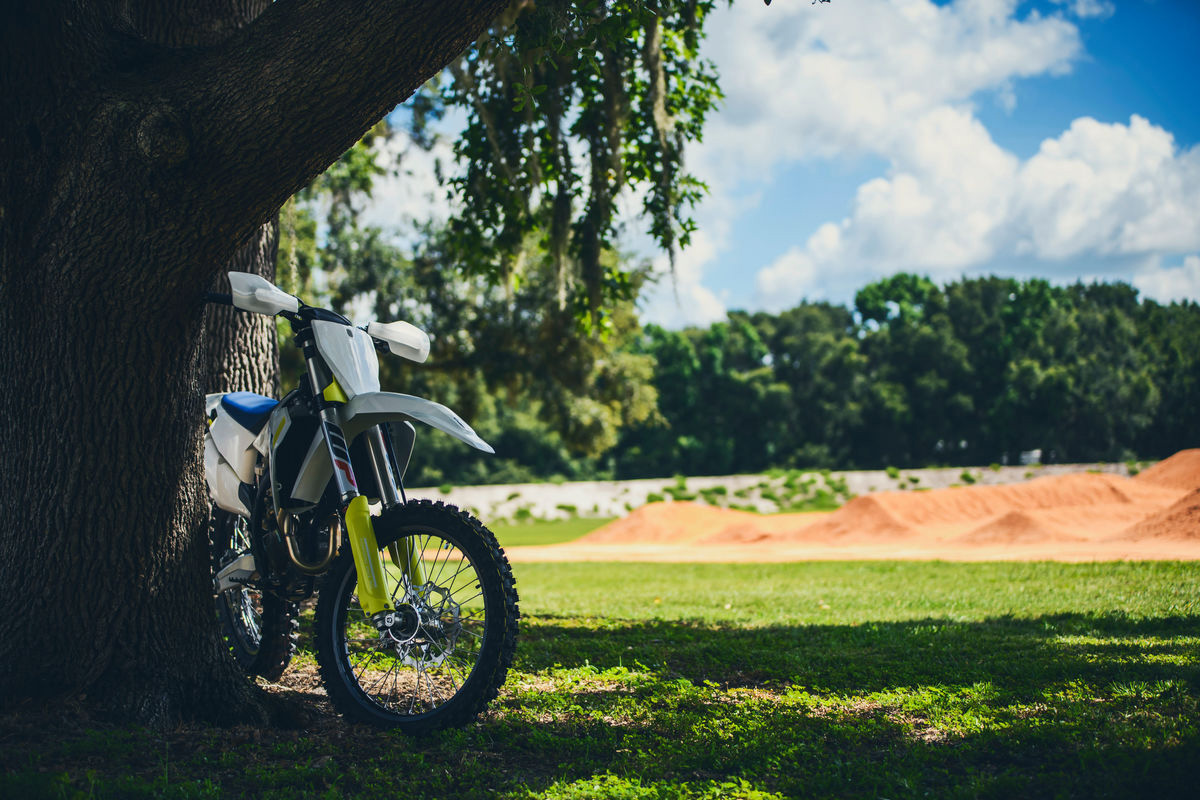 1. Redesigned bodywork and graphics are more than skin deep. A fresh, white look trades even more on that historic Swedish connection. The 2019 models have slightly narrower bodywork (thanks to new radiators – see below) and smaller scoops between the legs with a slightly wider mid-section (between the legs) for better rider feel on the bike. A more comfortable seat is also 10mm lower for 2019 (950mm) with extra seat foam.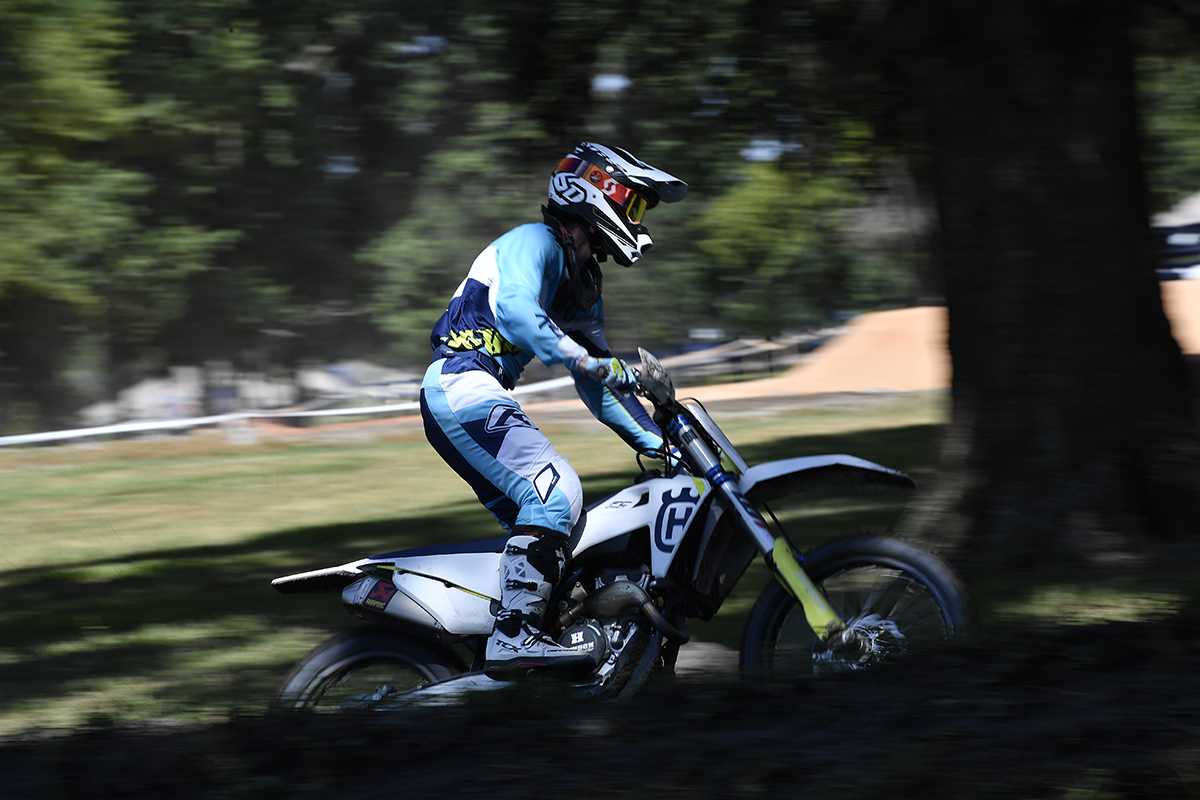 2. Blue powder-coated frames are looking sweet but again changes are deeper than just a new lick of blue paint. The hydroformed, laser cut and robot welded frames have increased rigidity to 'improve stability and precision of handling on track', says Husqvarna.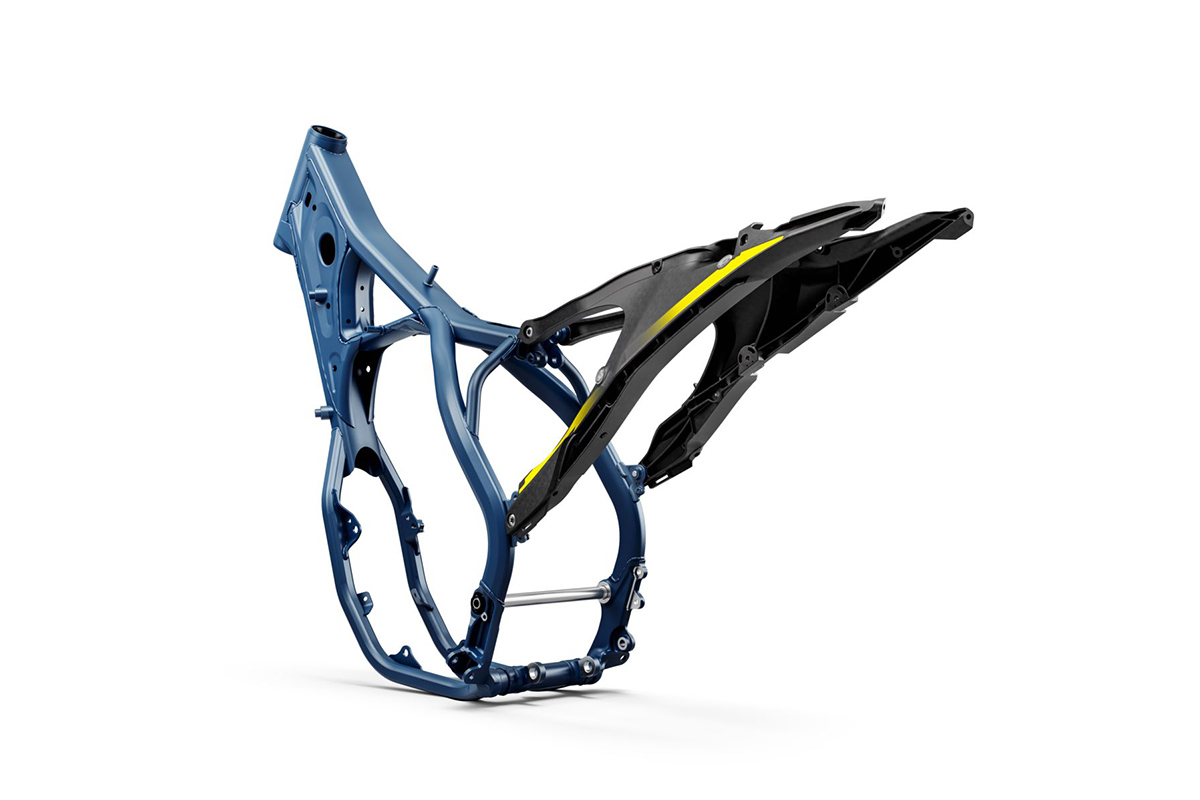 3. Husqvarna's unique composite, carbon fibre two-piece subframe (was three-parts) is a claimed 250g lighter, 40mm longer to help rear fender stability and now has 30% more vertical stiffness. Sticking with bodywork, a new airbox side panel (available as an accessory) increases airflow to give a more aggressive power delivery.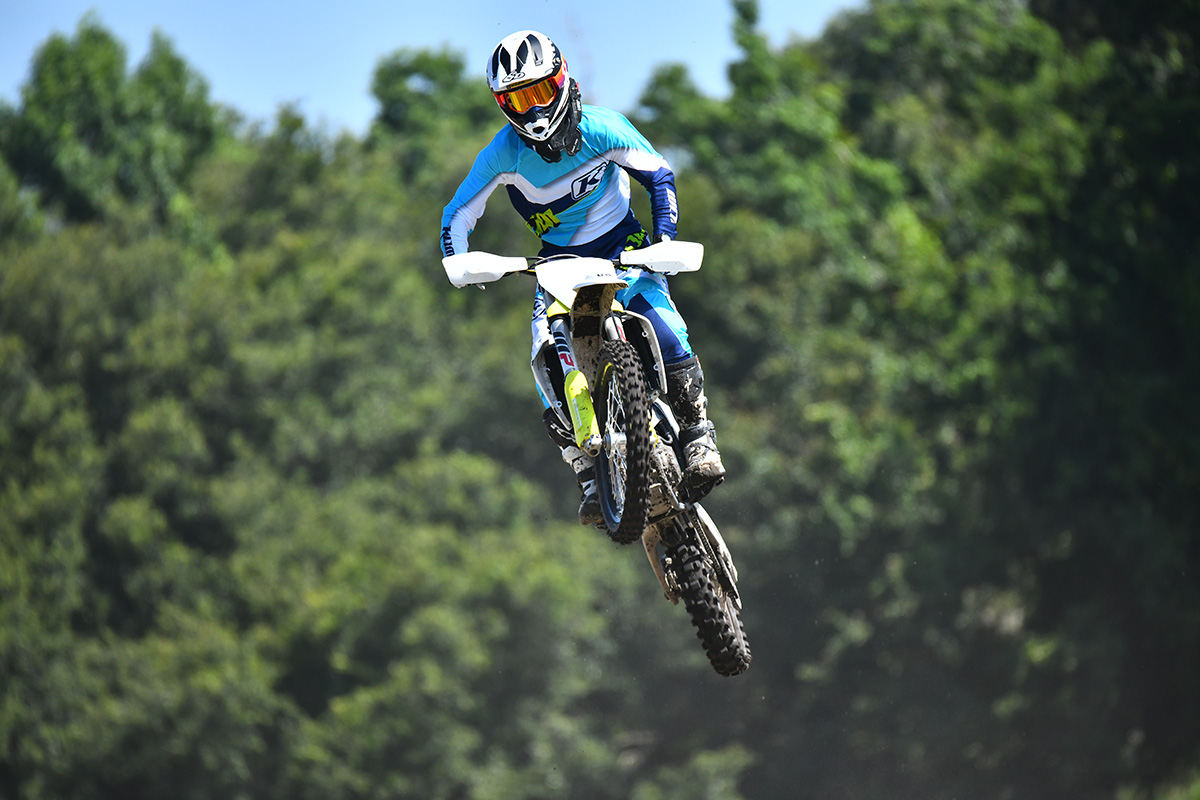 4. The TC (and TX) 250 get a decent run-through for 2019 and it is good to see the carbed, two-stroke getting the R&D work. The engine has shifted by 1°around the swingarm pivot point to improve handling. New exhausts on all two-strokes are bespoke to each model but the TC250 header gets special attention and is now narrower (25mm) giving better ground clearance. Alongside all this is a new setting on the 38mm, flat slide Mikuni carburettor, and the 250 gets a new counter-balance shaft for less vibration.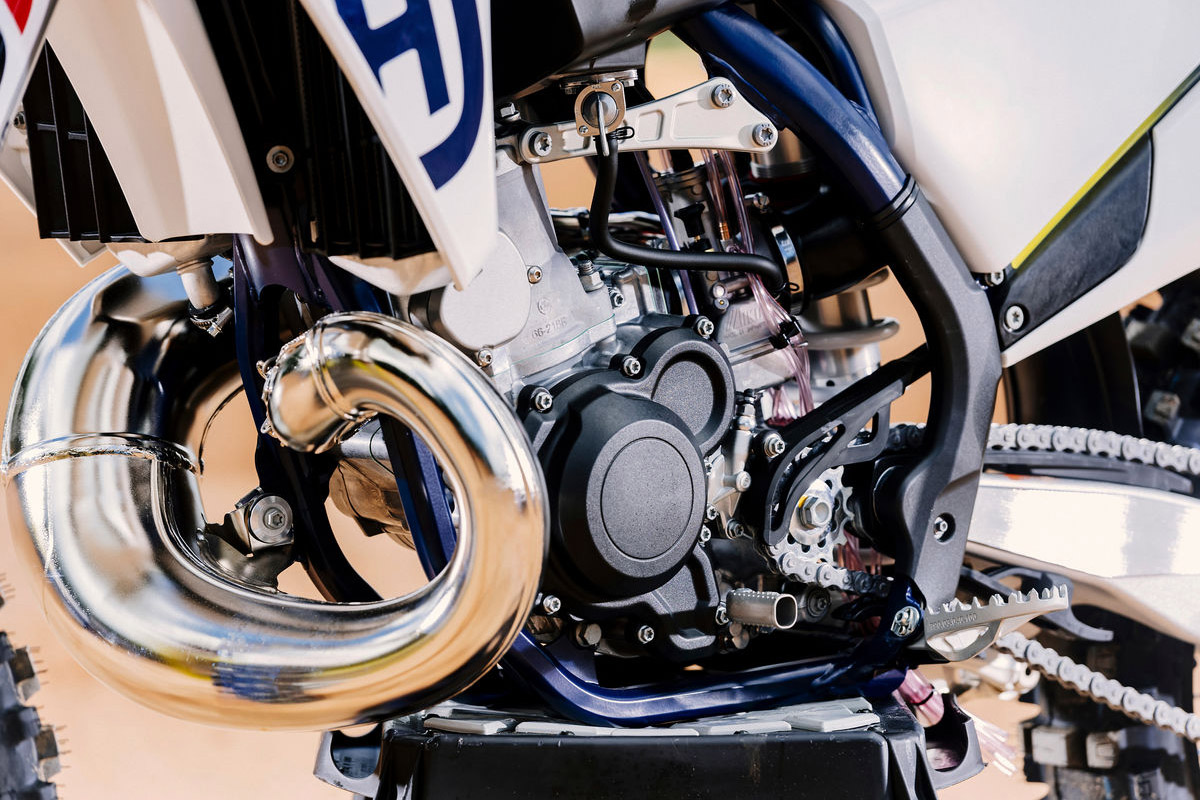 50 different exhausts were tried out on the FC250 before they settle on the design and Husqvarna have been using 3-D printing during development of the new exhaust systems. New aluminium silencer mounting brackets on all models replace the rubber mounts and are a claimed 300g lighter. The two-stroke mufflers have less dense packing for 2019 too, while the four strokes are shorter and more compact. Four stroke headers have a new 'flow-designed' resonance chamber to boost performance and a tweak to the joining point making them easier to remove/fit.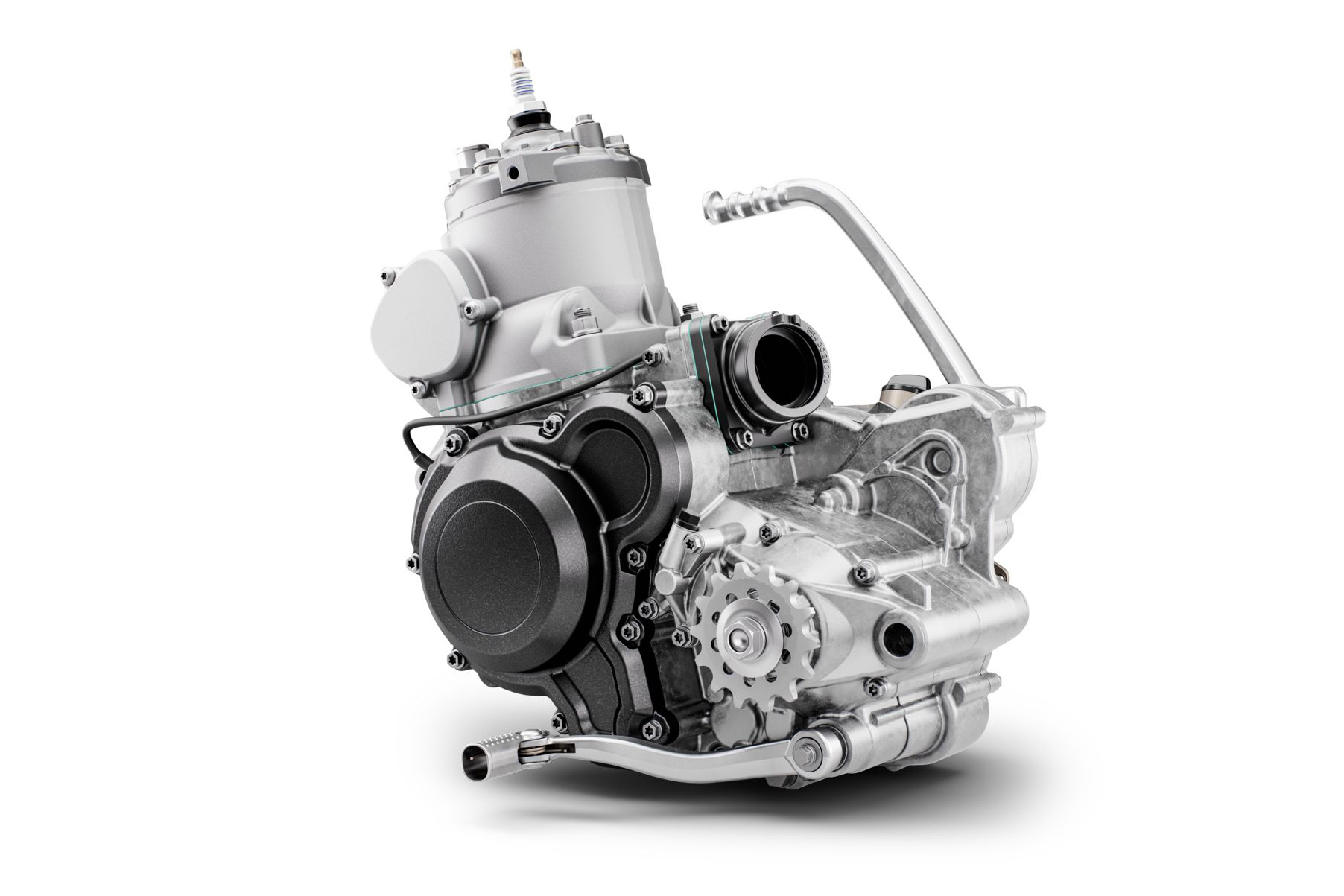 5. The new swingarm design features a longer chain adjustment length (increased by 5mm) which was a direct request from race teams. Simply it gives you options for more or less stability depending on the track. A longer wheelbase for faster tracks or whoops for example. Shorter wheelbase for tight, technical tracks.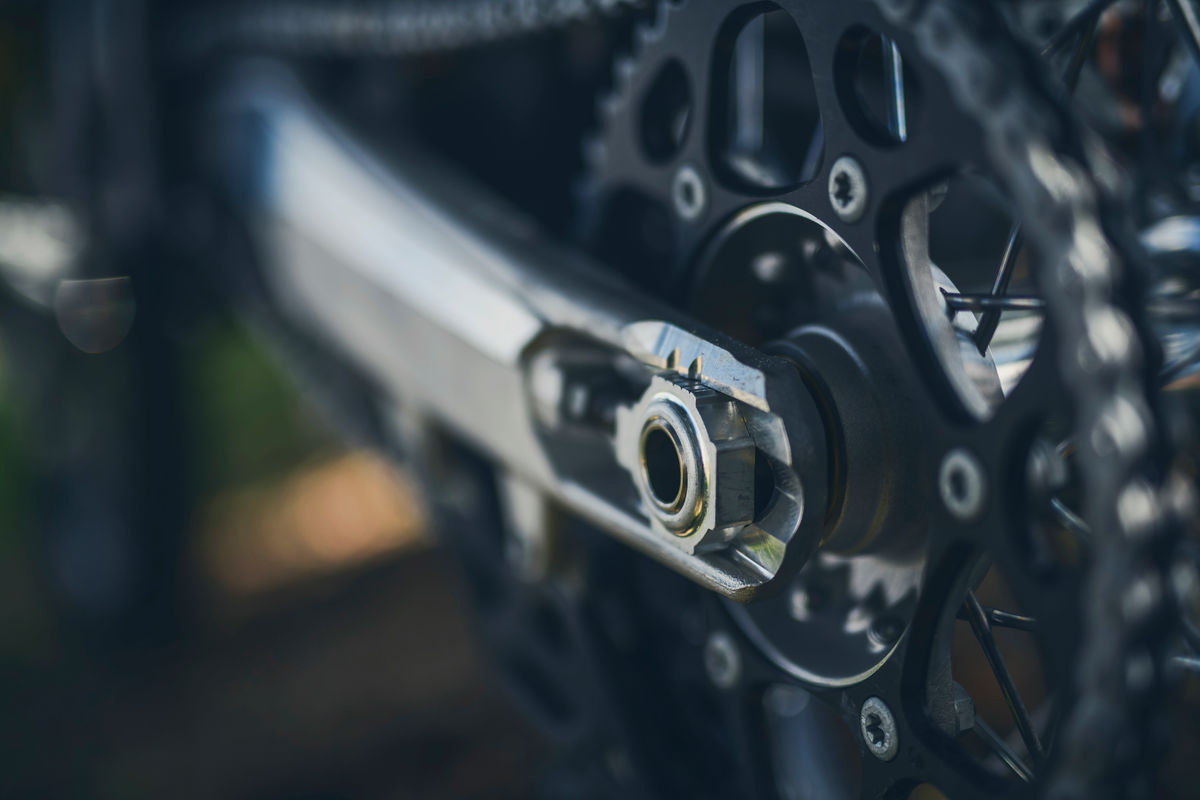 6. More rigidity in the frame means a redesigned, 22mm off-set upper triple clamp. Developed alongside the new frame to be stiffer and fit better it delivers a more positive feeling to the handling.
The three-way handlebar adjustment remains and features an integrated rubber damping system to reduce vibration and increase comfort. The standard ProTaper handlebars have a slight change to the bend for 2019 to ease load to the hands when standing riding.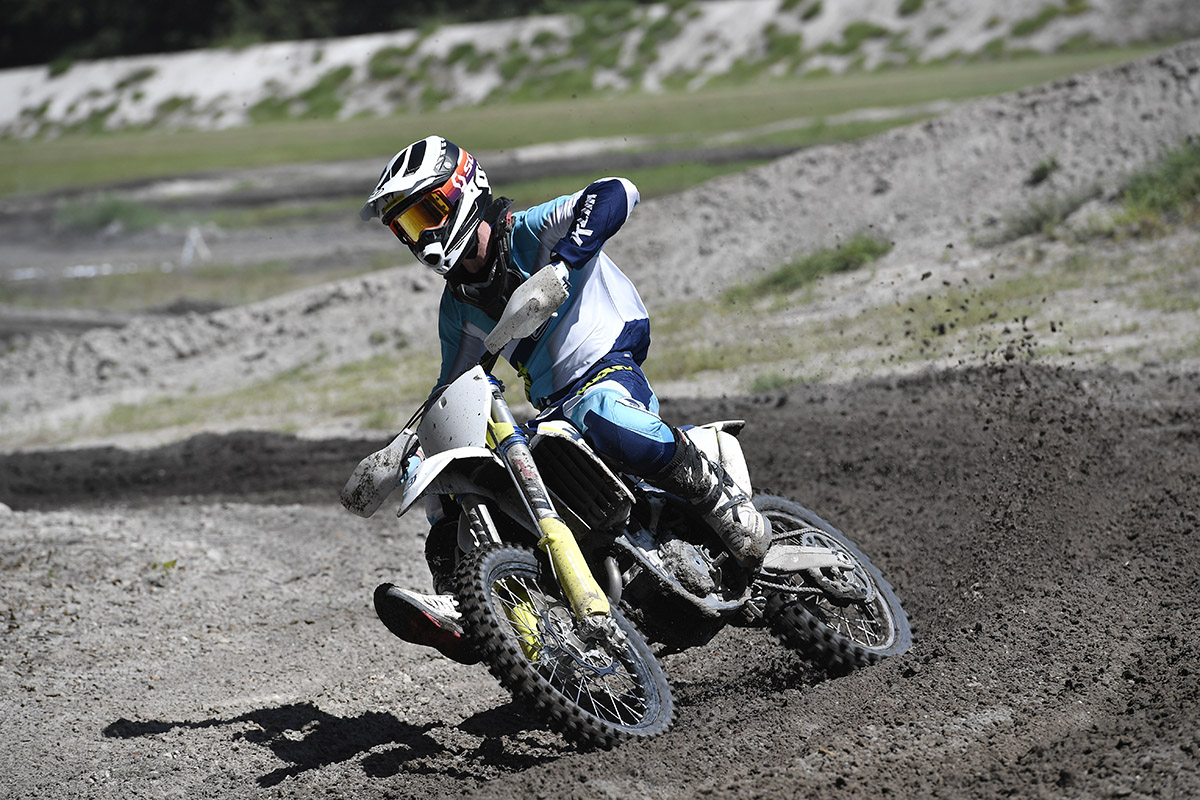 7. Brand new airbox, exhaust and intake funnel on all bikes (except the 125) are basically allowing the 2019 bikes to breathe more easily. Air flows in more directly for a cleaner intake. With porting changes and exhaust upgrades the throttle response is noticeably more accurate.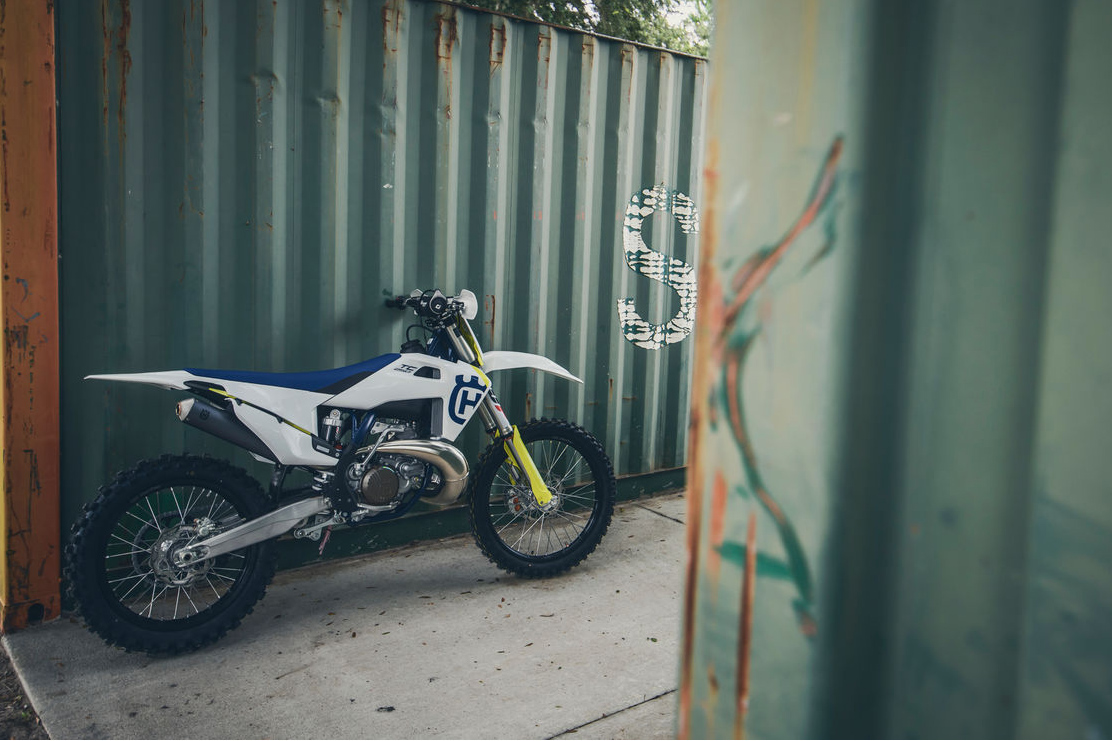 8. More efficiency with usable power (not more power) and with stronger bottom ends is the key behind changes to the motors: reworked SOHC cylinder head on the FC 450 (500g lighter), new cylinder head casting on the FC 350 (pumping out a claimed 58hp!) is 200g lighter, new timing on FC 250 exhaust camshaft, machined finish on TC 125 & TC 250 exhaust port. There's plenty going on internally with the 2019 engines.
The FC/FX models have directly mounted throttle cables (no linkage) on the 44mm Keihin throttle bodies for more direct throttle response. New cable routing on all models makes maintenance easier and all models have new traction and launch control new settings.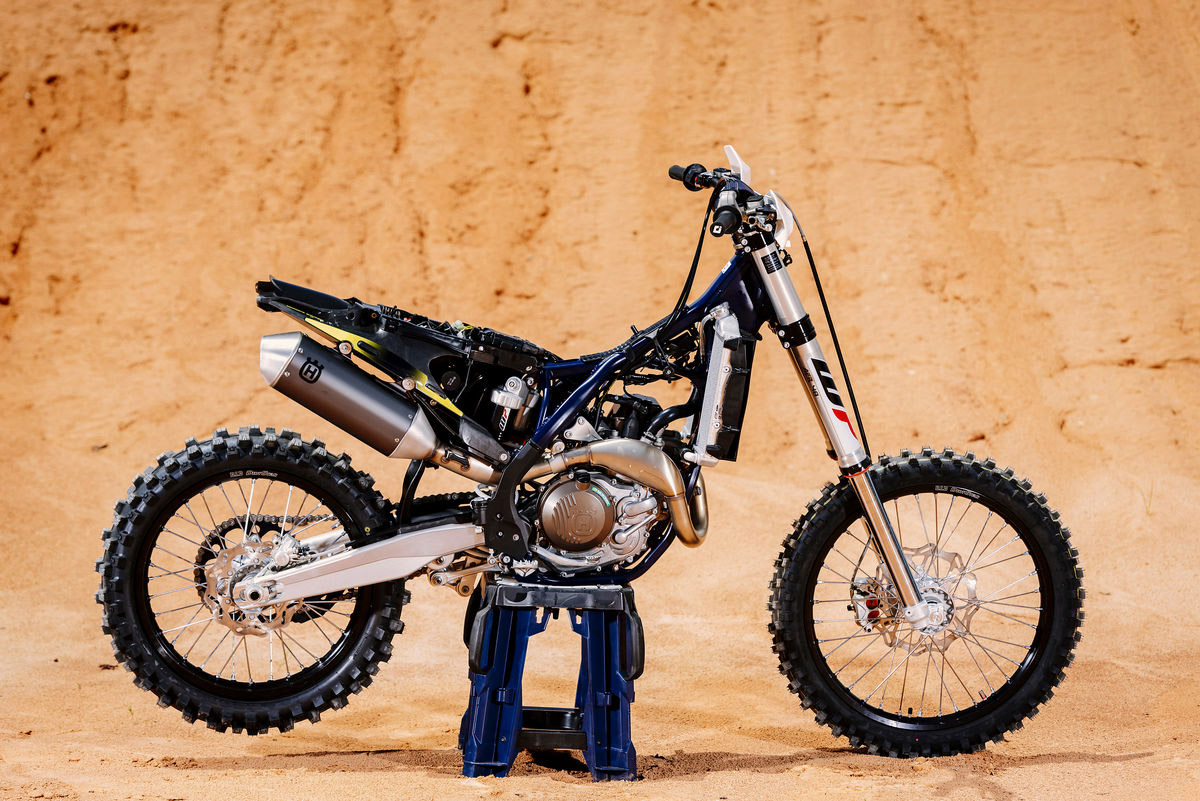 9. New generation LiFePo4, 2.0 Ah battery answers the "it hasn't got a kickstart/what are you going to do when the battery goes flat" naysayers. The new battery is simply a parts supplier change to a new generation battery which has better life and improved ability to retain charge in tough conditions. That said the 2T models still run with a kickstart only, unlike their enduro/off road siblings.
The 40hp 125 is a rocket machine and benefits from the new Pankl gearboxes (six-speed in the 125, five across other models) are smoother. 4T models have an integrated gear sensor producing specific maps for each gear.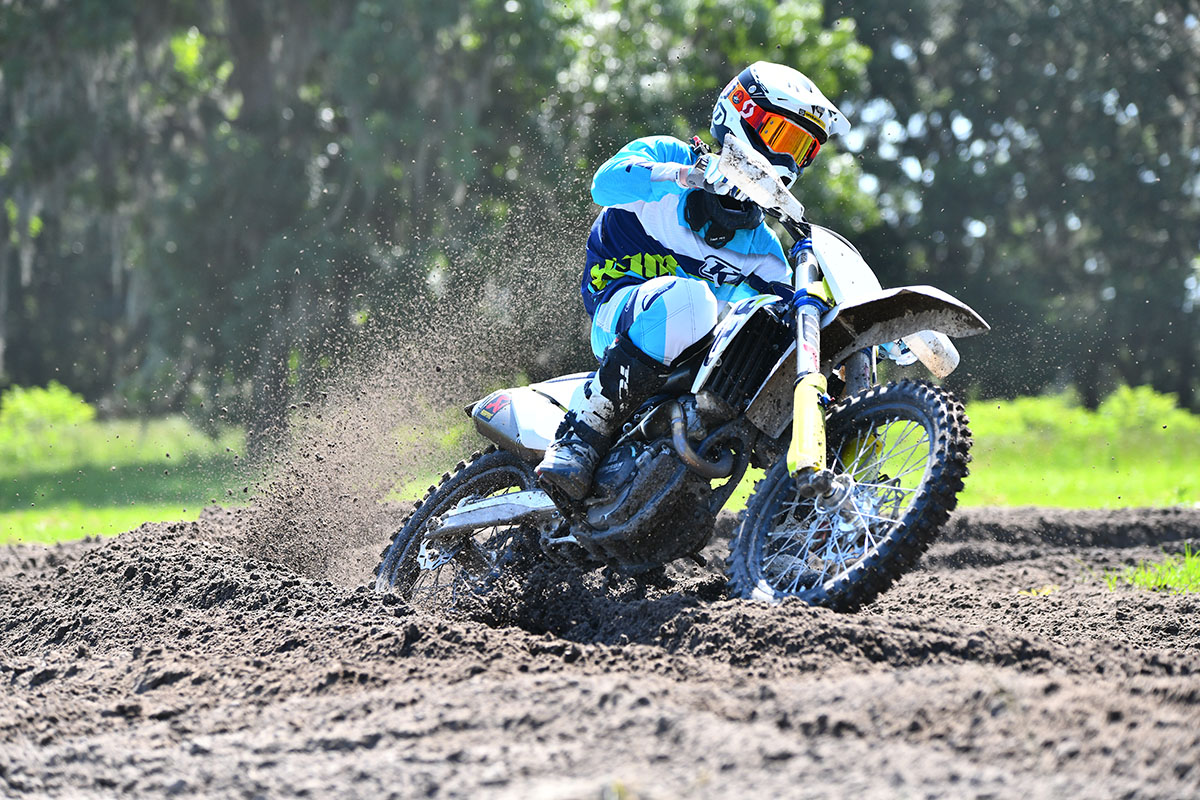 10. Updated cooling system has 12mm lower radiators which lowers the centre of gravity and improves handling. A new centre tube running through the frame is 4mm larger which reduces pressure, increases flow, aids cooling and efficiency of the system.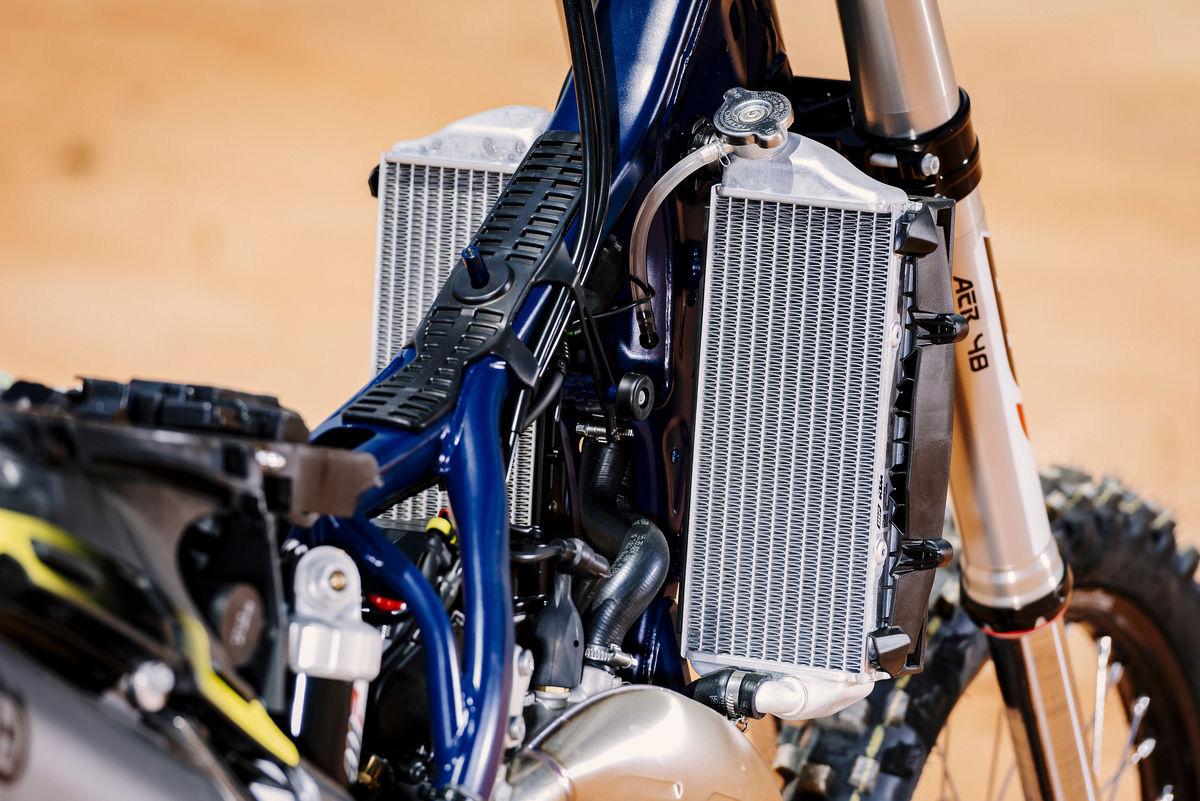 The details are in there but the proof is in the pudding as they say and we reckon the 2019 model upgrades have made a jump for most models. It's hard not to be blown away by the 450 and 350 – both put out such immense power but it is controllable with the mapping and traction settings which can be tailored to the track and your level. That said they aren't for the faint-hearted.
As seems to be a theme for us this year but the 250 two-stroke impressed the most again on this launch. Punchy, light but torquey when you want it to be, the TC 250 shows off the 2019 chassis changes well and on this very physical track it proved a great balance of power and agility. In Cross Country form it'll be a blinder.
More information on the Husqvarna 2019 range: husqvarna-motorcycles.com