"It is a hell of a lot of work...but what a feeling" – Daryl Bolter, Team GB ISDE manager
Enduro21 revisits a mighty week in France at the 2022 International Six Days of Enduro with a focus on the man behind the winning World Trophy squad, Great Britain's team manager, Daryl Bolter.
"We knew we were coming here strong," ISDE Team GB Trophy manager Daryl Bolter told Enduro21 after their historic victory in Le Puy-en-Velay, the first for Great Britain since 1953 no less. After so many years of never hitting that height, despite having some of the best riders in world enduro, finally the planets aligned and the biggest trophy in world enduro travelled back to where it all began in 1913.
The drought has been a long one, practically Queen Elizabeth's entire reign in fact, but the planets aligned this year in France with a combination of world class riders and a huge team effort coming into place. "We got the job done" are the words of former ISDE rider and now Team GB manager Daryl Bolter who is the person behind the monumental task…
"We knew we were coming here strong with the riders we've got in the team," says Bolter explaining how the week panned out, "and once we knew we could run up the front, you know, you could see it in their mentality. They are all professionals, they know what they are doing. My job got easier in a way."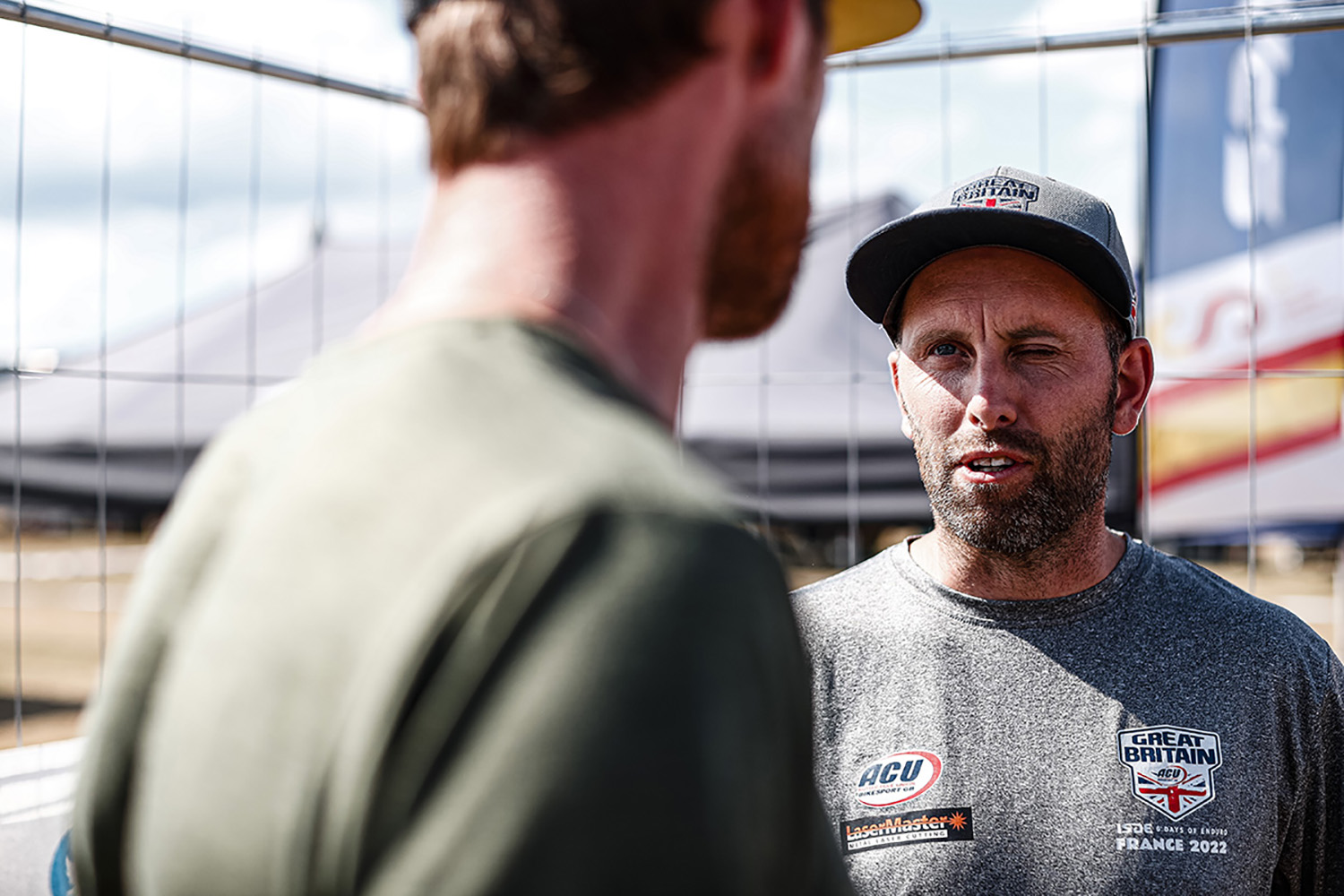 With everything in place, and despite a major hiccup at the eleventh hour when Brad Freeman was forced to pull out through injury, Team GB's World Trophy squad began the week unseeded and therefore ranked well down the starting order on day one.
The reality of that means Nathan Watson, Steve Holcombe, Jamie McCanney and Jed Etchells were catching slower riders on beaten-up tests, which were quite different to how Italy and Spain (who would eventually stand below GB on the final podium) found them up to an hour earlier in the day.
It was a tough wake-up but their solid first day saw GB bumped up the scratch running order and establishing themselves, crucially operating as a team of four. It got easier from then onwards Bolter continues…
"The first day we eased ourselves into it and established our place if you like. We had to come through the pack a bit on day one with a low start position but on the second day, that's where we established ourselves winning overall by about a minute.
"From there we just kept chipping away. And it's important to say it was through all of them playing their roles, doing their part, that we were able to just chip away, chip away and grow our position."
'We can do this' mentality
The Six Days is notoriously difficult event to maintain concentration and avoid mechanical mishaps but Bolter says it was all about keeping clam and carrying on.
"The trick has been to keep that confident 'we can do this' mentality even if something goes wrong somewhere, get back at it where we knew we could be on each test. Even on day five we lost something like 20 seconds in one test but in the afternoon we gained that back and some and it is testament to their mentality."
It is fair to say the manager's job can be a stressful one and on the morning of the last day's racing proper, day five, Daryl looked nervous as rain fell and just six more tests stood between them and the biggest trophy in world enduro.
"My advice to them on the last day was to just not back off too much and just concentrate on riding. We didn't need to go all out 100% on that day and didn't need to take risks, just use their heads and get through it. To be honest it has been a pleasure in that regard, they have been a pleasure to work with because they've all done such an incredibly professional job and they look like they've enjoyed it."
And that's the team game Watson, Holcombe, McCanney and Etchells played all week and you saw it most on that fifth day when the pressure was on to maintain their comfortable(ish) lead, stay fast but stay safe and make to the parc ferme knowing they just had the motocross race to get through on day six.
"They were geeing each other up all day five," adds Daryl, "making sure each other was in the right place mentally. We've done so much walking of the tests, and when you get to the final tests this late in the week they're still talking through each test with each other, making sure and it paid off."
ISDE Pedigree
As a rider Daryl raced the ISDE five times, in the Team GB Trophy squads during the 2000s. To make it through an ISDE is one thing but to be selected multiple times and ride alongside World Champions like Paul Edmondson puts you in a good place to know what the heck is needed to be successful at this notoriously ruthless race.
Daryl is just about as qualified a person to manage an ISDE team as anyone could be and a crucial part of of the 2022 winning squad you'd have to say. But as much as all that experience is a positive, it also proved to be a small rod for his own back in the last two or three seasons simply because he knew there was no point doing it half-hearted.
Over the last few years Enduro21 has caught up with Bolter at different times in the planning stages and the mantra has often been, "if we're going to do it, it has got to be done properly or not at all." It was a reason behind the team pulling the plug ahead ISDE 2020 in Italy because Daryl felt he didn't have the squad or financial backing to make a "proper" effort.
"It is a hell of a lot of work, not just from me but a whole bunch of people both out at the event in France and back home before we left. Sponsors are massively important for the whole thing and even then, managing what we spend, how we spend it, what we eat all that needs planning."
But what a feeling…
"I've done it myself a few times and it's an honour to ride for your country so what a feeling it must be for those riders to be the first winners for their country for almost 70 years, that's almost as long as the Queen reigned!
"As the manager it is humbling and I'm proud of what everybody has achieved. It makes all the hard work pay off when everyone comes together as a team and we achieve the ultimate goal. You dream about it and believe it is possible, but to put it together is incredible."
The GB World trophy boys were joined on the rostrum by Jane Daniels, Rosie Rowett and Nieve Holmes who took and equally historic (the first ever) Women's World Trophy back to British shores.
Photo Credit: Future7Media