Pro Bike: Baylor brothers' Sherco SEF 450 factory
The story behind the Baylor brothers Sherco USA SEF 450 Factory bikes and their rapid rise to the top of GNCC Racing in 2020...
Things haven't been easy for the newly formed FactoryONE Sherco Enduro Team. Tasked with putting the French brand of motorcycles at the top of GNCC Racing, Steward and Grant Baylor didn't take the usual route to the start of the season, turning up prepared and ready to win.
The Sherco USA team, plus both Baylors, were learning with each of the three rounds already contested in 2020, using racing as development time.
Taking an off road motorcycle built for the masses and turning it into a bike that can take them to the front of a GNCC race is no small ask in just a few short months. But a narrow second placed finish by Steward at round three displayed a rapid rise, which it's fair to say not everyone expected.
We wanted to know more – specifically what have they done to those SEF 450s? As we sit waiting for racing to resume, where are the Baylor brothers at with these 'new' bikes to GNCC Racing?
https://www.instagram.com/p/B6LqbaoHiKa/
"When I first jumped on the bike it was completely stock." Explains Grant Baylor. "Stock suspension and everything. The only thing we had on it were the Kenda tyres." This was last November and still very much behind closed doors as 2019 contracts were seen out.
"We jumped on it and went out (riding back-to-back with the 2019 bike). Right away I noticed in the first turn I could feel the difference in the handling." Adds Grant. "It was night and day different on the front end. The front tire just sticks and goes wherever you want it. It's crazy how good it handles."
That difference is down to the overall bike length says Grant: "I could just feel the rear wheel was a little bit closer up under me. So that was kind of my first impression. I got off it and I was just like, that felt kind of goofy. It wasn't anything like I've ever ridden before. It felt weird.
"I could feel a little bit of the Yamaha in it and a little bit of the KTM in it. It was crazy. I jumped on it and I was faster on it right away, with stock suspension and everything. So right away I was like, this bike's pretty good."
New challenges for Sherco
GNCC racing is bringing a new challenge to Sherco, pushing components in a way both Baylors say they haven't been pushed previously. The brutal three-hour races at GNCC challenge bike (and rider) in ways not many races on earth can dish out.
At the opening GNCC round of 2020 – the Big Buck – they turned up with "more or less standard bikes and no more than 40 hours testing on them" and finished P4 (Stew) and P7 (Grant). Apart from a few bolt on parts like the XC Gear Mako 360 handlebar mounts (clamping ODI bars), chain, sprockets and a FunnelWeb air filters they were good to go.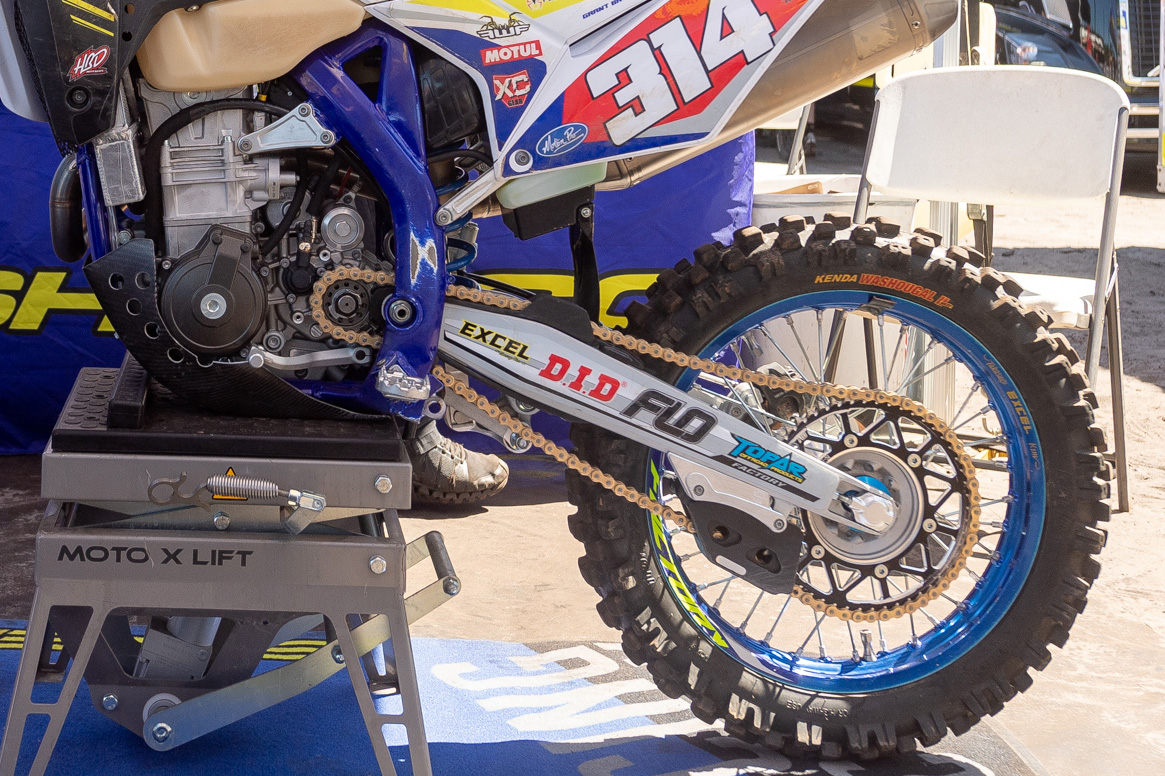 At the next round, Wild Boar GNCC, again without too much testing time, they were hit with mechanical issues, which hid the growing confidence from the riders. Steward retired on the second lap with electrical issues and Grant had to pit for an entire fuel tank and pump change, back to stock.
His rip back from 76th overall to eighth in class was an epic result.
Round three came, at The General GNCC, and things turned around big time but it wasn't without issues again. Due to a lack of availability of larger tanks and the problems with the quick fill, the team used the stock tank and refuelled the old-fashioned way unscrewing and screwing on the fuel cap.
Arguably it cost Stew the valuable seconds needed for the win but in the end it helped deliver one of the most epic races in recent GNCC history. To boot it also gave Sherco their first ever GNCC podium.
Sharp chassis
"Everybody knows when it comes down to it, it's all about how good you can hit your mark and not necessarily how fast you hit it." Says Grant expanding on the Sherco's accurate chassis compared to their previous race bikes.
"With this bike, I feel like I can really put it where I want, manage the trail and put it right on those two inches of trail that I want to be on."
The bikes are new to this level of US racing... "It's a process of building with this programme but it's getting better and better."
Grant Baylor
"I believe the wheelbase is about an inch shorter," adds Grant, "which definitely helps cornering...the bike is really easy to turn and flickable when you're in the air, which is not a bad thing. It's not going to turn unless you do something to make it turn. Which is a good thing and I really like how it handles. I've gotten used to it now, so I'm really enjoying it."
The 22-year-old younger brother adds: "There is a little bit of bike set-up we can do differently for GNCC if we want more straight-line stability. We can push the wheel back a little further on the GNCC bike to get it a little more stable."
Getting tough for GNCC
GNCC is notoriously hard and that is an issue the Baylors say has focused the development time to cope with the high temperatures and the brutal track conditions put on the bikes.
So, what else needs working on? "Just the things we can swap over and get that feel we want for the GNCCs," says Grant, "things like the triple clamps. We've still got plenty of room to play with it."
The bikes are new to this level of US racing so some of the parts they need are only just starting to be manufactured and available in North America. "It's a process of building with this programme but it's getting better and better," explains Grant.
Other parts include strengthening the subframe, different design swingarms and even slight changes to the brake and shift lever design to suit the conditions.
Suspension set-up
At the time of this photo shoot the FactoryONE Shercos were basically running stock suspension from KYB with JDP Suspension tuning (Racing model Shercos come with KYB while the Factory models have WP kit).
"JDP is up in Ohio and he does quite a few of the Pro guys here (at GNCC). He does the stuff really good," explains Grant.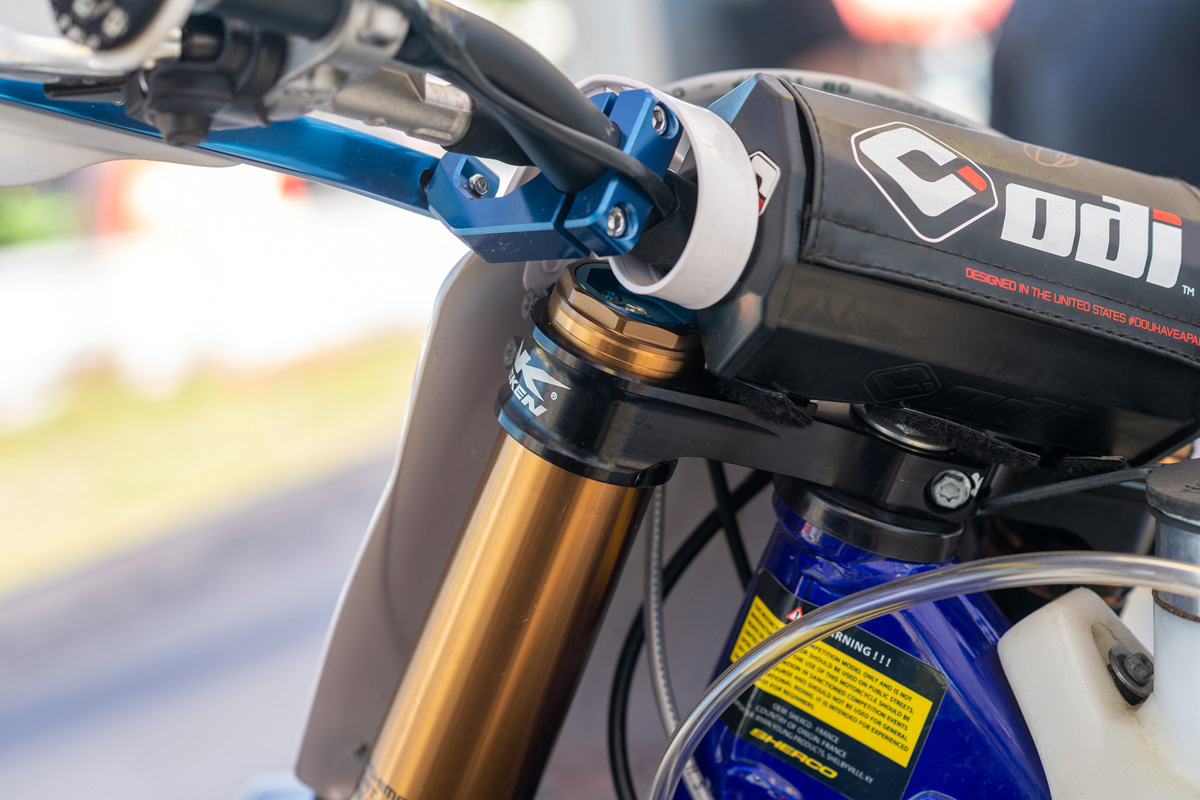 At the first races of the season they ran stock suspension then progressed to the Factory spec forks and re-valved shocks (after the stock one faded over race distance previously).
Talking about his suspension set-up, Grant explains the testing with JDP helped get the bikes dialled-in and gave him extra confidence. "Honestly, I feel better in the sand on this bike right now than I ever have. I've never really felt like I could really commit in the sand. Steward has always been the better sand rider. The other day when we got the suspension dialled-in, I felt like I was the man."
Building a programme
Part of the Sherco programme in the US is to develop the Sherco parts so that the consumer can benefit when they go shopping on a Monday. By their own admission, both Baylors are big guys who are hard on bikes so any part able to last a GNCC race under them is gonna be tested properly.
A good example is the tougher Rekluse Torq-Drive clutch built for them. Rekluse with help from Sherco arrived at the stronger clutch which Baylor "highly recommends" to solve reliability problems they found with the stock parts in tough riding conditions.
Keepin' 'em cool
"Another thing is we have lengthened the radiators." Says Grant. "Me and Steward are bigger guys so we really get these bikes hot. Steward likes to ride it a little harder too and rides about a gear lower than I do. We've always both had some heat issues, no matter what bike."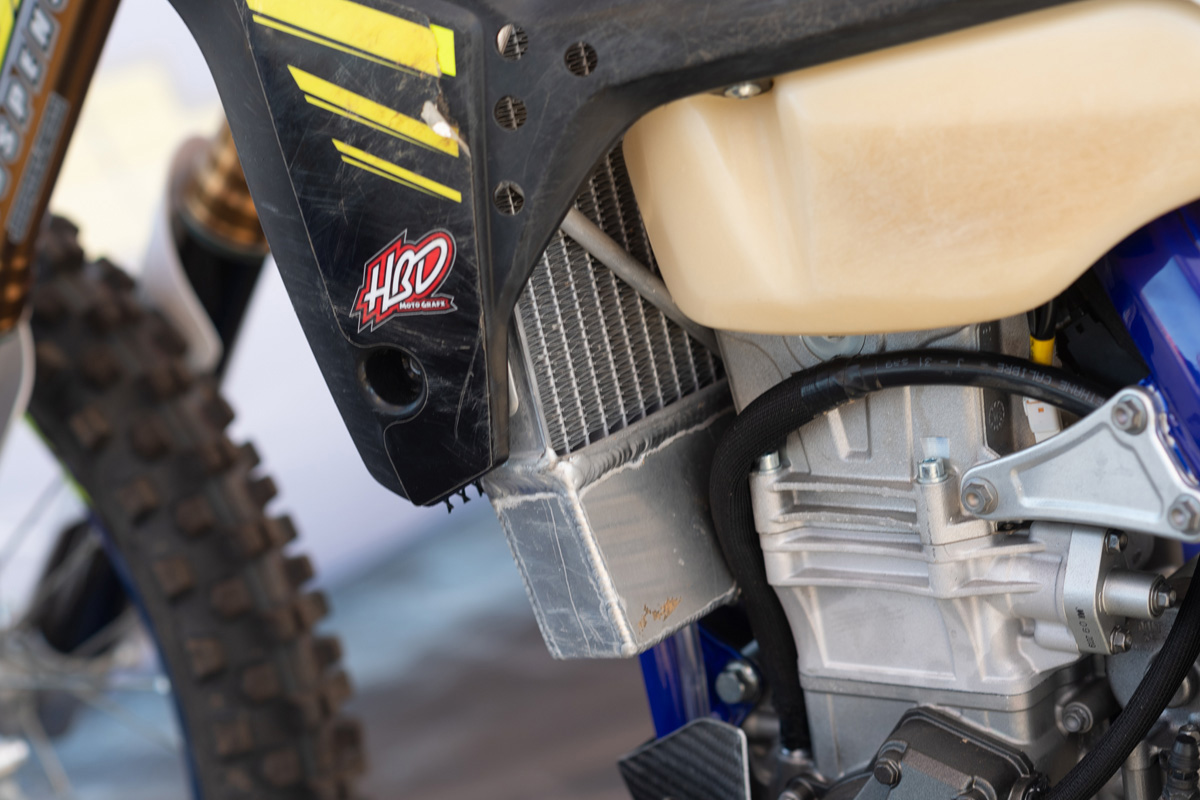 The solution is to put the oversized radiators on just to make sure that they don't have any issues. "They actually helped quite a bit when we did the testing with them."
GNCC tougher than European races?
"Over in Europe they don't really do anything to their bikes. They kind of run a stock bike and it is what it is," says Grant.
"Over here everybody knows that we do everything we can to make sure we have the best bike out there so we can win these races. Especially in a GNCC, you've got to have something that's going to get you through that race.
"I've been really impressed with how well these Sherco's have held up, honestly. I did a mud race and it never even overheated. Never spilled any coolant out and I couldn't even see my radiators they were so clogged up.
"It's really impressed me with the reliability on the bike, because everybody was kind of doubting it. I wasn't. I rode the bike all winter and I was like, this thing is solid."
Enough power in the 450 Sherco?
"The power delivery is really smooth." Explains Grant. "It's a really controllable power on the 450. It's still got that 450 power though. It's a fast bike. Don't get me wrong.
"It's a lot smoother and more controllable on the bottom with initial grunt (by comparison to previous bike) which is better in the woods because you don't really need it to rip out from under you – it's more about carrying your momentum. The thing rips when you get it going though. It's been really good."
At time of writing the Sherco FactoryONE Enduro Team are still awaiting the exhaust systems from FMF to move development forward further. So far though this is a fast and impressive rise to the top of North American racing for Sherco and a marker for what we might expect in the future.
This feature is published in collaboration with Shan Moore's On The Pegs Magazine.
Photo Credit: Shan Moore