5 Minutes: Brad Freeman – EnduroGP World Champion playing the waiting game
EnduroGP and E1 World Champion Brad Freeman talks to Enduro21 about his new team, trial bike skills and getting used (again) to the mighty Beta 300 RR two-stroke.
On the very weekend when we should have been kicking off the 2020 Enduro World Championship in Portugal, Brad Freeman, like the rest of us, is stuck at home.
After a winter recovering from his ISDE broken wrist, 2020 arrived in earnest with training and testing on his new Beta Racing 300 RR two-stroke – a new team and a new bike, of sorts, for the reigning world champ.
We caught up with Brad to find out more about the new team, dialling in the new two-stroke and how his trials skills are coming on…
First up, how are things? Healthy and happy? Where in the world are you?
Brad Freeman: "I'm really good thanks! Or as good as I can be just now as we're stuck in lockdown! I'm currently in the UK now back at 'home' but it's actually been a crazy few weeks!
"We were out in Italy with my new team preparing for the start of the World Championship and really working hard and making some good progress. And then obviously all of this craziness broke out with Covid-19 and I was kind of stuck in a dilemma...either stay in Italy in the unknown really or travel back to the UK and wait until the situation gets better.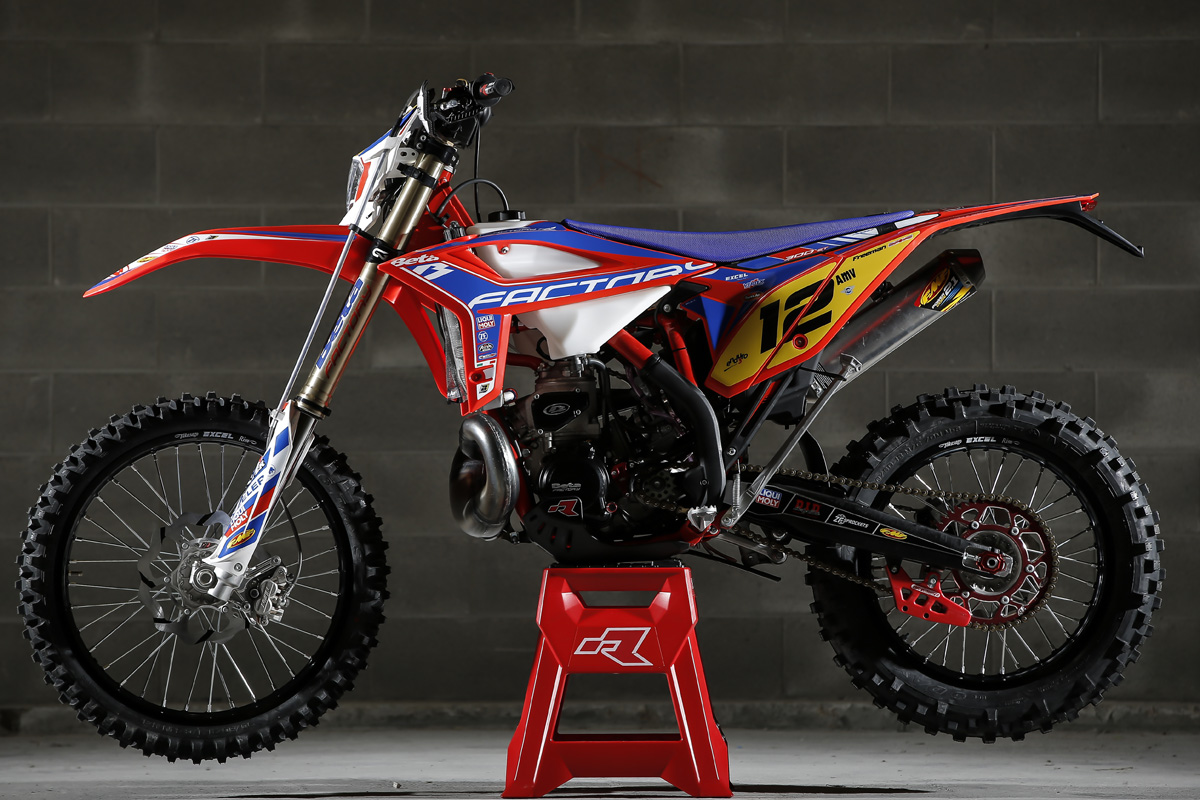 "I stayed in Italy for as long as I could because it is so good to train there, but then the team informed me there was a possibility the border between Italy and Switzerland might get closed...so I packed my van and left ASAP!
"I left from my apartment at 8PM and the following morning the border was closed...so I was very lucky! I came home and have been here ever since just waiting to see what happens next.
"But I'm all good, actually gutted all this has happened because I was in a really good place with my bike and the new team, and I felt like my riding was as good as ever, so I was really looking forward to start racing!"
How are you keeping occupied while in Covid-19 lock down?
"Yeah it's tough and something no-one has ever experienced before. It's hard to go from flat out training to being forced to sit at home doing nothing but we've been like everyone else just trying to get the place a bit more organised where usually we don't have much time.
"I've really been trying to find some fun stuff to do and the other day I actually dug out my old trials bicycle from the shed and had a go on that...and since then I've been hooked!"
We were working hard, really hard, and making some big progress with the bike...
Brad Freeman
"It's so addictive, I absolutely love learning new things, new skills, and the trials bike is awesome because every time I go on it I learn something new! Along with many fails and frustration! It's been great and really good fun, and actually quite good training as it's such hard work for someone of my skill level but also great for balance training.
"I've still been trying to train as normally as possible with running, cycling and gym work. It's hard just to find the motivation to do it in all honesty, as we don't have a definitive date when we will be back racing so it feels like we are just waiting and waiting. I've been getting it done mixed with a lot of Playstation and Youtube!"
Putting the major health issues to one side, you looked like you were busy during the off season with lots of training on the new bike and with the new team – how were you feeling generally with the new regime?
"I know it's cliché, but I was actually feeling amazing before this whole thing broke out. Obviously at the end of last year I crashed at the ISDE and broke my right arm quite badly. I spent quite a long time rehabbing that back to somewhat normal, which delayed things a little more than I would have liked.
"I actually didn't get back on a bike until January 8 and I struggled quite a lot at first with my wrist being weak. On my drive down to Italy (to the Beta Factory tests) I passed by my protection sponsor Ortema to see the guys and pick up a new wrist brace. Without that I think I would have been another month or two before I could ride again.
https://www.instagram.com/p/B-u1YWyhkv_/
"But I slowly got back into it, and from there we started working towards the race season. We were working hard, really hard and making some big progress with the bike and getting it suited to me but more than anything I feel like my riding was really good.
"Whenever I have an injury or some time away from the bike, I like to review my riding and see where I can improve my technique. When I got back riding in January I focused on that and I feel that helped a lot. I was in a really good place, we've just got to wait a little longer until we can race!"
Tell us a bit more about the switch from your long-time team (and friends) at Boano Racing to the Factory Beta squad – does it feel like a big change or same but different?
"Yeah this is a big change for me this year and it feels kind of strange...kind of like that feeling of leaving home for the first time.
"But it's been a good experience so far and I've just been trying to take it all in. A lot of people have asked me this question in the last few months because of what we achieved together last year, and every time I try to think of something more to say but it's difficult. Honestly it is not a big change but obviously now I am in the factory team we have many resources available to us in terms of the bike and components.
"But with the Boano team I didn't miss anything and I thank them massively for that. So basically it's just the same but different, different team with a different set-up, but ultimately we're still fighting for the same goal...to be EnduroGP World Champions."
And how about the jump to the 300 two-stroke after successful seasons on the 250 Beta – who's idea was that?
"Yeah I'm stoked this year about the jump to the 300! I've been wanting to ride it for a while so finally we made it happen. The last two years I raced with the 250 two-stroke, because at the time it didn't make sense having me and Steve (Holcombe) in the same class with the same bike.
"When I decided to race with the 250 I was confident enough in my own ability that I could go fast on it. And I'm actually really happy we did that. It was a lot of fun riding and racing with that bike and together with Boano, after two years of development, we ended up with a bike that perfectly suited my riding style, maybe not for everyone but for me it worked well. I'm so proud of what we were able to achieve on that private bike.
"But honestly for this year I had my eyes set on the 300 right from the start. It was a new challenge and I love that experience of riding and learning a new bike and making it fit the rider, it's fun. Obviously when Steve decided to race the four stroke (the Beta 350 RR) it was an easy choice, and I haven't looked back since. It's awesome!"
How has it been getting on the bigger capacity bike – is it different? If so what are the big changes you feel as a rider?
"From the outside looking in it doesn't seem like a massive change, but honestly it has been a bigger jump than I expected!
"When I won the Junior World Championship in 2017 I raced with the 300 and from there the past two seasons the 250. With the 250, I understood immediately that you couldn't ride it like a 300...you needed to be a lot more aggressive in how you rode it to get the best out of it.
"Now the tables have completely turned. For this year I'm back to the 300 and I needed to learn to ride it like a 300 again using the power of the engine in low RPM. At the beginning I feel like I was over-riding it a bit maybe, almost being too aggressive.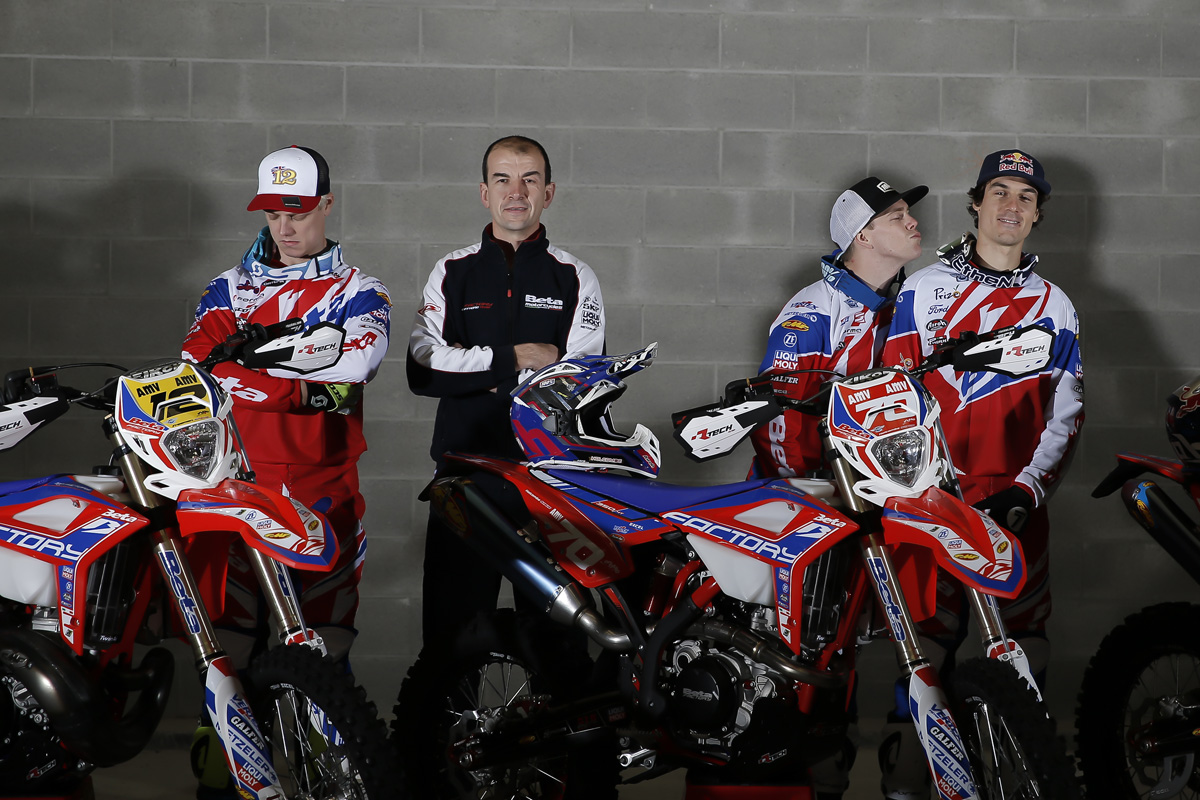 "In reality the bike is no heavier than the 250 but it feels a lot heavier whilst riding because of the inertia of the engine. But after some time with the bike I realise that it's actually how I have developed as a rider, my riding style now has drastically changed from a few years ago and I am a lot more aggressive with the bike.
"I have just been trying to learn the bike's limitations because that is massively important, and now I feel great on it. We were working a lot with suspension and components in Italy to try and get me more comfy, and we were really moving forward. I can't wait to race it!"
Have you got the bike set-up nailed and are you ready to go racing?
"This year I changed a lot of things: the team, the bike and so on but a lot of people don't realise that last year I actually raced the whole season with the 2019 model and never rode the new model when I came out in the middle of the year.
"I made that decision purely because I was so comfortable on the old bike, I didn't want to change halfway through the season to start the whole process again. So for this year I have a completely new bike and different class and it's been a great experience so far trying to learn and improve."
A rider cannot go fast if he isn't comfortable...
Brad Freeman
"We have been working a lot with suspension, I am the type of rider that is willing to work really hard on bike set-up at the start of a season and then after when the races start almost leave it alone and make minor changes.
"When I was a privateer, years ago, I often thought that the Pro riders setting up suspension were just far too picky and almost just needed to get on with it but now I fully understand it. "It isn't too hard to find a reasonably good suspension setting, but when you are fighting for tenths of a second at world championship level you need to have complete trust in what you're using to find that extra speed and that's where those little changes make a huge difference. A rider cannot go fast if he isn't comfortable.
"Other than that we are just messing around with some different bars and brake set-ups, but honestly we had the bike pretty dialled and I was really excited to go racing and show everyone how fast I was riding it."
It must be a strange time for a Pro athlete getting yourself geared up to start a season and then having to press pause button – are you just trying to maintain fitness levels and playing a waiting game or can you use the time to your advantage?
"Yeah, it's really strange, the hardest part is not knowing – it would be so much easier if we had a date to aim for when all of this would be over but right now it just feels like a big waiting game.
"When the lockdown first started, I had a week or so away from training, just to try and get my head around what was going on – it's a strange situation to be in.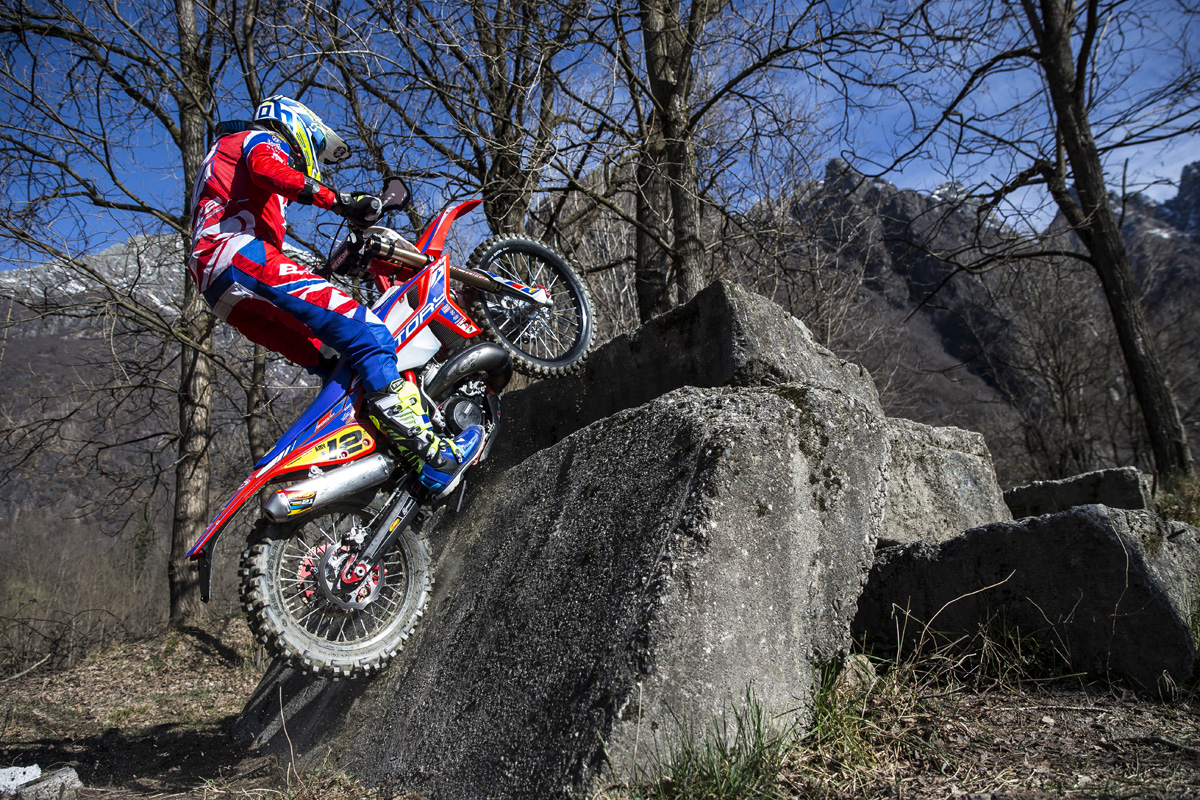 "But since then I've just been trying to maintain what I had built up before all of this started, because it would be a real shame for all of that hard work to be for nothing.
"My plan going forward is much of the same really, just keep ticking over and be ready for when we get back to racing. Because eventually all of this will be a memory, we will be back racing and I want to be 100% ready for that. Thankfully in this forced downtime it's given my wrist a bit more time to heal (which it really needed) and now I really want to focus a bit on getting that stronger to help me when I can get back riding."
Photo Credit: Cristiano Morello/Beta Racing + Enduro21/Andrea Belluschi