What will off-road racing look like after Coronavirus?
As we come out of Coronavirus hibernation and dare to think about racing again, we face serious changes to our riding lives. But what are those changes likely to be and how will it affect Off-Road riding post Covid-19?
Racing got underway last weekend, in America at least, with the Bulldog GNCC. Running a new code of conduct for riders, teams and with no spectators, GNCC Racing blazed a trail many race and championship organisers will be following in the coming weeks and months around the world. One thing is clear: we are living and riding in a very different landscape than we were just a few months ago.
Among the startling realities challenging race organisers, riders and teams as we attempt to get back racing are: lengthy processes to get into events, officials seated behind protective barriers and wearing protective clothing, mechanics wearing a face masks as they work closely with riders, no podium ceremonies and certainly no spectators.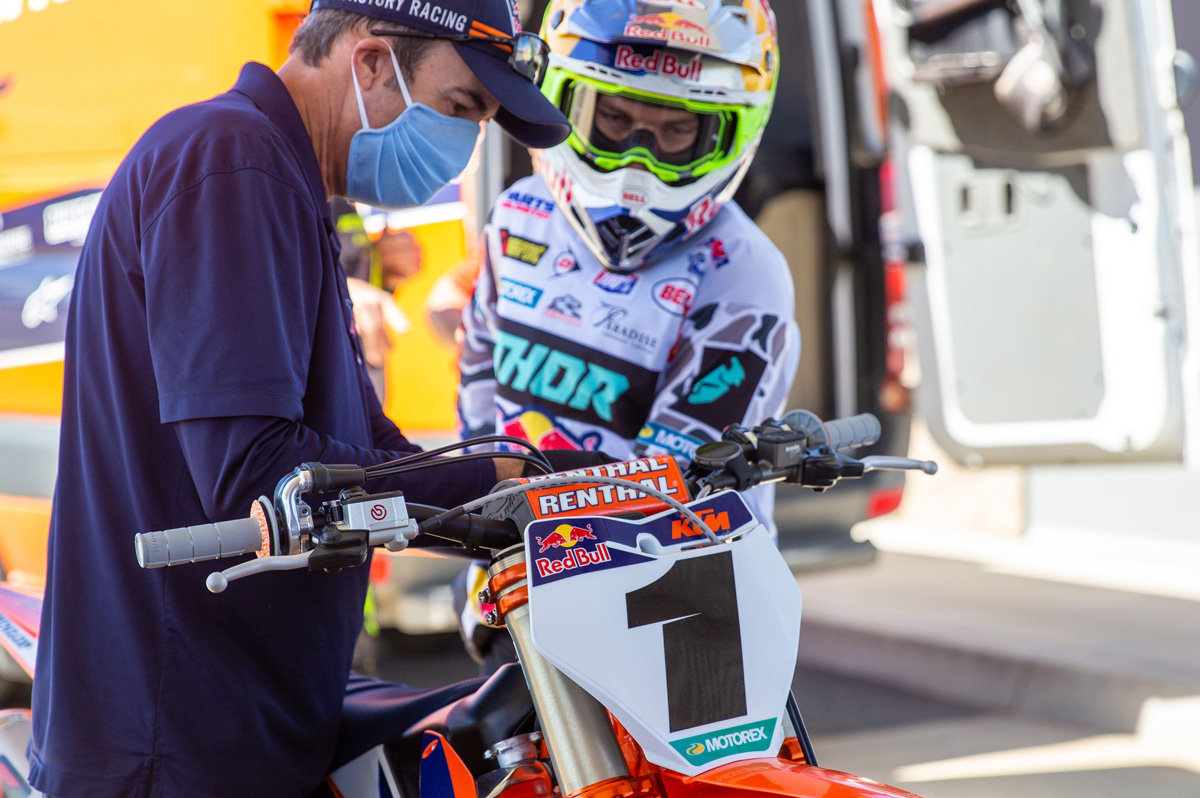 Worse and perhaps the hardest to get your head around is the idea of no physical interaction between people (unless you live together) – not just shooting the breeze in a paddock but imagine having to decide if helping another rider out on a hill, or if they are stuck under their bike, is the right thing to do?
We've spoken to major race and event organisers Alan Randt from the AMA National Enduro Series and Steve Ireland from WOR Events who runs successful race series' and practice days in the UK plus the infamous Tough One Extreme Enduro, to try and get our heads around how this might work.
NEPG's Alan Randt explain the realities he faces even before any wheels are turned. "To get back to racing we need to deal with new regulations from the insurance carriers, have electronic release forms and parent release forms for minors, have online transponder sales and keep human contact to a minimum."
NEPG have also put into place actions for their first event back (Cherokee National Enduro, June 7) which include 10ft distancing in paddock, fuelling and camping areas, plus six foot distancing between riders at all times off the track including the start line.
Here are some of the processes followed at the Bulldog GNCC (May 16-17)
Upon entry, you will be greeted by staff wearing personal protective equipment (PPE), i.e., facemask, face shield, and gloves.
Each vehicle will be given a separate liability release/waiver for the occupants to sign and return to staff. Only one release sheet will be used per vehicle.
Please bring your own pen to complete the release and race entry form.
We accept credit card or exact cash payment. Please come prepared.
Your ticket will be a wristband. Please secure it to your own wrist and help your kids with theirs.
Park no less than 10 feet apart from your neighbour on all sides.
Please remain in your pit area unless going to/from registration, concessions or the racetrack. Don't roam or visit your neighbours - use your phone for that.
Help us limit the number of people onsite overnight. If you race Saturday, please return home as soon as possible after your race.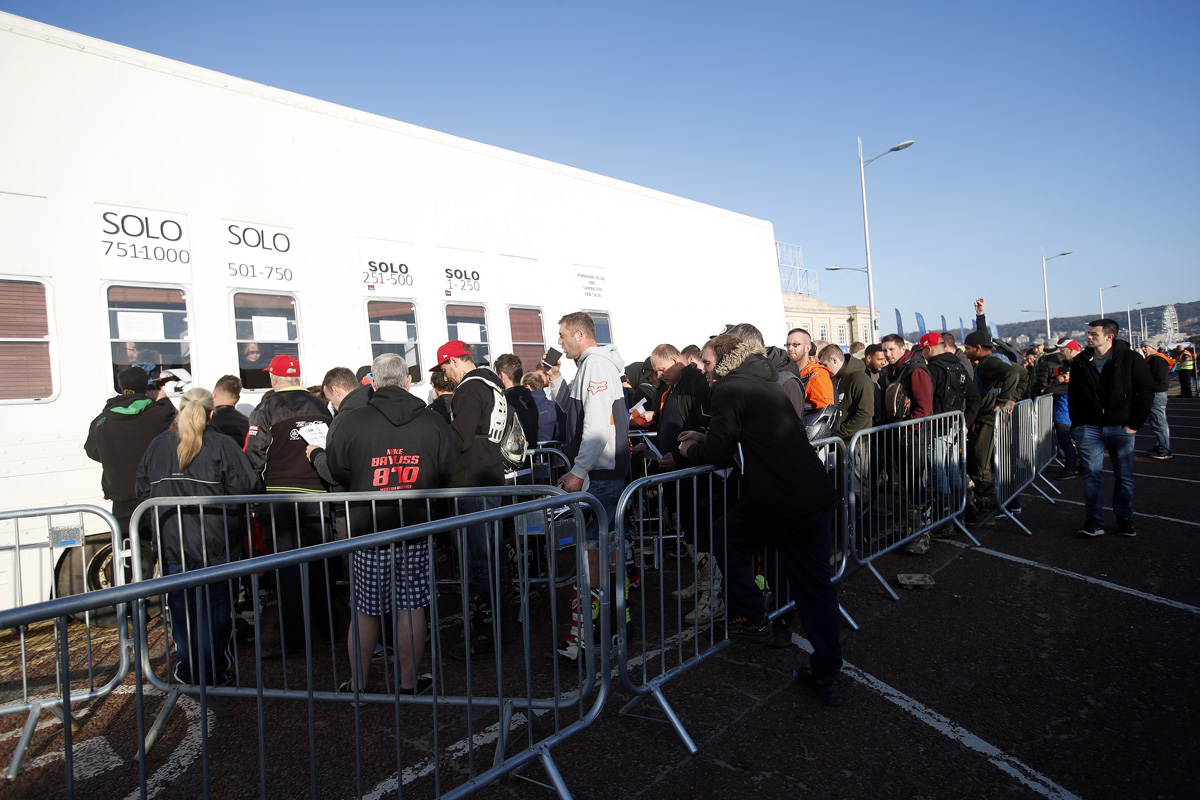 WOR Events boss Steve Ireland, says he too has looked at the GNCC Safe-to-Race code of conduct and made a similar plan of attack before getting back on it: "Basically, we run our own show at WOR Events and have the go-ahead in terms of insurance from the IOPD (licensing body). We have everything ready and have a plan of action in place with my staff to get people signed-in as they enter venues, control the parking, the use of toilets and basically have control of every aspect."
Social element lost?
If any aspect of dirt biking lends itself to getting out on a bike in the meantime then it has to be trail riding and setting out in small groups, which will be largely unaffected. But riding bikes is a largely selfish pursuit and it is true to say when we are inside our helmets, on a bike, we are on our own.
Everything that comes before, after and many times during a race involves contact with others – travel to a venue, fuel, food and registering at an event. The bigger issue, the thing which will be challenging is that social element which for most of us is a major reason why we do it to be with friends, family and like-minded riders.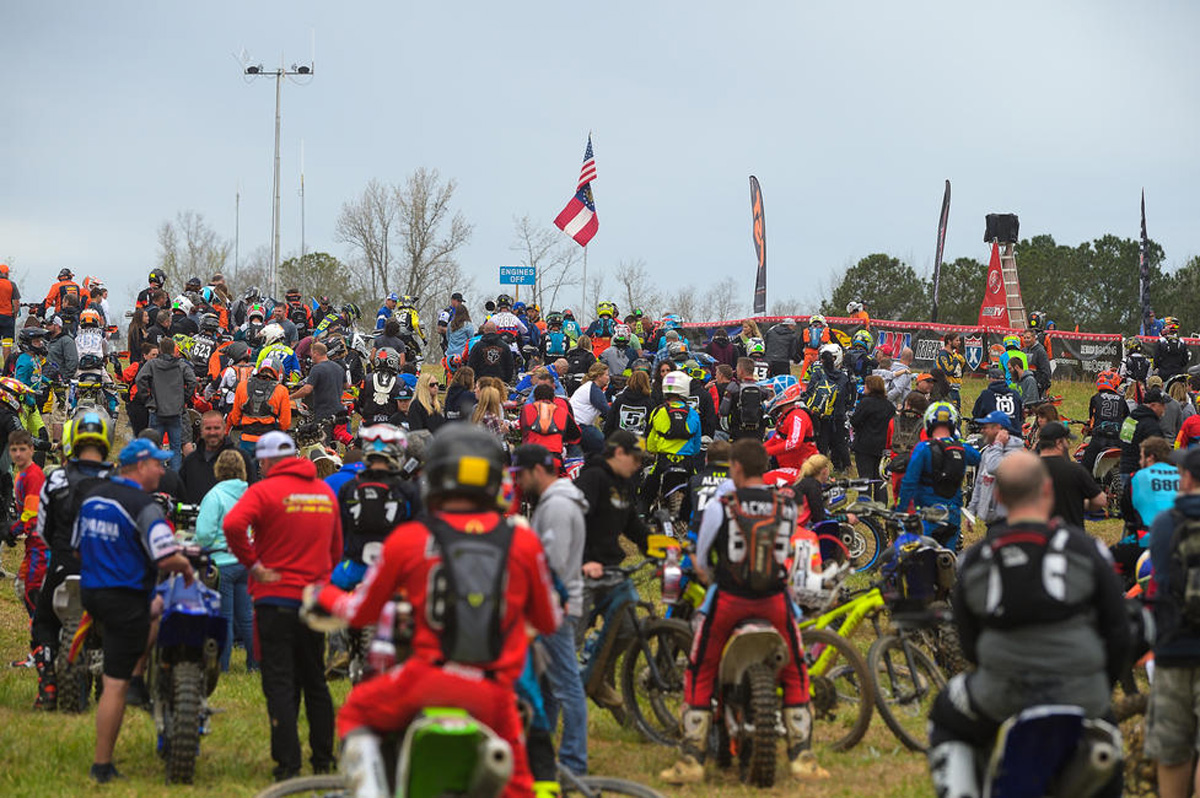 For the foreseeable future this process will need to be different – the usual free-for-all in the parking areas for vans and race trucks cannot happen. We know at the highest level of racing the factory race trucks sit pretty in paddocks but for the rest of us at an average club-level event the 'norm' is to be pretty packed in there.
Keeping a distance
Is there a more social aspect to riding off-road than the registration and signing-on process? When we arrive bright and early to sign-on and get bikes through technical checks don't we all herd together, queue and shoot the breeze?
Large scale motorcycle events have many hurdles to cross in terms of keeping people separate. At bigger events, where the rider numbers stretch into the many hundreds, it is hard to imagine how they can take place under current conditions – we're thinking events like Romaniacs or the Weston Beach Race, where the signing on process is spread across days – from a human contact point of view it is a potential disaster area.
Technical checks
Scrutineering or bike checks also have pitfalls which need to be overcome too. Medical evidence shows Coronavirus remains 'alive' on surfaces for many hours, which means the whole process of bike checks is rife with issues.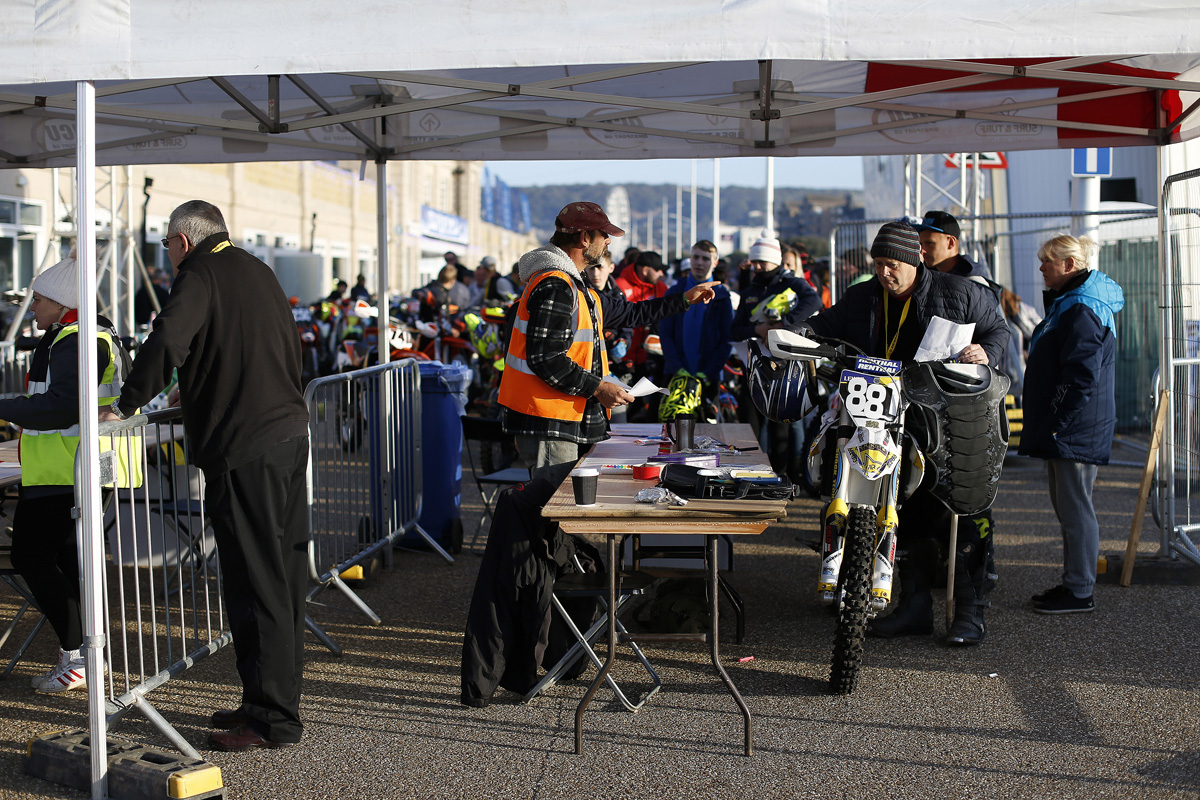 Think about it, you queue up for ages in a scrum of bodies and bikes. When you get to the officials, one person takes your helmet (which you've just worn and breathed into all the way from your van), another takes your bike and runs the checks touching multiple parts of the bike.
Mass gatherings
How many times do we physically get up close and personal at an event? From parc fermes to race starts aren't we always rubbing elbows? Ok, in a timecard enduro we stand more of a chance of keeping separate but for many off-road events the nature of the event means social contact. Desert races with the start line spread out across a mile could be the safest answer.
Whatever you do, don't help each other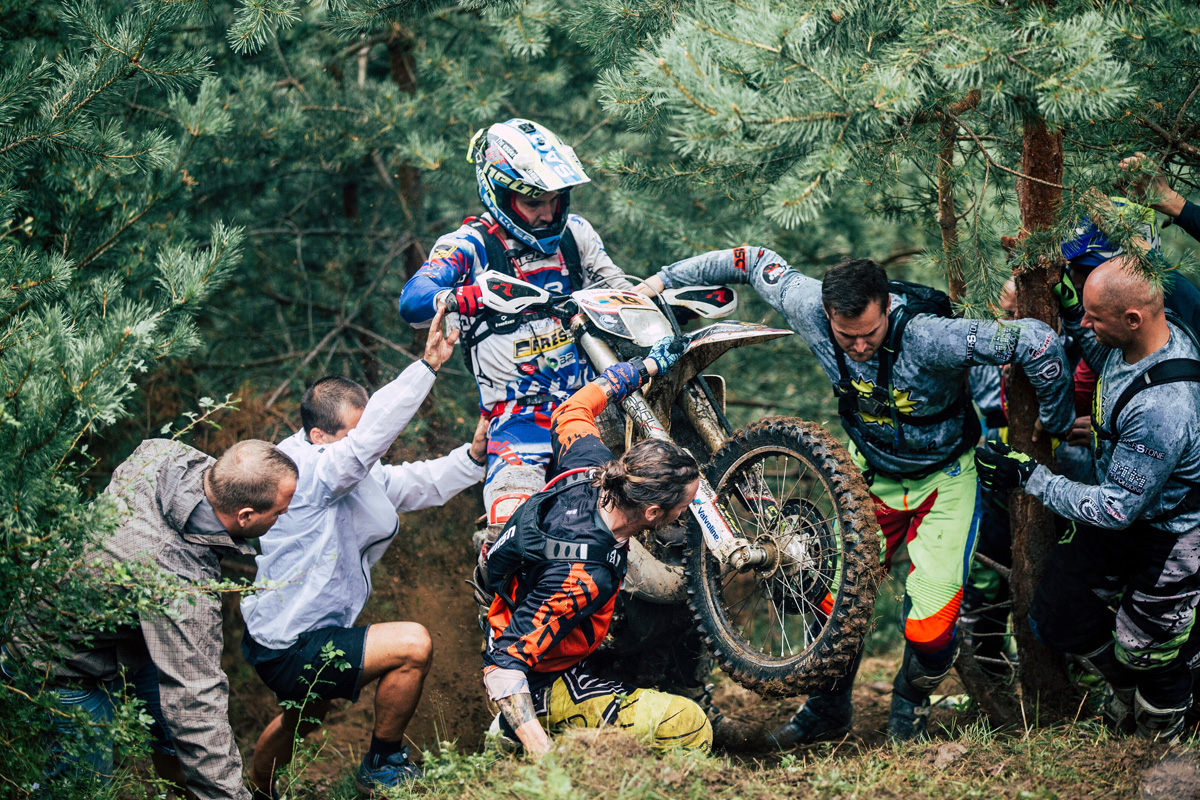 If we are only supposed to come into close contact with members of our household and those we have self-isolated with, then the idea of helping a fellow rider stuck on a hill, against a log or wherever is a no-no. Imagine an event like Romaniacs without riders helping each other?
Practice and training rides at first
The need to get back out on our bikes is a desperate one for us all but it will have to be controlled. The immediate future for many getting back riding looks set to be practice, training and open track days. "We didn't want to get going too early, before it is safe to do so, but have used common sense." Says Ireland.
"We're looking at running from June, maybe mid-June and will take it easy with pay and play days for a start to get people back into riding. We can't just throw ourselves back into it like nothing has happened."
Steve also says they have thought of changing the severity of events as well, "we don't want people to get stuck on a log or in that situation in the first place. We'll plan out events for a start which do not have those snotty situations because people are not going to be ready for it anyway."
Slowly does it back to racing, but only at national level
As we write this it is impossible to know when we will be riding international events, but we can't see it happening any time soon. Over the last weeks and months Enduro21 has spoken to major race and championship organisers and one thing is clear, no-one is quite sure how international travel can possibly work at the moment largely because different countries have different rules – although Italy for example will allow travellers across its border from June 3.
"It is hard to imagine how international events can take place." Says Steve Ireland. "With international borders having restrictions and different rules applied, it is hard to see how any international events can take place in the near future, this year even."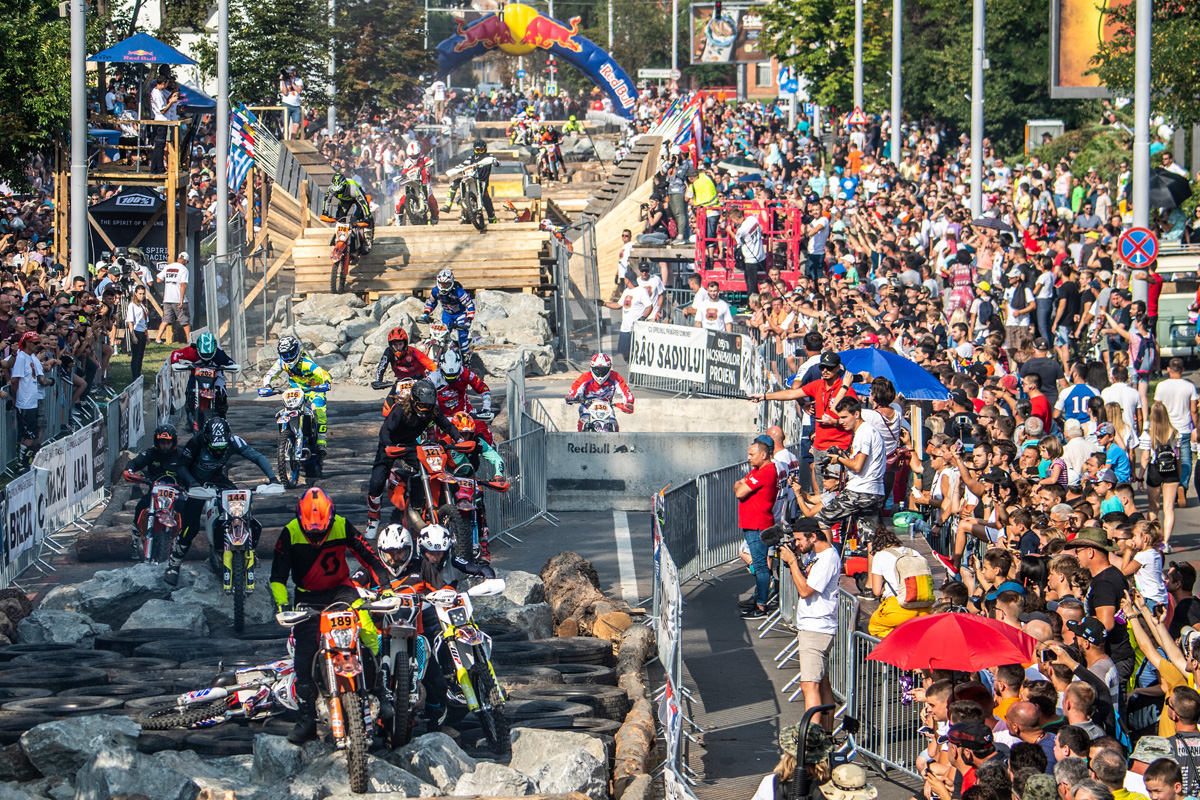 The idea of international competition still looks a long way off because of travel restrictions. European borders, normally crossed in a blink of an eye, will have a whole range of conditions and tests for individuals including periods of quarantine. How can an international enduro (just like MotoGP or F1 racing) take place if individual riders or team members are to spend two weeks in isolation as they cross into each country?
We need your support
If you've enjoyed this article, if you've found it informative, interesting, entertaining even, please support us.
We want to continue doing what we do, to the best of our ability, serving the enduro and off-road community.
Please consider a donation, every little helps…
Thank you.
Further advice and musings on the processes needed to start riding again
Trail riders and small groups on non-organised rides will remain largely unchanged save for social considerations at gas stations and so on. In the near future it will be the easiest way of getting riding for many.
Go contactless. Race event entries are already online for most and with the whole process becoming contactless, it just needs riders to get organised and stop anybody entering on the day.
Where it does baulk is with insurance companies requiring people to sign-in on the day at a venue – that much does not seem negotiable if we are to be accounted for and insured while we ride. This is the part which will take patience and care as we arrive at venues.
No spectators. The Bulldog GNCC was an example and was not advertised to the public. Plus they had limited attendance for riders, their teams, families and crew.
Events need big enough parking/paddock areas to allow distances between people both in the vans and race trucks. Where venues are smaller, entries will likely be restricted.
Follow basic hygiene rules from washing hands to touching surfaces, going to lavatory and so on. This part is simple.
Get there early, give the process more time and let organisers do the right thing.
Photo Credit: Enduro21/Andrea Belluschi + Ken Hill + Red Bull Content Pool/Attila Szabo/Predrag Vukovic