New Galfer RWSX 280mm oversized brake kit
Galfer has expanded its off-road brake product range with the RWSX brake kit developed by AMA Supercross riders which includes a 280mm fixed grooved oversized disc, caliper mount and their latest sintered brake pads.
In line with the current trend to increased front disc sizes in motocross, GALFER's new RWSX brake kit arrives on the market to offer an upgrade in performance for a wide range of off-road motorcycles. Compared to the standard disc, the 280mm kit created by Galfer will significantly improve braking especially in extreme weather conditions or at higher speeds.
After a long period of testing and development with AMA Supercross riders, Galfer engineers in the R&D department have produced a high-performance product capable of guaranteeing ready and adjustable braking at a low weight and with low impact on pad wear.
The complete kit includes the Sport Racing G1396R sintered pads that represent the top technology available on the market today.
The new RWSX kit includes:
280mm grooved Wave® disc
Caliper mount/spacer
Sport Racing G1396R pads
Available for the off-road models from Honda, KTM, Yamaha, Kawasaki, Suzuki and Husqvarna.
Beta Factory Enduro Team choose Galfer
Beta Factory Enduro Team riders Steve Holcombe and Brad Freeman equip their bikes with the 260mm "ranurado" fixed Wave® disc (DF 814 RW) for the front and rear wheels with Freeman preferring a solid fixed Disc Wave® ø240 x 4mm (DF 815 WLL) on the rear.
The Beta Factory Enduro Team have been using Galfer brake discs and brake pads for many years, taking them to multiple Enduro World Championship and national championship titles.
The Grooved fixed Wave® front disc with code DF814RW for Beta motorcycles has a diameter of 260mm and a thickness of 3mm, made of high carbon stainless steel and laser and CNC cut in the grooves which feature on both faces of the braking surface, allowing for better evacuation of water and dirt.
Focus on professional and amateur riders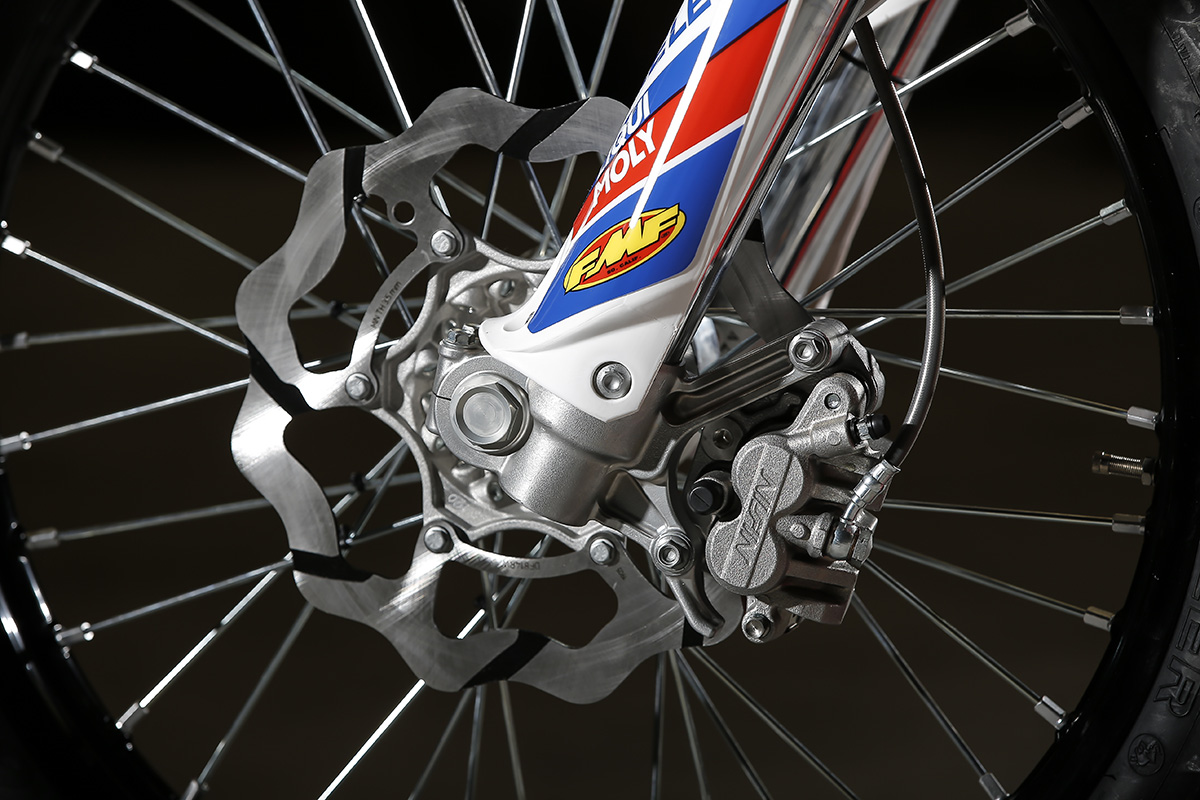 The Wave® disc with code DF814RW is in fact an example of a Galfer Hi-tech product with a weight reduction of around 30% compared to the original disc and an increase in heat dissipation and greater braking power.
Galfer launched its new G1396R brake pads on the market, made with a compound developed specifically for off-road racing bikes. The new compound guarantees modular braking, while maintaining the necessary aggressiveness in any extreme conditions and withstanding the maximum stresses without reducing performance.
Recognizable by their special ceramic paint heat shield, the brake pads reduce the transmission of heat to the braking system thanks to the grooves of the friction material. The G1396R pads are a concentrate of high technology and innovation developed by the best riders of MXGP, AMA SX and the Enduro World Championship.
The Spanish company Galfer has seen exponential growth at an international level both in terms of distribution of its products and of visibility and brand awareness, is today more than ever in the two-wheel sector a reference brand and synonymous with reliability, technology and constant attention in terms of research and development of its products.
More information: Galfer.eu
Photo Credit: Galfer + Cristiano Morello