New Yoshimura RS-9T, RS-12 and RS-4 off-road exhausts
Yoshimura brings three new exhaust mufflers – RS-9T, RS-12 and RS-4 – to fit all four-stroke motocross bikes in the market to boost your bike's performance and reducing it's weight.
With more than 100 years of history and more than 30 AMA, WORCS and GNCC titles backing them, Yoshimura has stablish as one of the places to go when you're looking to improve your bike's performance. The latest addition to their catalogue, the RS–9T, RS-12 and RS-4 exhausts, focus on getting that extra bit out of your four-stroke engine.
With different finishes and manufacturing materials, from titanium, to carbon, aluminium and stainless steel, and always under high quality standards, maximum performance and strict compliance with the different rules and regulations, these silencers allow to reduce the weight of the motorcycle from 500 grams to 1,5kg – depending on the model and the manufacturing material. They also improve power delivery - around 4.5% -, engine torque and volume, reducing the noise level and emitting a more powerful and cleaner sound.
RS-9T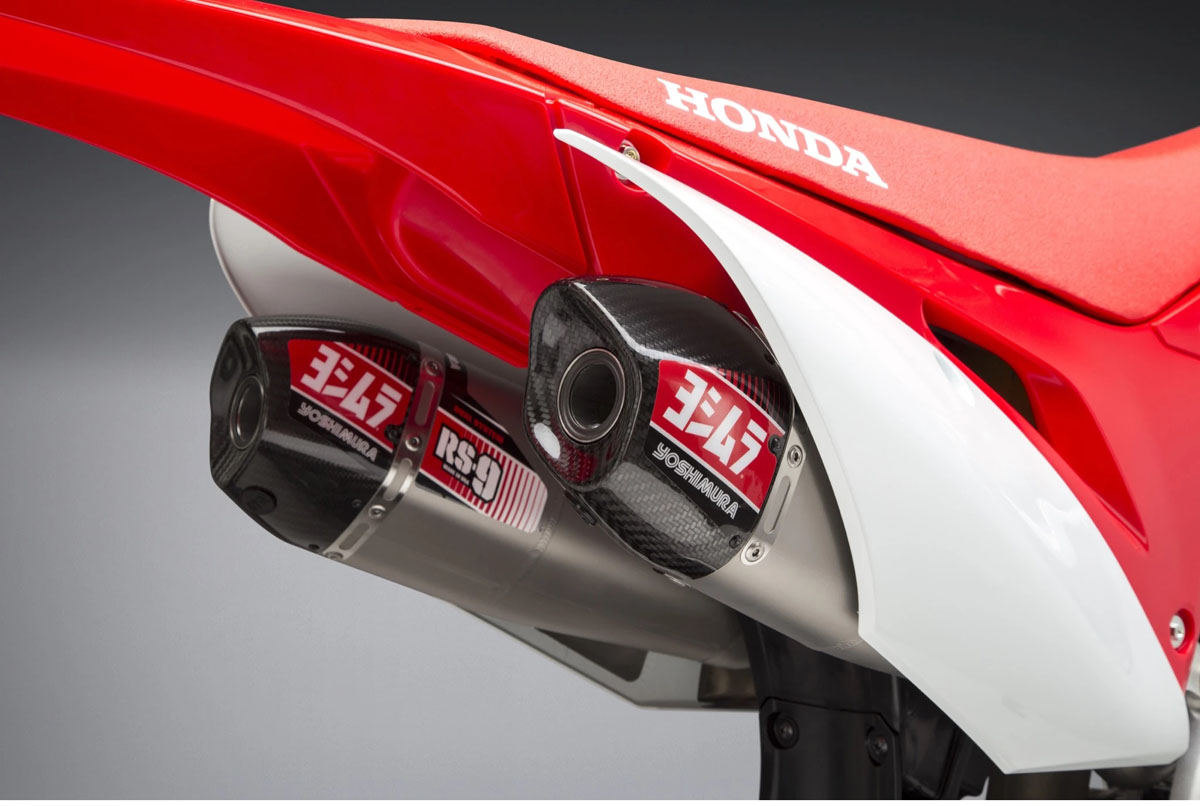 Honda's new twin cam engine and unique muffler configuration gave us the opportunity to create an entirely new system built specifically for the new dual port cylinder and its unique downdraft fuel injection system. We've developed our potent RS-9T Signature Series exhausts to provide more bottom end power and improved torque for the new high-revving engine. The distinctive dual header design is a brand new innovation from Honda. Deriving from Moto 3 bikes in Moto GP, Honda has found a new way to look at Motocross power delivery. Honing the power, engineers in Japan develop is what we at Yoshimura do, and we have found some great additions for the new CRF250R and CRF450R/RX.
Not only increasing the bottom, mid and top power, we have been able to reduce the weight from stock as well as an overall decrease in dB noise level of the stock system.
RS-9T in a nutshell:
Dyno and track tested by Honda R&D in Japan, and HRC All Japan MX Racing Team
Unique twin header design allows for more bottom end power and torque
New compact forward positioned RS-9T dual muffler design provides lower center of gravity for better mass centralization
Larger RS-9T core creates improved throttle response, and power in mid and top-end
New RS-9T dual mufflers have more volume than stock to provide a decrease in overall dB noise level
Repack Kits, optional Inserts and Spark Arresters are available for all models
RS-12 and RS-4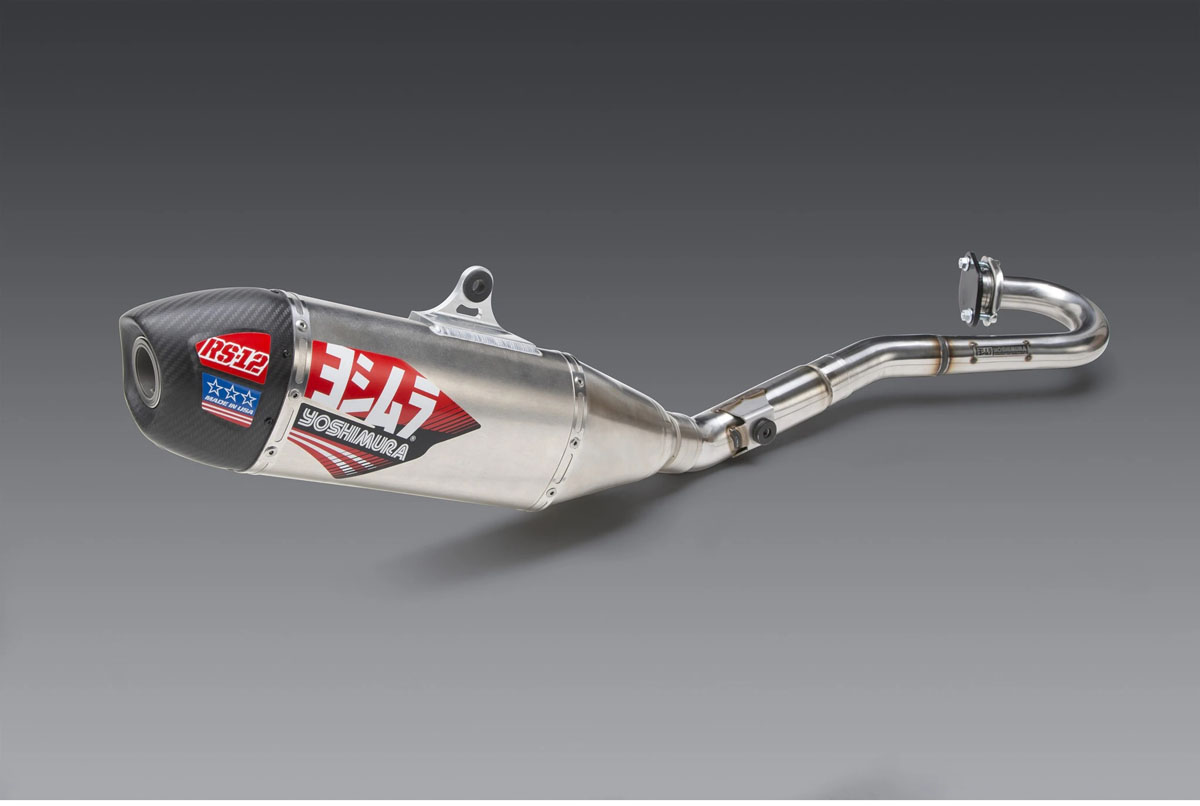 Developed and tested in the heat of over 24 months of factory level racing the asymmetrical shaped RS-12 profile allows maximized muffler volume that helps manage sound, add power and provide more clearance for tire and brake caliper. One look and you can see it's like nothing else on the market. As you get closer you will notice the details in every place on our new dirt bike system, from the matte carbon fiber end cap with decal inlays to the precise machined joints, this system is next level.
The new RS-4 – fits Suzuki, Yamaha, Honda, Kawasaki, KTM and Husqvarna – exhaust system gives a 3,5% increase in power and a 1,5% increase in torque thanks to its internal duplex chamber and the two stage deflector that enhances performance.
More information: Yoshimura-RD.com