Record Business Turnover For Fantic Motor in 2021
Italian manufacturer Fantic Motor registers record business growth for the seventh year in a row following global dealer network expansion – 2021 sales figures up 95% globally year-on-year and 645% in the USA.
Fantic Motor reports "incredible growth" across all company departments at the end of 2021 for the seventh year in a row. The Italian motorcycle, e-bike and e-mobility manufacturer says the acquisition of Motori Minarelli bolstered the end of year results with an overall income result of €156 million for the Fantic Group.
2021 saw Fantic Motor Spa registering a turnover record growth of +95% compared to 2020 and +130% compared to 2019. Indeed, Fantic obtained a revenue equal to 40,2 million in 2019 and of about 47,7 million in 2020.
"Fantic is growing exponentially," says the CEO Mariano Roman. "Both in motorbikes, e-bikes, e-mobility range offer, and in terms of turnover in all fields. The acquisition of Motori Minarelli in 2021 was a winning move on the national and international scenario and it has helped in acquiring value and rating to our Group. In 2021 we have one more time registered a record growth regarding the turnover. An amazing result which overtook the expectations, underlining and rewarding Fantic's energy and ability of innovating."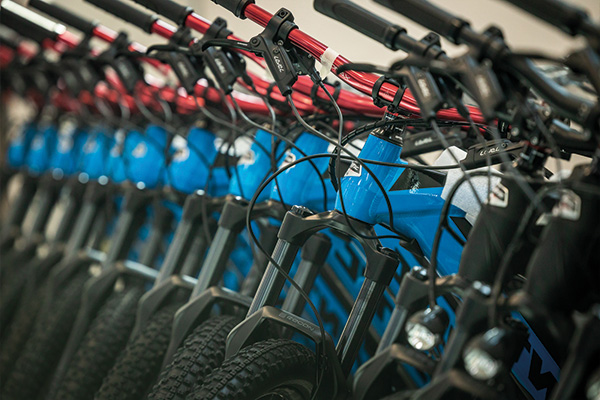 Beyond the constantly growing national market, Fantic's international market is doing well with Germany reporting + 70% (2021 vs 2020), Switzerland + 113% (2021 vs 2020) as leaders of the Motorbike market, while Spain and the USA stand out in the E-Bike market respectively with a + 200% 2021 vs 2020 in Spain and a +645% 2021 vs 2020 in the USA.
Global network
These results have been reached thanks to the wider and wider sales network as well, which today counts more than 50 countries for a total of 1000 dealers and 30 importers around the world.
They also report many investments in the motorsport field as well, which have brought immediate results. An example is the 2021 MX Junior 125 World Champion title, the victories in the EMX 250 2-Stroke European Championship, same as the Internazionali d'Italia of the Motocross class 2021 and MX2. About the Enduro categories, good successes at the E1 World Championship and the win at the 125 Youth World Championship together with many other national races.
2022 has started with the debut at the Dakar Race, while in the next few months we will see Fantic in the spotlight again with the reveal of the 2022 motorbikes, e-bikes and e-mobility vehicles ranges.