First look: Givi Canyon GRT723 and GRT724 waterproof off-road cargo bags
The Italian motorcycle and rider equipment brand GIVI has added two bags to their Trail/Adventure off-road products catalogue, the new GRT723 with the 'Monokey' fixing system and the GRT724 saddle bag with double 'roll-top' closure.
The GIVI Canyon range was created "to meet all the needs of the Trail/Adventure lovers on their trips and rides", according to the brand. A premise that has led the Givi to design two new cargo bags, the GRT723 and the GRT724, which make their range grow to 13 models designed and manufactured with high-quality materials to withstand off-road rides.
Givi Canyon GRT723 – 40 litres of capacity and a security key
The new GRT723 is mounted on a semi-rigid base that serves as support for the MONOKEY fixing system (as the name states it has a key) and can be placed either on the sides or on the back. Of course, it requires having the GIVI MONOKEY fixing system previously installed in your motorcycle model.
It has a waterproof roll-top closure on both sides, a front access zipper and a 40-litre capacity, as well as a removable, waterproof, fluorescent coloured inner bag and a practical flap with a mesh pocket for your documents, maps or other belongings together with some additional straps where you can add more cargo. Off the bike, it's designed to be carried as a shoulder bag.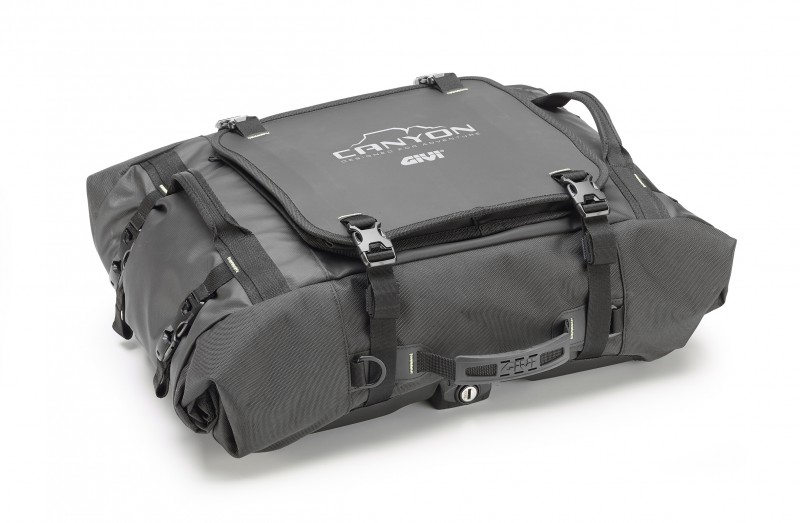 GRT723 technical details:
Made of high tenacity 1200D W/R Polyester
Thermoformed PE bottom
1680D/ PU high tenacity coating
External materials with high resistance to UV rays (UV TESTED 1500h)
All materials are made met the REACH regulation.
Reflective motif prints for increased visibility
4 compression points
M.O.L.L.E system under the top flap
Waterproof fluorescent yellow internal bag with IPX5 permeability (resistant to heavy rain and extreme conditions)
Double access with roll top closure
Upper flap subsequently equipped with a resistant PVC mesh pocket
Fixing rack with Monokey® system
Ergonomic front handle
Straps equipped with 'cam buckle' to guarantee constant tension
Straps with quick hook and loop closure at the ends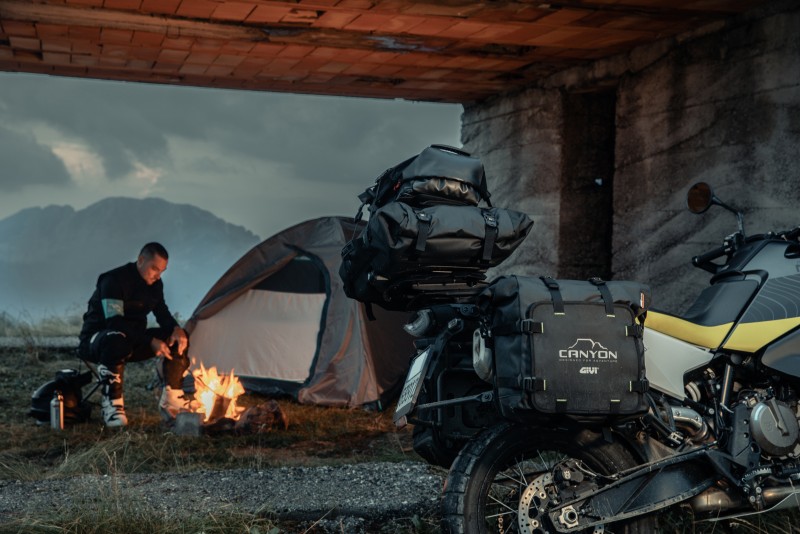 Givi Canyon GRT724 – a 12 litres waterproof roll bag
The other new addition to Givi's catalogue, the GRT724 is a heat-sealed roll bag with a 12-liter capacity that can be attached "anywhere" in your bike that to its Duraflex fastening straps. Additionally, as you can see in the image above it can also be combined with the GRT723 bag.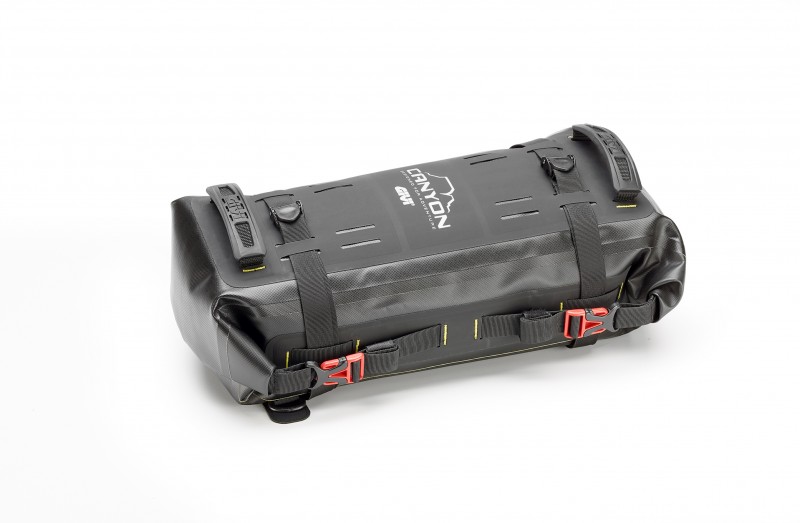 GRT724 technical details:
High tenacity 840D TPU, double coated - tear resistant
TPU reinforcements
External materials with high resistance to UV rays (UV TESTED 1500h)
All materials are made according to the REACH regulation.
Roll Top waterproof closure system;
Modular with GRT721 Canyon-Base, as side and top bag;
Can be modulated using straps as an additional load on the aluminum suitcases;
Equipped with fastening straps with Duraflex® cam buckle to ensure that the tension of the straps is maintained.
Shoulder strap for shoulder carrying
Ergonomic handles for carrying by hand
Lateral spring system
Prints with reflective motifs for greater visibility
The recommended retail price for the Canyon GRT723 is €299, while the cost for the GRT724 is €109 (VAT included in both).
In Enduro21 we have a set and we´ll tell you more when we fit it in one of our test bikes.
More information: www.givi.com
Photo Credit: GIVI