First look: LEATT Enduro 2023 Collection – new jackets, pants and jerseys for all weathers
Leatt has presented its 2023 Enduro collection for the new season with jackets, pants and jerseys designed to be more functional with options for all weather conditions and some new fabric technology including coffee grounds in the construction.
We have to admit life has been a bit like a hamster wheel at Enduro21 lately. World Championships concluding, a couple of bike tests and generally a very busy September and October have mean LEATT's new Enduro collection has been waiting for a closer look.
It turns out there's loads to say. So much we've dissected it into parts, focusing on the jackets first where the 5.5 model has had plenty to look at...
New 5.5 Enduro Jacket
Comfortable and lightweight, LEATT say the new 5.5 Enduro jacket has pre-curved sleeves and is designed to be used with or without protection worn on the body including back adn chest protector or a neck brace. It has a detachable collar and is constructed from "materials designed to withstand the harshest riding conditions".
The good news is they claim the 5.5 model is also waterproof and dirt-repellent, thanks to its fabric construction. Worried that'll make it too hot? Ventilation zippers and removable sleeves help you moderate your body temperature when riding gets more physical or the climate changes.
The 5.5 Enduro Jacket available in black and blue colours has a practical rear pocket (above a bum bag-like pocket, both shown below) that incorporates an innovative 'suspension system' that lets you to carry a hydration bladder of up to three litres inside the coat, rather than an external backpack. It fastens securely they say and won't shift about while riding.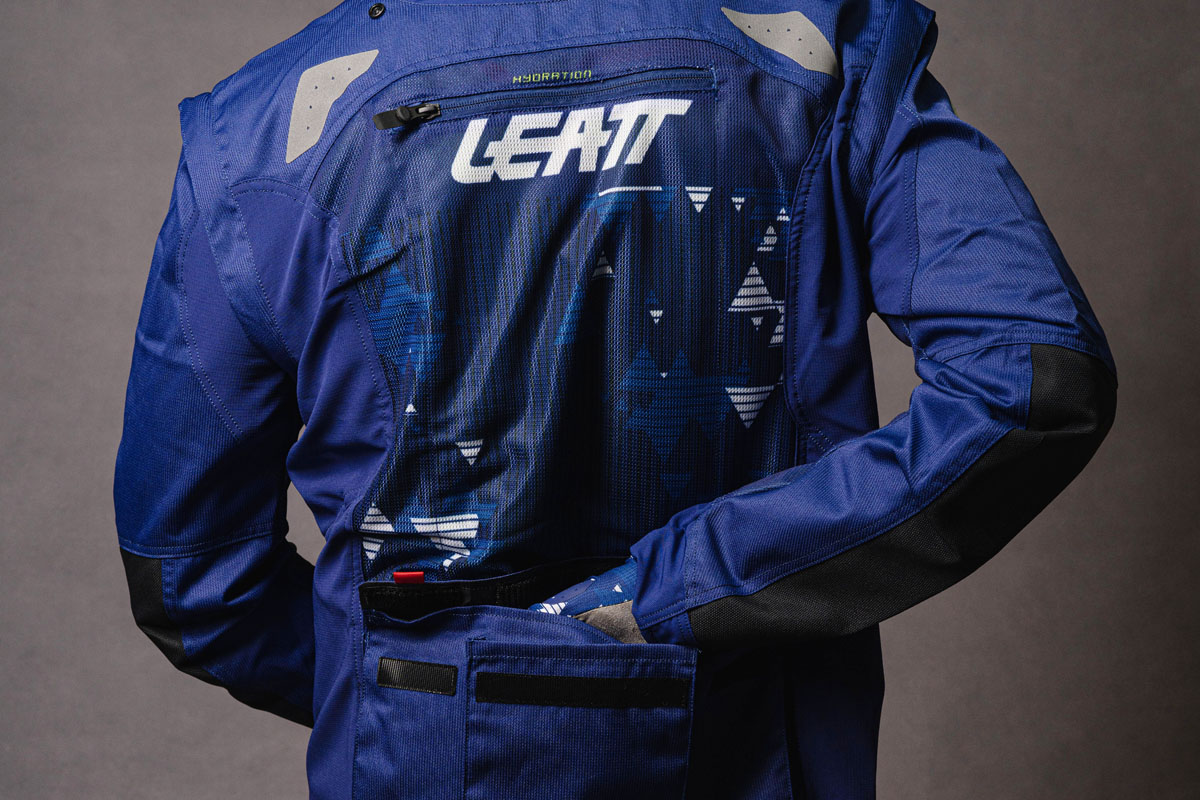 Leatt 5.5 Enduro Jacket technical details:
Constructed to be light, water resistant and repellent
Elastic Spandura side panels for comfort
Rear pocket for hydration system up to three litres
Removable neck cover to be used with and without neck brace
Removable pre-curved sleeves and ventilation zippers
Made for off-road riding with or without armour protection
Strong, YKK zippers
Reinforced seams
Reinforced, anti-tear elbows
Nine pockets in total, five of which are water resistant and one with a window
Reflective rear panels/markings
Enduro 4.5 Jacket: three versions depending on the weather
The range of LEATT Enduro 2023 jackets is completed with various versions of the 4.5 model depending on the conditions: X-Flow, HydraDri and Lite models.
The X-Flow in black and orange has the same characteristics of resistance, materials and design as the 5.5, although with six pockets, one of them waterproof to protect the mobile phone or documentation from bad weather. It also houses the same hydration system option and is an "ideal jacket for riders on the hottest days".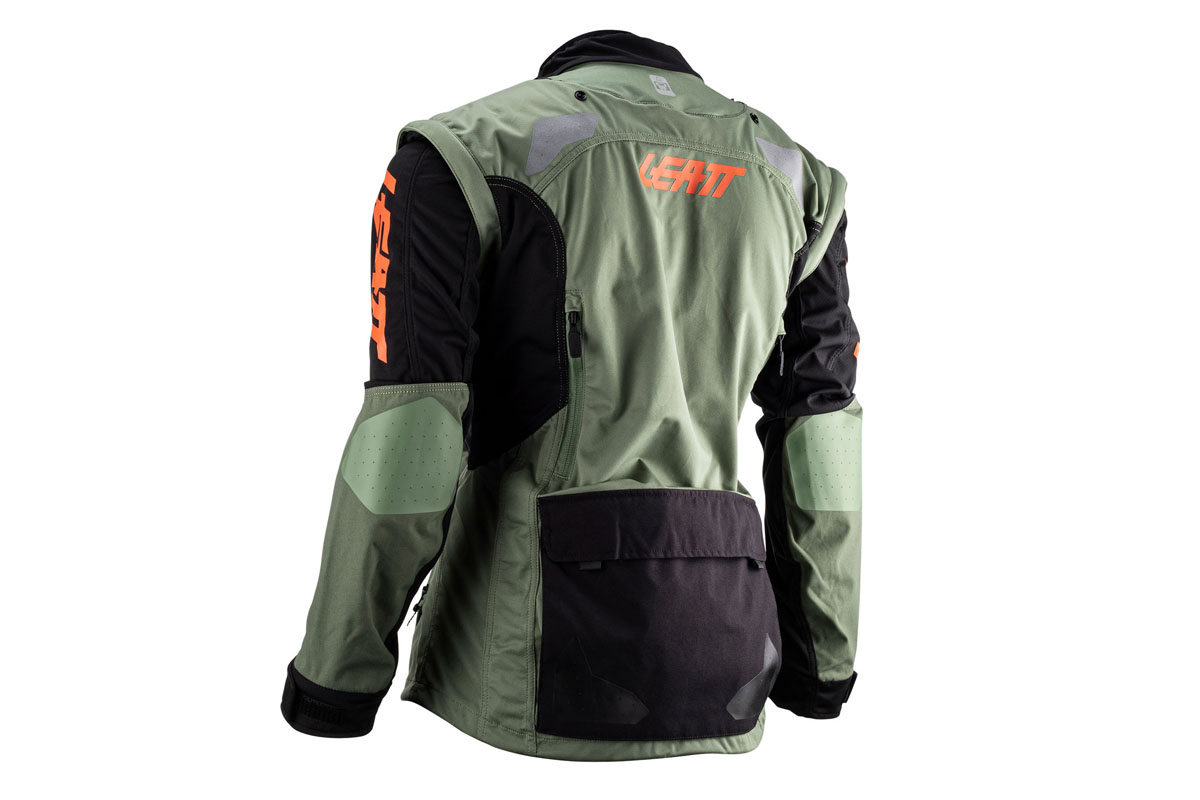 New HydraDri – 20,000mm/m² water resistance
The 4.5 HydraDri model, available in black and khaki colours, is designed for more adverse conditions. This is a new model with a three-layer waterproof and breathable membrane fabric, developed by LEATT, on the inside of the jacket that "will help you stay dry in the worst conditions".
The HydraDri has five pockets and they say it will overcome the heaviest downpours, certified up to 20,000mm/m², while maintaining breathability and freshness inside.
4.5 Lite Jacket
Meanwhile, LEATT has added another versatile model the 4.5 Lite. A black and red jacket made with a lightweight soft-shell fabric that is water resistant and breathable, thanks to the same HydraDri membrane able withstand water columns of up to 10,000mm/m². It also has reinforced abrasion resistant nylon fabric on the shoulders and elbows.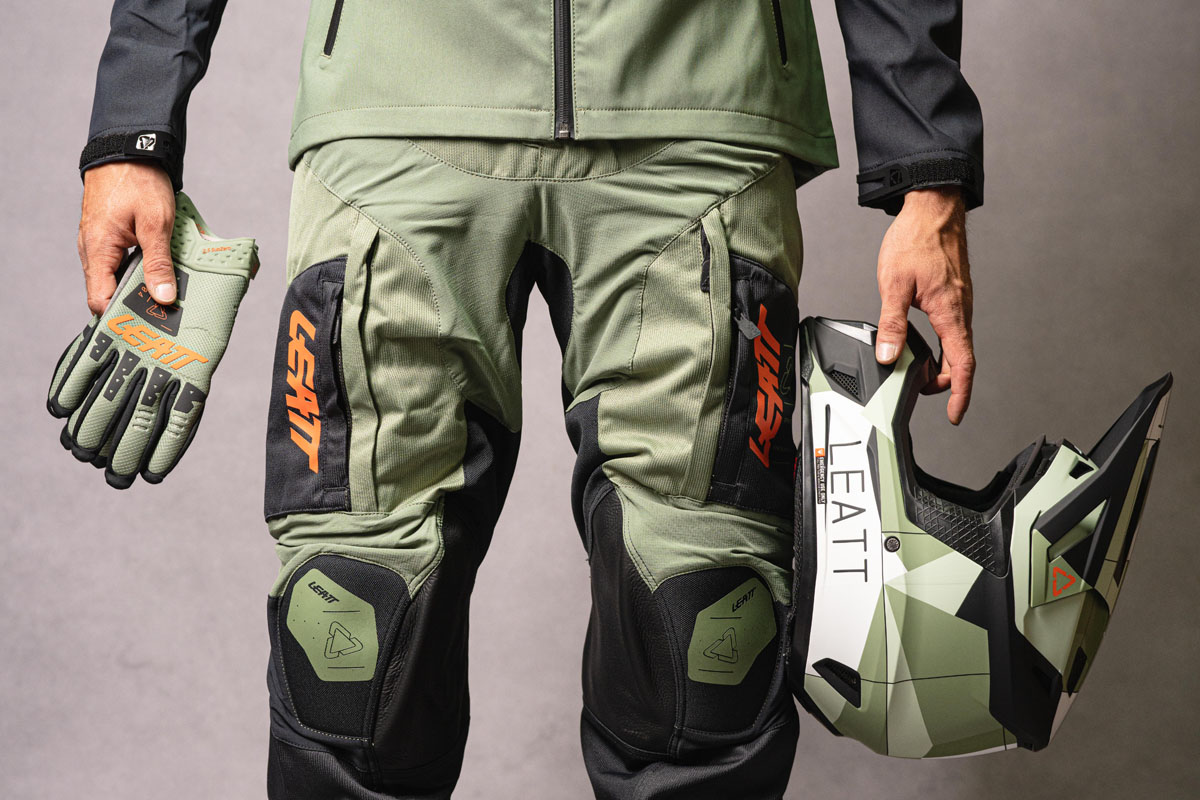 5.5 and 4.5 HydraDri pants for multiple combinations
LEATT's 2023 Enduro collection complements the jackets above with matching riding pants, the 5.5 and 4.5 HydraDri trousers.
The Enduro 5.5 pants can be worn inside or outside boots and are available in three colours: black, blue and black/khaki. They are repellent to water, dirt and dust and have ventilation zippers to evacuate heat while riding.
The inner area of ​​the knee is made of leather to improve grip and better resist wear with an "IKS" multilayer system. There are also 1800D reinforcements in the lower part of the leg and the back of the adjustable waist and reinforced seams.
The 4.5 HydraDri model promises the same waterproofness and breathability as jackets but is designed to be worn inside the boot. It has two cargo pockets for storage plus vents and YKK waterproof zippers.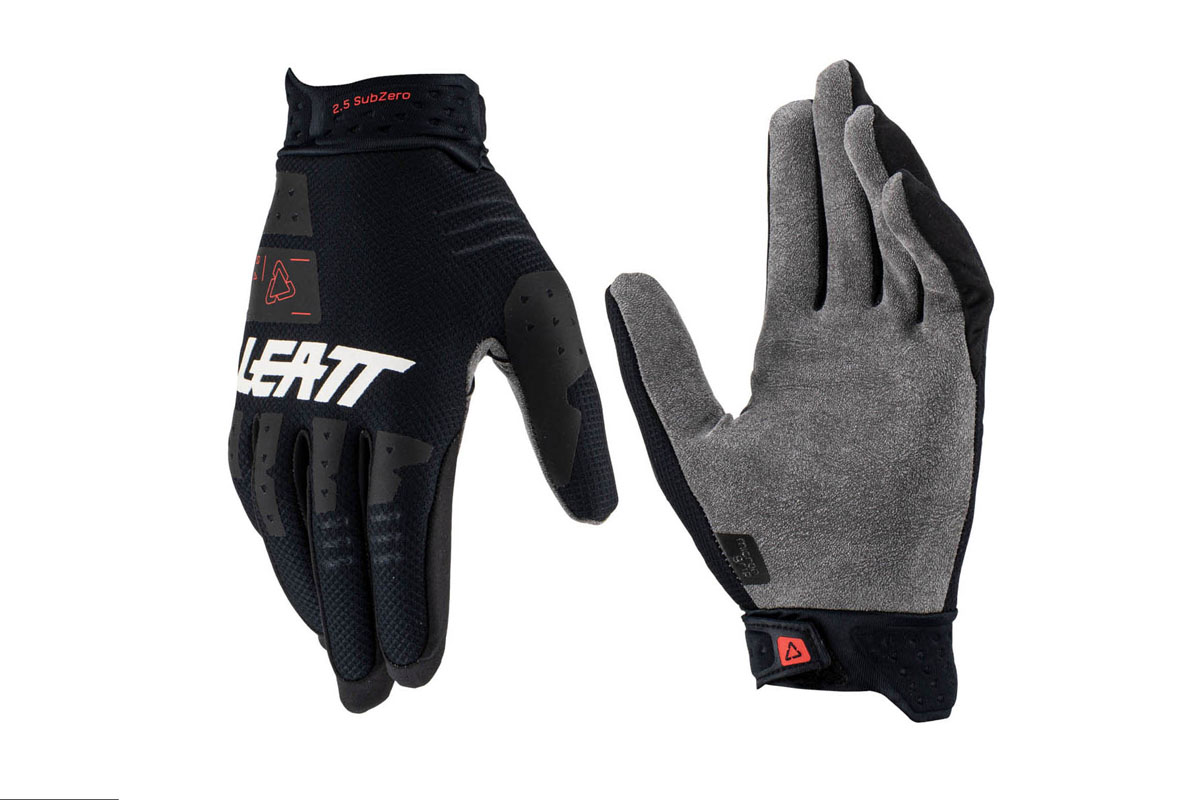 Moto 2.5 SubZero gloves for low temperatures
The new Moto 2.5 SubZero gloves, available in black or khaki, have particularly caught our eye (it gets cold round our way in the winter). Plenty of us end up riding in winter without being able to feel our hands but LEATT has answered that problem with these new gloves that incorporate a three-millimetre layer of neoprene, typical of diving suits, in addition of an inner microfibre lining.
Superior insulation is the aim with an emphasis on comfort and they add MicronGrip technology to aid your hold on the handlebars in wet and dry conditions. These are something which those who ride in cold climates, Nordic or up top of North America, will be interested in for sure.
Moto 2.5 SubZero gloves, technical specifications:
New four-way stretch HydraDri outer membrane
Certified to overcome water columns of 10,000mm and with a breathability of 10,000g/m²
Insulating 3mm neoprene layer
Inner microfiber lining for improved comfort.
Micro-injected 3D Brush Guard reinforcements on the knuckles and little finger
Ultra-thin 'Microngrip' palm for wet and dry feel
Touch function for smartphones
New Stretch Stitch thread resistant seams
Pre-curved, close-fitting glove with seamless palm
Multi-row technical thread stitching for durability
New jerseys for different climate conditions
Finally, the other new addition for LEATT's 2023 Enduro range is the two model jersey range: the 4.5 (black, blue, red and orange) and Windstock 4.5 (black and khaki) in various colours to match the rider's preference and riding pant design.

Details include 'overlock' seams made with new materials resistant to abrasion and tearing on the arms and chest, and with a fabric on the back designed to absorb moisture and help keep you fresh.
New for 2023, the Enduro 4.5 WindBlock jersey is made with 'WarmYarn' on the chest, arms and sides, and 'IceYarn' – made from recycled coffee grounds – on the back which LEATT say is ideal for keeping you warm when the days are cold.
Prices:
Jackets: 5.5 (€399), 4.5 X-Flow and HydraDri and (€319) and Lite (€219)
Pants: 5.5 (€239) and 4.5 HydraDri (€279)
T-shirts: 4.5 (€55.99) and Windblock 4.5 (€84.99)
Gloves: Moto 2.5 SubZero (€52.99)
More information: www.leatt.com