First look: SteadyStand bike stand
First look at the SteadyStand 'Cross' bike stand, a secure system for loading and transporting Enduro and Off-Road bikes in vans, trucks and trailers.
How do you load your bike when travelling to events or places to ride? Most of us load up the front wheel first and head into one corner before pulling it down securely with straps via the bars or triple clamps – it's the norm.
But who hasn't had the issues with a bike moving during transit? You know the score, you go to unload and find the end grip has been rubbing away making a hole in the panelling, maybe the bike has fallen over or a strap has broken during the journey?
There are a few different solutions to these problems but one such is a bike stand bolted or screwed to the floor of whatever vehicle you use. Basically the stand gives your front wheel a place to park, holding it there while you travel.
ACE Bikes have sent this SteadyStand to Enduro21 to test. You're looking at their 'Cross' model which is tailored to suit the narrower front wheels of a dirt bike (they have a range to suit different bikes/front tyre sizes).
This SteadyStand goes a little further in actually grabbing hold of the front tyre, using a foot pedal to anchor the wheel in place, and removes the need for front tie-down straps they say.
SteadyStand Cross model technical features:
Durable galvanised materials
Developed for enduro and dirtbikes with adjustable fit to front tyre
Secure locking system using the foot pedal
Foot pedal can be installed either side
Mounting bracket of choice for kids or full-size front wheels
Keyholes in the frame mean easy removal of the stand from the mounting
Fitting and testing
ACE Bikes are a Dutch firm with distributors all over the world with the majority concentrated in Europe. Like we said already, they sent Enduro21 this SteadyStand to test and we've already gone ahead with the install to the trailer pictured. It was an easy process – four holes drilled in the trailer floor and solid fixing plates screwed under the floor.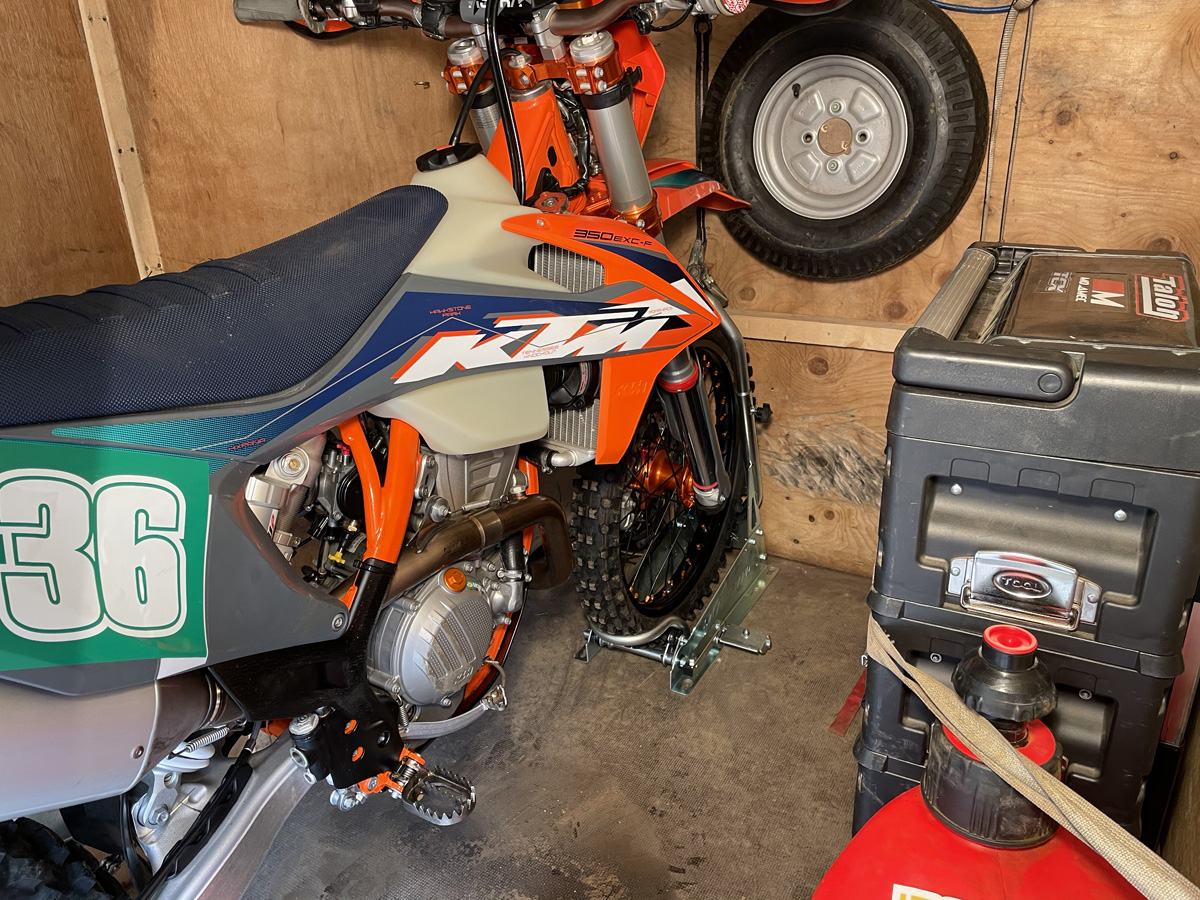 Our initial impressions are good and we like the foot pedal locking mechanism which you can mount on either side depending on whereabouts on the vehicle floor you want it.
We also like the idea of not needing to pull down hard on the forks and put pressure on the forks seals – we'll let you know how it fares during transit without a strap when we dare ourselves to do it…
Another bonus is having something solid you can additionally use to secure the bike with a lock and chain if you're parking up for any amount of time.
We'll let you know how we get on with a 'tested' feature on how it performs.
Cost: £147.87 / €169.99 / $259.99
More information: www.acebikes.com
Photo Credit: Enduro21