Tested: Michelin Enduro tyre
Michelin launched their new 'Enduro' tyre in 2017 replacing the long established 'Competition' models. We've been testing them ever since – here's what we found…
It may have been a long time coming but Michelin has certainly worked hard on its new generation enduro tyre. Simplified to just 'Enduro' the range is boldly simple too with just two front compounds and a single rear option (at time of writing).
For enduro riders used to Michelin's Competition range this line-up might seem simplified but it is all down to improvements in tyre technology resulting in one rear becoming more broadly capable than older models.
Silica is the new rubber
The key to the new tyre is silica. This is the first time Michelin have used silica instead of carbon black in an off-road tyre. That might not sound too high on the scale of exciting things you'll ever hear but it is a big technological step for off-road tyres.
Silica is more durable and works better at lower or inconsistent temperatures than the older tech Comp tyres. It has allowed Michelin to use two polyester plies instead of three nylon plies in tyre construction. A little less weight is good too but the real benefit is better flex and bump absorption. That, naturally, means better grip but still with enough rigidity to hold a line.
They are reversible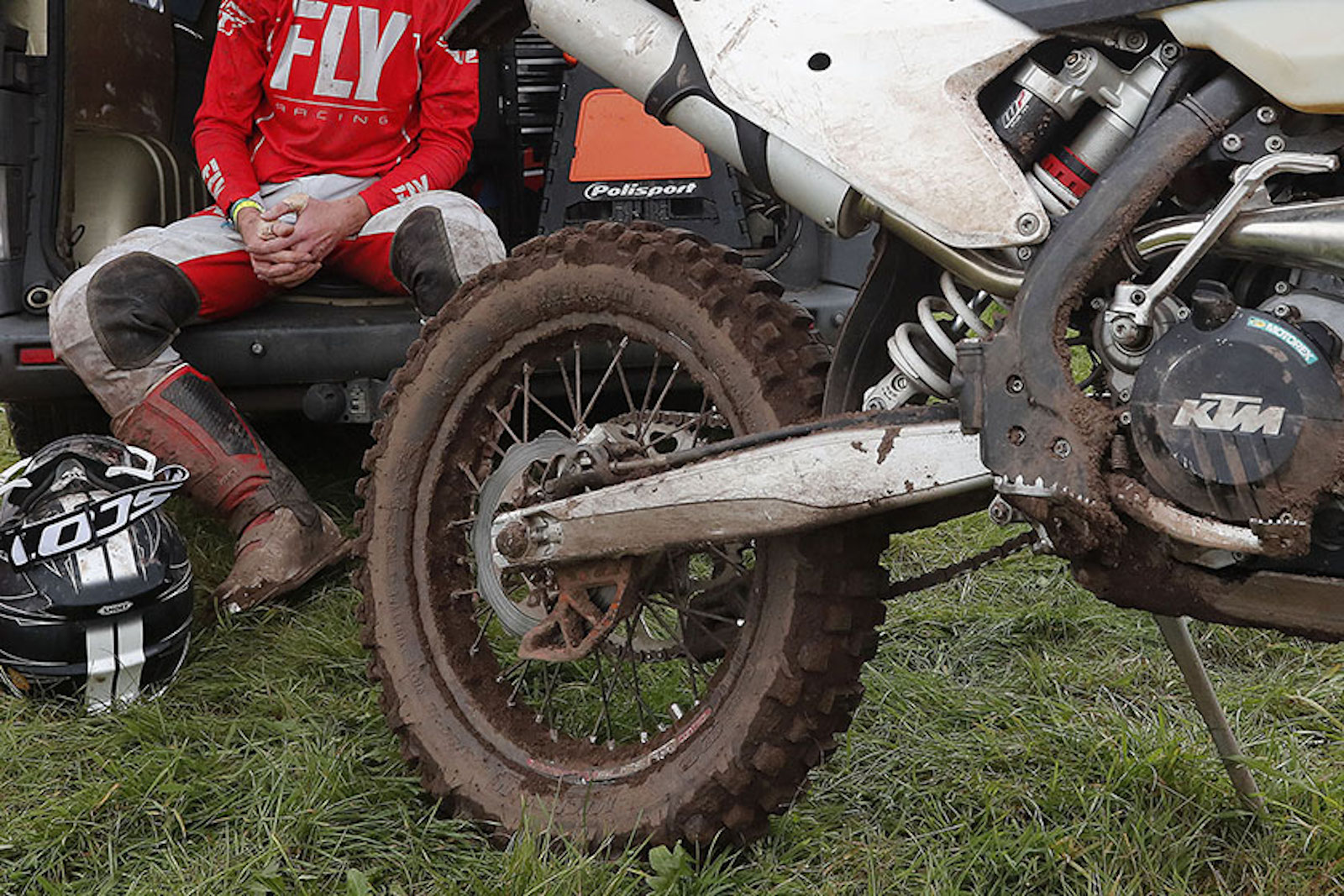 The rear works best in the right direction and Michelin say the new v-shape tread pattern is improved over the Comp models. Once worn though it'll work just fine turned (with a fresh edge).
Michelin enduro tyre key facts:
There are two front tyre compounds, medium and hard, based on previous model tyres.
Hard is for hard surfaces (not a hard compound) by the way.
The single medium rear option is deliberately versatile across all terrain.
Recommended pressure is 15psi.
Anything lower causes over-flexing (you don't need that) but it is not recommended below 13.5psi.
No revolution in tread pattern just a relatively familiar design with FIM Enduro approved, 13mm max tread block.
Sizes are 90/90-21 (hard only), 90/100-21 front. 120/90-18, 140/80-18 rear sizes.
New Mousse design
New mousses are being developed for this tyre – they should be available now with different compounds for hard pack, medium and extreme conditions. The slightly bigger mousses (bigger than the older BIB mousse) in medium compound are aimed to be around 13.5/14psi to better suit the new tyre.
One aspect Michelin is working on is trying to get rid of the 'new mousse' feeling, when you're bedding-in a mousse. Michelin say the new mousses will be too tight to fit Comp III or Comp VI so don't go trying to use them in old tyres.
What we found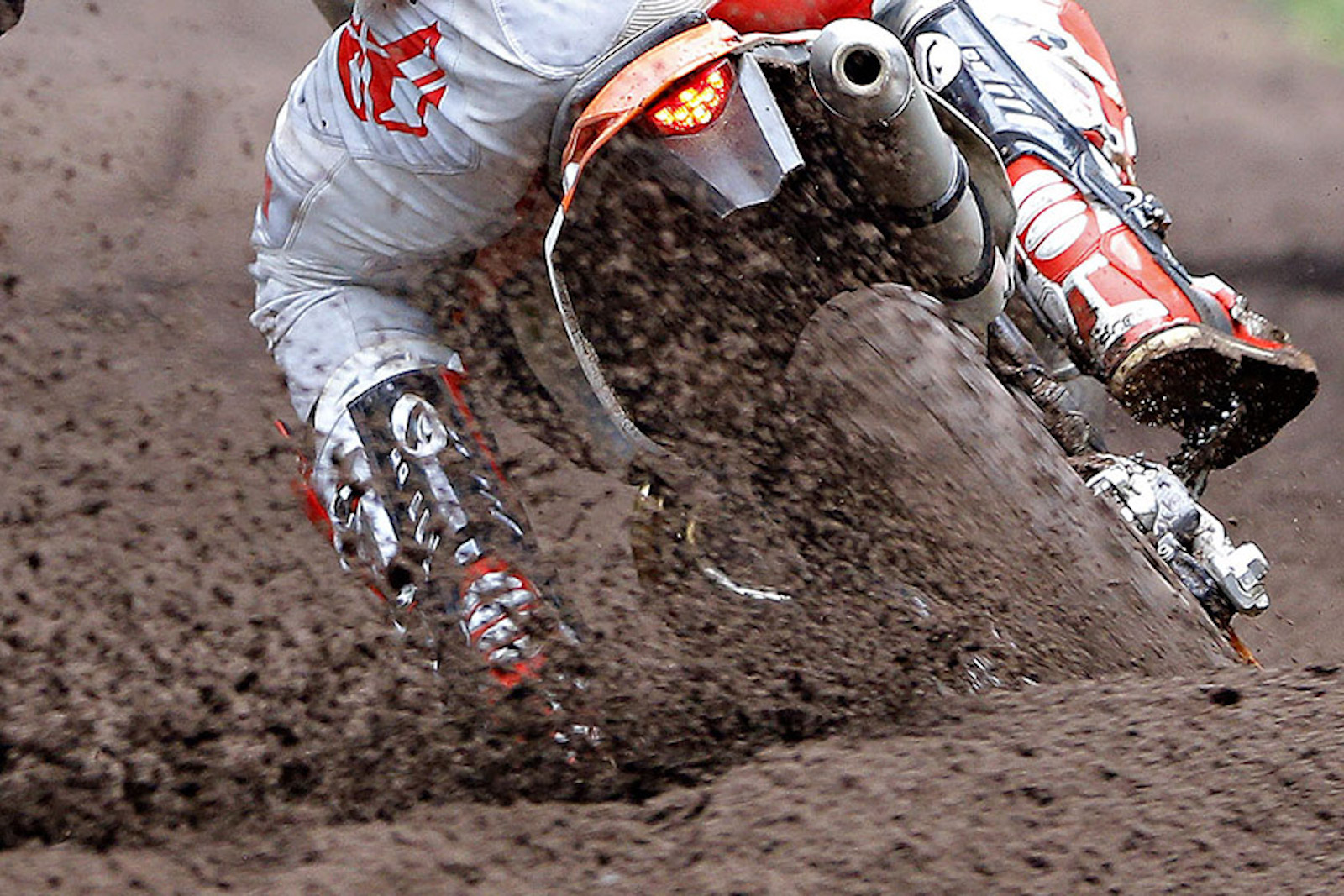 We've tested the medium front and rear (not hard front) in different terrain including an Enduro GP support race at Hawkstone Park, UK with a mixture of hard-base MX track, soft sand and loamy leaf-mould, rocks and roots in the trees.
We know the old Comp tyres well and can feel a difference in grip levels straight off the bat, basically the tyre feels like it has a better hold on the ground.
That's most noticeable when you smash a root or slippery rock where the tyre grabs a better hold. In turn that seems to help keep the bike on line more, tracking the line you intended. It's good to feel more grip but you don't want that at the expense of instability at speed or a 'too soft' feeling.
And that's the case, the Enduro stands up to faster going with consistent feel without too much flex in the carcass. Michelin's new Enduro tyres are a step forward for enduro tyre technology. They grip better and have more feel to ride.
They wear well too – ours survived over 10 hours riding. Hell, they're even easier to change and who doesn't welcome that!
More info: moto.michelin.com