Tested: 'Advanced Handlebar Isolation System' – taking the bumps out of enduro riding
Had enough of aches and pains in your arms when you're out riding? These puppies might just be the solution. AHIS handlebar clamps are designed to relieve some of the stresses of riding enduro.
BKE's 'Advanced Handlebar Isolation System' (AHIS) are a fairly new product designed and built in Canada by enduro riders for enduro riders. The clamps with built-in bump stoppers act between suspension and rider as an extra barrier against sudden hits to the front wheel.
We've had a set on test for almost eight months dishing out the Enduro21 treatment at everything from SuperEnduro and Extreme Enduro. But do they work?
They said: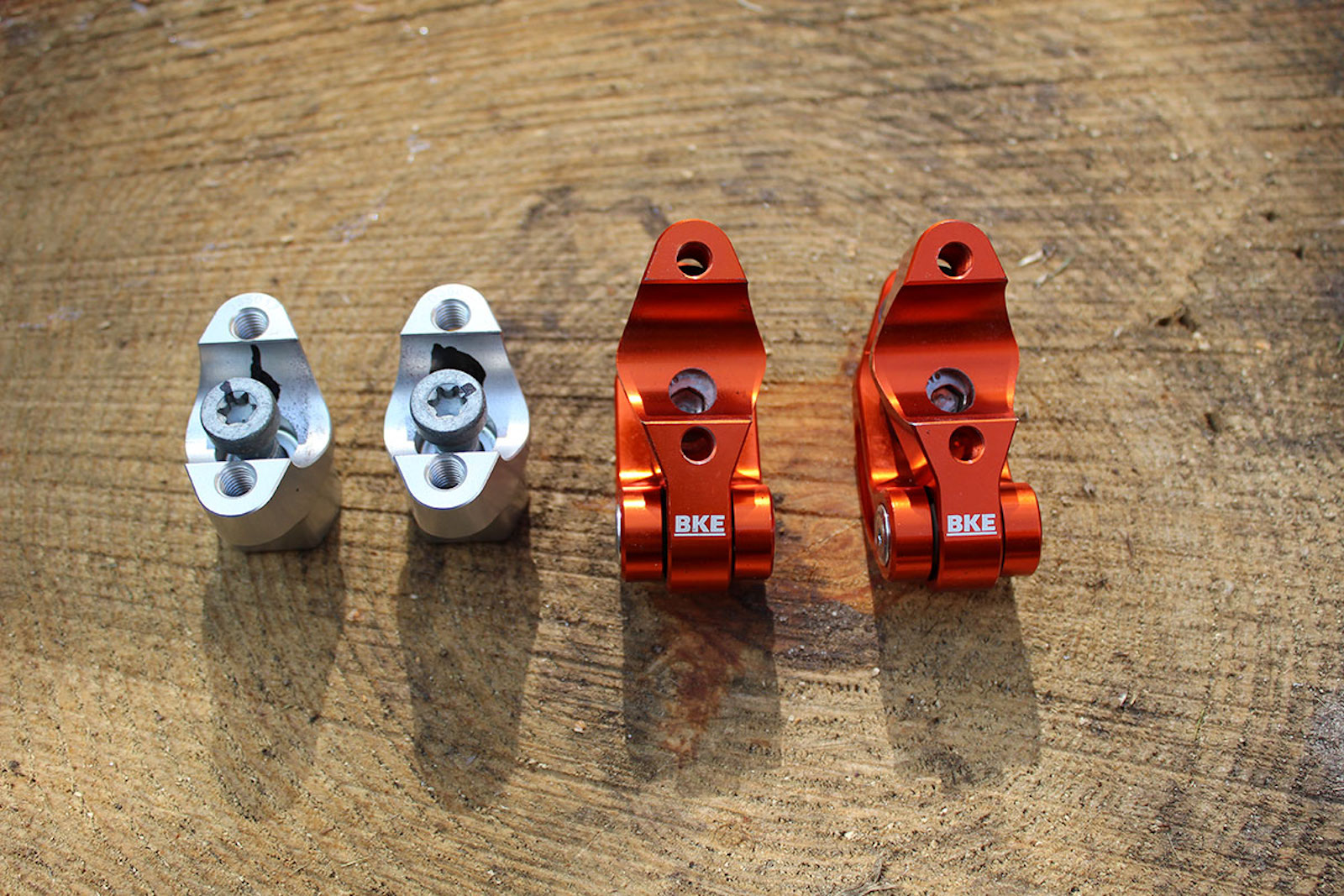 Canadian company, BKE design, engineer and assemble their own products. Their AHIS handlebar clamps are purely a solution to a problem many enduro riders have – they want an easier time on the trail with less shocks through the bars.
Bryan Kowalchuk of BKE has plenty of years riding under his belt and by his own admission realised he was feeling it a bit in the wrists when out riding as he got older. Particularly in the whooped-out sections and down hills where the arms take the hits more, Bryan put his engineering skills to the task and came up with a solution.
AHIS are a set of bar clamps with a hinge and a rubber bumper within to act as damping between bars and top yoke. AHIS helps take that hit by cushioning the blow – introducing a bit of extra damping through the bars care of the rubber bumpers.
AHIS design features:
Stainless Steel and aerospace-grade aluminium construction
Lightweight and compact – less 100g (3.3oz) more than stock handlebar clamps,
No larger than standard bar clamps
Two mounting positions and optional bumpers to vary stiffness
We said: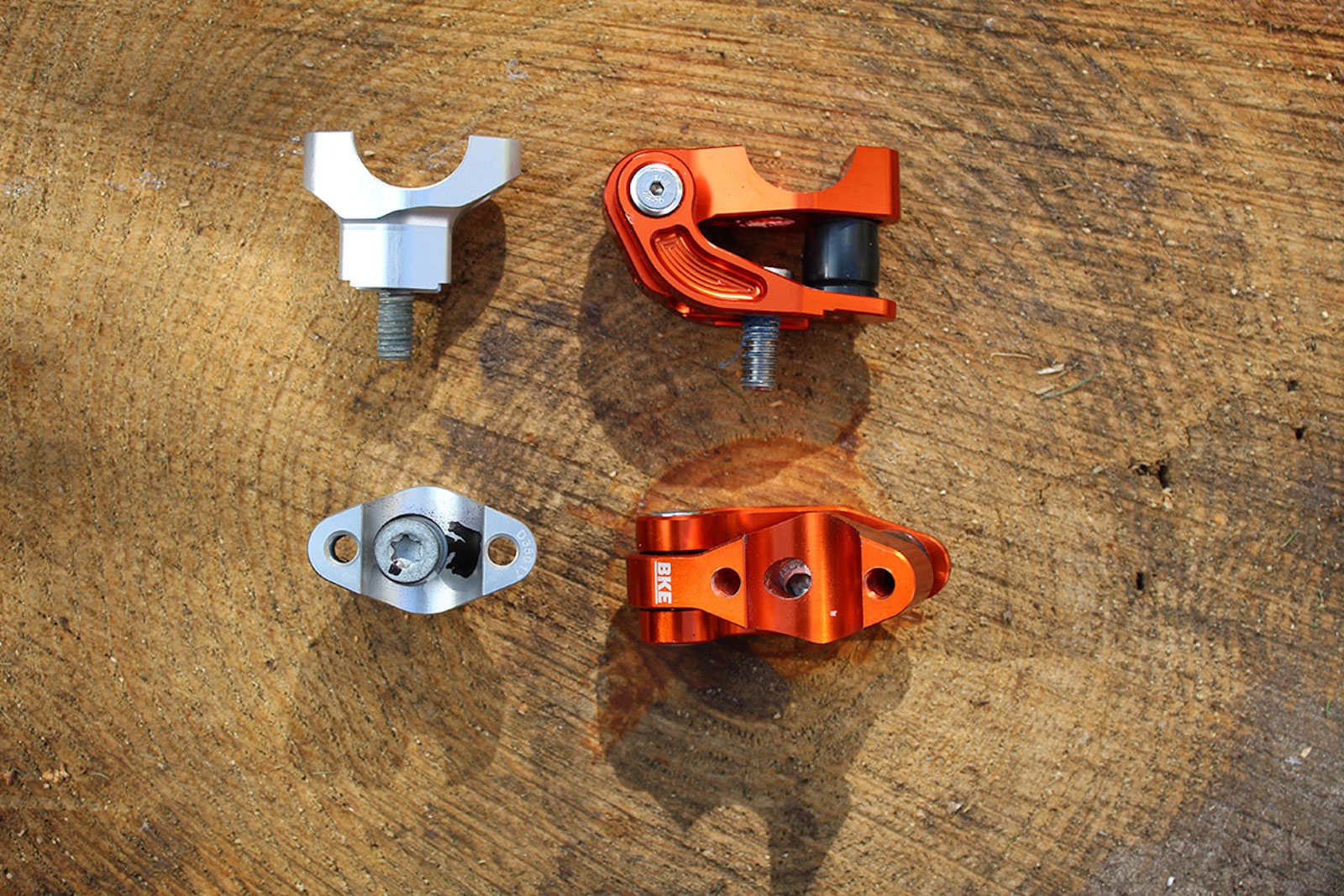 We've had the AHIS clamps on test for almost eight months now, making sure we put them through a thorough test. Taking them to Poland for a SuperEnduro race and an immensely hard Extreme Enduro – 'The Tough One' –were the strongest tests but they've also seen plenty of regular riding action. On top of that we've stacked up many hours at practice tracks in very mixed riding conditions.
Fitment is simple, literally unbolt the standard clamps and switch them – it takes no time at all and is easy grade mechanics. The only thing we'd add is you need the 7mm allen key to fit the main bolt (7mm isn't a common size – we had to go buy one).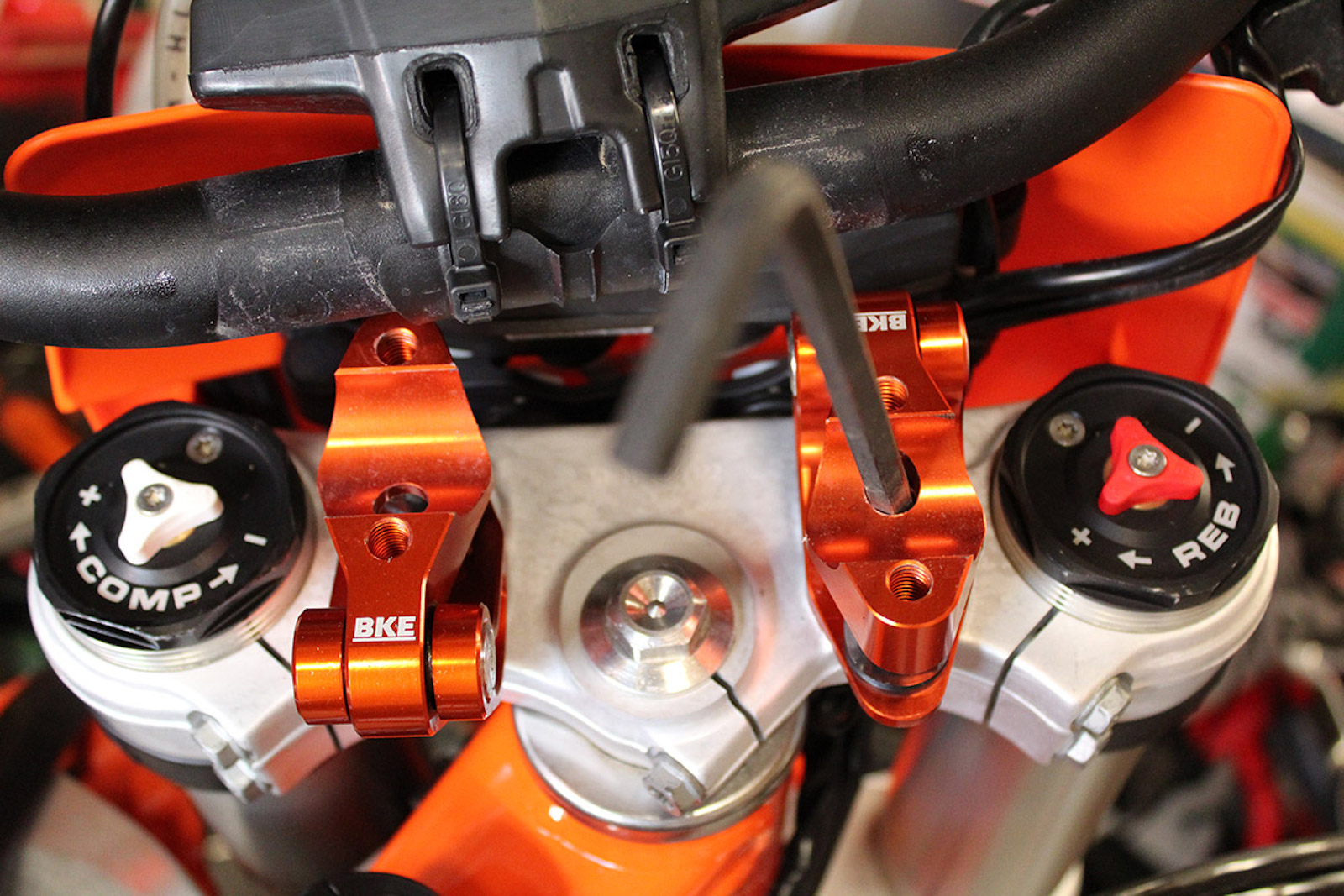 Different bumpers are available to make AHIS harder or softer but we stuck with the standard bumpers and found them just about right with some movement but not too much.
The clamps can be mounted either way around too, depending on your riding style and terrain. Face them forward for fast and choppy terrain, spin them around with bumpers back for more technical terrain. We've tried them both ways but preferred them in the stiffer setting for all types of riding.
Can you feel the difference? Over many hours riding it is hard to say if you come out the other side in better physical shape with the AHIS – it is hard to replicate what you just did always. But AHIS has certainly made its presence felt when you hit pot holes or smash a log jump harder than intended.
The movement is most noticeable on hard-pack, down hills as you'd expect just soaking out some of the shock through the bars.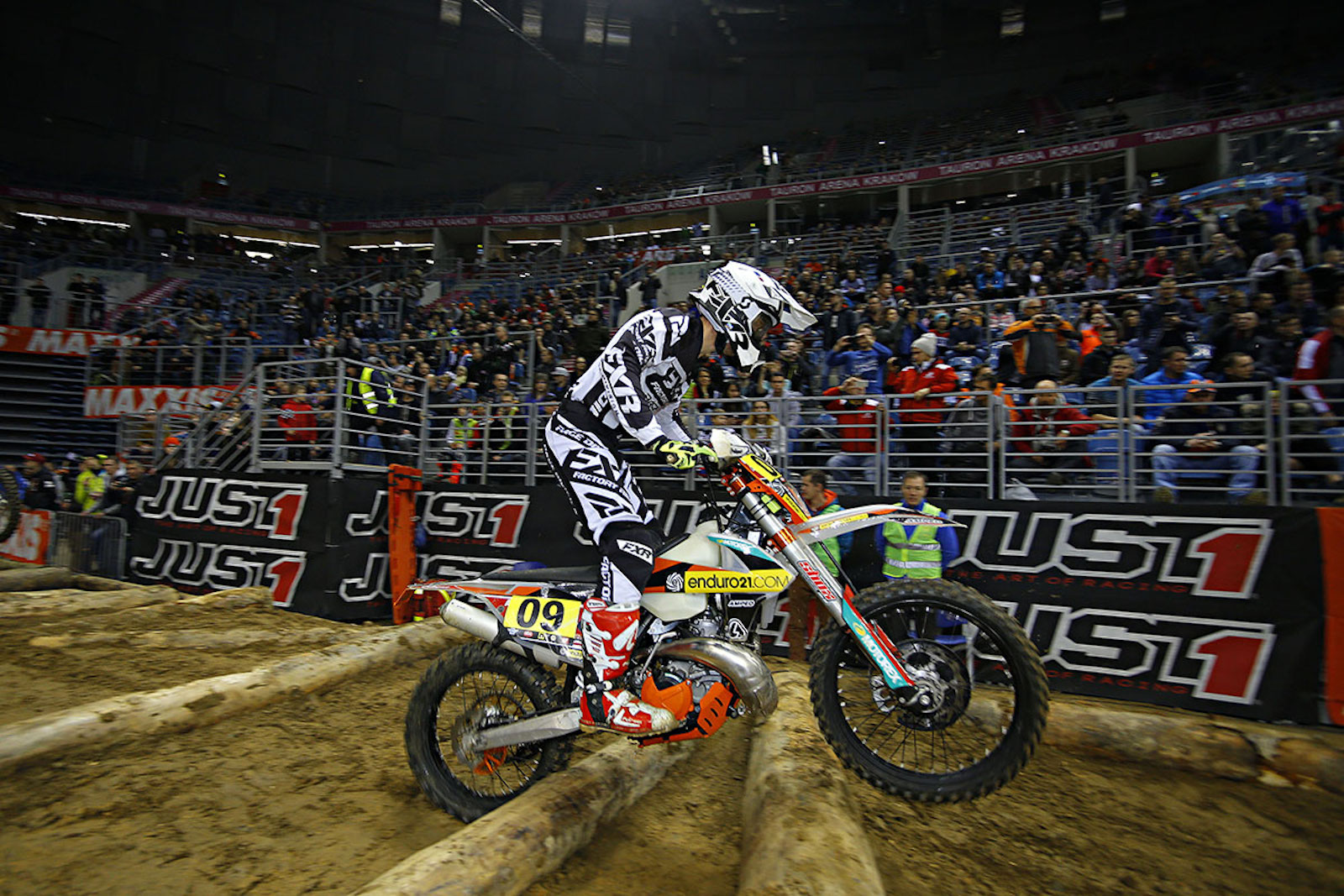 If you run softer suspension, like the stock suspension on the KTM EXC we've done much of this testing on for example, it is easy to run out of suspension. The AHIS adds an extra element of energy absorption to make riding more comfortable.
The feeling is of the bars rolling ever-so slightly forward and if you ride with your fingers on the levers you notice the lever drop slightly as the AHIS bumpers squish.
After one ride we found a bit of play developed but there are adjustment screws on each clamp and they just needed a turn to tighten things. As the bumpers settle in, they can need adjustment, especially if you're are doing extreme events.
It is worth pointing out the AHIS clamps raise the bar position by 5mm. That can help with riding comfort and for sure a taller rider is going to like that small difference in some riding circumstances. Some people are understandably fussy about bar position though so bear it in mind.
All-in the AHIS system is a solution to a problem which should make sense to many riders. They work without being intrusive and help most noticeably in smoothing out the sudden shocks and jolts enduro can sometimes dish-up.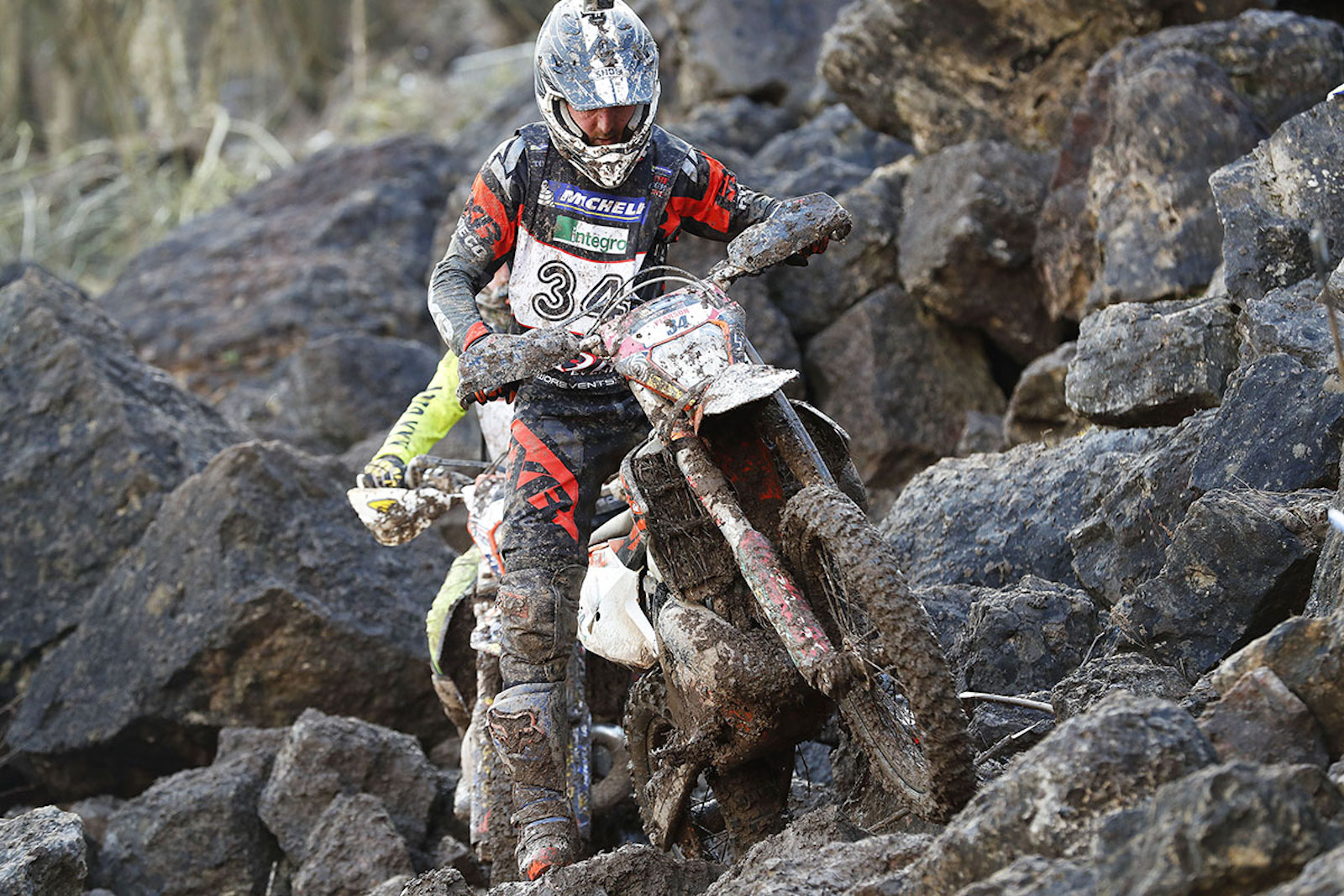 Liked:
Easy to install and simple solution to a problem many riders have.
Cost:
$275 Canadian Dollars/ €180 / $210 (plus shipping)
Fitment:
Most enduro models with spacer options for many MX/XC models (check for details).
Contact: bkeracing.com
Photo Credit: Future7Media