Tested: Motos Davins 'Magnetic Clutch' – forearm fatigue fixed?
Enduro21 gets to grips with the Motos Davins Magnetic Clutch, a simple mechanism developed by a regular rider to reduce hand and forearm fatigue when riding off-road.
"Brains-over-brawn" describes the Magnetic Clutch perfectly, a simple but effective mechanical clutch devise developed by Angel Davins in his Spanish workshop.
The idea came to Angel while doing amateur cross-country races on his Honda CRF 450 in Catalonia. His hands and left forearm were taking a beating after pulling the clutch multiple times and from there on he started thinking of a solution to the problem.
He tried some easy pull clutch systems but as he found, "they end up modifying the clutch's length and you end up losing some feeling." He also tried softer clutch springs but ended ditching that option because, "it was making it slip".
It was then the idea of using magnetic force came to mind and he set about developing the system, first placing the magnets in the clutch arm lever before realising he needed more power and ended up moving them to the lever itself.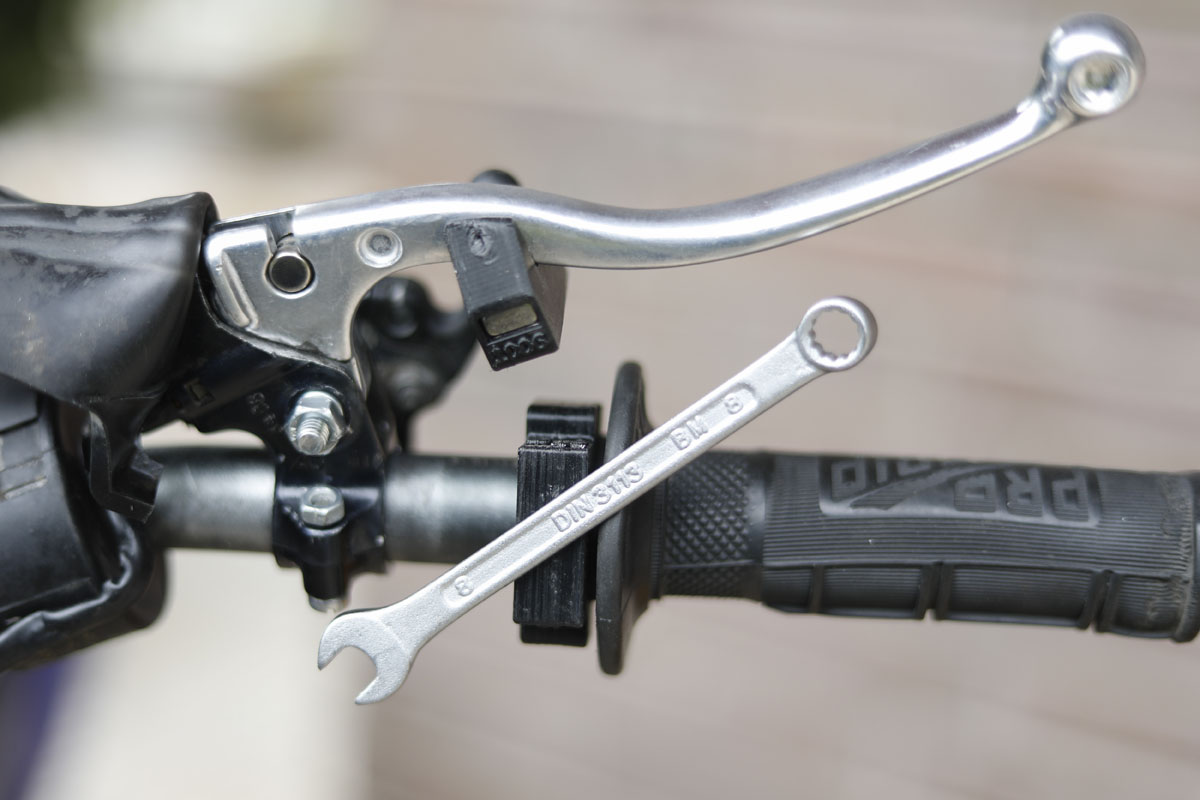 The law of attraction: opposites attract
At first sight it can look like a simple invention – that's what caught our eye – but "how it works is not as easy, it's not just placing two magnets in the lever," says to Angel.
Things got more complicated after he created the first prototype when all clutches were activated by springs but since then KTM among others have made the diaphragm type more common.
The Magnetic Clutch uses two neodymium magnets with opposite poles that attract each other magnetically when you pull the clutch. They make the lever pull lighter by reducing the force needed and simply one of them is in the lever and the other is mounted on the handlebar, between the grip and lever perch.
How you adjust it? Angel explains: "the good part about this system is that you can adjust how much help it gives you. When the magnets are totally alienated it helps with a three or four kg of force." Which is a good amount of help when you consider you need between eight or nine kilogrammes of force to pull the clutch of a 450.
Adjust the force between the magnets and they have less effect, "so it works for a big bore bike, where you need a big amount of force to pull the clutch, as well as on a 125." Adds Angel.
Technical highlights:
Easy to install
Doesn't modify the clutch lever or cable length so you don't have to change any part and everything keeps the same measurements
Magnet 'pressure' is adjustable
Specific fitment for different model bikes
Prevents the lever from touching the handlebar, so avoids getting fingers jammed
How to install the Magnetic Clutch
It's quite simple to install, you just need to change the clutch lever and fit the magnet on the handlebar. We have full wrap handguard on our bike, so we had to move the light switch a bit to fit in in the handlebar to align the two magnets.
Every bike has its own Magnetic Clutch model. In our case we fitted to our (almost classic!) 2003 Yamaha WR 250 F, a bike with quite a hard clutch which made it a good test bike.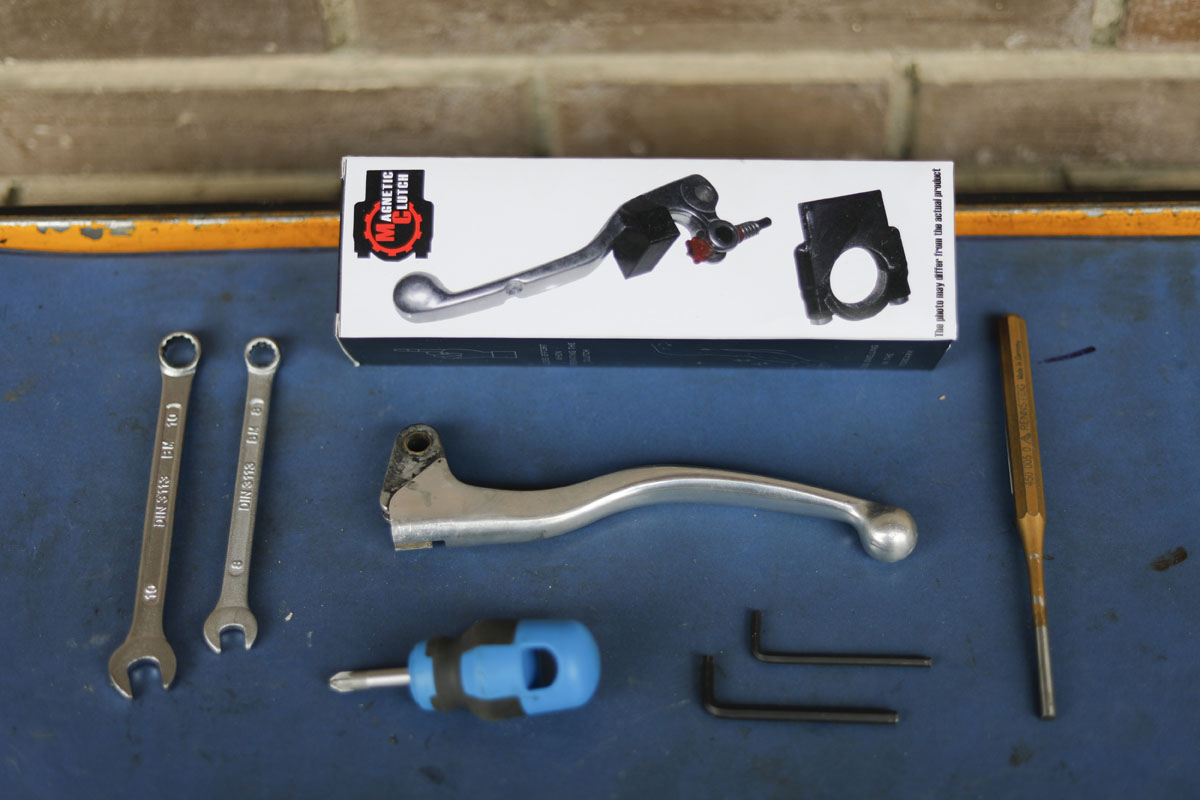 Operation and regulation
The alignment of the magnets sets the amount of aid it'll do. So, the more you align them the more they'll help you when you pull the clutch and you can just adjust how much they help basically by making them not be one in front of the other.
We just went with the full alignment mode as it was what we found work best and the results was immediate, pulling the clutch with one finger every time was a lot easier. The only issue we found is that the clutch was slipping a bit when the engine was revving hard but taht was cured by tightening the clutch cable a bit.
The verdict: it works, and you feel the difference
After tightening the cable, it was working perfectly. We tested the magnetic clutch on a weekend ride with mates on mountain roads and singletracks. It doesn't matter if you are a one, two, three of four fingers on the clutch kind of rider, you can feel the lighter clutch lever.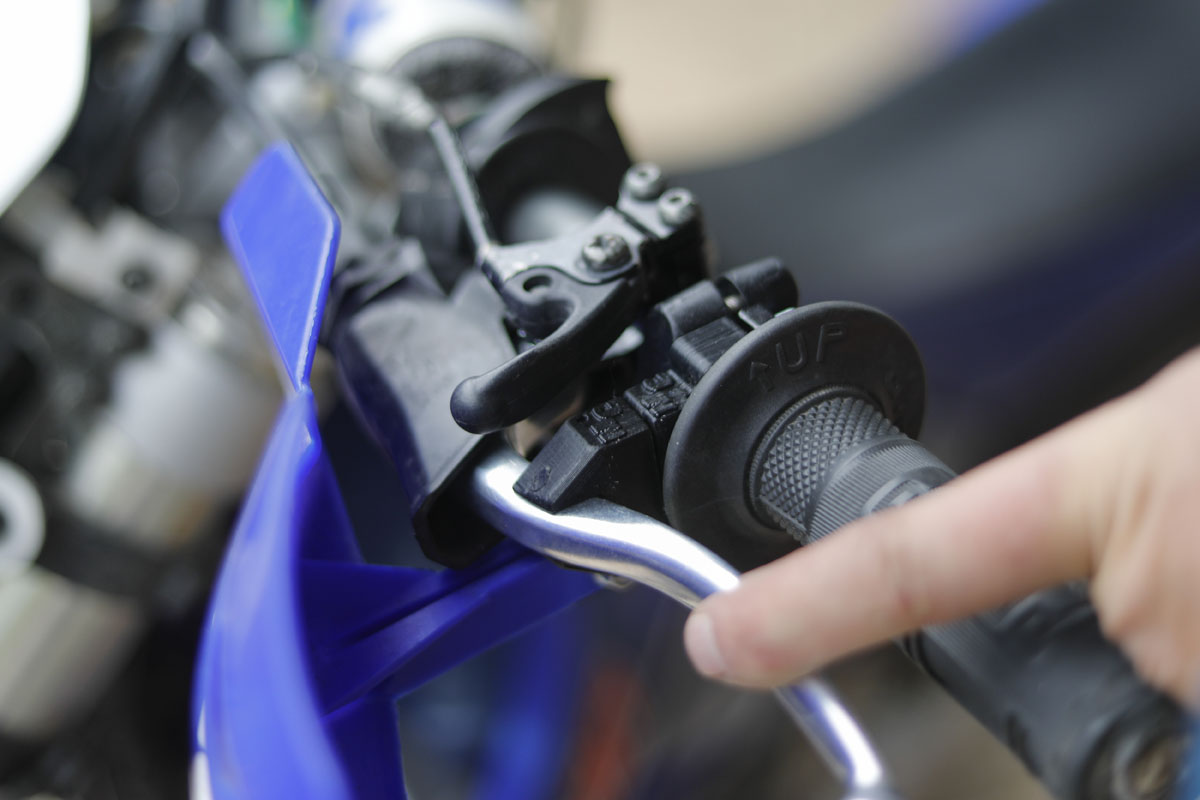 When the hours tick by, how much it is helping becomes more and more evident, especially if later on in the day you're faced with a tricky uphill that needs a load of heavy clutch work.
Even if it looks like such a simple solution – we think this is one of its strong points by the way – it's a practical gadget and it'll be helpful if you have a cable operated clutch. Your hand and forearm will like it also, even more in long riders when you have to pull the clutch multiple times.
Available for most off-road/enduro bikes
The whole kit has a €50 price tag (except for the new Magura and Braktec levers which is a bit more expensive). They also sell replacements for just the lever in case you break it at a price of €10. It's a Spanish invention from a small shop but they'll send it to anywhere in the world they say, just ask to get a quote for the delivery.
Moto Davins has 15 different models of the Magnetic Clutch which will fit the off-road models from Honda, Yamaha, Kawasaki, Suzuki, KTM, GASGAS, Husqvarna, TM, Sherco, Beta or even the already extinct Husaberg. It also fits nearly every bike with a Brembo, Magura or AJP clutch master cylinder.
More information: www.motosdavins.com
Photo credit: Future7Media | Nicki Martínez