Tested: Two Stroke Performance Power Kits for the TPI
Enduro21 takes a test ride on the Two Stroke Performance Power Kits for TPI-engine, two-strokes using one of Graham Jarvis' bikes (ssshhh, don't tell him) and discovers why privateers are finishing ahead of factory bikes in the Hard Enduro World Championship.
They're nothing new about Two Stroke Performance's (TSP) tuning products. Many people will already know about them – if you're into a few of the TPI social media groups it's quite likely you'll already know of the name at least.
Although they've been around a lot longer, we've been following the progress of the Australian company's products since the birth of the TPI-engined KTMs. That's not least because of the claims people are making about how much difference it makes to their bikes. Not just paid racers, but real world guys and girls spending their hard earned.
That said, TSP parts are being put to very good use by, among others, Graham Jarvis and David Knight on their Husqvarna TE 300 and KTM 300 EXC respectively, plus Teodor Kabakchiev took his TSP kitted KTM to second place at Hard Enduro World Championship round two in Serbia.
Graham joined Teo on that podium in Serbia, and afterwards a WhatsApp message from the European TSP Distributor popped up basically saying; 'did you see that and surely now you need to test our products?'
That was from Brad at Rutherford Racing – the European arm of TSP – offering Enduro21 a ride on one of the Jarvis Team Husqvarna TE300 racing bikes, set-up just as the man himself is using in the Hard Enduro World Championship…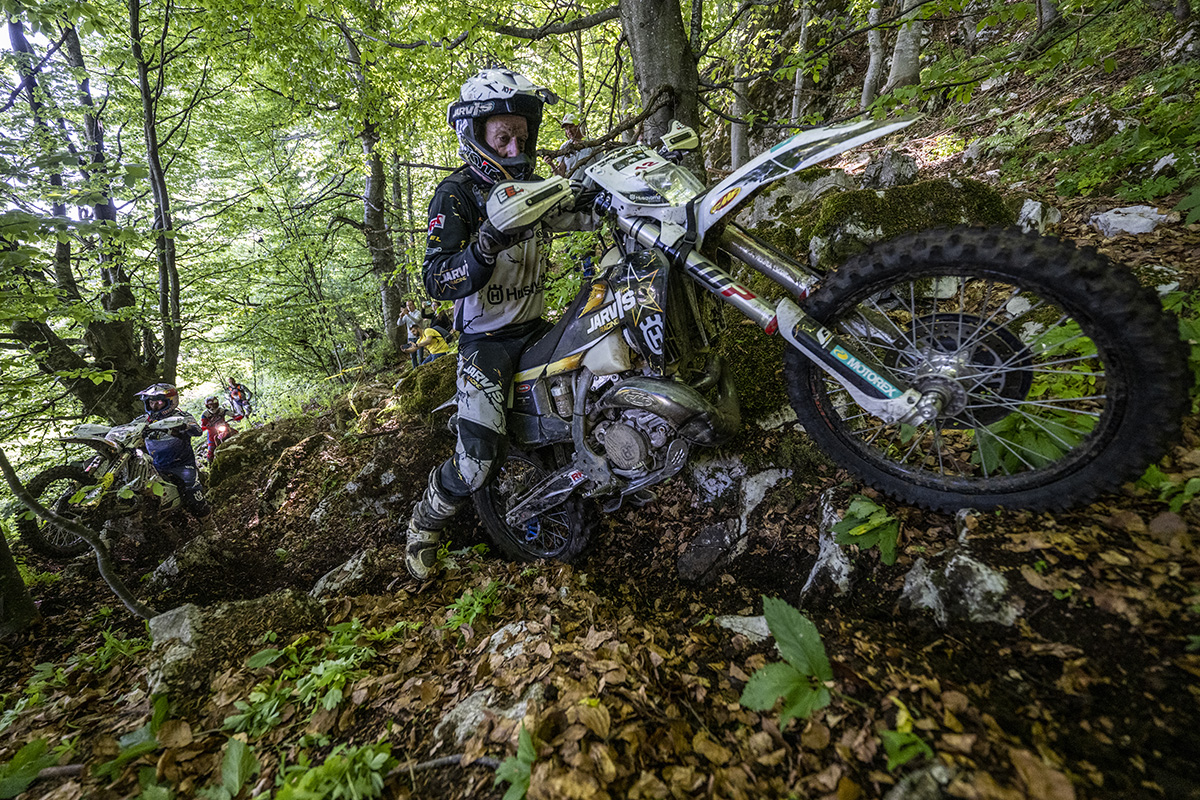 What are the parts?
What attracts us most about this kit is the answer to TPI problems all in one. We've put many hours on the stock EXC and TE two-stroke models since 2018. There's no question you can ride and own a TPI EXC, TE or EC and be perfectly happy. We've done it ourselves across a range of riding including extreme enduro, three-hour cross-countries and time card enduro.
But, there's a but. They don't all behave the same and like everyone, always feel like there are improvements which could be made in throttle feel and power delivery which you would try to perfect for yourself with a carburetted bike but cannot with the locked-in TPIs. Particularly for extreme or hard enduro, you want the torquey power of a 300 but want it delivered smoothly, precisely off the throttle and yet to still be there when you're facing a monster hillclimb.
TSP's 'power kit' we tested here:
a two-piece TSP CNC machined cylinder head (available in low, medium, high or very high compression versions).
reflashing of the stock ECU to improve fuel, oil and ignition maps. TSP modify both map one and two for a "more noticeable difference between maps compared to stock" and "more oil everywhere compared to stock". Map 1 is tuned for maximum performance. Map 2 has less ignition advance, more fuel and is softer everywhere.
a new NGK spark plug, "better suited" to the improved power
50mm bolt and spring to the 'idle screw mod' – not always necessary but supplied
Our bike also had a 150g flywheel weight fitted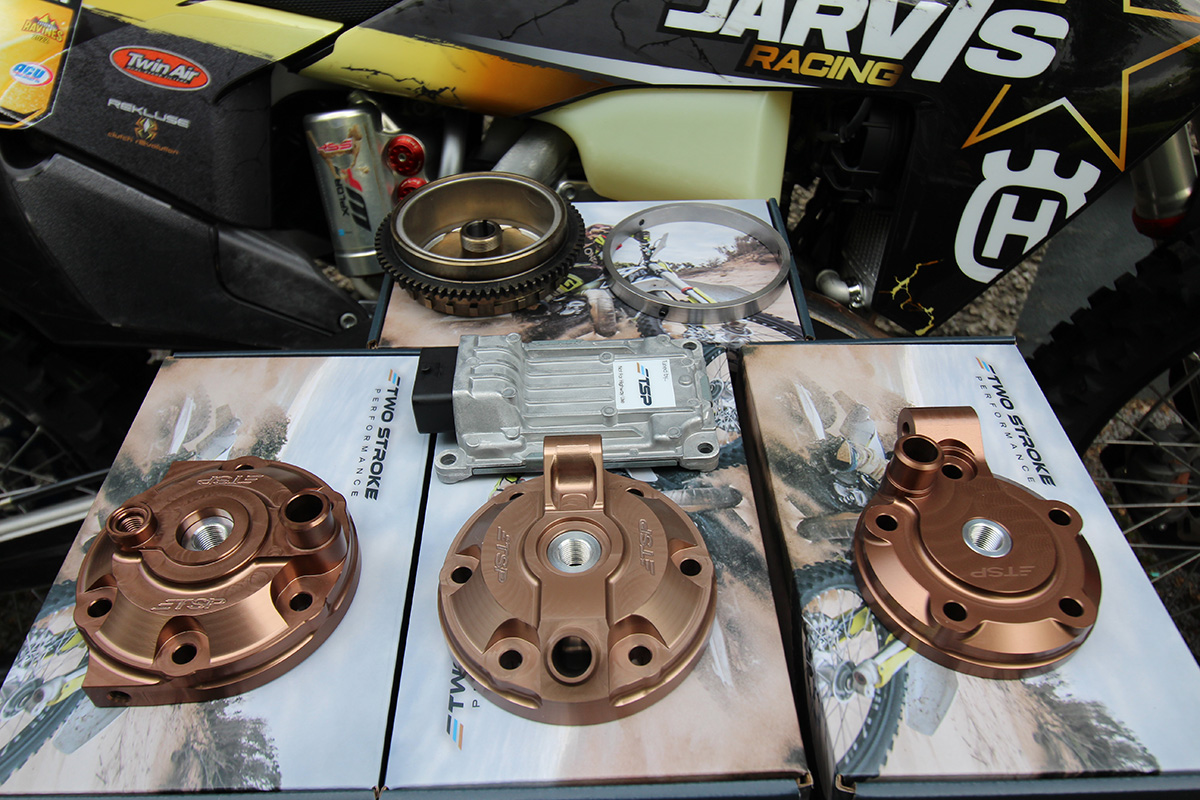 What does the kit do?
"This package will transform the power delivery of your TPI" they say, offering more torque at low-to-mid revs and an increase in power higher up in the rev range. It sounds simple but TSP have done a hell of a lot of work on the mapping, building on huge experience with carburetted EXC/TE models and transferring that know-how into the mapping on the TPI engines.
In order to change the stock ECU data TSP say they have "spent hundreds of hours" developing their own process for accessing, changing and reloading the ECU data. It's true also to say they were the first to develop a tuned package for the TPI bikes and have years of experience tuning fuel injected two-strokes prior to the TPIs arriving in 2018.
Smoother power delivery at part throttle…
So, we think we can trust their experience but what difference does it actually make on the bike? Along with tailoring your tyres, mousses and suspension to the type of enduro riding you do, if there's a better return on your buck than this collection of parts then we'd like to hear about it.
It's too easy to say, "this is the bike KTM/Husqvarna should have built" but it took just a few minutes riding to have that thought buzzing round the brain. Honestly, riding the Jarvis team TE300 felt like it was the bike we wish we'd had already.
The difference is quite simple: a power delivery which is slightly softer but easier to read and feel. The connection between throttle, clutch and back wheel is better and TSP's claim to "drastically improved 0-1/2 throttle performance" means that part of the riding where you sit a lot in the hard bits of hard enduro have much better feel.
We had the benefit of a stock TE 300 at this test alongside a bike with the TSP re-flashed ECU, 150g flywheel weight and TSP head and the difference was quite clear.
It feels more accurate and progressive off the throttle which means you can feed the back wheel better and use the power and clutch to find grip and hold the bike on a hill. Our test, which was at the Jarvis off-road school training ground in Wales, hit some very Romaniacs-like climbs and the tuned bike felt much happier.
Simply it made the job of getting to the top of the hill easier and quicker because you don't have to try as hard to hit the sweet spot of power, you stall less and can find grip even when the hill was crumbling away after several attempts.
Check the short video on some Romaniacs-like steep hills in Wales:
Ditching the 'dang-dang-dang' effect
A common feeling for many TPI bike owners is the part throttle problems the engine has and a 'dang, dang, dang' noise on deceleration. Although largely harmless, the noise and feeling as a rider on the bike is distracting and if you're used to a carburettor, can be slightly odd.
It's a difference and just something to get used to but that 'dang, dang' effect can cause you to push on in corners and mean you're less able use engine braking than you need sometimes.
There's also the running lean feeling which is great for fuel economy but not so good when you want instant and precise reply from the throttle at a crucial moment – generally speaking this is one of the biggest complaints and comments from riders who prefer the feeling of a carburettor.
Among the list of improvements TSP claim is a safer air/fuel ratio at high rpm and big throttle openings. They say the engine is safer during prolonged high-speed running.
The TPI character traits of running lean and that over-run effect are a noticeable difference of the TSP set-up. They've gone.
That ability to use the engine over-run as part of your riding again, more like a carburettor with the throttle closed in a way, and again that immediate reply to requests for power.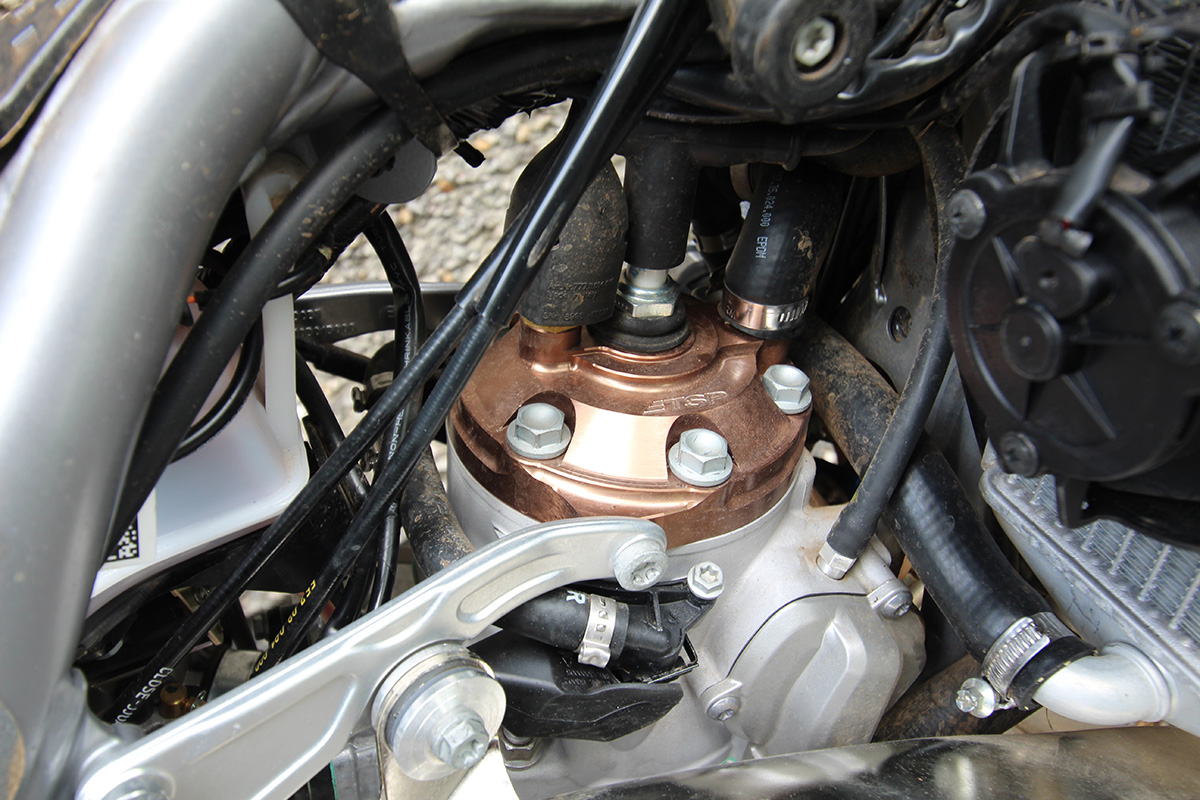 It doesn't just work for hard enduro
That feel for the power and progressive throttle response transfers to trail and more traditional enduro riding. An all-too short test loop following Grant Churchward on this test showed the effects offer an all-round improvement in different types of riding up through the gears.
Between the trees at higher speed, the TSP set-up feels easier to carry any single gear and lets you ride in the right part of the revs where you want – two-stroke and four-stroke fans should take note here as it makes the 300 more of an all-round capable bike.
That meant less gear changes because you have better access to the power and all the while it feels responsive. For example if you're riding along a trail and there's a sudden washout or fallen tree, a blip of throttle gets the bike over it in a blink much more easily.
The spread of power is improved throughout the rev-range too – most noticeable on the 250 and 150 TPI bikes they tell us. That gives you options to use the extra low-end torque to get you places with less wheel spin and much less clutch work but it also feels like you can live in the middle to upper revs happily when the going is faster.
This TSP kit has been developed to work with the stock exhaust and almost "makes aftermarket exhaust systems obsolete for the TPI". The claim is the TSP head and ECU remap deliver bigger gains in performance than any aftermarket exhaust can offer.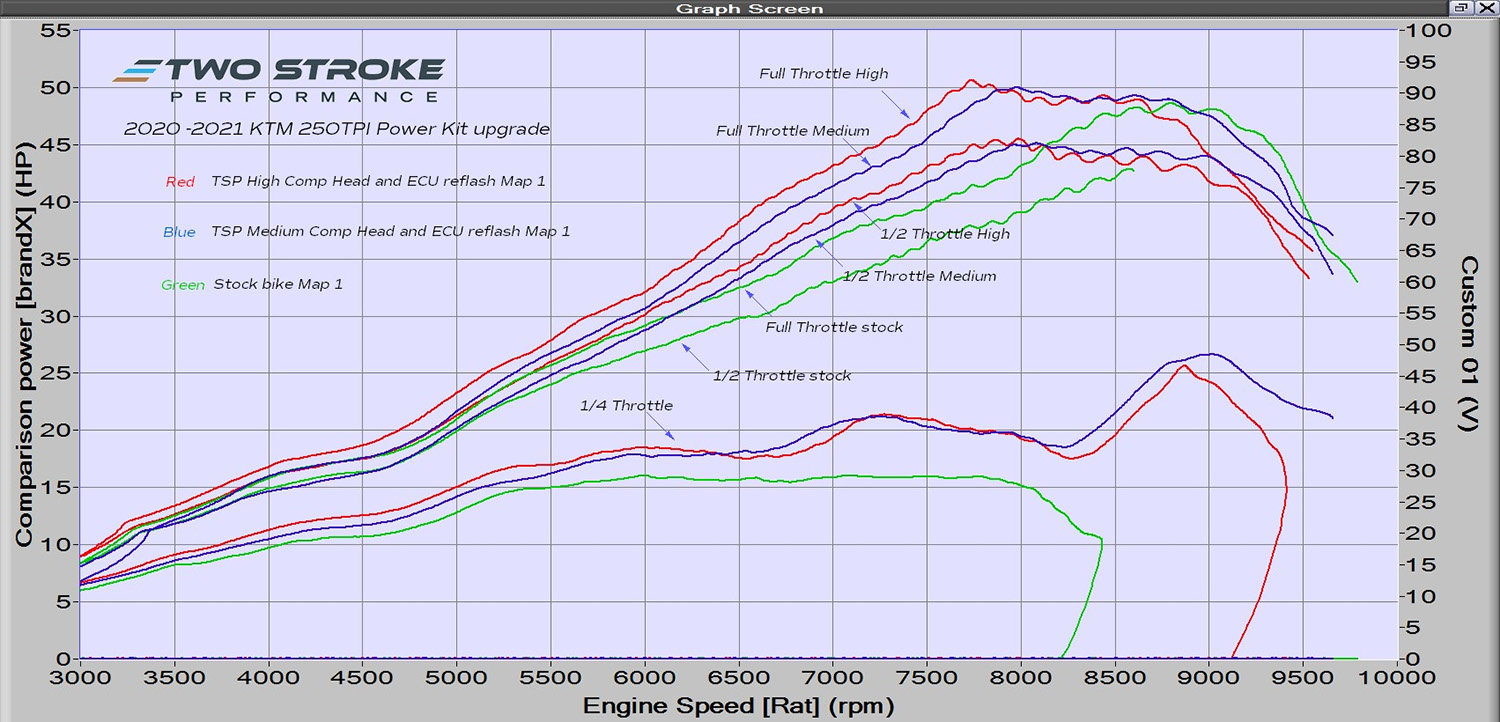 Still worried about TSP tampering with your TPI?
TSP say all ECU features work normally including oil injection, fan and lights. There are no issues with hard starting and no need to tune via apps or other software. Just install it and ride they say.
The routine is you send TSP your stock ECU and they turn it around in a few days depending on time of year, country and demand at the time. They ship it back with the modifications and the other parts you've paid for.
There is no change to reliability they say either, "the ignition maps, air fuel ratios and combustion chamber designs are similar to those we have run very successfully for years on modified carb models and the 18/19 TPI models."
TSP also include an idle setting bolt in the kit that can be installed if you feel the need to change the idle speed or air screw setting. It is a bit of a ball-ache of a job though and TSP say the vast majority of bikes will run really well without it and altitude should not be a factor.
Enduro21 verdict
To give this test some context, a couple of years ago we had a standard EXC 300 as a test bike and took it to a British Extreme Enduro. I don't mind admitting I had a nightmare and felt like the bike had taken me for a ride for most the race.
Hands up I wasn't fit enough at the time, but a stock EXC 300 round a demanding course was hard work and I ended up crashing, burning out and it put me off 300s (for a bit).
How many people have had that experience and thought it was them or the course being too much? It's impossible to say but since we've been back to that same course, and had a way different time of it on a different bike, it feels like it was the bike not the rider.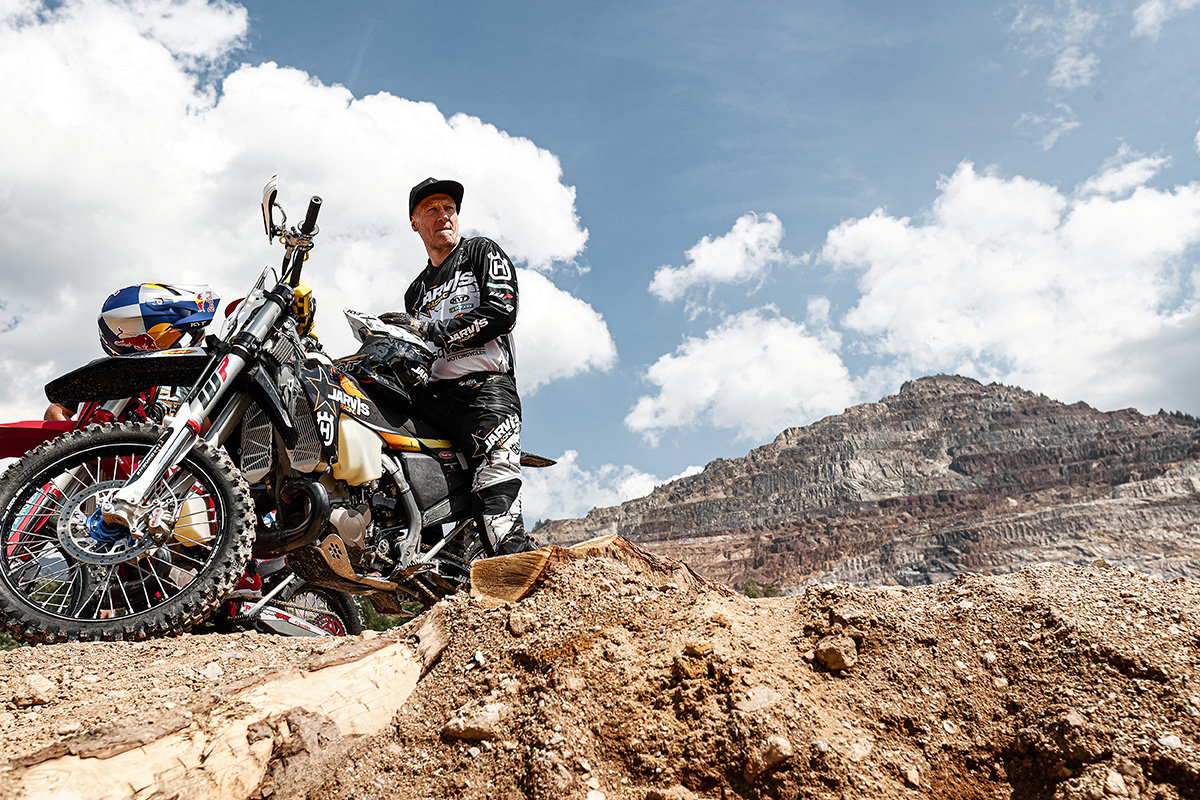 I've got this...
One very definite takeaway from this test session on a TSP-kitted bike was seeing a hill and thinking, 'yep. I can do that'. The additional feeling of control at low speed and part throttle, plus the knowledge the power is right there when you open it up built confidence in short space of time.
The TSP kit also feels like it makes life easier and when you can make it get up those hills better that has to be a good thing in terms of saving energy and time.
Add to that your bike runs better but still has all the benefits of the torquey, fuel injected, 300cc KTM engine it has to be worth the 500 bucks to TSP?
As a final thought, Graham Jarvis is now running his own privateer team. Sure, he has close connections with Husqvarna but the truth is he can fit parts to his and his teams bikes which he chooses without factory obligations.
Enduro21 understands the grand master of hard enduro is not short on manufacturers offering money to the team to get their parts on his bikes but Graham has been saying no to some of them because he doesn't think they are good enough.
He's still in it to win it you see and wants parts that work. So if you don't believe us when we say this TSP kit and flywheel weight make a big difference to how well a stock 300 behaves, then trust the choice of Mr Jarvis (and Mr Knight).
By the way, you can rent one of these bikes and get treated like a Jarvis Racing team member all weekend at rounds of the Hard Enduro World Championship. Head to www.grahamjarvis.org for more information.
More information on the TSP parts:
www.rutherfordracing.co.uk (UK/Europe)
www.twostrokeperformance.com.au (Australia plus there is a dealer page with other countries)