Kyron Bacon "shocked" with overall win at 2022 AORC season opener
Kyron Bacon made a ballistic start to the Australian Off Road Championship's long-awaited return with back-to-back outright wins as the AORC series tackled Sprint Enduro for rounds one and two.
The opening round of the 2022 Yamaha Australian Off-Road Championship (AORC) saw no shortage of talent, speed and mud in Cherrabah, Queensland for the scheduled sprint tests of the opening weekend. It's been a long time coming and the relief was written large in the paddock as racing got underway at last.
Kyron Bacon, Joshua Green, Andrew Wilksch, Billy Hargy and Jessica Gardiner were the riders to beat in class but no-one seemed more surprised about the unexpected overall win on both days by the pocket rocket Bacon.
Bacon cooking in E1 and overall
Day one and the E1 class podium was quickly established with Bacon setting the benchmark time for everyone ahead of Korey McMahon and Jeremy Carpentier in third place.
Bacon blitzing the tests with the fastest overall time and set the bar high for the season ahead and headed home a very blue set of results for the Yamaha-sponsored series.
Kyron was unfazed by Cherrabah's challenging conditions, which started off muddy and churned into a dusty haze by lap seven. he was faster by over a minute after the sprint tests on day two and claimed the consecutive class and overall wins in a time of 1:17:18.648.
GASGAS's Korey McMahon maintained his second place in E1 ahead of Jeremy Carpentier. Special mention to Blake Hollis who fought tooth and nail but just couldn't break into the top three after seven laps across two tests.
"Coming into the weekend I wasn't really sure where I'd end up, so I'm glad and shocked by the result! I really expected to go down the board not up," explained Bacon. "The tracks were rough and wet, which was similar to home. So I was pretty comfortable out there.
"I'm stoked and excited to hopefully progress the rest of the year."
AORC round 1 overall results:
AORC round 2 overall results: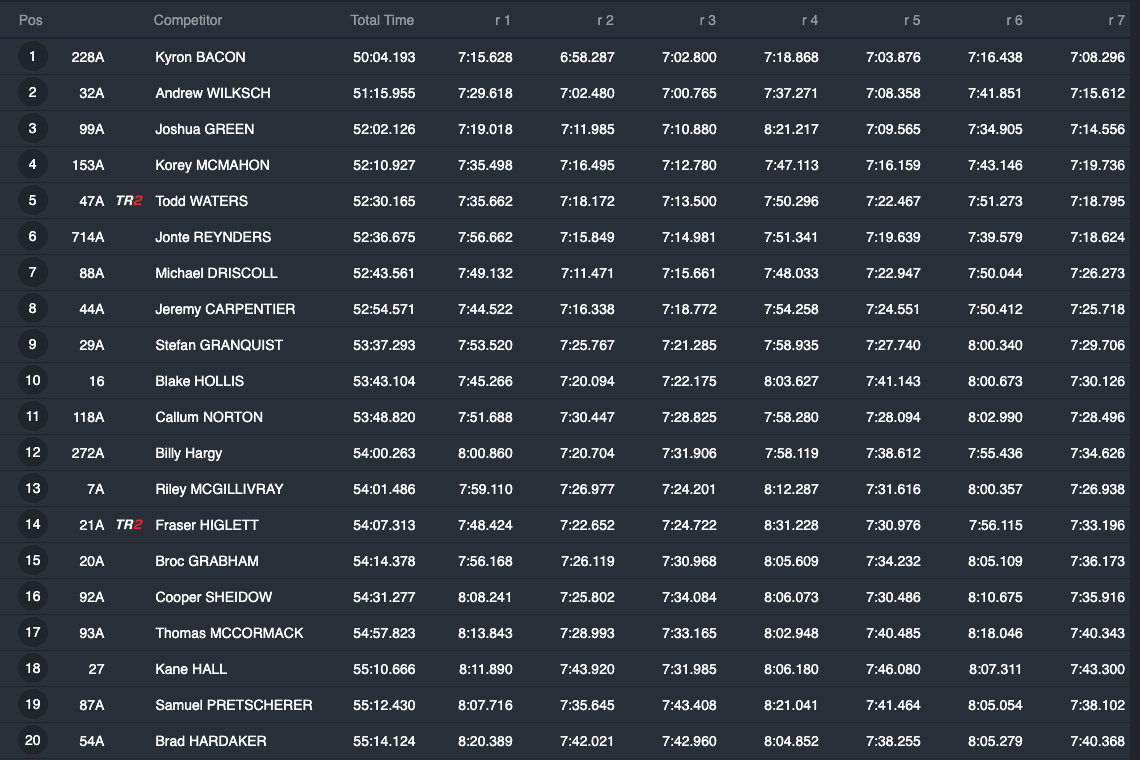 Greenie's in charge of E2
There was plenty of action in E2 on both days as Fraser Higlett, Todd Waters and Michael Driscoll fought for the podium. But it was Josh Green who topped them all on both days in this highly competitive class and bagged the overall third spot on the podium.
Green remained well ahead of the pack on day one with a total time of 1:26:00.326, well clear of Driscoll and Waters who finished just two seconds apart.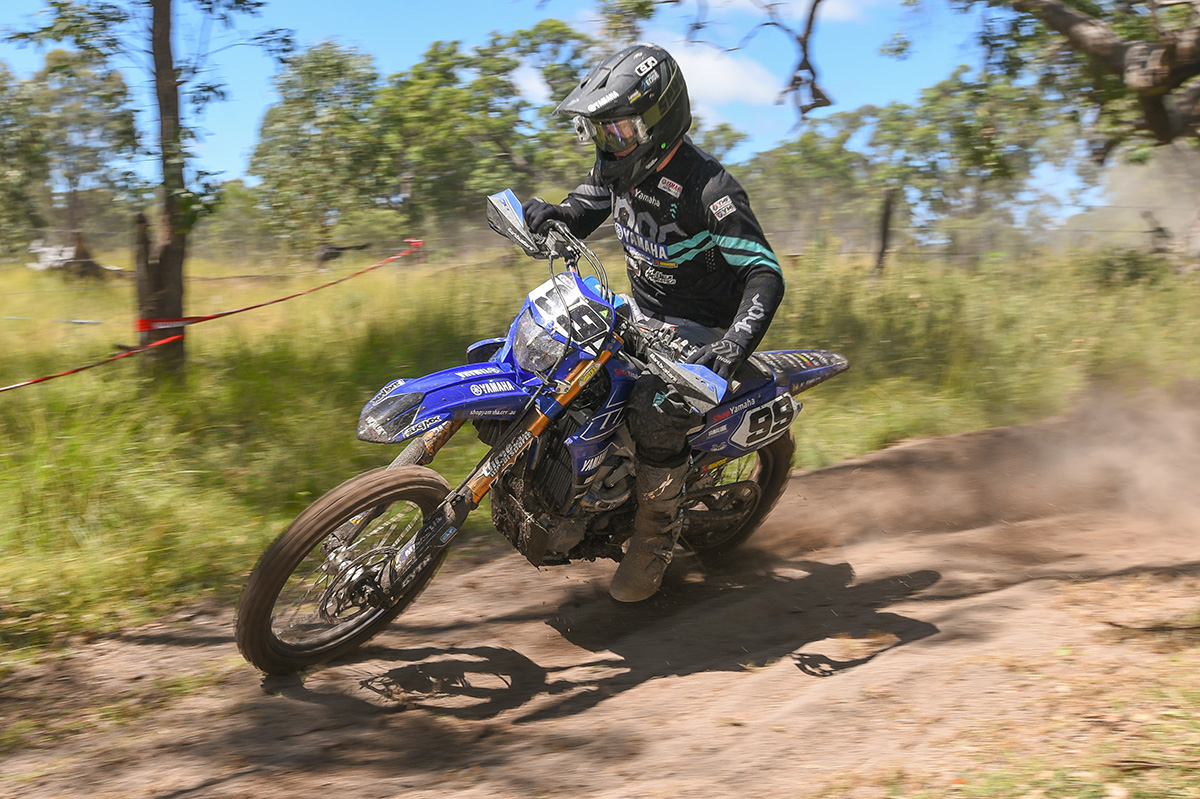 Green was again in charge on day two and was happy to take P3 overall at this opening weekend. Todd Waters turned the tide (on amended time). Driscoll was third just ahead of Fraser Higlett who couldn't crack into the top three on this opening weekend of AORC.
"Brutal tracks here in Cherrabah so it was hard to stay consistent through the day," said Green. "Yesterday I played it pretty safe and it paid off with the win. Today I had a little bit of drama so I had to play catch-up but ended up with the win again!
"I'm super-stoked with the result this weekend and looking forward to heading to Mackay."
E3 win for Wilksch
Andrew Wilksch had a solid opening weekend on his return to AORC from EnduroGP action. The Husqvarna rider took the E3 class win on day one by just over one minute. Taking back-to-back class wins on day two, Wilksch clocked a time of 1:18:14.032 for second overall.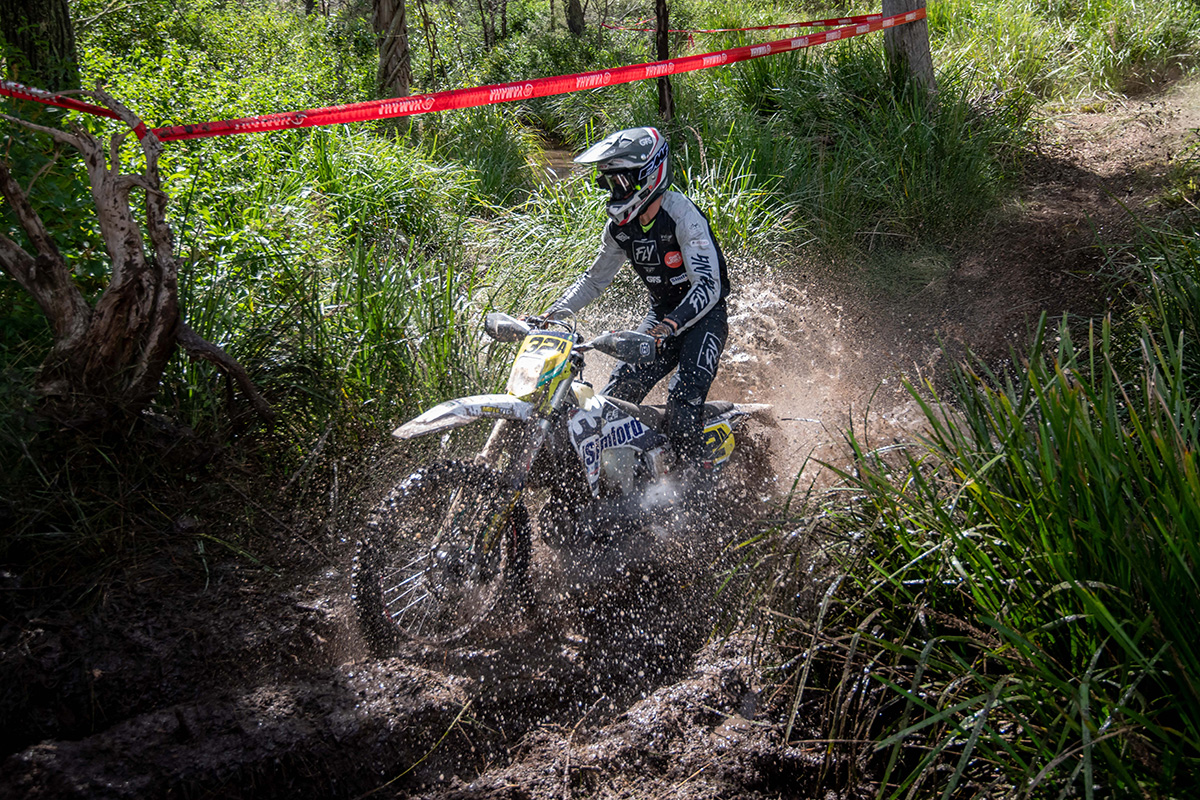 "Awesome to get the win this weekend," confirmed Wilksch. "The tracks were definitely challenging and a little bit more technical than I've experienced in the past in AORC. My experience in Europe definitely paid off coming into this weekend.
"I just worked to keep it smooth and consistent and it paid off! Good weekend overall and I'm still earning little bits and pieces with the new bike. Looking forward to getting to work before the next round."
Second place went to Sherco's Jonte Reynders ahead of KTM Offroad Racing Team's Stefan Granquist rounding out bronze.
Enduro Junior class
Billy Hargy and Riley McGillivray battled for top spot in the Juniors. After six laps on day one, Hargy was victorious with an impressive lead of nearly 40 seconds. McGillivray took second ahead of William Dennett almost 10 minutes down in third place.
Hargy rode to first place on day two with a total time of 1:23:33.689, taking a well-deserved consecutive EJ class win and P12 overall for his efforts.
McGillivray was again roughly 40 seconds behind in second place with Dennett again third.
Gardiner dominates Enduro Womens class
True to form and clearly not missing a beat after nearly 12 months off from AORC, Jessica Gardiner took a dominant win on both days in EW class.
Finishing round one with a total time of 1:47:32.579, Gardiner was comfortably almost seven minutes to the better of her nearest rival Ebony Nielsen. Third place went to Emelie Karlsson finishing day one with a time of 2:00:52.223.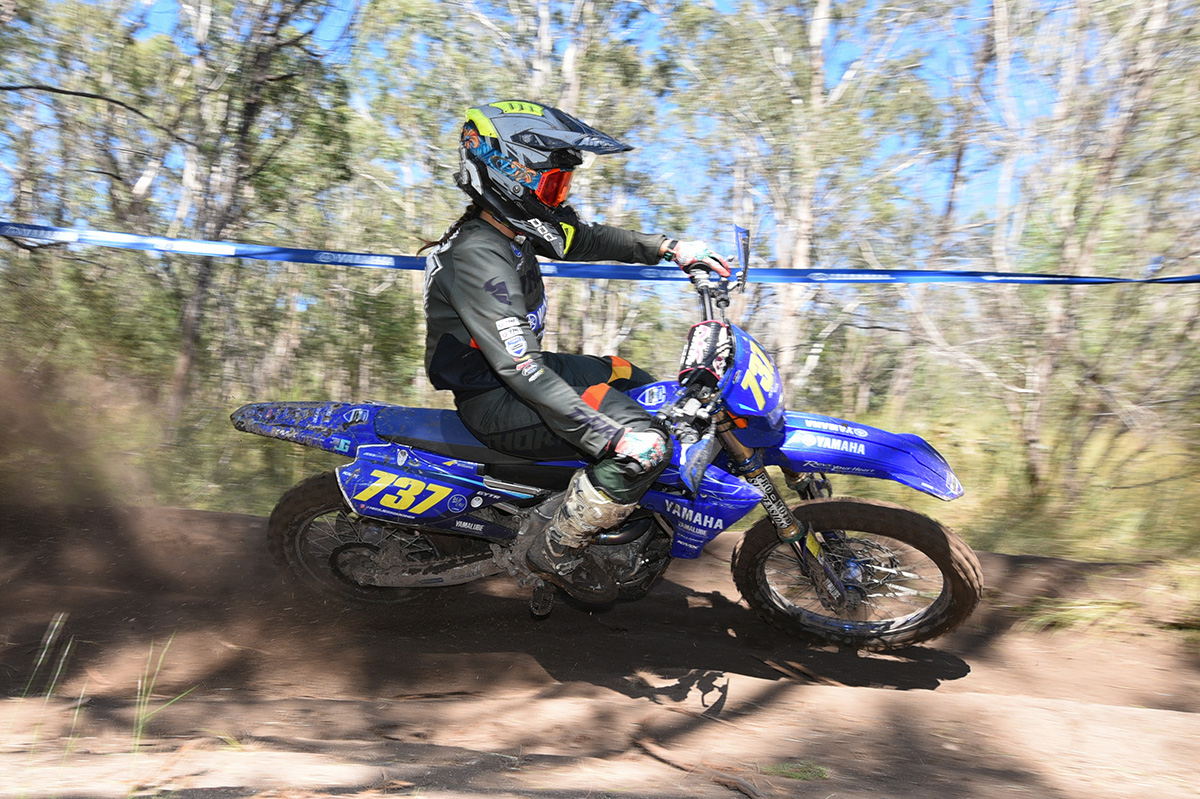 The result was the same for Gardiner on day two in Cherrabah with another easy win but eth second and third places were reversed (after a recount) in favour of Karlsson in second this time out.
"It was a really good weekend for me," said Gardiner. "I won both days in EW, which I didn't really expect. It was hard to know what to expect after nearly 12 months off but it feels really good to still be on top and chasing my seventh title this year!
"The track conditions were really physical. When we got down to the last two laps, I was definitely focusing on just making it through. Overall it paid off and I'm really happy with the result!"
More information: www.aorc.org.au and full results here.
Photo Credit: Troy Pears