Results: 2020 AORC rounds 1 & 2 – Milner is back 
Daniel Milner fires 2020 warning shot with overall wins at rounds one and two of the 2020 AORC in Toowoomba, Queensland – epic E1 and EJ battles across two Sprint Enduro day's racing.
After not finding his mojo in 2019, Daniel Milner kicked off his 2020 Australian Off Road Championship (AORC) season with two commanding E2 wins and the fastest overall time both days. Daniel Sanders claims the E3 win both days while E1 wins were shared by Luke Styke and Mason Semmens.
In pristine conditions at Toowoomba, rounds one and two of the 2020 AORC ran a sprint enduro format on both days. While Milner signalled he was back to form ahead of Sanders overall (who carried a wrist injury) the battle in E1 was fascinating between defending champ Luke Styke and upstarts Mason Semmens and Kyron Bacon.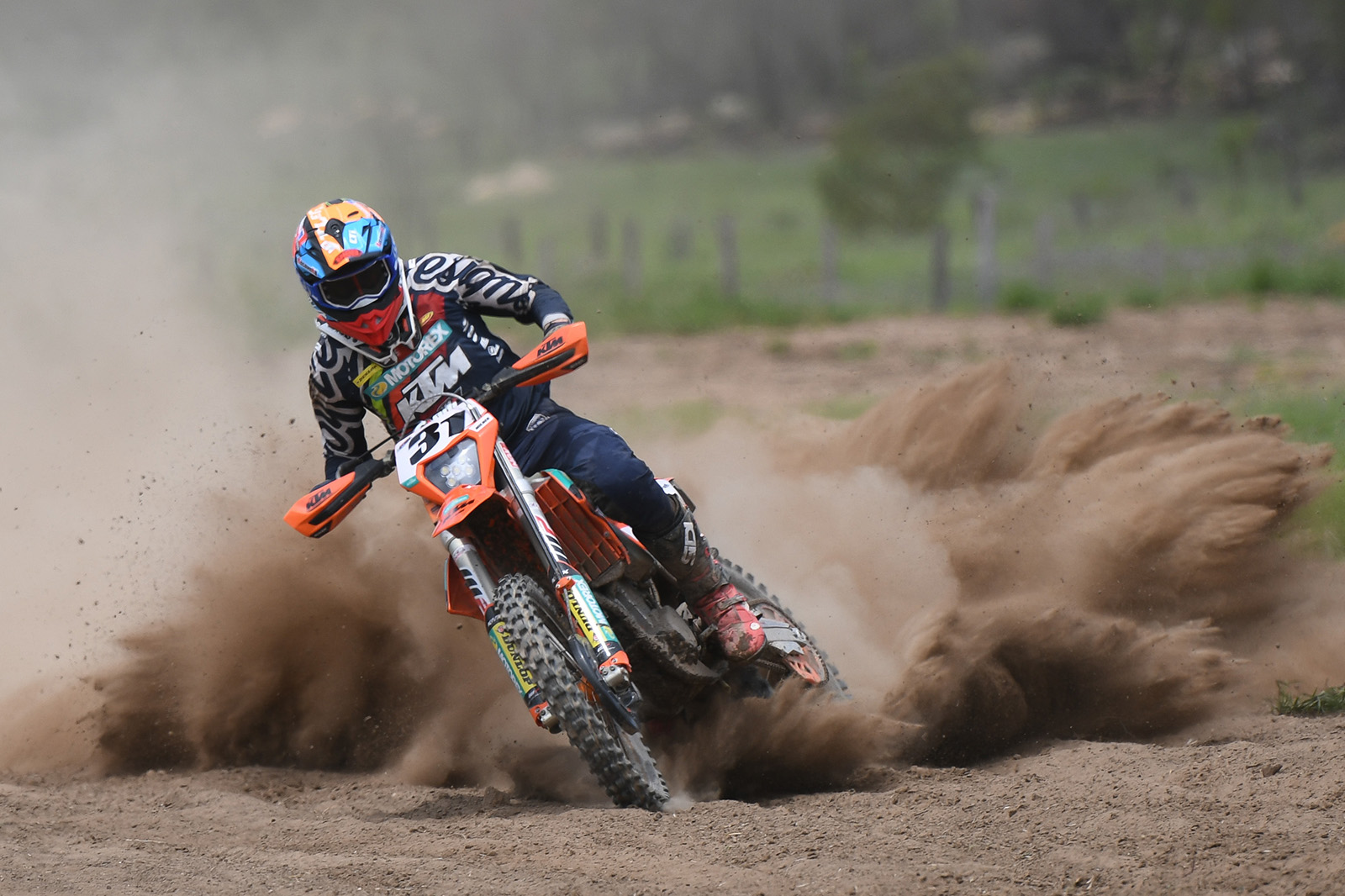 Untouchable Milner
As he said earlier at the AORC press launch, Milner wanted to leave the 2019 season behind him and he did that definitively. Back at full fitness, the KTM rider came, saw and conquered, giving no chance to his rivals finishing nearly a minute faster in both E2 class and overall on both days.
Australian national motocross champion and former MXGP rider, Todd Waters, had a successful debut weekend at his first AORC rounds finishing runner-up to Milner Saturday and Sunday. Yamaha rider Josh Green rounded the podium.
"Today started off strong but I ran into some trouble and came off the bike and I'm lucky that I was able to get back up and continue riding, honestly," explained Milner.
"Apart from that incident though, my day was pretty good and finished up well with the class win! I think I came into this round swinging, ready to get back into the game in a big way."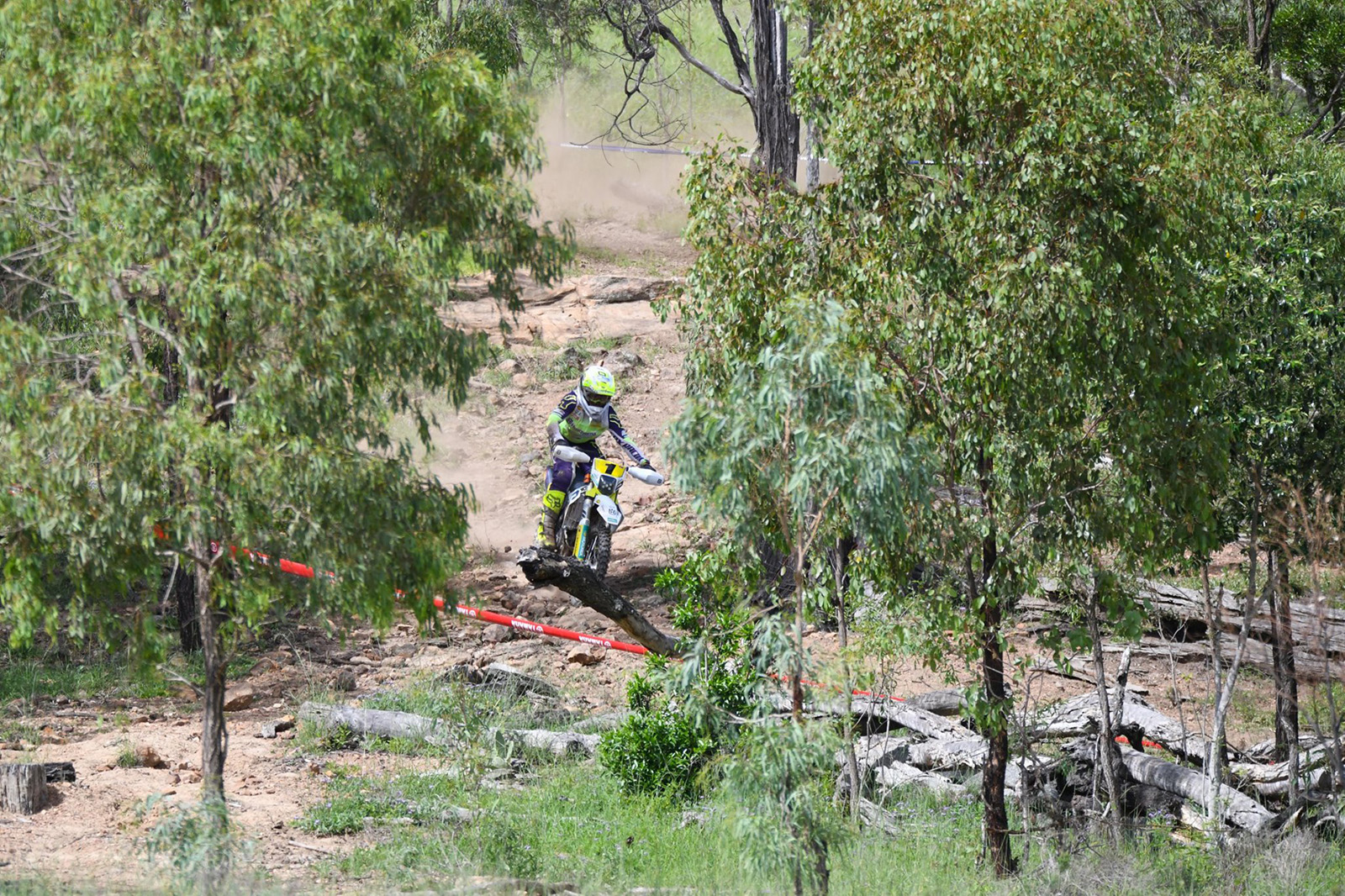 Sanders takes E3
Daniel Sanders showed everyone why he runs the number one on his Husqvarna and won the E3 class both days. Despite being unchallenged in the big bike class Sanders had to content himself with two second places in the overall.
A pre-season injury for Chucky didn't help with training leading up to Toowoomba: "I haven't been putting many hours into high-speed straights during the off-season so Saturday's test really got me. But it proves that I need to take the next month to spend more time on the bike and come out swinging at Dungog," said Sanders.
Second and third went to Jonte Reynders and Callum Norton with Fraser Higlett finishing down in an uncharacteristic fourth.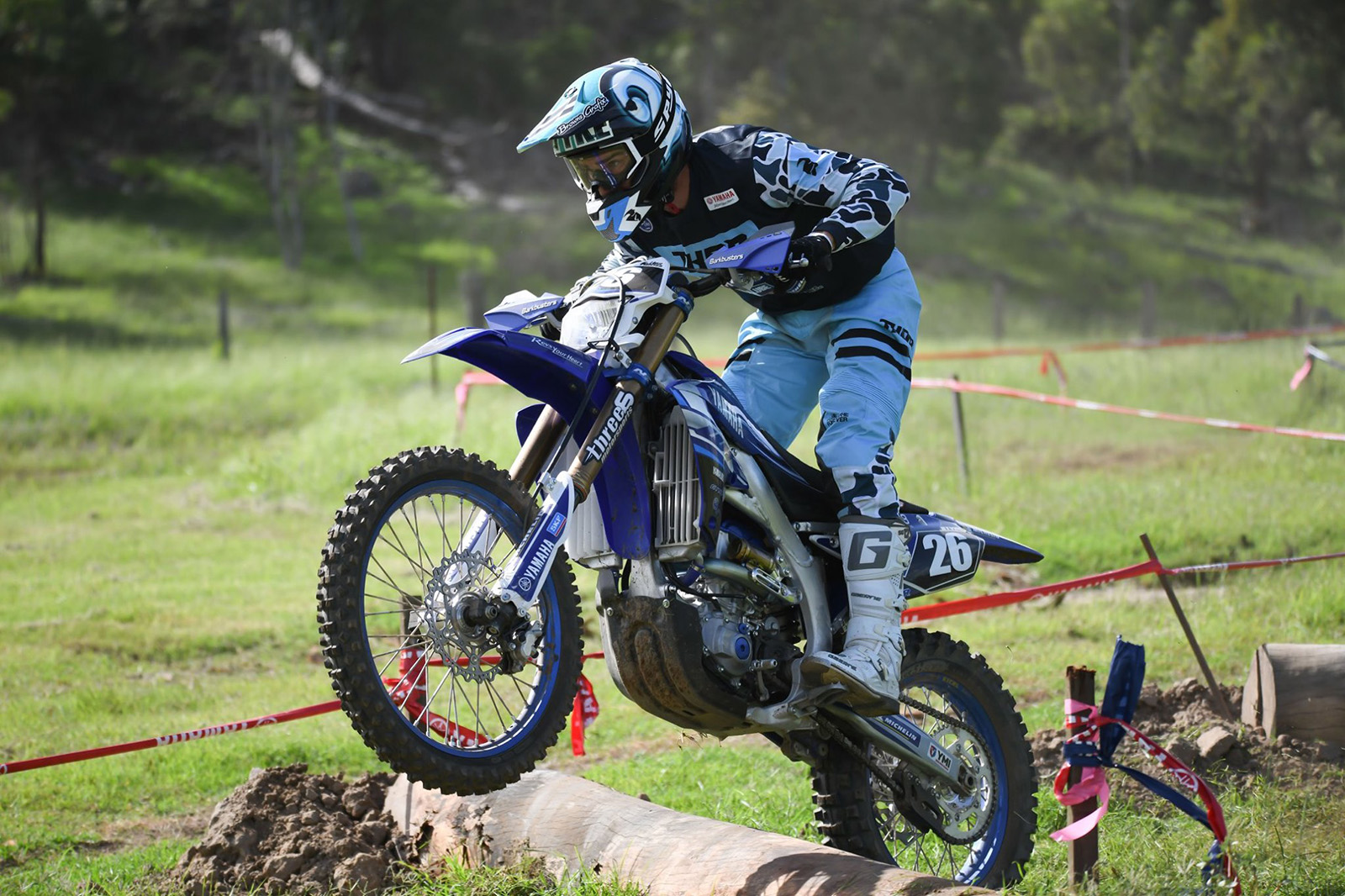 Luke Styke and Mason Semmens share E1 glory
First E1 win of the year went to Luke Styke on day one but it sure isn't going to be easy this year for the reigning champion. E1 in 2020 looks the class to watch with the experienced Styke having to contend with super-fast upstarts in the shape of Mason Semmens and Kyron Bacon.
Semmens finished second on day one by eight seconds but went a gear up on day two, clinch a comfortable win almost two minutes ahead of Kyron Bacon (third the previous day) with Styke dropping to third.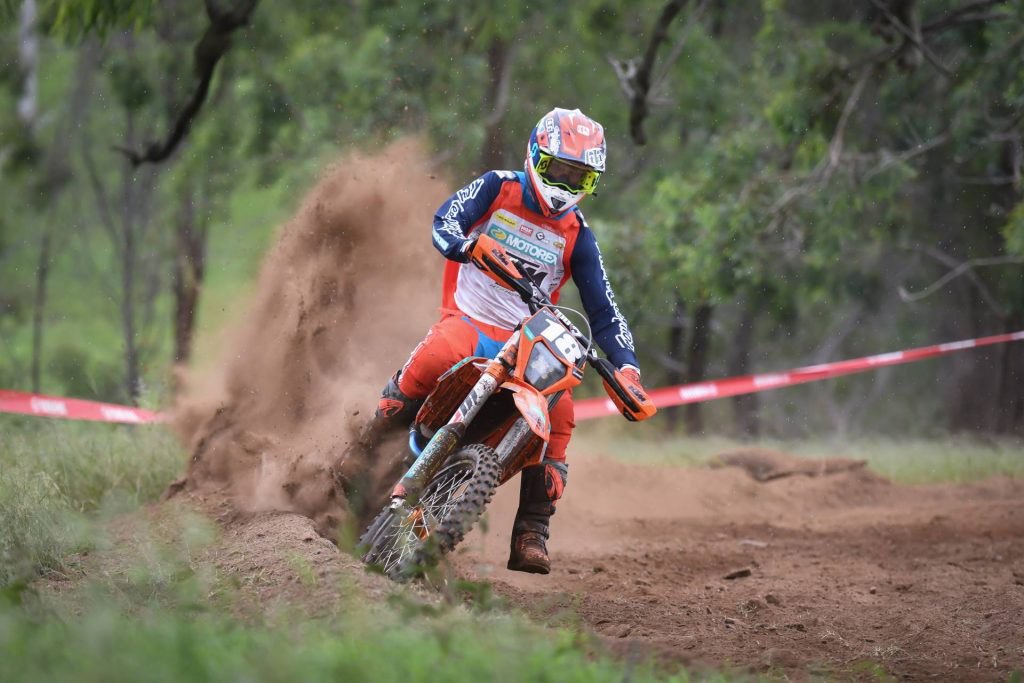 Double win for Gardiner
Proving she continues to lead the charge in the Women's class, Jess Gardiner was over a minute faster than her rivals both days. Emma Milesevic was third on Saturday and second on Sunday while Emelie Karlsson, making the long trip from Sweden to race AORC did the opposite with P2 Saturday and third in Sunday's round two.
"I preferred yesterday just because the conditions suited me better, but I sent it today and I'm super happy with the end result," says Gardiner.
"Having to take time off after ISDE due to my knee, I'm relaxed plus I've also been going super hard in the training sessions leading up to these two rounds, and the improvement was noticeable."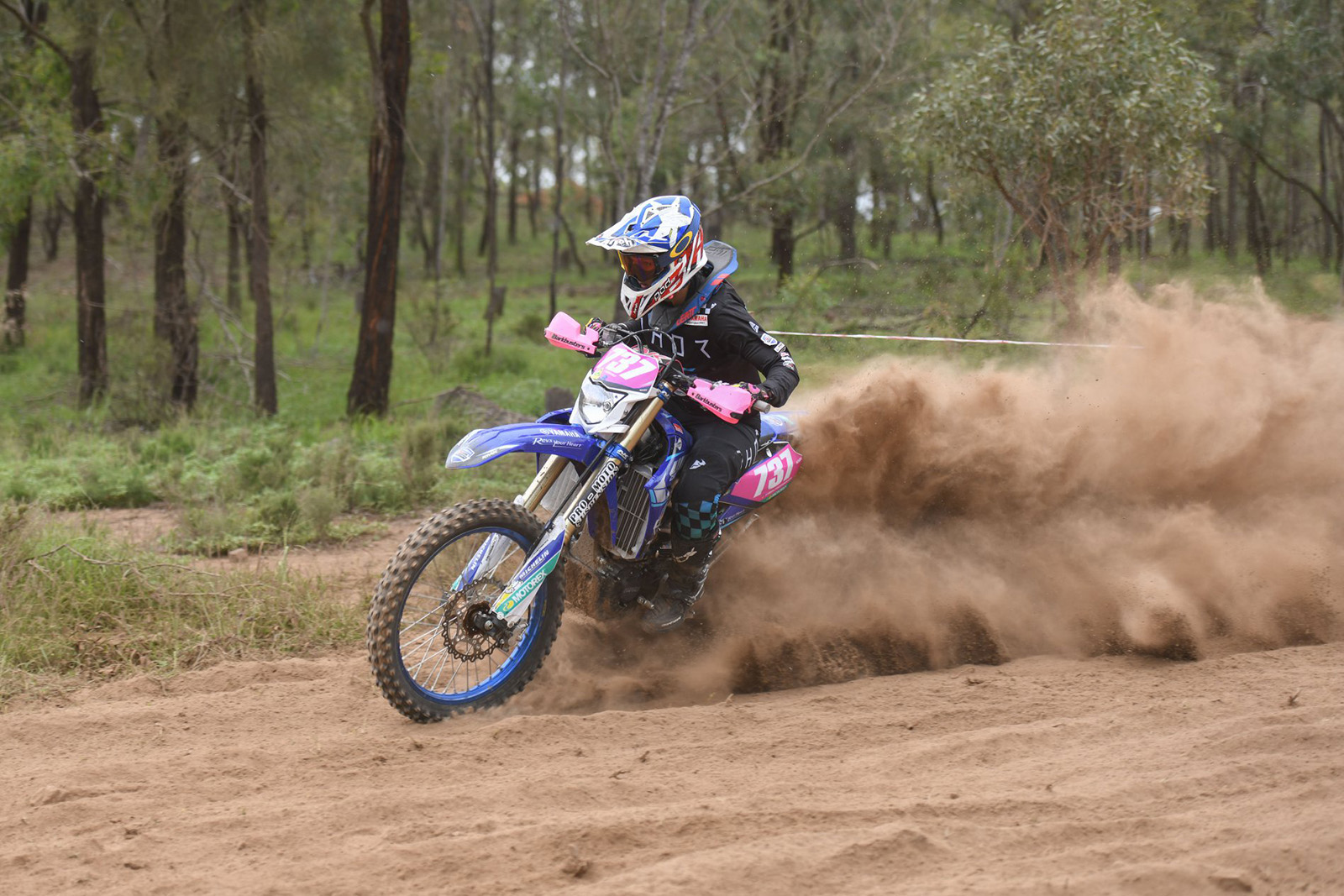 EJ honours for McMahon
After a weekend-long fight Korey McMahon put his KTM on top of the podium both days ahead of Blake Hollis. The fight between the clearly fastest pair was close with McMahon taking day two by just six seconds. Sam Prestscherer clinched third place on both days to complete the podium.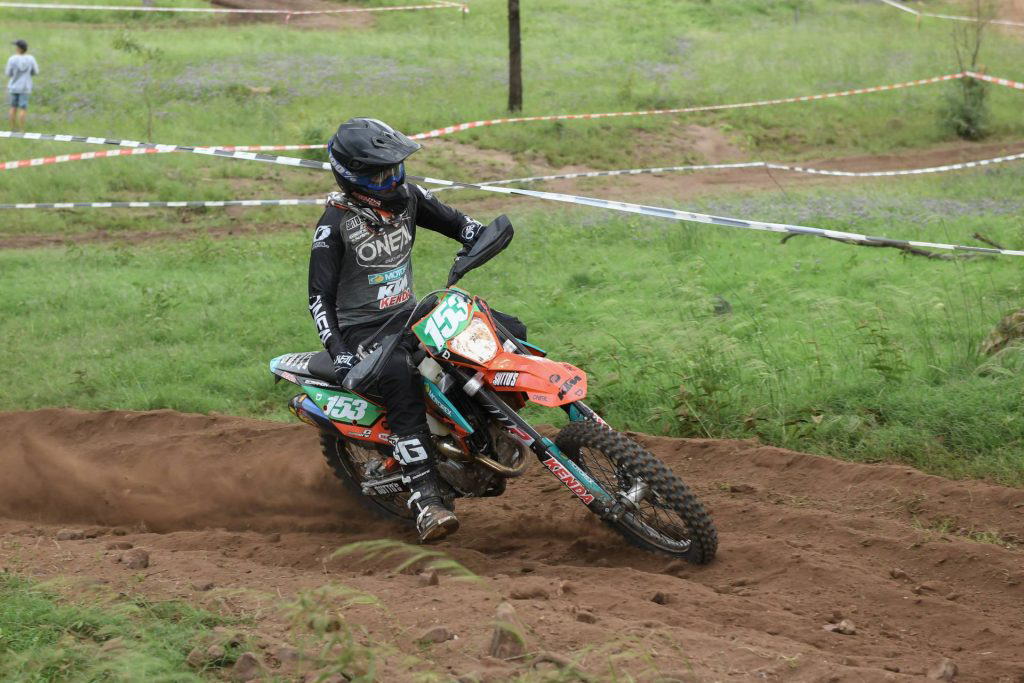 The AORC will return in March 14-15 for rounds three and four at Dungog, New South Wales.
2020 AORC rounds 1 & 2 results:
E1 round 1:
Luke Styke (Yamaha Active8 Yamalube), 55:47.177
Mason Semmens (KTM Enduro Racing Team), 55:55.475
Kyron Bacon (MXstore, Yamaha), 57:38.520
Corey Hammond, 58:27.020
Joshua Kilvington, 59:26.944
Lachlan Allan (Kawasaki Motors Australia Valvoline Team), 1:00:34.741
Kristian Sprenger (Yamaha, Thor), 1:01:07.606
Matthew Zygarlicki (Wonthaggi MPE), 1:02:04.892
Kyle Nielsen, 1:06:22.077
E1 round 2:
Mason Semmens (KTM Enduro Racing Team), 1:02:17.803
Kyron Bacon (MXstore, Yamaha), 1:04:04.410
Luke Styke (Yamaha Active8 Yamalube), 1:04:31.397
Corey Hammond, 1:05:24.557
Joshua Kilvington, 1:08:13.354
Lachlan Allan (Kawasaki Motors Australia Valvoline Team), 1:08:38.668
Kyle Nielsen, 1:12:50.154
E2 round 1:
Daniel Milner (KTM Enduro Racing Team), 54:39.515
Todd Waters (Berry Sweet, Husqvarna), 55:27.309
Josh Green (Yamaha Active8 Yamalube), 55:36.369
Michael Driscoll (Yamaha bLU cRU Off-Road Racing Team), 56:19.534
Beau Ralston (Hunter Valley Motorsport, Kawasaki), 56:34.543
Cooper Sheidow (Kessner Motorcycles, KTM), 57:01.569
Stefan Granquist, 57:05.336
Jeremy Carpentier (Yamaha MXstore Ballards Offroad Team), 57:07.044
William Price (Kessner KTM, Thor), 58:54.058
Brent Dean, 59:40.260
E2 round 2:
Daniel Milner (KTM Enduro Racing Team), 59:40.014
Todd Waters (Berry Sweet, Husqvarna), 1:01:23.801
Josh Green (Yamaha Active8 Yamalube), 1:01:32.312
Michael Driscoll (Yamaha bLU cRU Offroad Racing Team), 1:02:07.178
Stefan Granquist (Yamaha), 1:02:55.064
Jeremy Carpentier (Yamaha MXstore Ballards Offroad Team), 1:03:44.189
Beau Ralston (Hunter Valley Motorsports, Kawasaki), 1:04:06.337
Cooper Sheidow (Kessner Motorcycles, KTM), 1:05:01.146
William Price (Kessner KTM, Thor), 1:06:00.818
Brock Nichols, 1:06:06.881
E3 round 1:
Daniel Sanders (Husqvarna Enduro Racing Team), 55:21.276
Jonte Reynders (Motul Pirelli Sherco Offroad Racing Team), 56:59.302
Callum Norton (KTM Desert Racing Team), 57:09.295
Fraser Higlett (Husqvarna, MXstore), 58:14.856
Jesse Lawton (Thor), 58:38.441
Hayden Keeley, 59:22.916
Matt Murry (Kawasaki Motors Australia Valvoline Team), 1:00:48.493
Luke Bunnik (Sherco, Bunnik Construction & Limestone), 1:02:16.525
Neil Collard, 1:02:27.760
Chris Reading (BD Richardson Transport), 1:02:48.096
E3 round 2:
Daniel Sanders (Husqvarna Enduro Racing Team), 1:00:34.390
Jonte Reynders (Motul Pirelli Sherco Offroad Racing Team), 1:02:39.430
Callum Norton (KTM Desert Racing Team), 1:03:05.077
Fraser Higlett (MXstore, Husqvarna), 1:04:02.829
Jesse Lawton (Thor), 1:04:56.689
Hayden Keeley, 1:06:28.246
Neil Collard, 1:08:18.309
Luke Bunnik (Sherco Australia, Bunnik Construction & Limestone), 1:09:47.512
Matt Murry, 1:10:02.167
Chris Reading, 1:10:43.596
Women's round 1:
Jessica Gardiner (Yamaha MXstore Ballards Offroad Team), 1:10:30.314
Emelie Karlsson (Yamaha), 1:12:19.635
Emma Milesevic (Penrite Honda), 1:12:39.532
Ebony Nielsen (FocusX Gear), 1:14:49.454
Kaitlyn Hall (Halls Transport Repairs), 1:20:29.445
Avril Gill, 1:21:16.676
Julie Denyer (DN&G Denyer), 1:22:11.950
Zoe Boccari, 1:23:06.369
Ivy Cross (FXR, North Coast Petroleum), 1:28:16.575
Grace Woolston, 1:33:38.618
Women's round 2:
Jessica Gardiner (Yamaha MXstore Ballards Offroad Team), 55:34.164
Emma Milesevic (Penrite Honda), 56:37.987
Emelie Karlsson (Yamaha), 56:44.034
Ebony Nielsen, 59:25.501
Kaitlyn Hall (Halls Transport Repairs), 1:02:40.468
Charlotte Gamble (Pete's Trackside), 1:02:44.925
Avril Gill, 1:03:12.461
Julie Denyer, 1:04:54.505
Zoe Boccari, 1:05:34.347
Megan Hotz, 1:06:09.032
EJ round 1:
Korey McMahon (Sutto's Motorex KTM Racing Team), 58:05.112
Blake Hollis (Yamaha bLU cRU Off-Road Racing Team), 58:44.064
Samuel Pretscherer (Gol Gol Hotel, Mototech), 59:40.496
Ben Teed, 1:02:37.820
Zac Perry (Harbour City Motorcycles), 1:02:38.748
Jayden Rudd (Kessner Motorcycles), 1:02:46.751
Oscar Collins (Jeff Collins Plumbing), 1:03:27.389
Tom Teed, 1:03:35.388
Kobe Conley (Fist Handwear, City Bike Centre), 1:03:35.899
Tomas Kruger, 1:04:28.960
EJ round 2:
Korey McMahon (Sutto's Motorex KTM Racing Team), 1:04:44.641
Blake Hollis (Yamaha bL U cRU Offroad Racing Team), 1:04:50.664
Sam Pretscherer (Gol Gol Hotel, Mototech), 1:06:54.289
Ben Teed, 1:09:12.403
Lewis Martin (Thomas Lee Motorcycles), 1:10:06.015
Tom Teed, 1:10:24.734
Jayden Rudd (Kessner Motorcycles, AutoWired), 1:10:52.056
Kobe Conley (Fist Handwear, City Bike Centre), 1:12:04.677
Oscar Collins (Jeff Collins Plumbing), 1:12:10.293
Jack Conlan, 1:13:30.931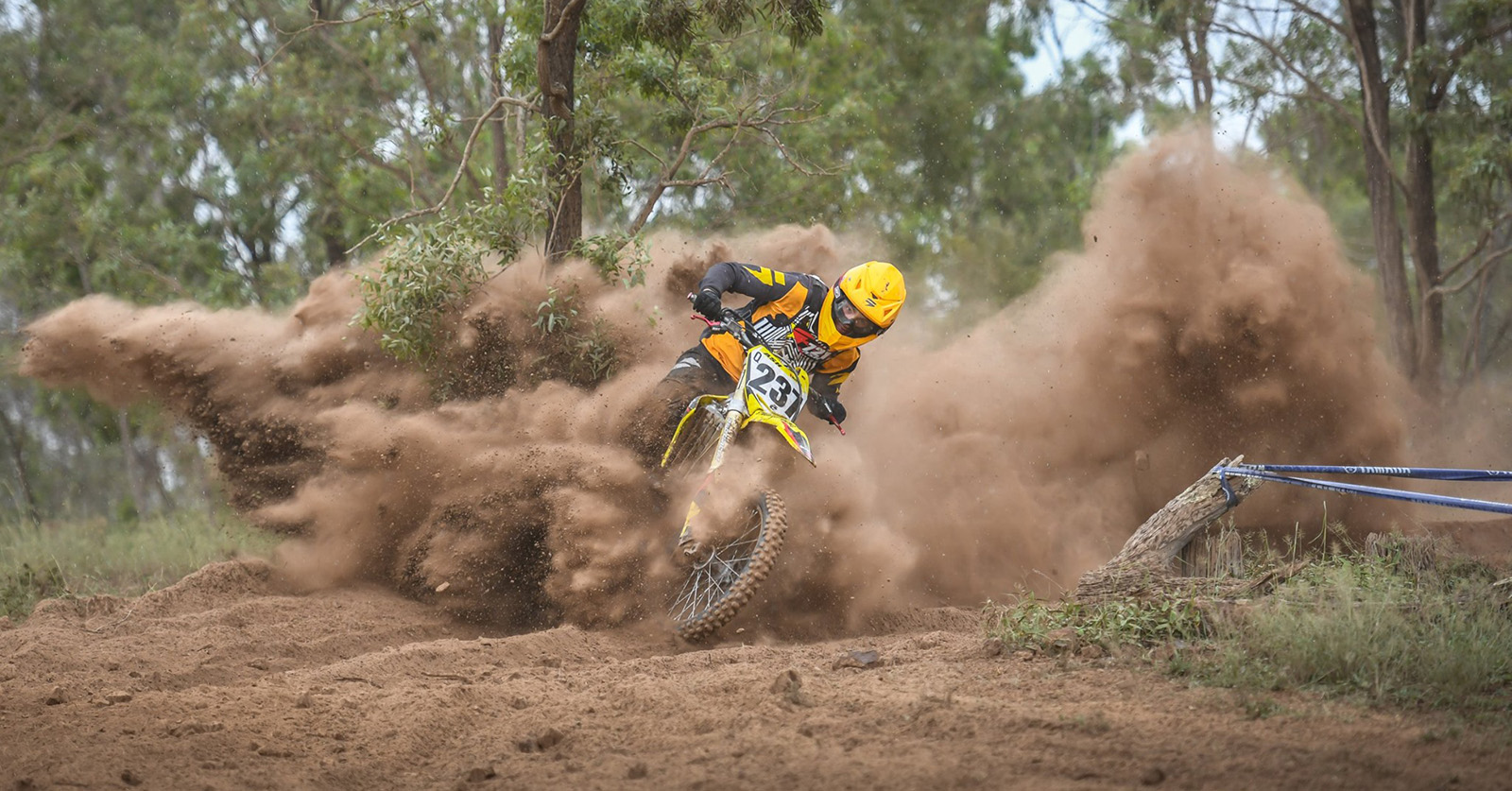 More information: AORC.org.au
Photo credit: AORC/Troy Pears