Waters and Bacon share AORC Rnd 5&6 day wins at Mendooran
Mendooran provided a replacement venue for rounds five and six of the 2022 Australian Off-Road Championship and dished-up a double-dose of sandy, MX-style racing.
Located around five hours north west of Syndey, the New South Wales venue brought out the speed merchants with former MX star Todd Waters naturally one of the riders to watch and bike set-up on the course proving crucial across the timed tests.
Waters duly delivered on day one, round five with the win in E2 class and the fastest time overall. After some bike issues on day one, the season's standout performer Kyron Bacon returned to the top of the time sheets for the round six victory.
E1 class and scratch day two win for Bacon
A fuel issue for Kyron Bacon on day one, round five, saw the runaway leader down fourth place early doors. Bfter 14 tests (two tests, seven times each), the Yamaha rider clawed back the class win and second overall.
Day two was as lot closer overall both in class and scratch with Bacon first again just two seconds ahead of Korey McMahon who'd turned around a third placed results on day one, with Sam Pretscherer looking at home in the sand also having taken second to Bacon on day one, had to settle for third on day two.
Former MX master takes day one scratch win
Todd Waters put every bit of his experience into the round five and six results and was rewarded with the outright day one win and E2 victory on both days.
Waters' pace proved too hot for E2 class points leader Josh Green who had to settle for a double second place result over the weekend, no less than two minutes down on Todd after day one's tests. Jye Dickson fought off Callum Norton and Travis Silk for the third podium spot on both days.
Wilksch' near perfect E3 form continues
Andrew Wilksch is the rider closest to joining Kyron Bacon in maintaining a 100% record in the 2022 AORC season. Wilksch' win tally is five from six with another double victory ahead of Jonte Reynders this weekend.
Stefan Granquist took P3 on day one in Mendooran while Luke Bunnik got into the sand grove on day two with third in E3.
Jess beaten!
Points leader Jess Gardiner had her work cut out in the Enduro Women class across the two days with both Meghan Rutledge and Taylor Thompson pushing hard in the tests to topple the champ. Day one saw Gardiner finish six seconds clear of Rutledge but Thompson's total time of 1:19:10.387 proved the largest winning margin of the weekend for a gap of three minutes to Gardiner. Emelie Karlsson rode into third on both days.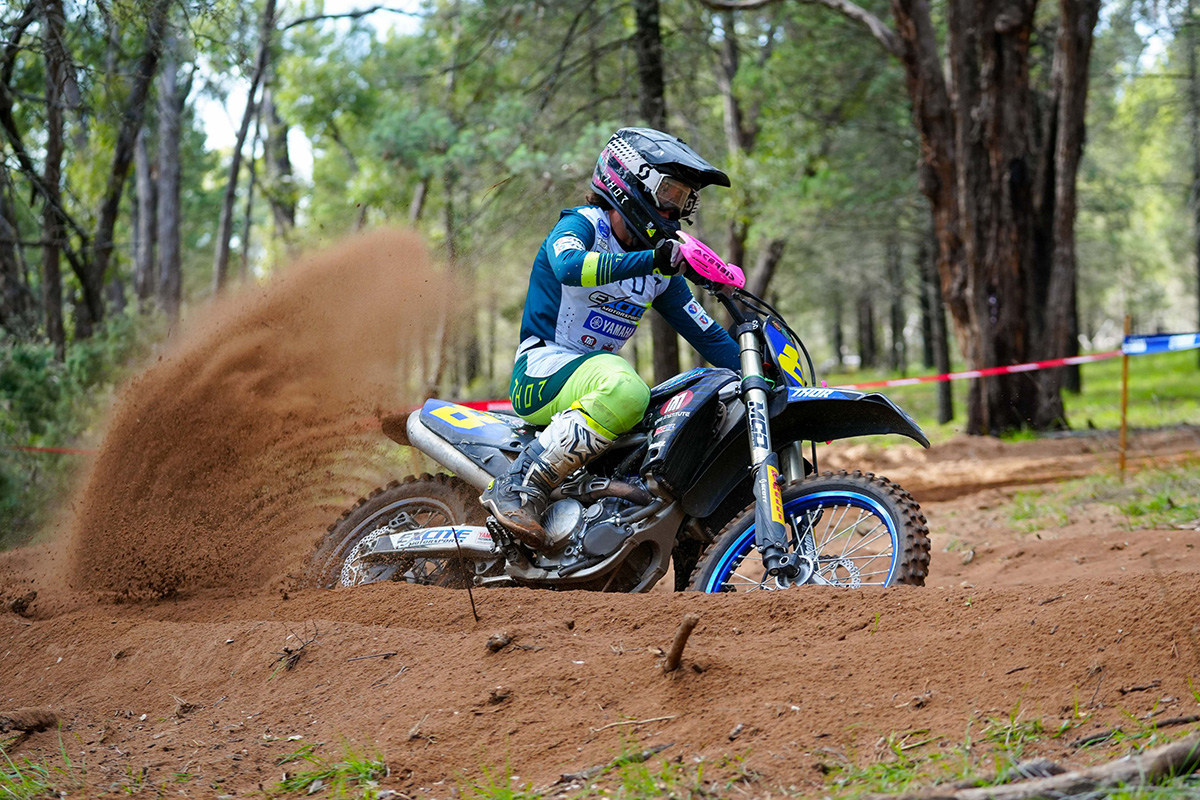 Rounds seven and eight of the AORC season are scheduled for Nowra, NSW on August 6 – 7, 2022. More information, including results: www.aorc.org.au
Photo Credit: AORC | Troy Pears