2023 EnduroGP Results: Resounding win for Brad Freeman as Brits dominate day 1 in Finland
Day one results from the 2023 GP of Finland in Heinola, round three of the 2023 EnduroGP World Championship where Brad Freeman continues his rich run of form with the win ahead of Steve Holcombe and Josep Garcia in tough conditions which saw four classes, plus the overall, won by British riders.
2023 EnduroGP of Finland day one in a nutshell:
Claiming his fifth day win from five, Brad Freeman is the certainly the rider to beat this season. On day one in Finland it was again his impressive speed in the long enduro test which no-one else could match.
Some were able to better Freeman in the some of the tests but it was never by more than a few seconds whereas Brad was stealing chunks of time in the enduro test to stretch a 54.72 seconds advantage after nine in total. Remarkably he was close on 20 seconds faster in that test alone on the final lap. Winning E3 class, Freeman was three whole minutes clear of Matteo Cavallo and Miki Persson. Food for thought for his rivals.
"It was a sick day for me." Brad said. "I felt like I rode within myself even if it didn't look like that from the outside. It felt like the first real enduro for a long time, the enduro test deteriorated so bad throughout the day. But I felt good and, yep, same again tomorrow."
Closest of those rivals was Beta teammate Steve Holcombe who took test wins, was first in E2 by an equally large gap over Hamish Macdonald and was also heaping praise on the tough "enduro" conditions: "Honestly, I loved the race, a proper enduro. A bit short in time compared to what we're used to but I felt good. Not too many mistakes from me just one in the last cross test which made me reel myself back in for the last enduro test but to be where I am in these conditions is all good."
Third overall and first in E1, Josep Garcia seemed a bit put out that Brad was so far in front: "Overall it was quite good but I don't know if I was not taking the best lines in the enduro test but I lost so much time. Then I had some crashes and then in the last enduro test I had quite a big one but I am happy to be ok and tomorrow we try again."
A tighter contest unveiled between the juniors but the tough enduro conditions seem to suit the British riders with championship leader Jed Etchells coming out on top by 13 seconds from the Swedish pair of Albin Norrbin and Max Ahlin.
"I managed to get a good start and build up a lead," said Jed, "I made a mistake in the second lap and ended up in the bushes but it was a good day. I relay enjoyed the technical tests, it felt like riding in the UK."
The Youth class win went once again to Kevin Cristino who has upped his game in these kinds of conditions he says and is matching Freeman in five from five day wins.
If Brad's overall win looked good on paper, check out Jane Daniels' time advantage. Over three minutes is a heck of a win and on par with the kind of gaps we used to see from Laia Sanz.
Things were much closer for second between Jess Gardiner and Rosie Rowett. The pair took it right down to the final test with the Aussie just getting the P2 place by 1.4 of a second over the British rider.
Tough conditions brought the best of the Brits out as four classes, plus the overall, saw GB riders on top.
2023 EnduroGP of Finland day 1 scratch results: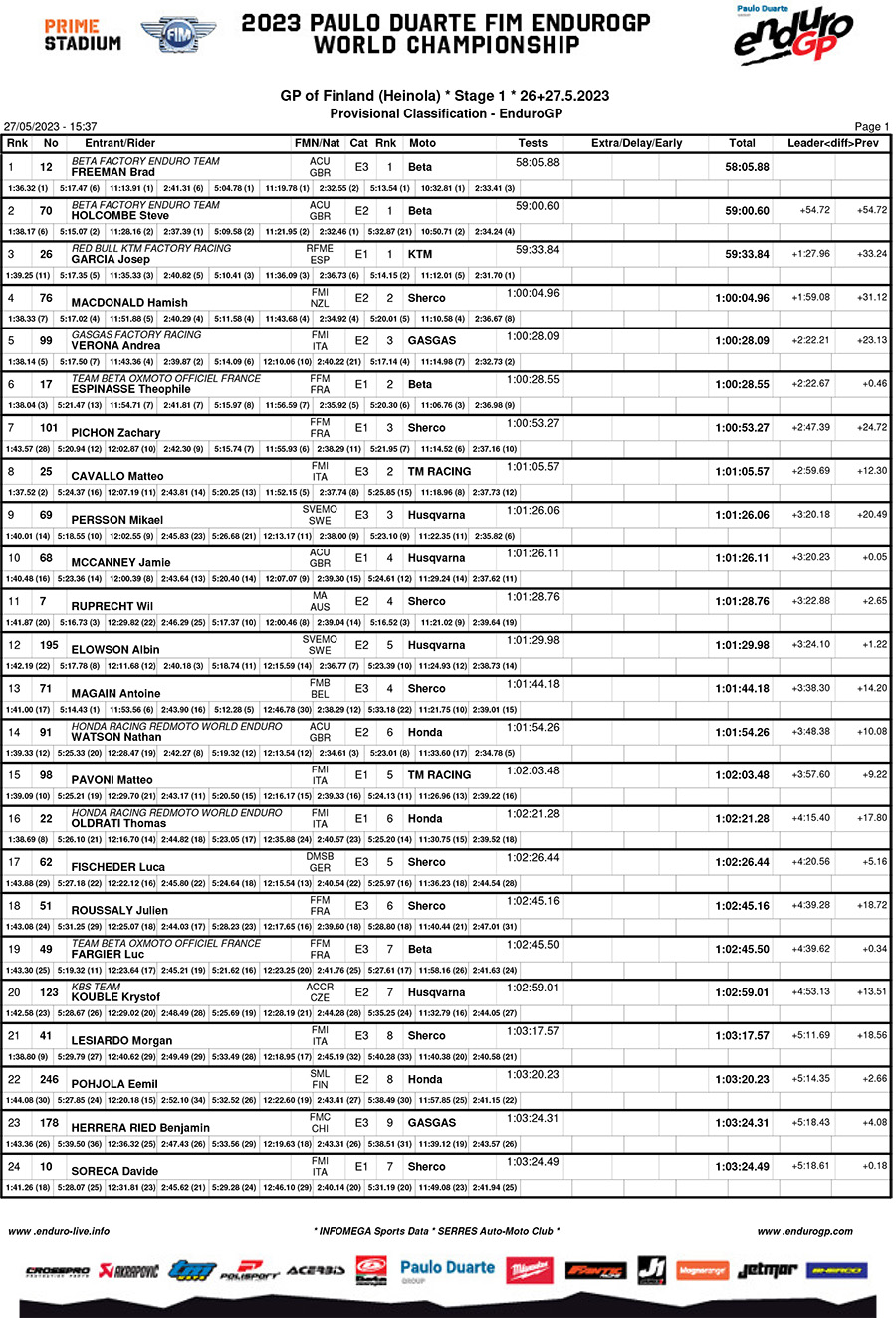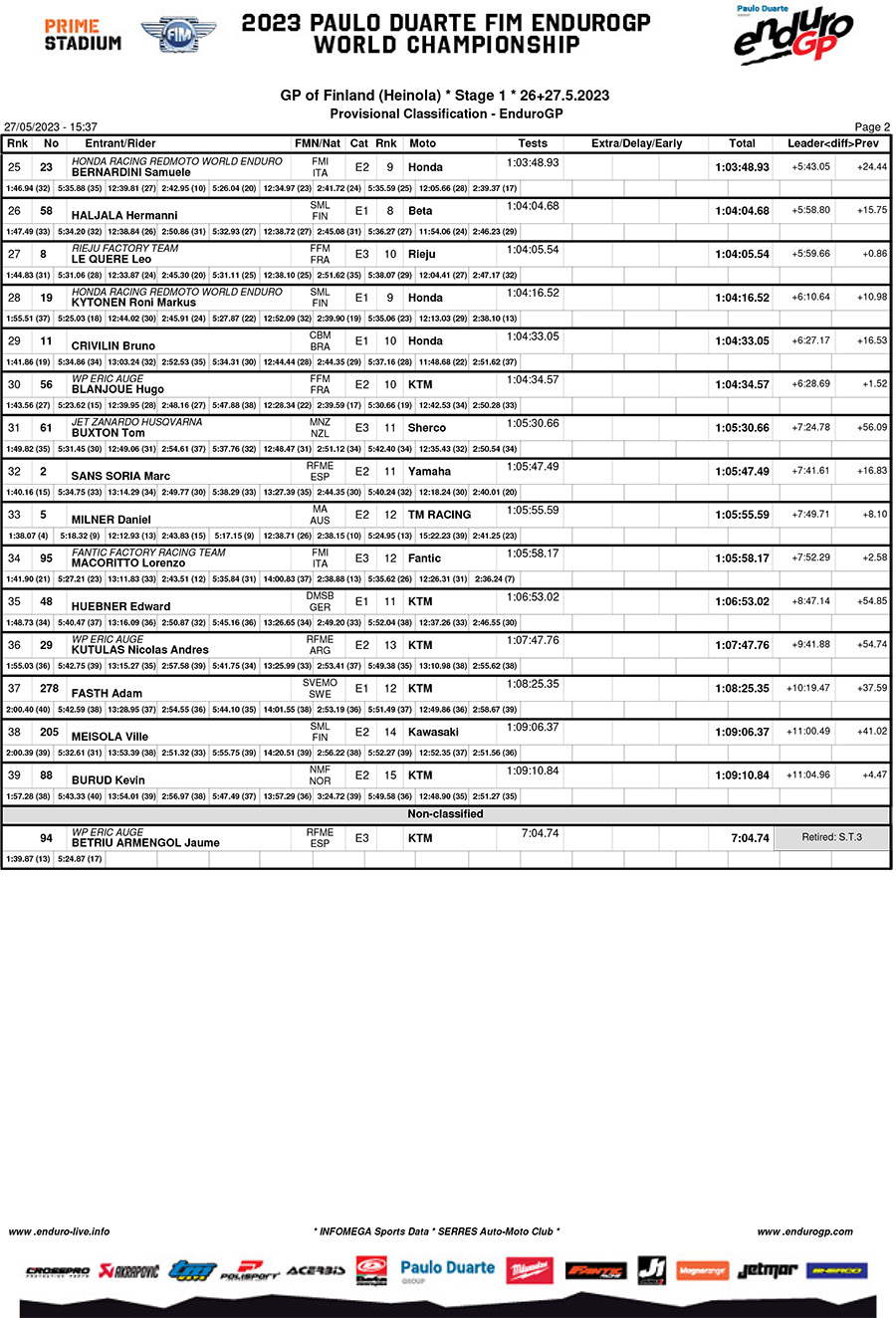 E1 class results: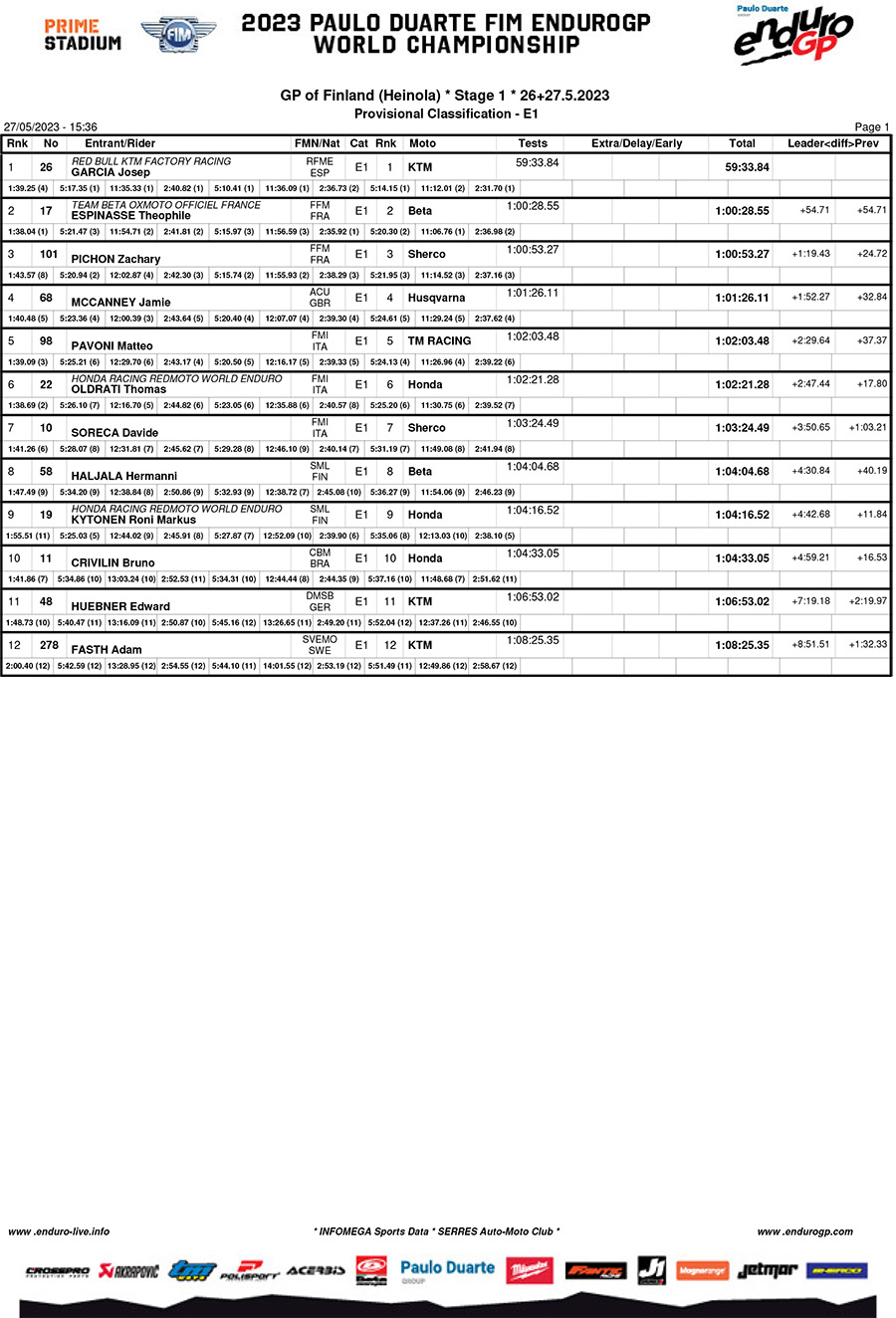 E2 class results:
E3 class results: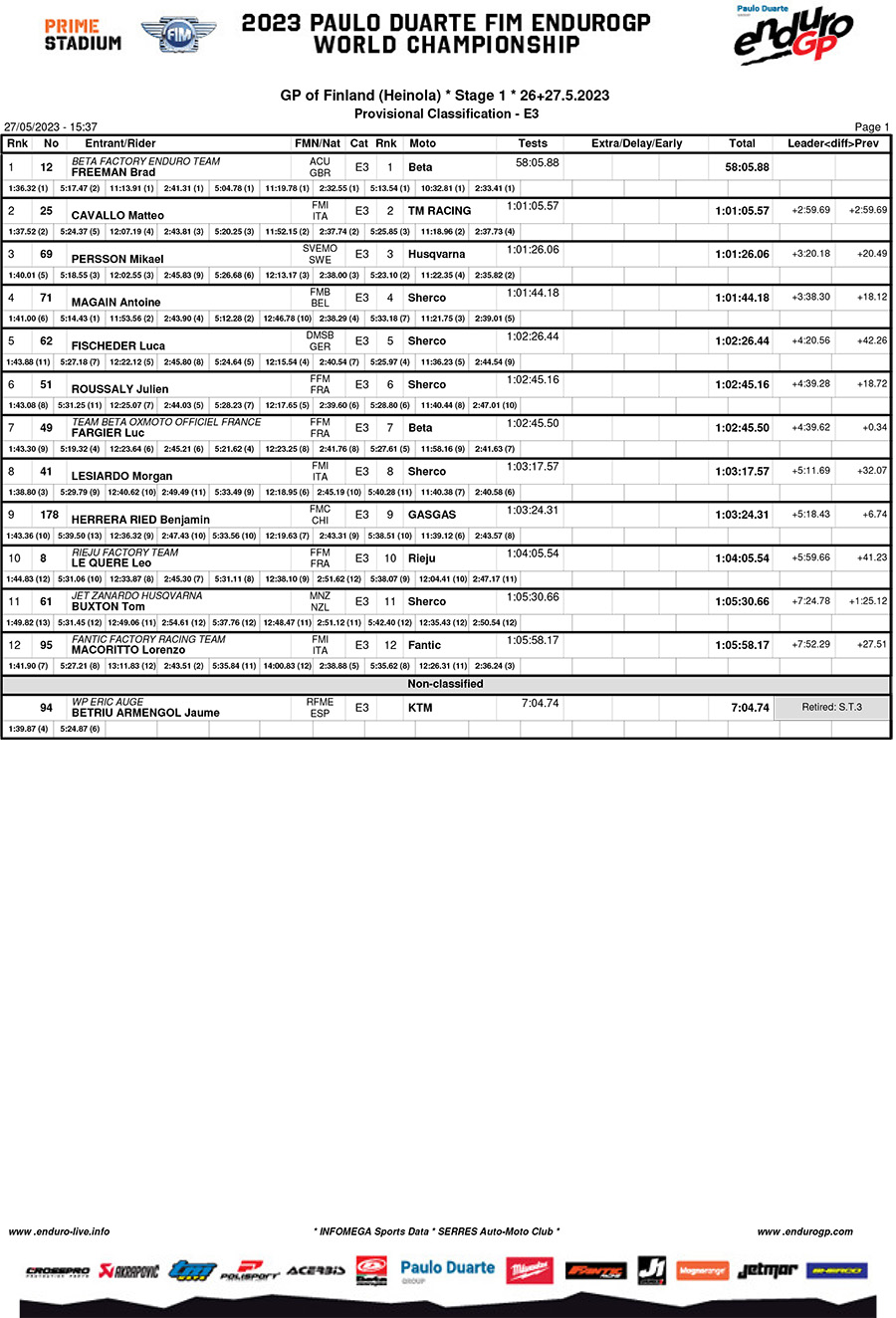 Junior results: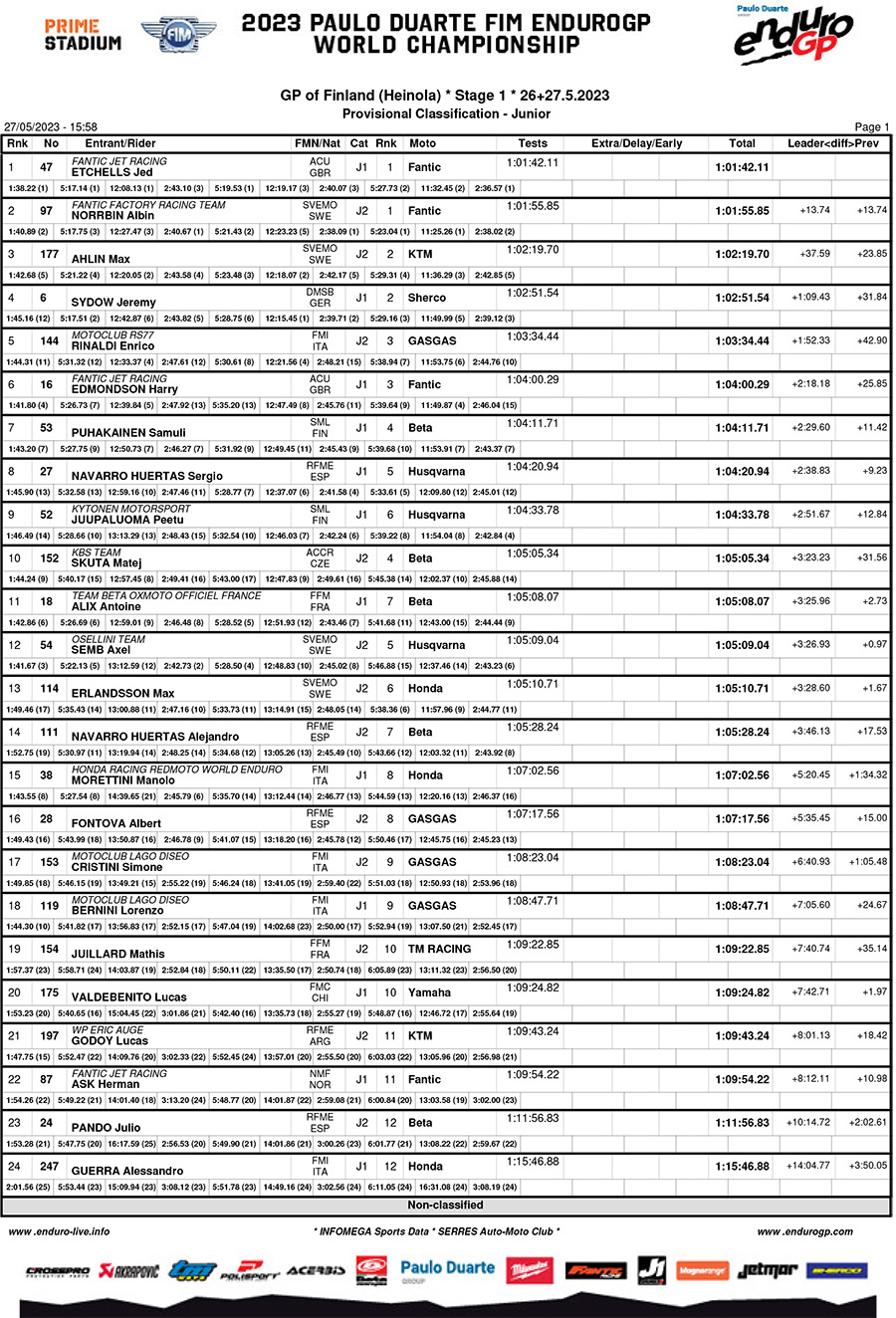 Youth results: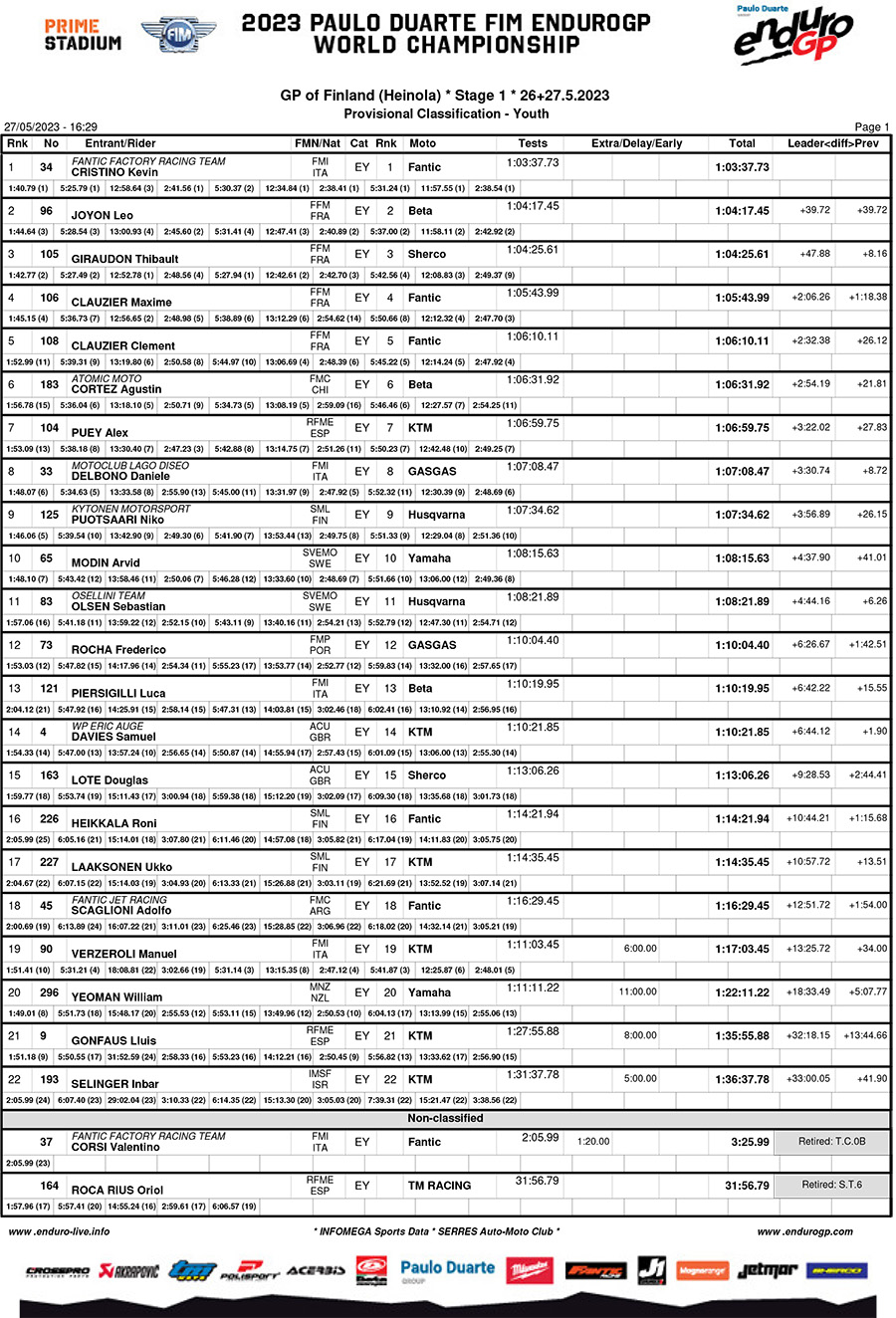 Women results: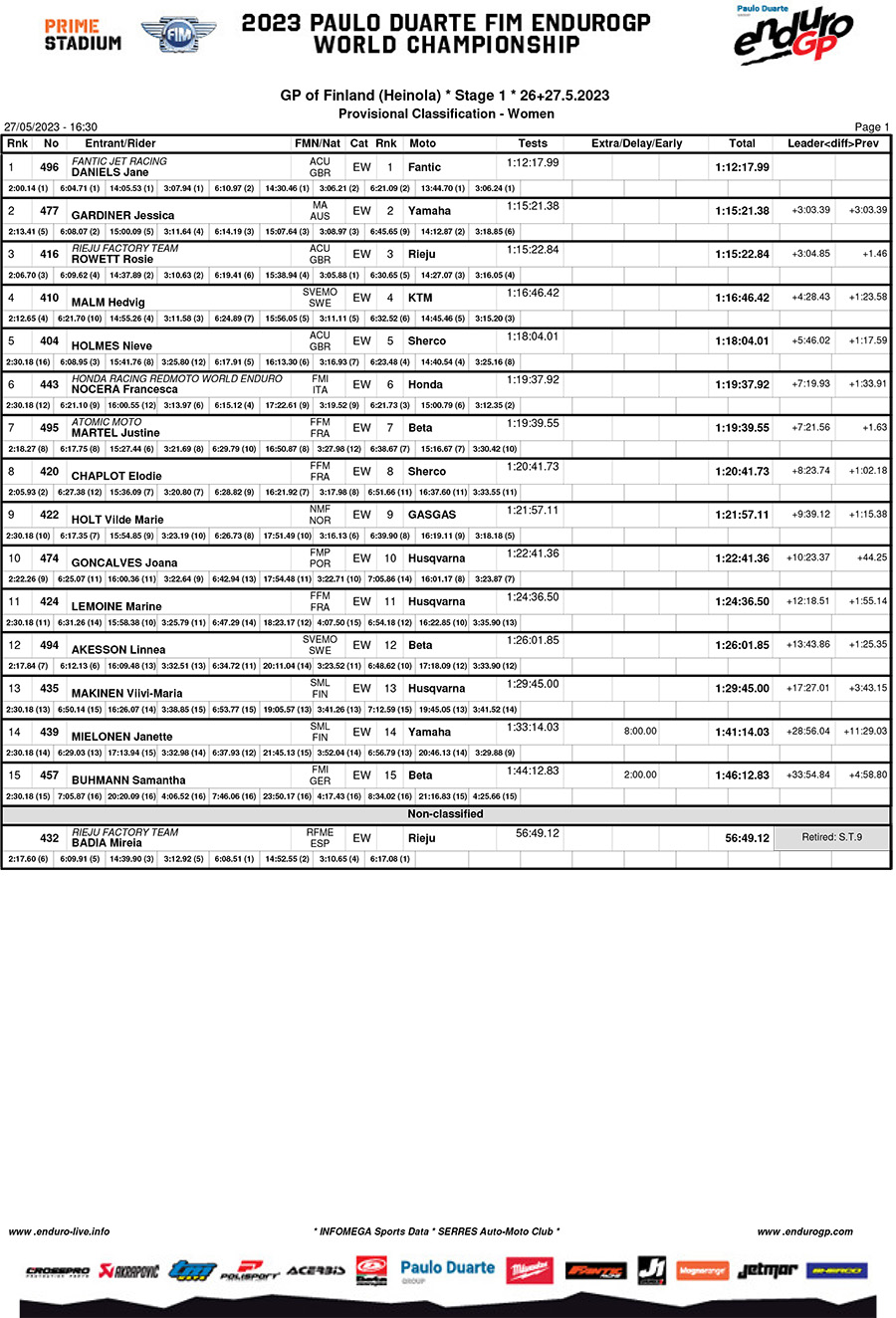 Photo Credit: Future7Media