2021 Motul Roof of Africa: Time trial win for Teasedale
Results and video highlights from the first of four days action at the 2021 Motul Roof of Africa – racing got under way with the time trial qualification where Travis Teasedale lays down a marker with the win ahead of defending champion, Wade Young.
The 2021 "Mother of Hard Enduros" was officially waved off on day one none other than the King of Lesotho, King Letsie III. His Majesty was accompanied by the Prime Minister, the Right Honorable Moeketsi Majoro and a delegation from the Lesotho Government to send off the event in fine style.
The time trial race pitches riders at the Lesotho terrain with a mix of fast, flowing sections and some technical sections on a 55km route – sadly no "round the houses" street race in the end due to covid restrictions.
Travis Teasdale laid down a marker for the main race with the fastest time of the day at 1:28:51. He edged out defending champion Wade Young by 20 seconds ahead of Matt Green in third, a more distant three minutes 35 seconds behind.
In the Silver Category, 2019's Bronze Class winner Austin Stuart made his intentions clear with a quick time of 1:42.19, almost 10 minutes faster than second-placed Anthony Abrahamse.
The Bronze Class saw Rory Gower similarly almost 10 full minutes ahead of veteran Pieter Holl and for the first time, the Roof included an Iron Class for 'weekend warriors' where Tiaan Rabe finished ahead of Chris Weideman.
The main race begins Friday with rain predicted for the next two days at least, things look interesting with Teasedale aiming for his first Roof win and Wade looking to take his fourth.
2021 Roof of Africa time trial video highlights:
2021 Roof of Africa time trial results: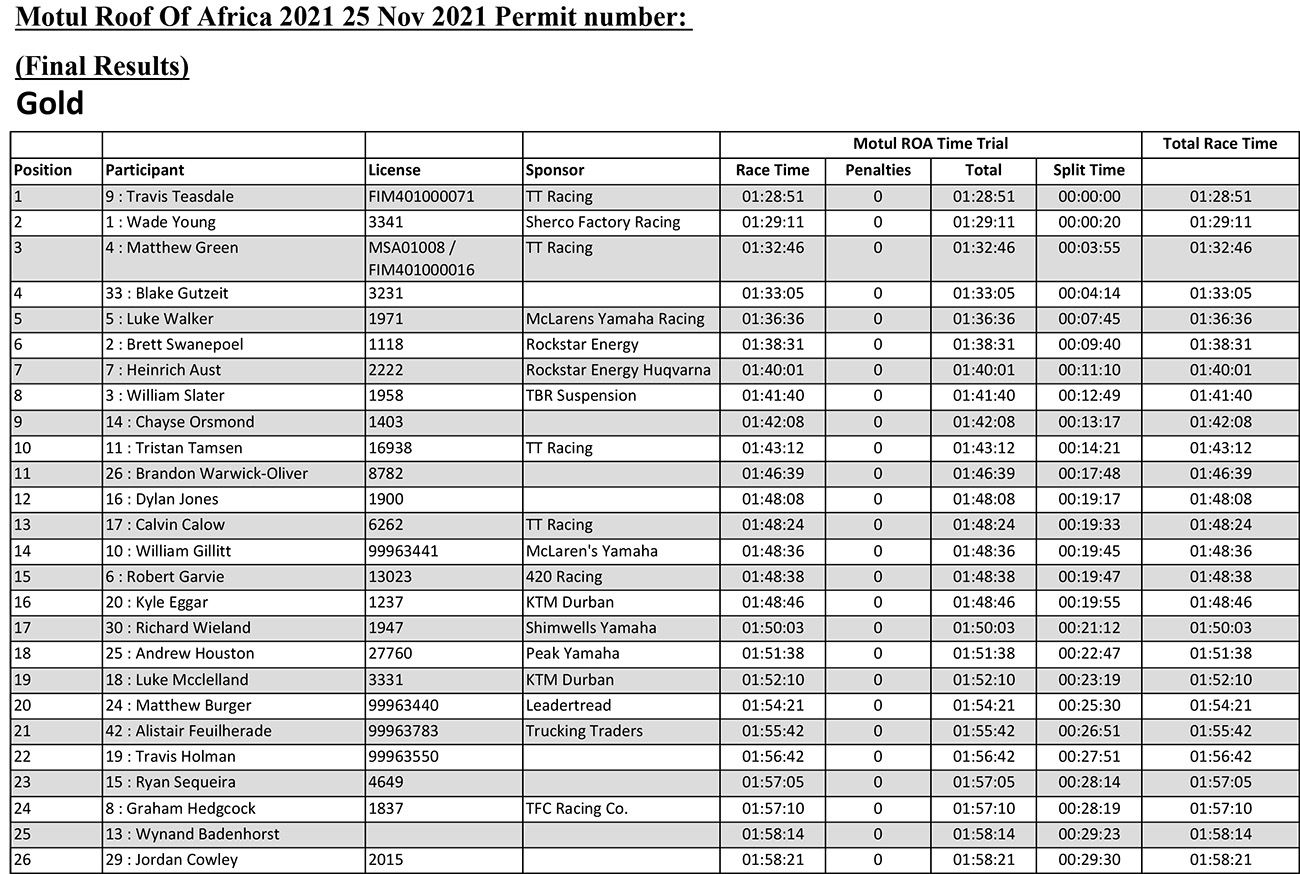 More information daily on the Roof of Africa Facebook page.
Full results on: www.roofofafrica.co.ls
Photo Credit: ZCMC