2021 Roof of Africa: Lesotho's legendary hard enduro ready to go
The 2021 Roof of Africa has been two years in planning and "very much worth the wait" say organisers as they put the finishing touches to this year's iconic Hard Enduro in Lesotho.
The buzz around the Motul Roof of Africa on November 25-28 can be judged by the fact that over 400 riders have already put entries in for this year's event. Alongside the established Gold, Silver and Bronze Classes, a new Iron Class has been added to give 'weekend warriors' the chance to experience riding in the mountains of Lesotho.
Round the houses street madness
The format will be similar to 2019, including the infamous 'round the houses' street race, but with the notable exception of the EnduroX component which is dropped in an effort to avoid mass gatherings while COVID-19 is still a consideration.
The other new element is each rider will be limited to five support crew members – although that will still seem like a luxury of people to most riders!
2021 Roof of Africa event schedule:
November 24, the event kicks-off at the Avani Lesotho Hotel & Casino where registration takes place with social distancing measures.
November 25, Round the Houses race through the streets of Maseru plus the Time Trial at Thaba Bosiu for all classes.
November 26-27, race days 1 and 2 with the start/finish at Thaba Bosiu, headquarters for the event.
Wade Young back to defend his crown
"This year's Motul Roof of Africa will be the result of two years' planning and plotting new routes, so we're certain that riders will feel it was worth the wait," commented Charan Moore, Motul Roof of Africa Route Director and Manager of Live Lesotho. "We can confidently promise both Roof rookies and returning riders a rewarding, challenging course – something they will never forget," he added.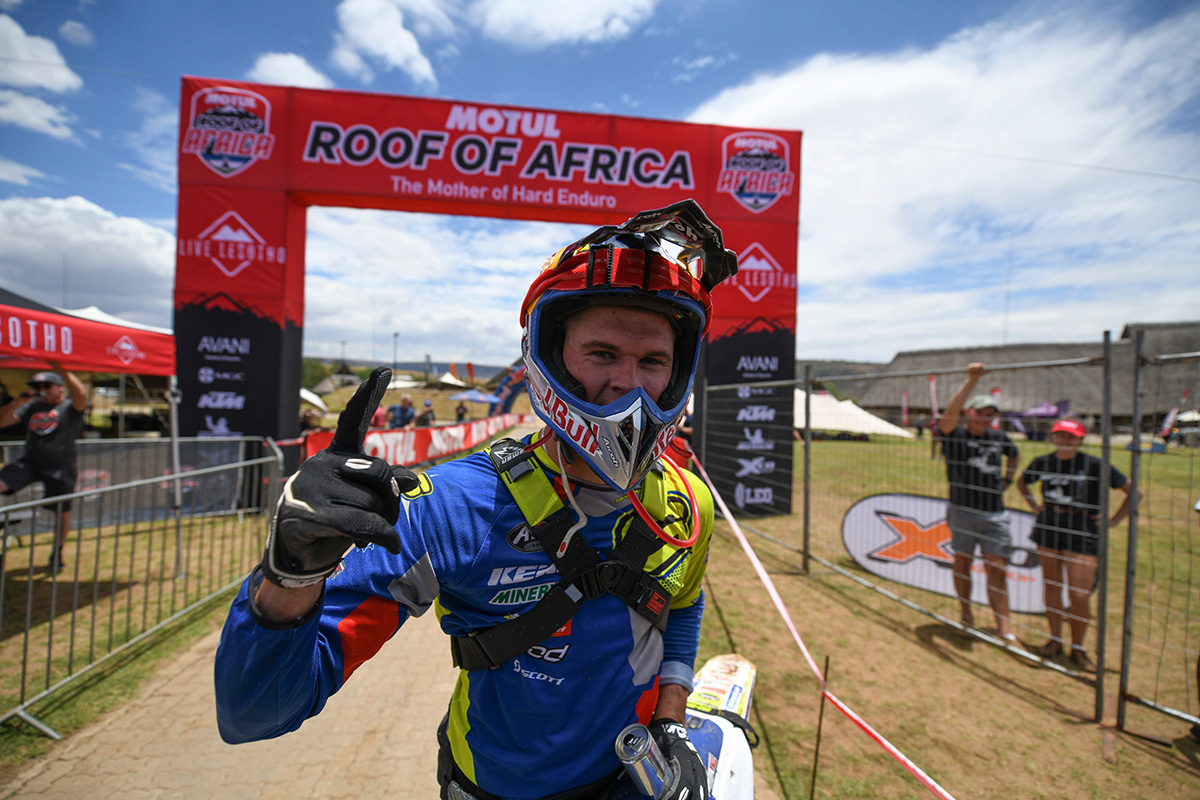 This year's rider entry list will be headed by defending Roof champion Wade Young on the Sherco Racing Factory Motul Team. Young will face stiff Gold Class competition from the likes of Travis Teasdale (Trax GasGas), Brett Swanepoel (Rockstar Energy Husqvarna), Matt Green (Matthew Green Racing), Luke Walker (McLarens bLU cRU Yamaha), Kerim Fitzgerald (Red Bull KTM) and Heinrich Aust (Rockstar Energy Husqvarna). Kirsten Landman (Brother Leadertread KTM) will be tackling the Gold Class as training for next year's Dakar Rally.
Confirmed participants in other classes include riders from the Netherlands, Germany, Australia, Egypt, Malawi, Botswana, Namibia and Swaziland, as well as a strong showing of Basotho riders. The Roof is therefore providing a welcome boost to a local tourism sector that has been hard hit by the pandemic.
To make life a little easier for competitors, main sponsors Motul will be sponsoring the Bike Wash facility in partnership with Eco Tanks and Goscor Power Products, with Craig Kruger and his team providing facility management. Motorcycle manufacturers representatives in Lesotho will also aim to support competitors during the event in ways that are aligned with COVID protocols.
Lesotho's management of COVID-19 has led to borders being re-opened for tourists (riders) and the rules are you only need one negative PCR test for entry into Lesotho, and this must be within 72 hours of crossing the border.
This negative result is then valid for 14 days, meaning that no second test is required within Lesotho. Rapid tests are available at the border, but this needs to be repeated on exit. Lesotho has also implemented drive-though border formalities, although South Africa has yet to follow suit.
More information: www.roofofafrica.co.ls or via the Motul Roof of Africa Facebook page.