GNCC results: First career win for Craig Delong at The General mudfest
Emotional maiden Grand national Cross Country XC1 Pro win for Rockstar Husqvarna's Craig Delong at the General GNCC, a race weekend battered by rain which turned to a mudfest as points leaders suffer.
2023 GNCC Racing round three was the definition of a mudder as heavy rains played havoc with the course in Washington but in true style, the racing continued unabated come hell or high water.
It's a brutal back-to-back weekend schedule for GNCC racers as they move from the sapping sand in Florida to the General in Georgia and it was Rockstar Energy Husqvarna Factory Racing's Craig DeLong who survived as the fittest to take his career-first victory in the XC1 Open Pro class.
Eventual winner Delong claimed the holeshot but you wouldn't know he'd go on to take victory, as the first laps unfolded he traded places with XC1 Pro riders Steward Baylor and Ricky Russell leading on the ground ahead of Jordan Ashburn.
On the time sheets the tough conditions actually meant the opening lap saw the XC2 riders from the second row quickly up to the XC1 boys, placing the 250 guys in the overall lead. That meant a Beta one-two for the first half of the race as Evan Smith and Jonathan Johnson took turns to lead.
As the race wore on the bigger bikes found their feet and DeLong critically took the lead when it counted. When Steward Baylor tipped off and blocked Russell's line, Craig slipped past them both to get a clear track and lead. With everyone else stopping for fuel, fresh goggles and in some cases a quick jet wash, Delong sailed through having stopped a lap earlier and was on his own.
Without the riders in tow, Delong stretched an advantage which he never let go of to finish the race in a total time of 2:54:05.296, almost a full minute clear of the chasing pack.
"Man, what a day!" said DeLong. "I didn't really want to lead, I knew it was going to be muddy, but I got a good start and I was like 'I guess I have to lead now'.
"Stew [Baylor] got around me and I sort of followed him and he was splashing all the puddles out for me. We freight-trained for the first hour or so of the race and I didn't lead a lot of it early on. I just stayed steady and upright, then with two laps to go I had the lead and put in a little push. I didn't sprint too hard, the team kept telling me the gap was getting bigger and bigger doing what I was doing, then on the last lap they were telling me I had a minute advantage, so I kind of just rode it home.
I had a couple of little crashes on the last lap, but I was able to bring it in and it was awesome! After last weekend, that was big for me to be on the podium. I'm happy to get it done and stay in this fight, so let's keep it rolling."
"I don't like to think of myself as a mud specialist" – fight for the podium
Broken ribs and crashes took their toll on the one-time race leader Steward Baylor. Once Delong and Russell got past, Stew didn't look as comfortable and on the penultimate lap he dropped back behind a charging Josh Strang.
The Babbitt's Kawasaki Strang rider clearly loves the mud (despite saying "I don't like to think of myself as a mud specialist") and took the chance to show it ain't all lost despite a tough start to his '23 season, taking a solid second place at the finish.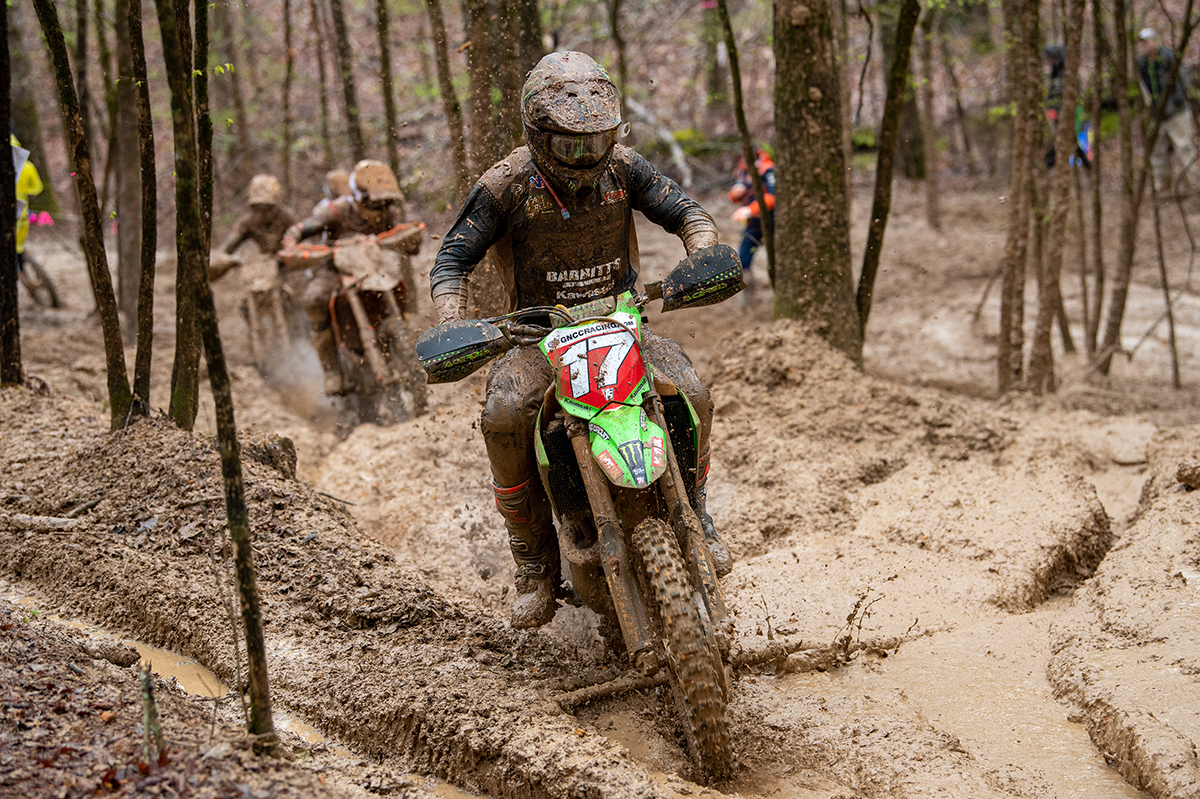 "It was a crazy day, people have compared it to mud races in the past but it felt worse." Explained Strang. "There were tree roots and everything was cut out and second lap I buried it and got behind some XC2 guys and had to work.
Honestly, I didn't know where I was. I thought I was fourth. This doesn't make up for my first two rounds but it helps. It's been a good race to get things back on track."
Points lead for Stew
The interest on the last lap came down to who would claim third spot. Russell's race for the podium came to a sticky halt when a mud hole grabbed the Am Pro Yamaha, which had been riding an overheating, and had to take a DNF.
Chasing down Baylor, the FMF KTM riders Johnny Girroir and Ben Kelley had an otherwise non-descript race and even looked cautious as the team took lengthy pitstops doing regular filter changes, plenty of bike checking and more to be sure of a finish.
Their pace was consistent though and as the race wore on Johnny G moved up to potentially take his first XC1 podium as Baylor looked battered and fell back towards them. Jordan Ashburn was also in there, and Grant Baylor not a million miles away fending off the marauding XC2 250s.
In the end Steward hung on, despite crashes and a bike problem which caused him to lose chunks of time. "I got a decent start and fought hard, but there were a lot of mistakes." Said Steward. "In the last two laps the bike started shutting off and I lost a lot of places. The ribs were hurting like hell but we did what we had to do."
There was also some controversy which Baylor was quick to point out to officials as he crossed the line. "I followed a line pointed out by some spectators and I'm not sure if it was legal or not." But the results stood and GNCC Racing decided no advantage was gained.
Despite leading his teammate for most of the race, Girroir gave up fourth to Kelley in the last miles of the last lap.
Grant Baylor was the last of the XC1 guys to better the 250s in sixth with Angus Riordan, Evan Smith and Cody Barnes pipping Jordan Ashburn for the full top 10.
The General GNCC results: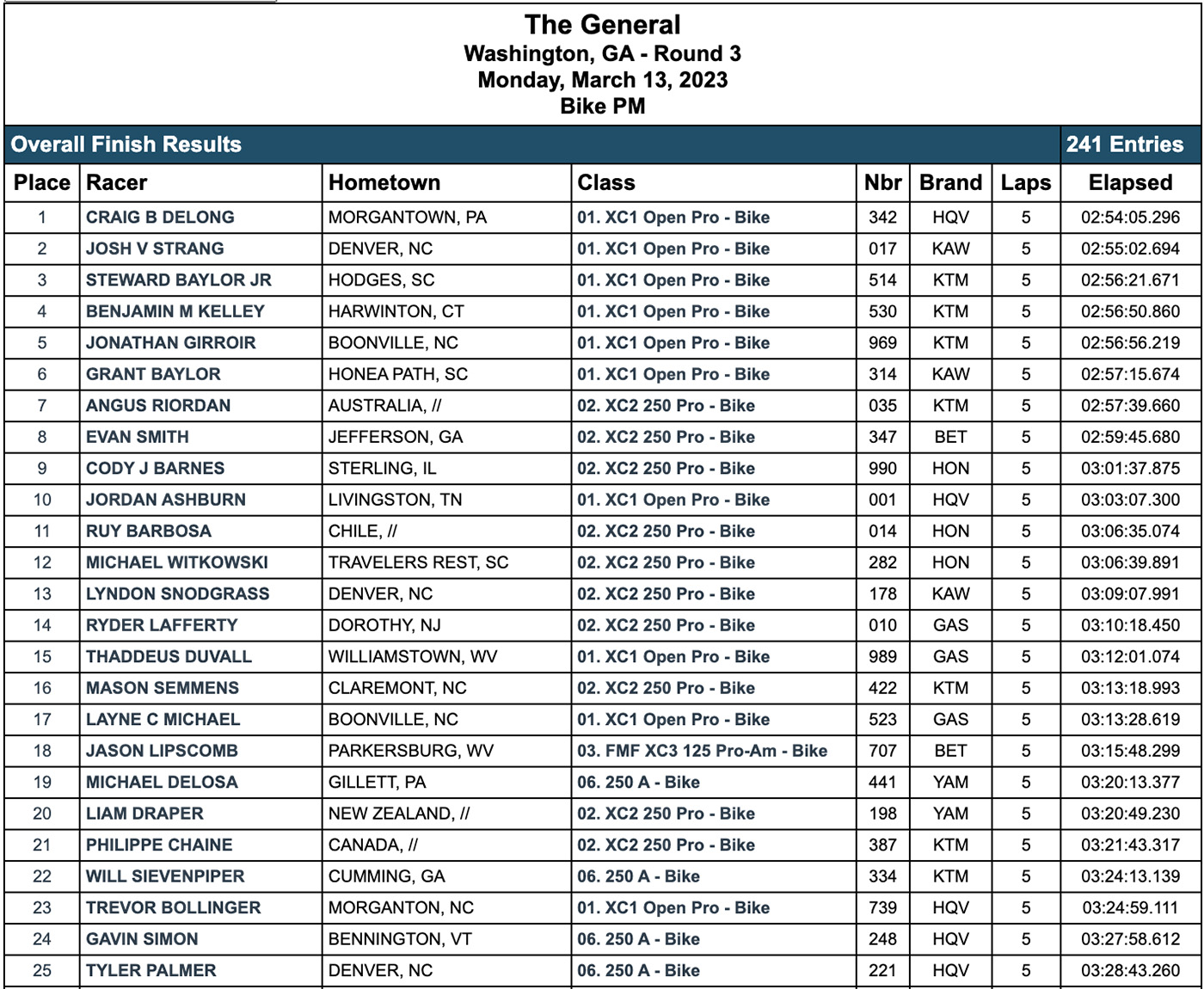 Three races and three winners but as always consistency is key here in the GNCC championship and for once it is Steward Baylor who can say he is the most consistent of riders. Three races and three podiums, including a win at round one, means he sits three points clear of Ben Kelley who in turn is six points ahead of Craig Delong.
2023 GNCC overall points after round 3: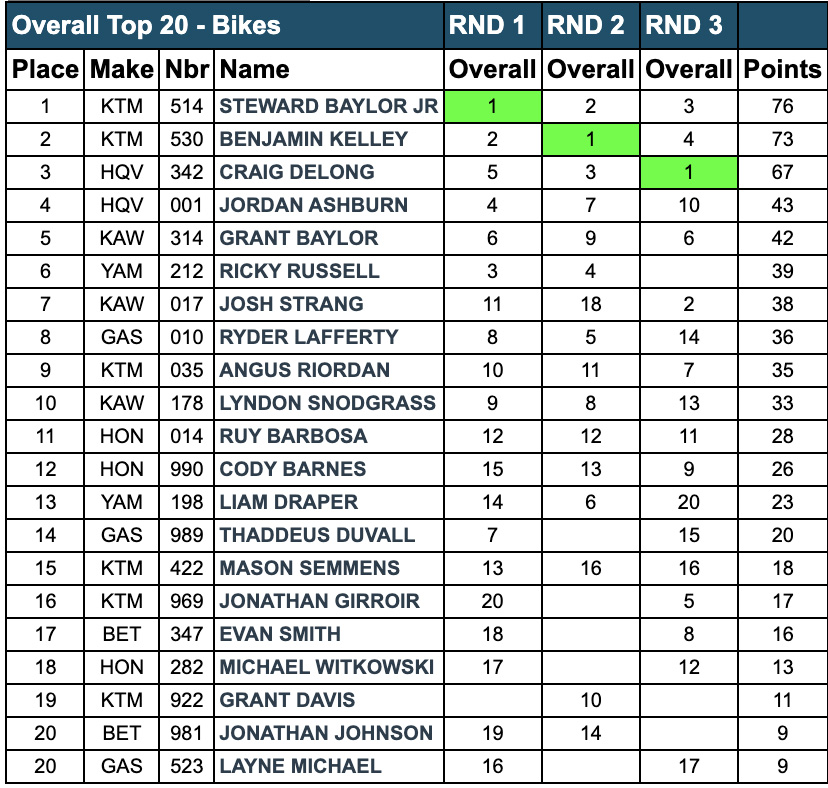 XC2 250
The horrible conditions meant the second row bikes, lighter and less powerful, gained the upper hand at the General with Beta boys Evan Smith and Jonathan Johnson making a name for themselves by going one-two in the scratch time sheets in the early laps.
As the race progressed the big bikes broke away with the latest Aussie to claim top spot on a GNCC podium Gus Riordan taking the XC2 250 win.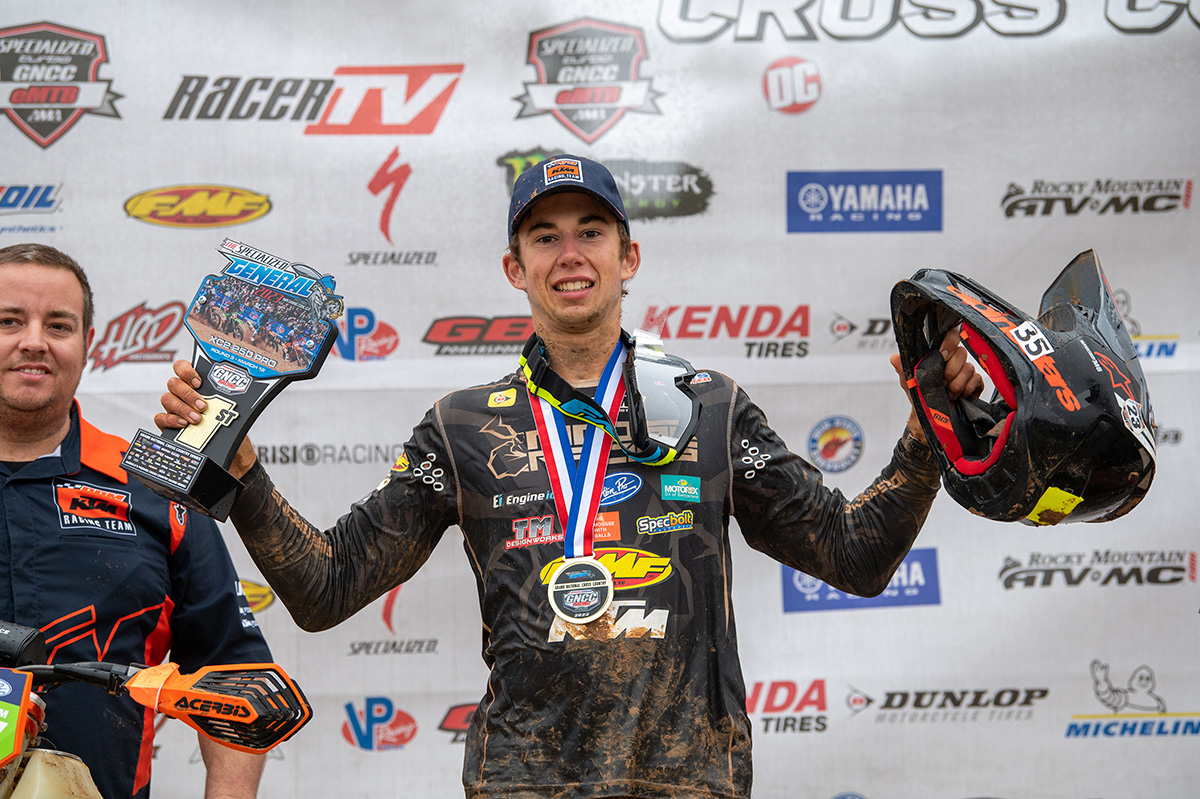 "I'm over the moon." Said Riordan who, like Strang, hauled it in the last laps to finish two minutes clear of second in class. "I didn't know what position I was in and on the last lap just tried to get through the lap and not fall in to any mud holes. This is a good confidence boost for the mud because the last time I raced the mud I sucked!"
The bloke in second place was Evan Smith who hung on to give Beta a podium reward ahead of Cody Barnes with last year's champion Lyndon Snodgrass and points leader Ryder Lafferty down in 13th and 14th overall respectively.
After two wins Lafferty still leads the XC2 250 points on 74, seven points clear of Riordan and with Snodgrass third on 61.
Epic WXC fight between Archer and Gutish
Conor Potts might have won the AM race on Sunday but the fight for the Women's class honours, and second and third overall, was where the action was at.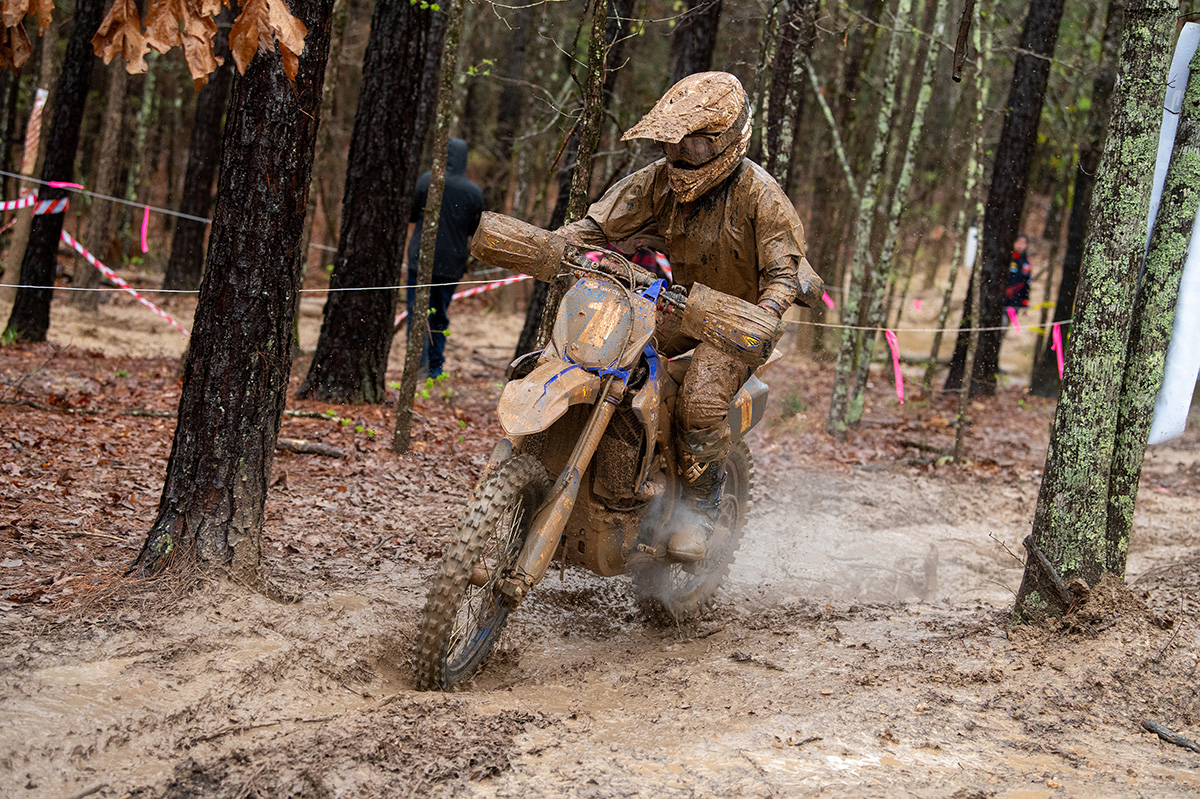 Rachel Gutish took the lead on lap one and for the first two laps of the race, but AmPro Yamaha's Rachael Archer inched closer as the laps wore on and it all came down to the final metres. Archer had the lead but deep ruts full of water were horrendous and Archer got sideways and tipped over, allowing Gutish to almost ride over Rachel for the win.
In the end is was just three seconds which separated them with Archer the winner. Points leader Korie Steede came in third to complete the podium but was three minutes adrift at the flag.
The General Sunday AM bike race results: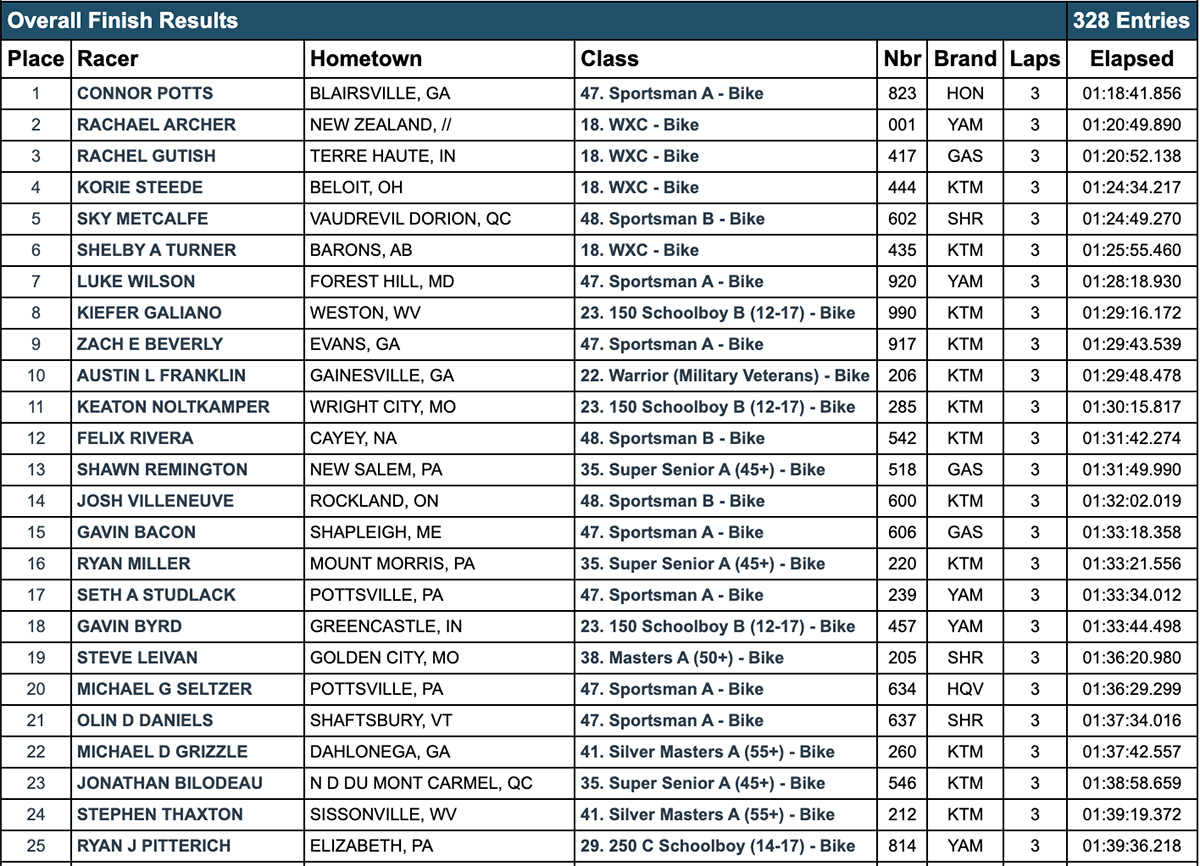 Photo Credit: Mack Faint + Ken Hill