GNCC results: Six rounds, six wins as Girroir takes maiden XC1 victory
KTM 1-2-3 on the Hoosier GNCC podium as Johnny Girroir takes maiden overall victory ahead of Steward Baylor and Ben Kelley.
If we're honest, since stepping up to the FMF Red Bull KTM Racing team and onto the bigger bike, Johnny Girroir's results in GNCC haven't what we'd expected. In other series, notably the US Sprint Enduros where he has just taken the championship title, he has been on fire. But in the longer XC races it looked like the big bikes were taking the former 250 class champ longer to get to grips with. Until now.
Magna1 Motorsports Husqvarna's Jordan Ashburn took the holeshot and battled with Rocky Mountain ATV MC, Tely Energy KTM's Steward Baylor for the first few laps as rider got to grips with the mud conditions. Sadly for the '22 champ, Ashburn was forced out with a mechanical on lap four.
The maiden XC1 Pro class win then came in mud conditions at the Hoosier GNCC at the Ironman Raceway. A mid-pack start saw Girroir make steady progress through the race on the 350 XC-F before taking the lead on lap seven.
Girroir stretched a 17.261-second margin to secure his maiden XC1 Open Pro class win: "It feels incredible! I've had an uphill battle through the whole year with taking hit after hit, so this feels well overdue and I'm just so happy. The lines here were changing every lap, I got stuck a couple of times, but yeah just changed up my lines every lap and I'm so happy to come away with this win on such a gnarly day of racing."
One of the most physically demanding tracks says Baylor...
Steward Baylor can look on second in tough conditions as a good result after mixed his run of results this season. Battling with Ashburn, then Girroir and Kelley he held on for P2 overall ahead of the feisty XC2 250 boys Mike Witkowski and Liam Draper who raced to third and fourth overall on the day.
2021 champion and points leader Ben Kelley Kelley say he made too many mistakes to challenge for the overall and had to rely on a mid-race recharge to grab third in XC1, and fifth overall ahead of championship rival Craig Delong on the Rockstar Husqvarna.
Hoosier GNCC results: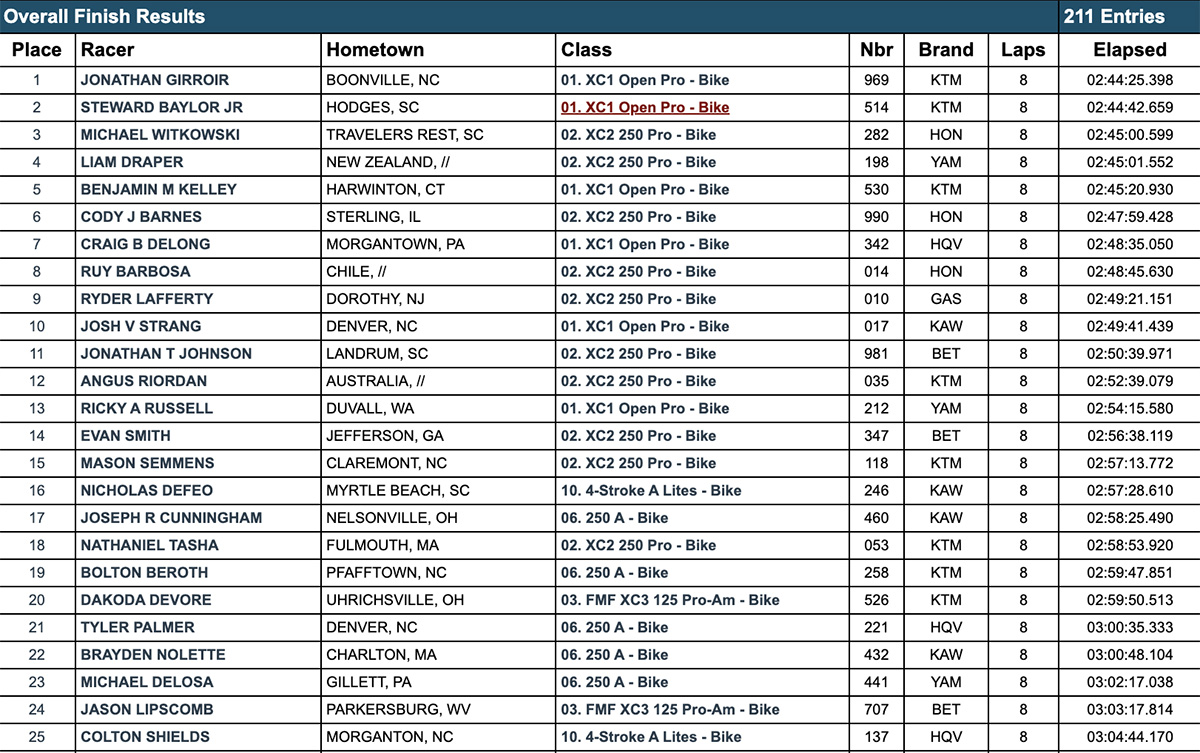 Championship points after round six
The championship remains tight with all the different winners and results this season. Ben Kelley leads on 129 with Craig Delong second on 124 and Stew Baylor third on 123.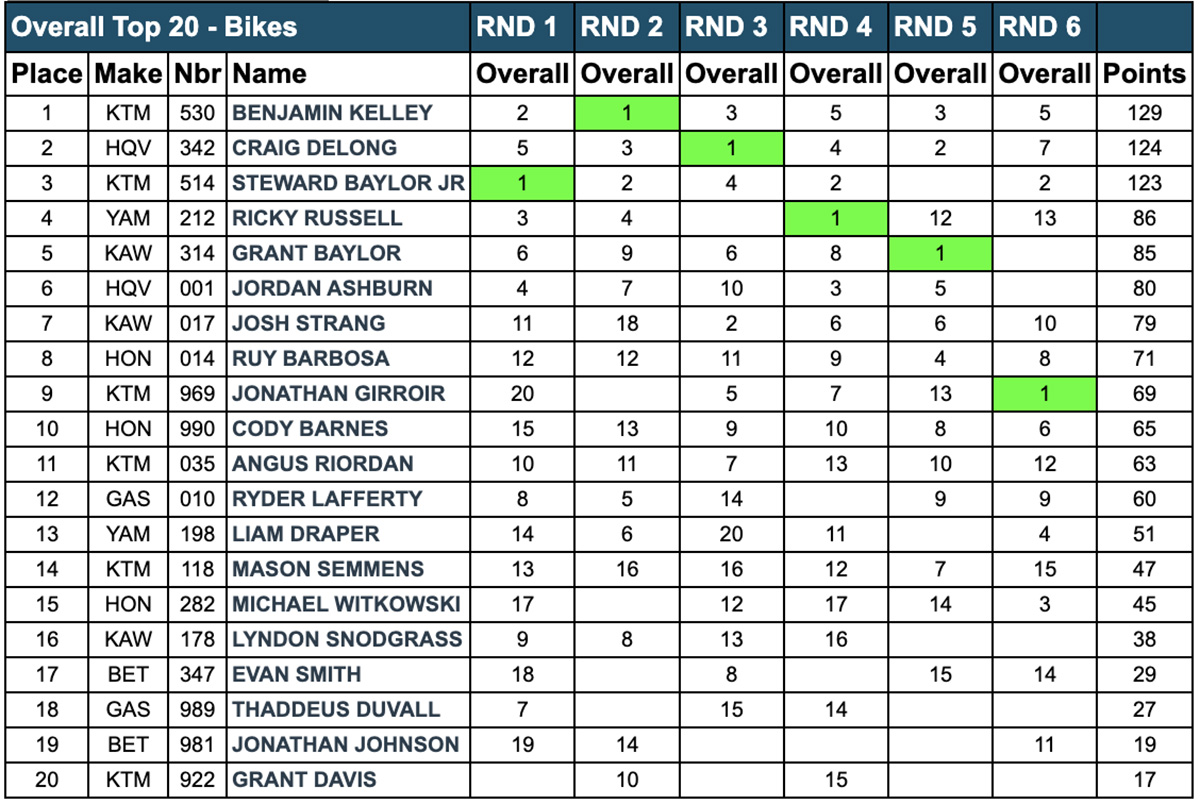 Less than a second separate XC2 result
Michael Witkowski finally took a victory on the Phoenix Racing Honda btu it was just about as close as it gets at the flag. Both Witkowski and AmPro Yamaha's Liam Draper were quickly to the front off the start and picking off XC1 riders in their race within the race.
Draper held the lead for the majority of the race but got caught out by a lapper on the final lap, Witkowski took his chance and then held off Liam in a rat race to the line with a winning margin of just 0.953 seconds.
Phoenix Racing Honda had a good day at the office with Cody Barnes completing the XC2 podium.
Look again at this picture, Rachel Archer really is in there…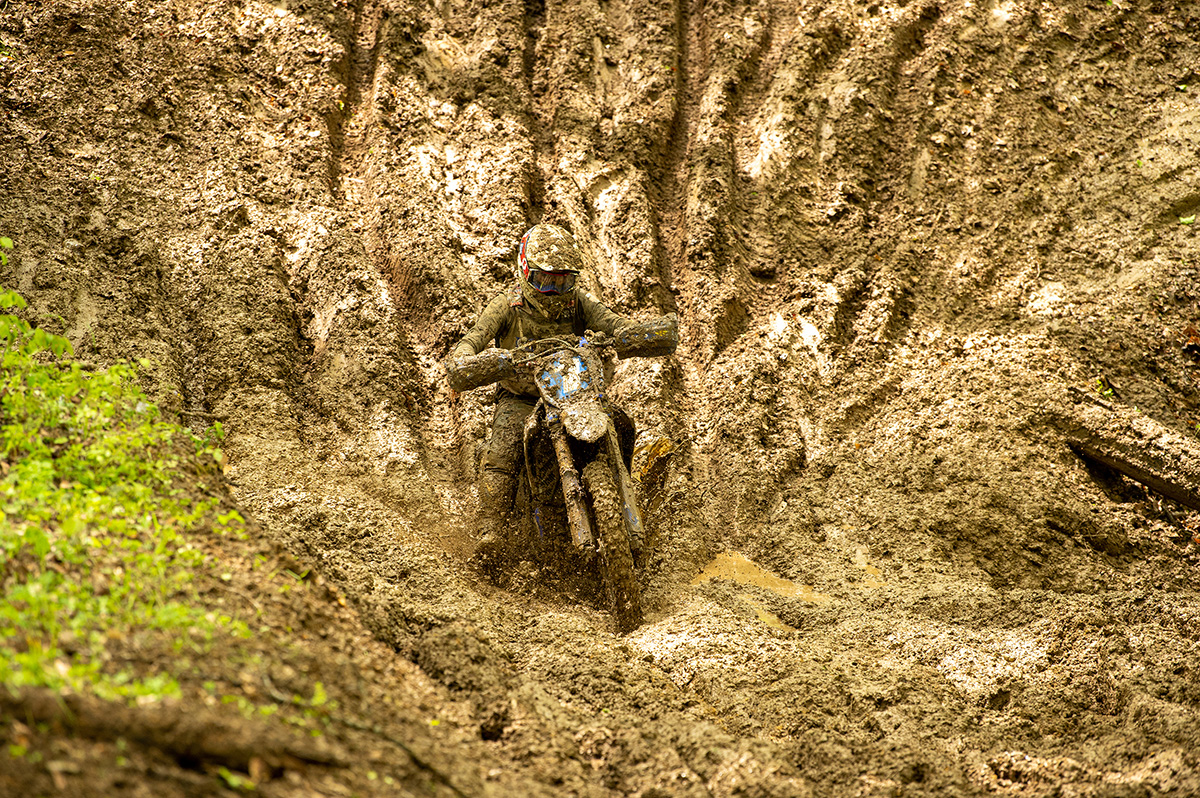 Conditions were less than ideal, you could say, for the AM race at the Hoosier. The overnight rain caused havoc and it was the early race which got the worst of it.
When the going gets tough, the tough get going and all that and Archer was quickly around holeshot winner Korie Steede lap one. There was never any doubt about the winner in the conditions with Archer crossing the line six minutes clear of Steed in second with Rachel Gutish retiring with a mechanical allowing Kayla O'Neill through for her first ever WXC podium.
AM race results: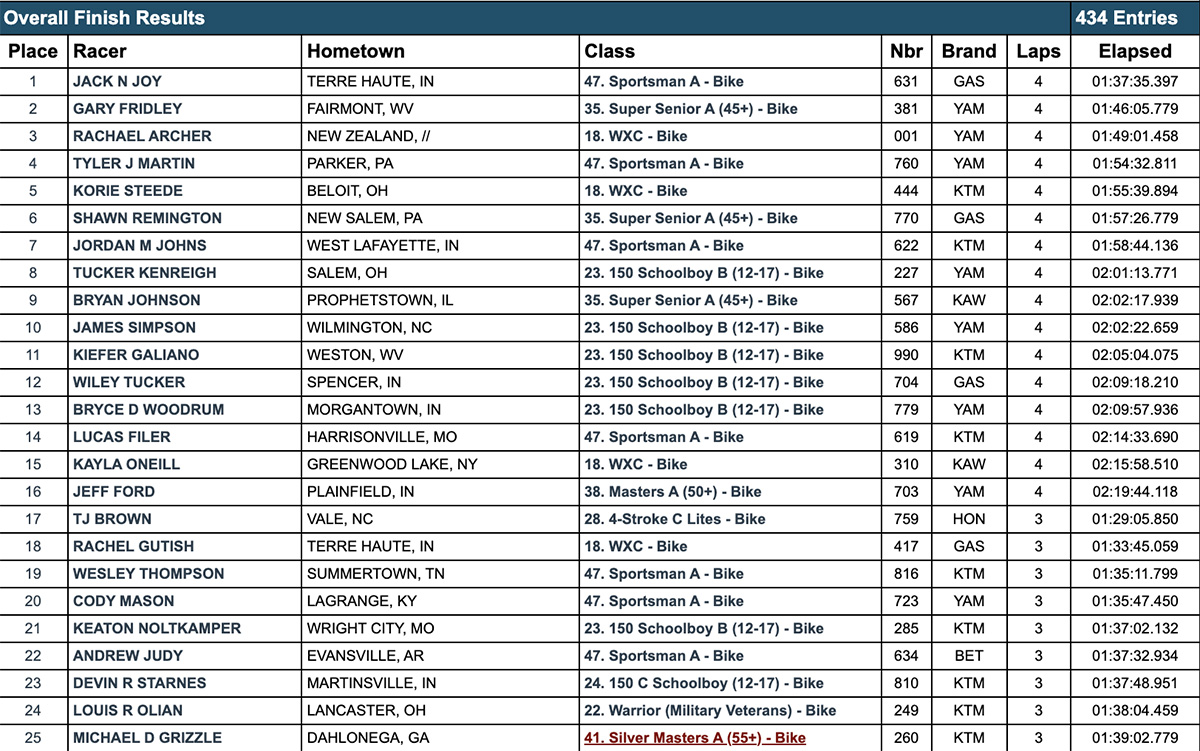 Photo Credit: Mack Faint + Ken Hill