2021Tennessee Knockout: Billy Bolt takes the win
Rockstar Energy Husqvarna rider Billy Bolt has produced another perfect weekend at round five of the FIM World Hard Enduro Championship, claiming the win (his second of the series) at the Red Bull Tennessee Knockout Extreme Enduro.
2021 Red Bull Tennessee Knockout in a nutshell:
Sunday's racing at the TKO was divided into a hot lap, two knockout races, one LCQ and the Final Knockout, which totalled more than two hours of intense racing.
Mani Lettenbichler took first blood with a time of 6:06.110 in the Hot lap qualification, nearly two seconds faster than Billy Bolt and 4.5 seconds ahead of Trystan Hart.
From there on all the racing belonged to one man, Billy Bolt. The Rockstar Energy Husqvarna Factory rider made it clear that he wanted to bring the TKO win home when he bagged the first knockout race – Mani and Trystan finished second and third.
For the second Knockout it was the same story, Bolt pulled away from the field and ended up with a near 40 second advantage over the second placed rider, Trystan Hart. Mario Roman finished third.
In the winner takes all Final Knockout Billy battled Lettenbichler, who got the holeshot, battled with his British rival, took the lead and then fell on the final lap. Securing the win, Billy wrapped-up his US trip by grabbing the maximum number of championship points. Just one-point separates the two riders at the top of the series standings.
"It was intense, but I never gave up." Said Billy at the finish. "I thought I lost it when Mani when by, but I was able to close back to got ahead of him, then he got back the lead and then I got it again, all in the last lap! This is a crazy sport, it just shows that you can give up until the end."
Lettenbichler put on a great fight with Bolt in the final as they exchanged the lead multiple times in the last lap but in the end the win just slipped through his fingers, by just 2.34 seconds. Despite that the KTM rider still holds the upper hand in the championship, by a slender one point.
Third place, and best North American, went to Trystan Hart after finishing nearly a minute down on Bolt. The Canadian was consistently on the podium during the whole day but the European riders shifted up a gear early on in the final, getting the better of him.
Wade Young and Mario Roman did as in Romaniacs and finished one behind the other, but this time in fourth and fifth.
How was your weekend? Enduro Wurx (with the help of Seat Time and Aaron Monroe) interview the Pro riders – including Bolt, Lettenbichler, Hart, Webb, Walker, Young – to download their TKO weekend.
2021 Tennessee Knockout results: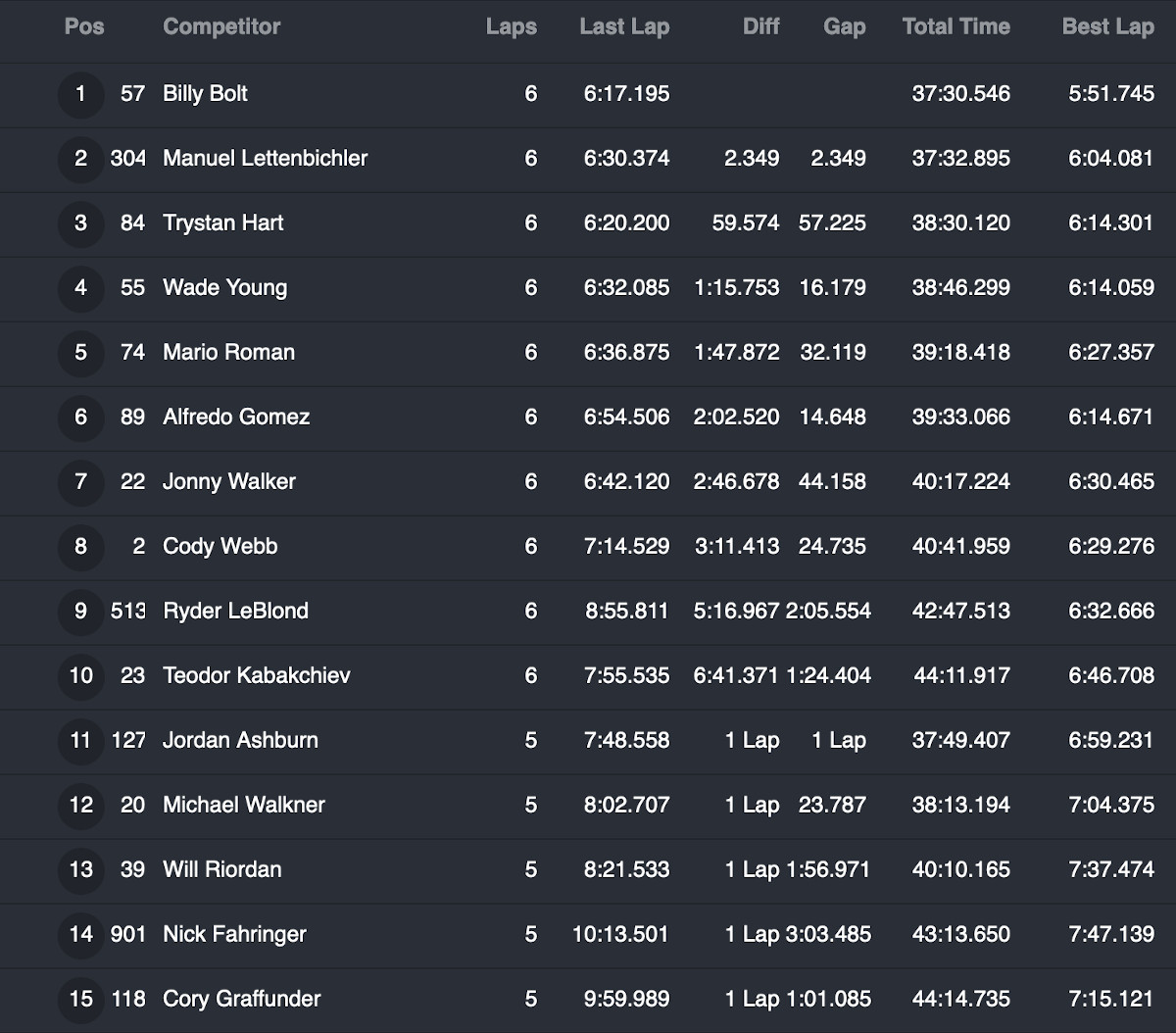 Photo Credit: Andrea Belluschi | Enduro21