2023 Erzbergrodeo entry list revealed – Iron Giant welcomes HEWC elite, Kailub Russell and a 67-year-old on a 120hp "250"
Organiser have revealed 1300 riders entered for the 2023 Red Bull Erzbergrodeo, round two of the FIM Hard Enduro World Championship on June 8-11. HEWC elite fit and ready alongside GNCC G.O.A.T. Kailub Russell, Pol Tarres on his Tenere and a 67-year-old riding a 120hp SX 250 (pictures or it didn't happen, right?)…
Red Bull Erzbergrodeo race promotor Karl Katoch says he is happy to see a massive list of top riders ready to claim one of the biggest prizes in enduro for the 27th edition next month.
The Red Bull Erzbergrodeo's 2023 starting grid looks like the who's-who of the international extreme enduro scene with thankfully a full cast of riders fit and raring to go this year. For the first time in what feels like a age, the current crop of Hard Enduro World Championship elite athletes are all there and taking on the challenge of the "Iron Giant".
At the end of April, the entry list tops 1300 riders from 50 nations and all continents registered for the Red Bull Erzbergrodeo 2023.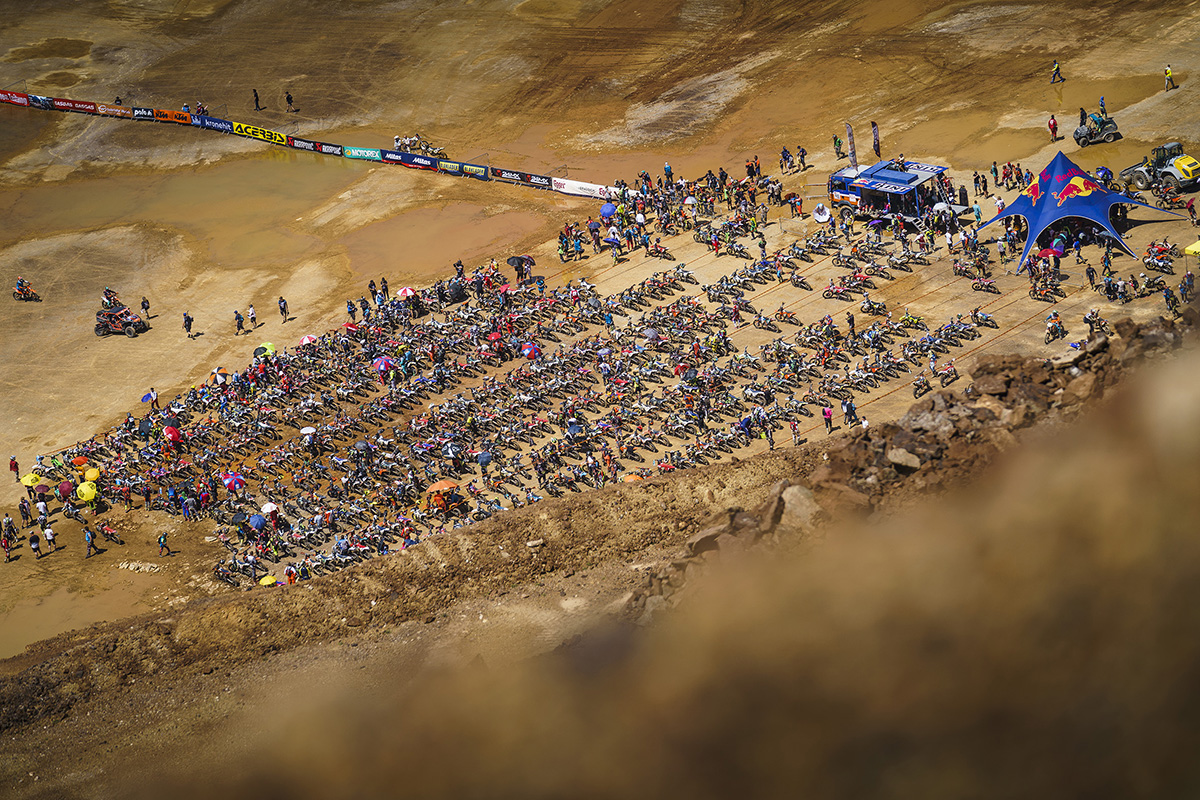 Mani defending the title
The Red Bull KTM Factory team needs no introduction with defending Erzberg and Hard Enduro World Champion Manuel Lettenbichler one of the favourites starting this year. The 25-year-old had a dramatic route to the title in '22 but there was no doubt he was hugely impressive in conquering the Iron Giant.
To say Lettenbichler faces massive competition would be an understatement not least from his own KTM team with Canadian Trystan Hart under the orange awning once again. Hart placed third in last year's Erzberg and has been in impressive form in the US Hard Enduro series this year.
Will Riordan will also add to KTMs factory efforts and carry the flag for Australia, another nation overdue a podium at least on the Iron Giant.
2022 official finishers roll-call...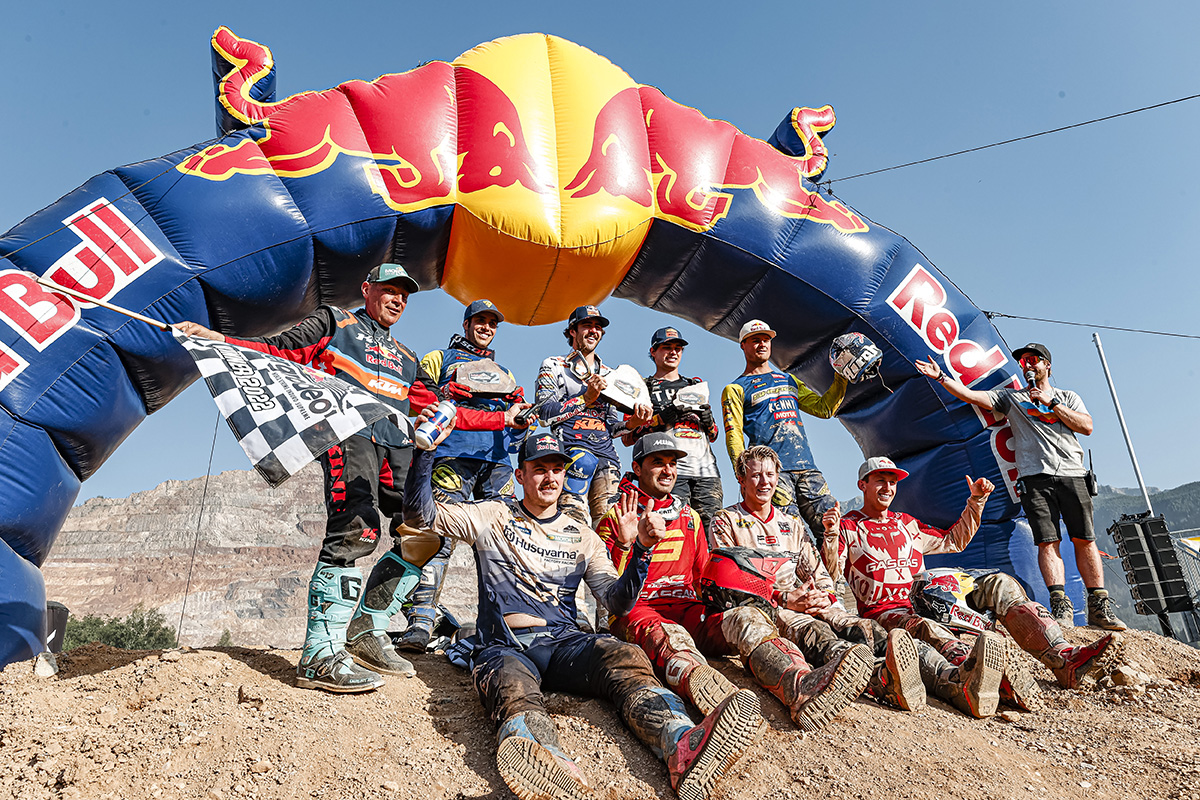 About time one of these guys won?
Sherco Factory Racing will field 2022 runner-up Mario Roman, Wade Young, Cody Webb and Cooper Abbott strengthening the French manufacturer's efforts for the podium places and the fight against the factory Austrian teams.
Roman was runner up last year and came closest to toppling Lettenbichler with young also a multiple podium finisher. Cody Webb has also secured two podium finishes at Red Bull Erzbergrodeo and is overdue becoming the first US rider on top of the box at this coveted race.
Come on Billy
Husqvarna Factory Racing's main man Billy Bolt might have dominated the FIM Hard Enduro World Championship in 2021 but Erzberg is one of the major events he hasn't won. It was the last round Bolt contested in 2022 before pulling out of the season with a wrist injury too.
Now fit and back to full form following a third-successive SuperEnduro World Championship, Billy will surely be wanting to add the race where he made his international impact to his growing CV.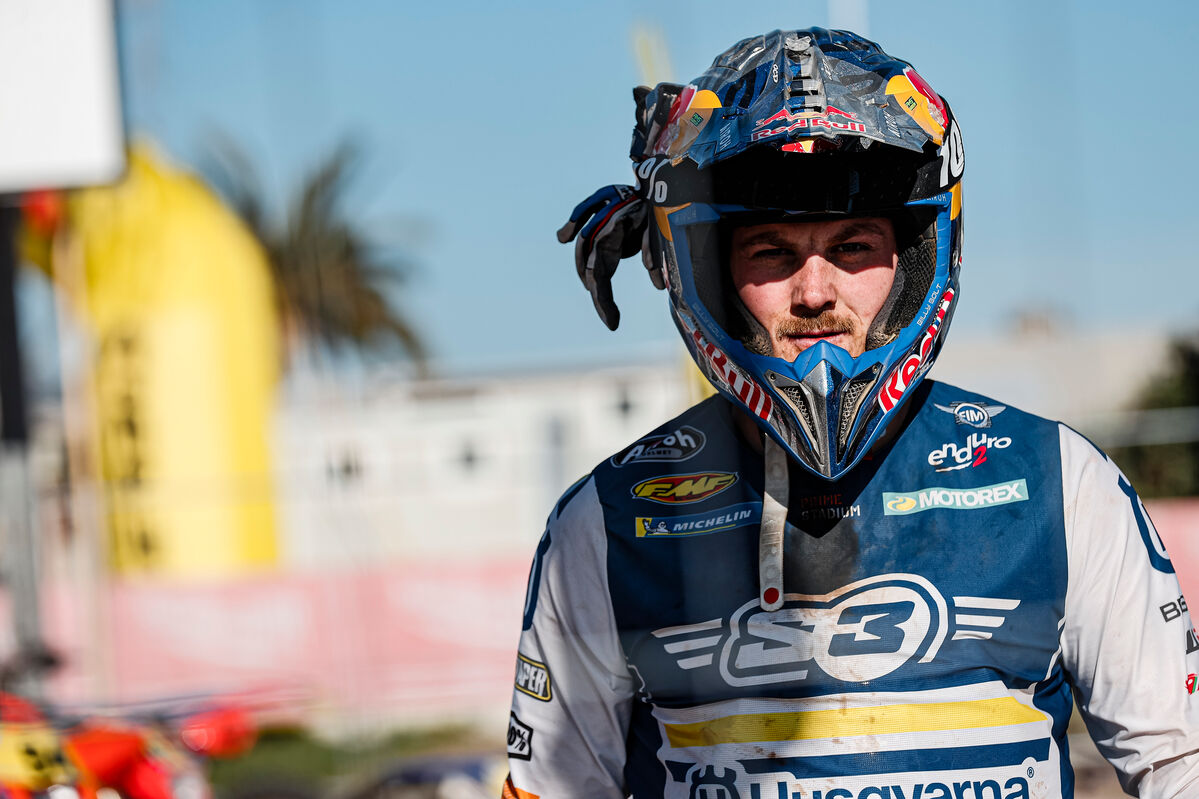 Colton Haaker will join Bolt alongside fellow Husqvarna USA team rider, 21-year-old Ryder LeBlond who has shown podium form in the 2023 US Hard Enduro series.
Graham Jarvis back for revenge
"At 48-years of age, Graham could win for the sixth time" say the organisers, to which plenty will cry he already could have done if he hadn't been disqualified!
The GOAT of Hard Enduro already secured his place in history at this event and, barring outside intervention again, will have a lot of eyes on him this year as he comes back for revenge.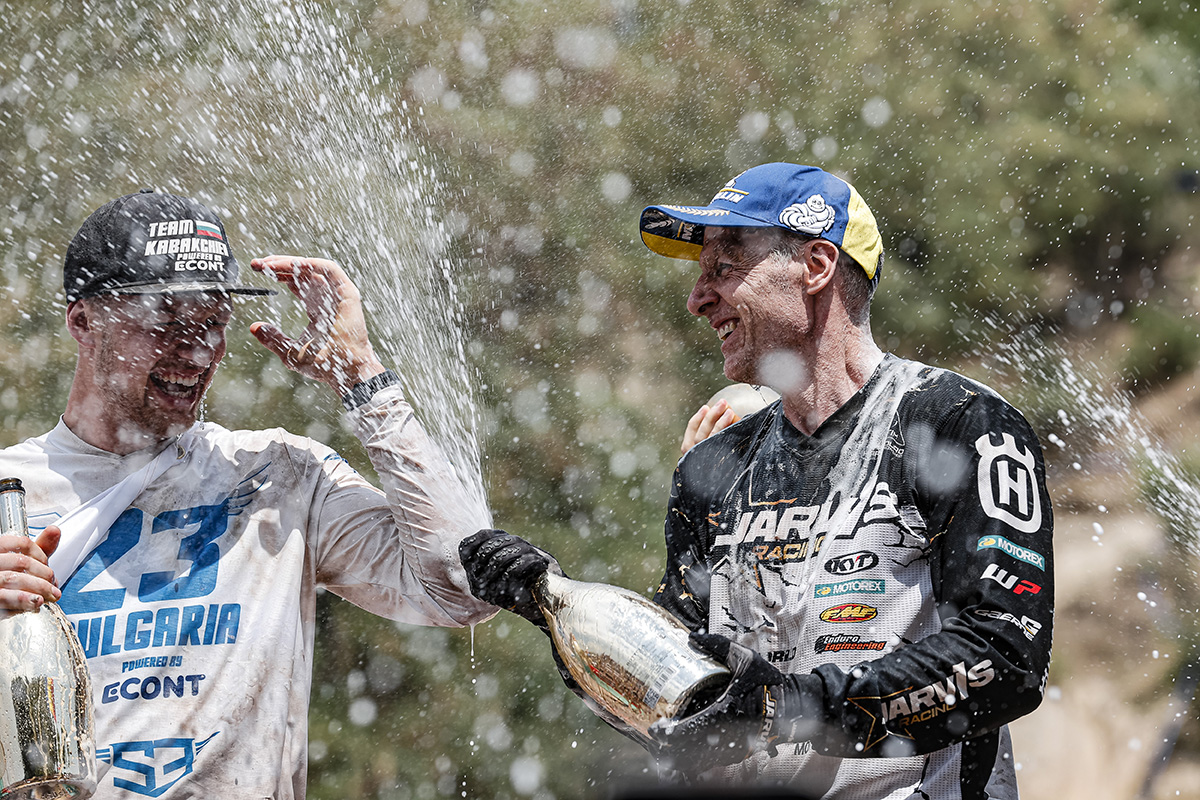 Former winners…who else is on that list?
Beta and Rieju will look to their riders Jonny Walker and Alfredo Gomez, a three and two-times Red Bull Erzbergrodeo winner respectively, to claim their first victories as manufacturers.
GASGAS Factory Racing have five-times Erzbergrodeo winner Taddy Blazusiak on the cards once again too. Taddy has officially opted out of the full championship but still ticked this one on his 2023 'to do' list.
Michael Walkner shone brightly in the early stages of the '22 Erzbergrodeo hare scramble main race, hounding Lettenbichler before fading to sixth.
Young guns ready to storm the giant?
Matthew Green, Mitch Brightmore, Teodor Kabakchiev, Dominik Olszowy, Suff Sella, David Cyprian and Will Hoare…that's the multinational list of young riders aiming higher at this year's Erzberg.
With the newly formed FIM Hard Enduro Junior World Cup, the "young guns" have their own World Championship in 2023 and the battle within the race should be fascinating to watch.
Other bikes and riders to watch – a 120hp SX 250?!
GOAT number two in teh 2023 Erzberg, the GNCC GOAT Kailub Russell, turned heads with his Iron Road Prologue winning result last year. The US KTM legend set the fastest time in the sprint climb up the mountain ahead of admittedly struggling through the main Sunday Hare Scramble but KR is back for more (and more refreshments in the beer tent Kailub?).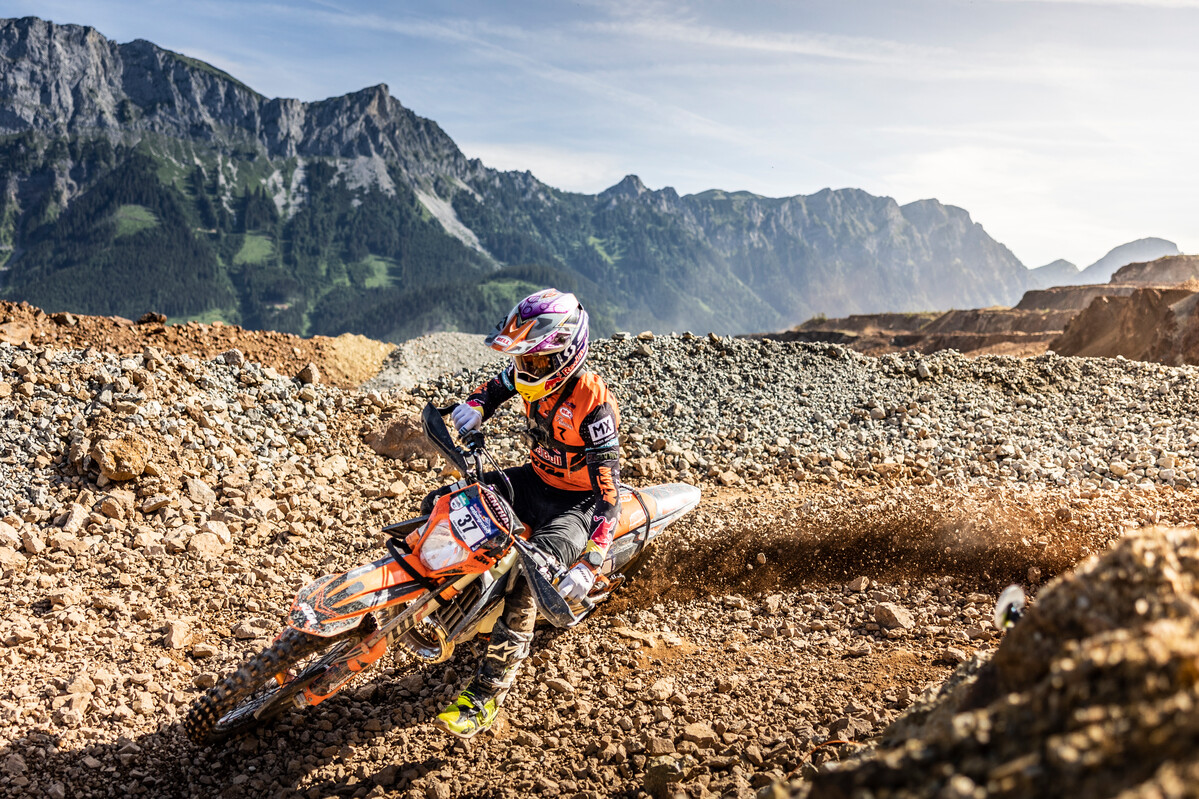 A KTM 250 SX-F with the 120-hp twin-cylinder engine
Spaniard Pol Tarres is back on a big bike for the second time – riding the Yamaha Tenere (celebrating its 40-year anniversary) adventure bike in all competitions across the extended weekend at Erzberg.
Lyndon Poskitt is back for more too but this time on the Motorex Husqvarna 300 two-stroke not his rally machine.
The prologue at Erzberg is one of the spectacles in off-road sport attracting elite riders, amateurs by the thousand. It can also be relied upon for a healthy amount of bikes which shouldn't really be there – scooters, mopeds, rally bikes and street bikes.
Czech off-roader Jiri Hejnik might be 67-years old but will attack the Blakläder Iron Road Prolog with a unique KTM-build: a KTM 250 SX-F with the 120-hp twin-cylinder engine of a KTM 890R Adventure engine shoe-horned in.
Jiris sensational custom build offroad racer will be one of the top contenders in the Red Bull Erzbergrodeo Twin-Cylinder Class.
Full rider list can be viewed here by name.
Erzbergrodeo is round two of the 2023 FIM Hard Enduro World Championship on June 8-11. More information: www.redbullerzbergrodeo.com
Photo Credit: Future7Media + Matt Musgrove + Red Bull