First Look: 2020 KTM EXC model range – world launch details revealed
KTM launches the 2020 EXC Enduro range with updates to the big four stroke engines, a new fuel injected 150cc TPI and a Limited Edition, Erzbergrodeo 300 EXC TPI as the highlights.

KTM's 2020 EXC range has a refined look to it as we run through the details emerging from the world press introduction at Bassella, Northern Spain.
The 2020 Enduro range arrives on the back of KTM's MX models upgrades in 2019 and we are also two years down the line now with the fuel injected TPI two-stroke 250 and 300 EXC machines so equally anticipation is high for some significant changes to the new bikes.
Seven model line-up for 2020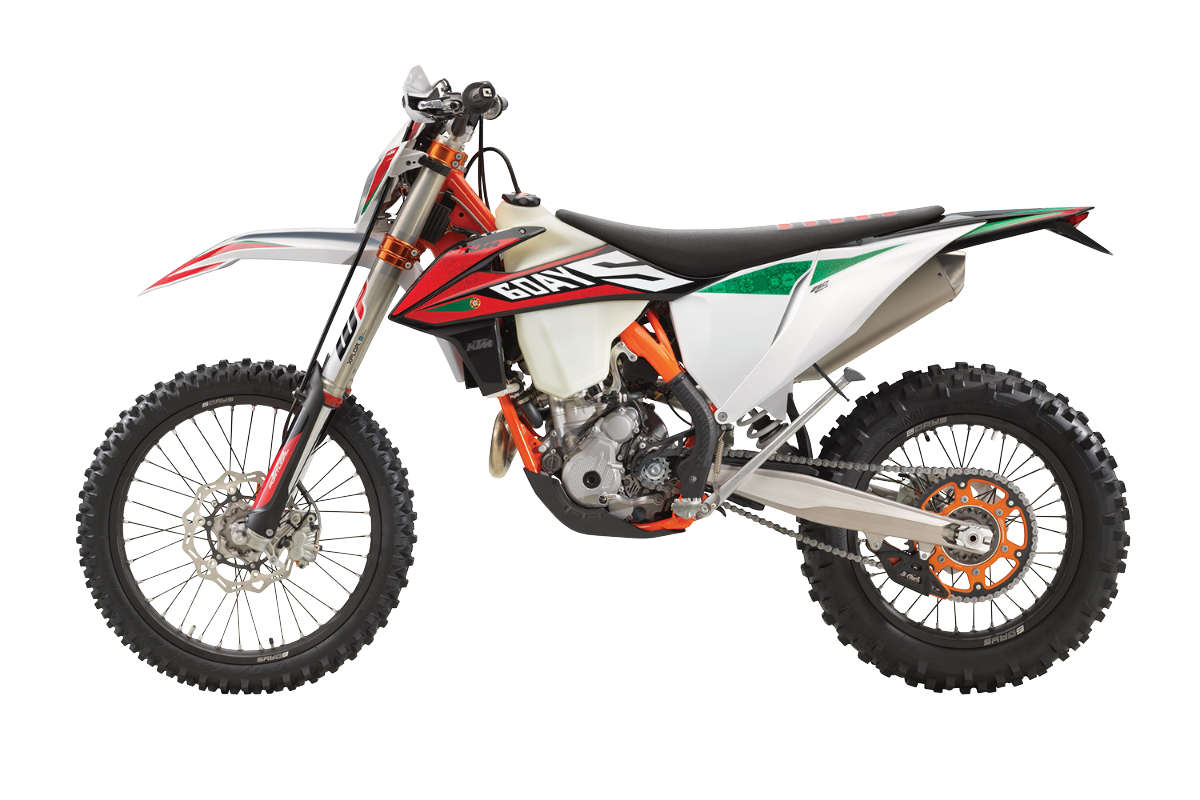 The biggest news at the outset is the 2020 line-up will include the new KTM 150 EXC TPI, which is homologated for Euro 4. The 150 joins the 250 EXC TPI and 300 EXC TPI two-strokes, as well as the 250 EXC-F, 350 EXC-F, 450 EXC-F and KTM 500 EXC-F four strokes to complete the KTM enduro range.
The 2020 EXC range extends again to the SIX DAYS models along with a new, limited-edition, KTM 300 EXC TPI Erzbergrodeo edition with a production run of 500 units and with a premium list of PowerParts fitted.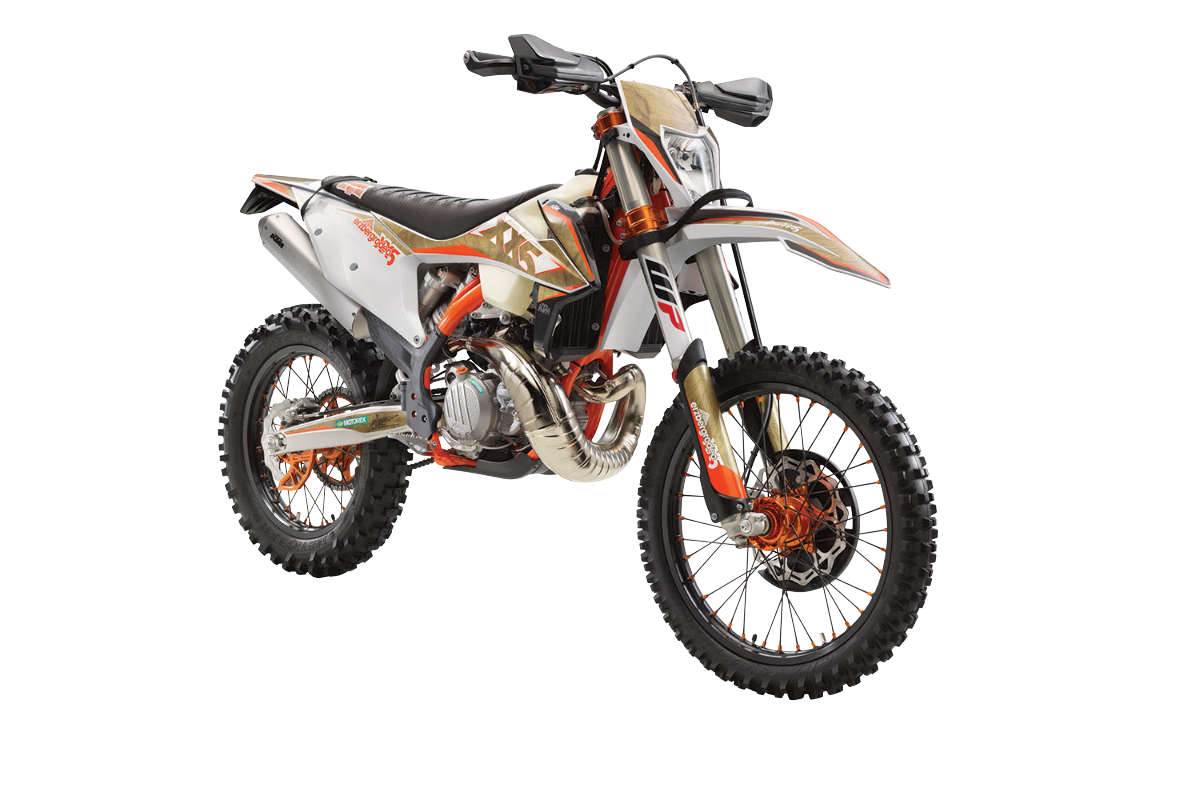 2020 KTM EXC model updates details:
More efficient, high-performing two-stroke engines including a new ambient air pressure sensor enabling the ECU to adapt the injection parameters to air pressure
250/300 EXC 2T engines pivoted by one degree for improved front-end feel
New frame design for more torsional stiffness
Big capacity four stroke engines upgraded for power, efficiency and re-positioned centre of gravity
New, mid-valve piston in the WP forks to improve damping, plus new upper fork caps with new clicker adjusters
New bodywork and graphics including re-designed, 40mm longer rear subframe
New seat design
New air filter box
New shape fuel tanks
Reworked TPI oil tank with more flexible mountings for enhanced durability
Improved cooling system including 12mm lower radiators
four stroke engines no longer have kickstart or option to fit one as the mechanism is completely removed
All-new exhaust systems, notably the TPI expansion chambers for improved power, strength and reduced noise
Four stroke exhaust header pipes slimmer design because of removed kickstart provision

Fans as standard on 450 and 500 EXC-F models
What's new on the 2020 EXC models – all the details that matter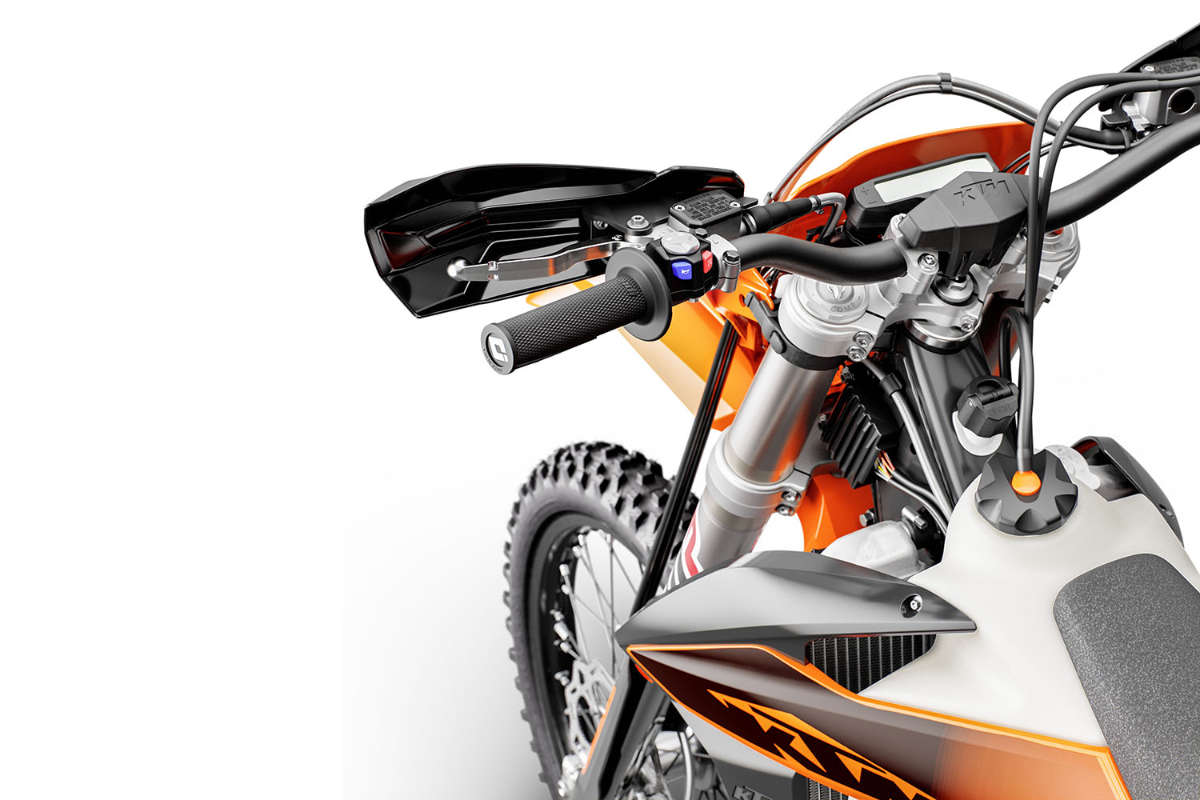 There's plenty to chew over this year across the entire EXC Enduro range. Here are all the major detail changes from 150 to 500cc models…
TPI two-stroke engine changes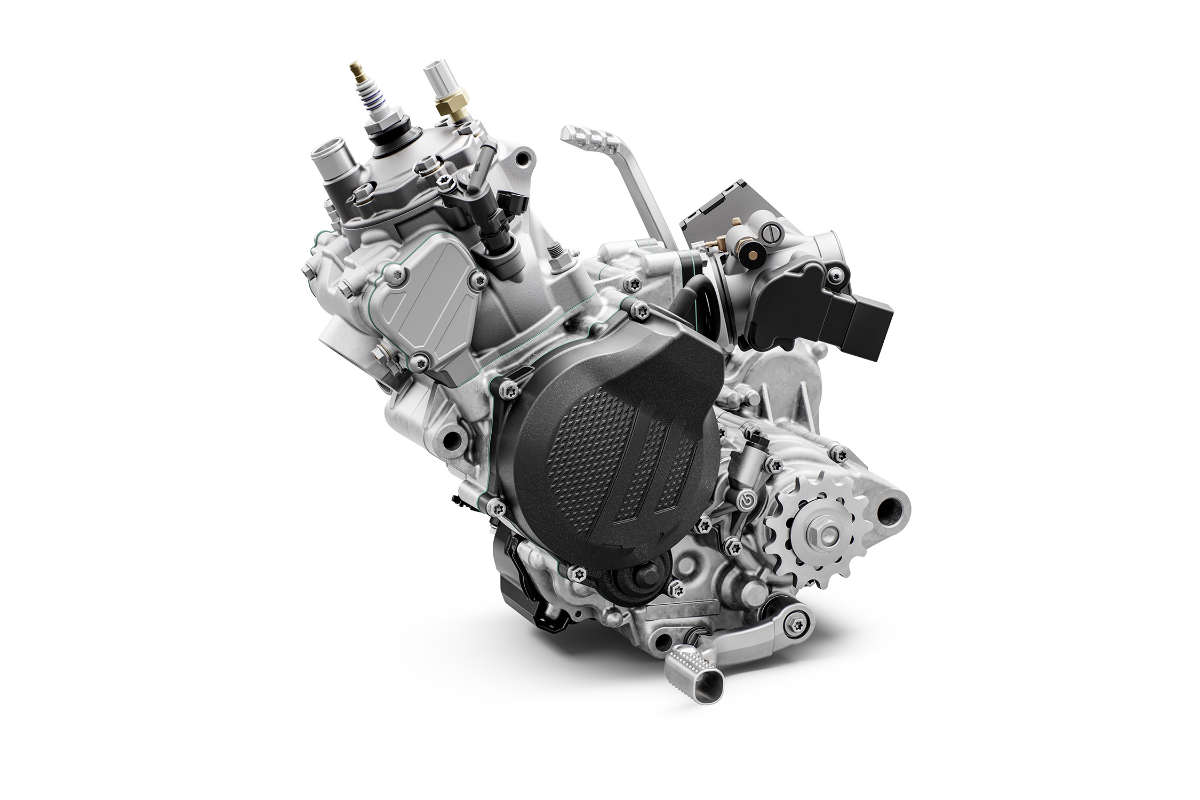 MY2020, the cylinders are upgraded with fully machined exhaust port windows for improved timing precision. At the same time, a reworked exhaust control valve drive and adjuster produce more precise adjustment and increased efficiency.
A reworked idle system allows more precise idle speed setting via the bypass screw. An enhanced cold start system supplies an increased amount of extra air when opening the bypass.
Oil supplied by the electronically controlled oil pump via an oil intake tube is mixed with the incoming air to lubricate moving engine parts.
TPI Engine management system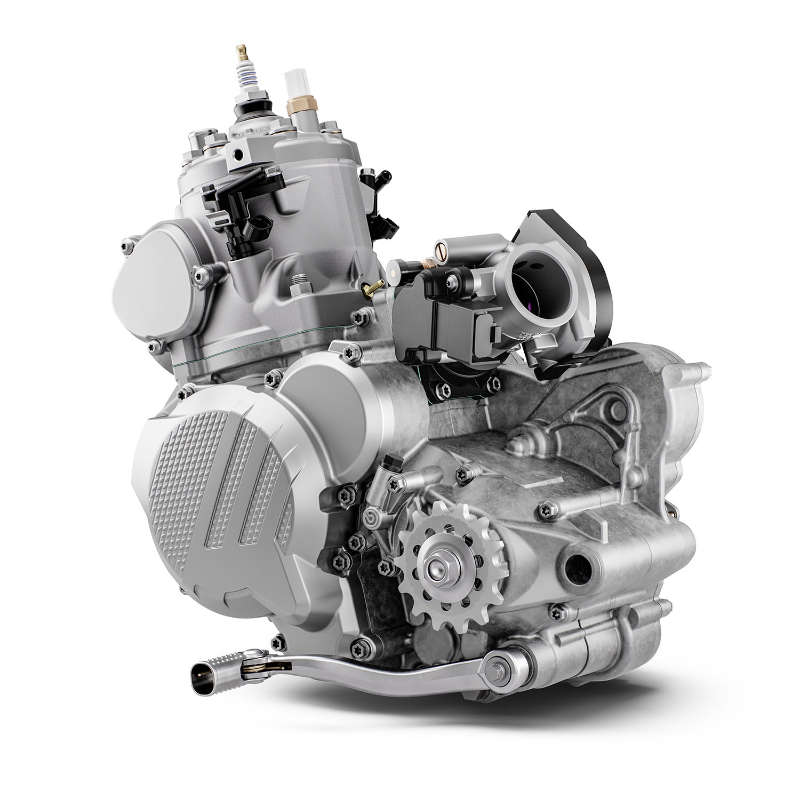 An updated version of the digital engine maps improves performance and power delivery of the 2020 TPI engines and works with new cylinder head and air-intakes.
A new and additional ambient air pressure sensor enables the ECU to adapt the injection parameters to fast changes in altitude.
Four stroke engine changes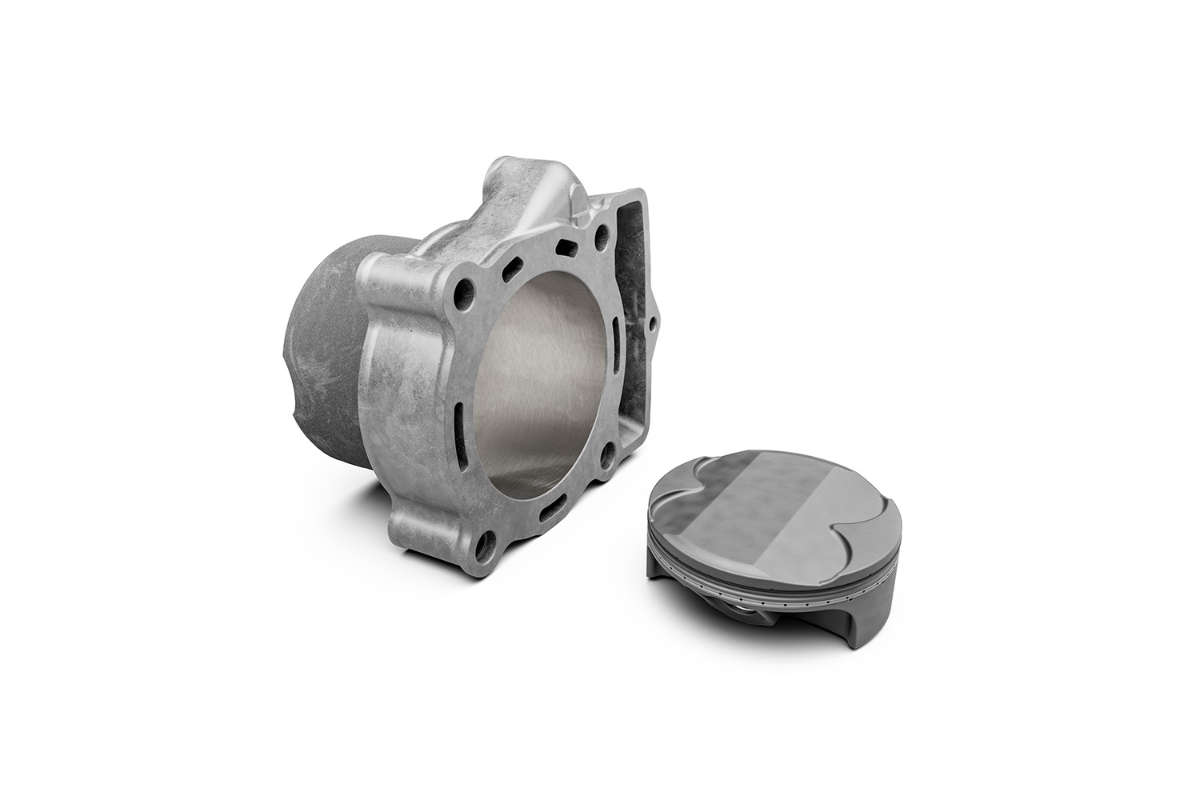 Updates to the 4T engines help deliver improved torque and power across the entire rev-range.
Revving up to a claimed 12,800rpm the MY2020 250 EXC-F remains the baby of the bunch weighing in at 27.9kg, including the e-starter.
The new 250 4T engine features a new cylinder with a 78mm bore carried over from the successful KTM 250 SX-F motocross engine, which, in conjunction with a new cylinder head gasket, raises the compression ratio from 12.8:1 to 13.8:1.
The 350 EXC-F engine has a reworked cylinder head design, saving 200g. New, flow-optimized ports and two overhead camshafts are tuned for enduro specific torque characteristics.
The new head comes with a new cylinder head cover and gasket, a new spark plug and spark plug connector.
The 350's short cylinder with a bore of 88mm features a reworked cooling system and houses a new, forged bridged box-type piston. Its piston crown geometry is matched to the high-compression combustion chamber with a compression ratio raised from 12.3 to 13.5 for increased power.
A reworked oil feed for MY2020 brings enhanced engine durability, with long crankshaft service intervals to save time, effort and cost.
KTM has also updated the camshaft timings for improved performance, while a re-designed exhaust flange connects the header pipe more securely.
Big capacity four stroke engines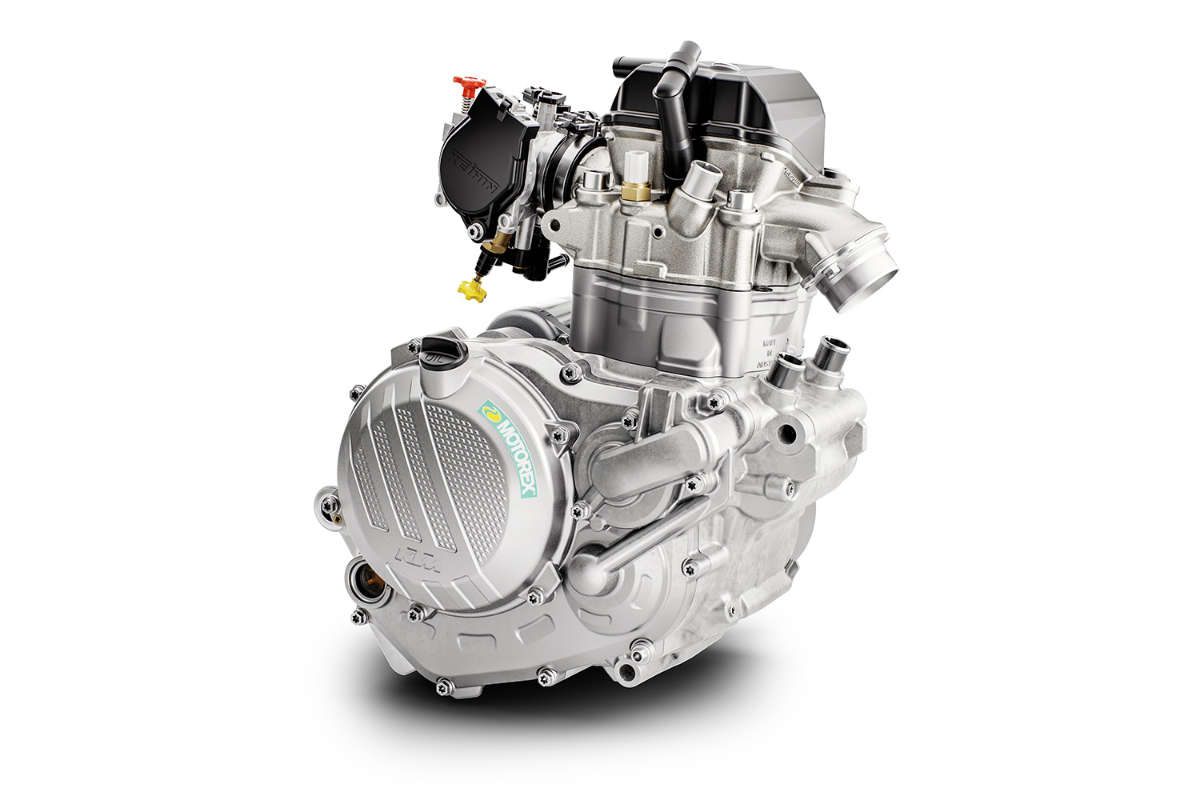 The 2020 KTM 450 and 500 EXC-F engines are fitted with a new, more compact SOHC, 15mm lower and 500g lighter cylinder head.
Re-designed ports are controlled by a new overhead camshaft which is now closer to the centre of gravity to improve handling. An improved axial mount for the decompressor shaft means more reliable starting and a new, more efficient integrated engine breather system reduces oil losses.
New, 40mm titanium intake valves and 33mm steel exhaust valves are shorter and matched to the new head design. They are activated via rocker arms that have a more rigid design with reduced inertia, guaranteeing more consistent performance across the power range.
A shorter timing chain and new chain guides contribute to a reduction in weight and low friction, while a new spark plug increases combustion efficiency.
The short cylinder with a 95mm bore houses a new, lightweight box-in-box type piston made by König that, in conjunction with a 10% lighter piston pin, improves performance, lowers vibrations and engine speed strength. The compression ratio is also increased from 11.7:1 to 12.75:1.
2020 frame changes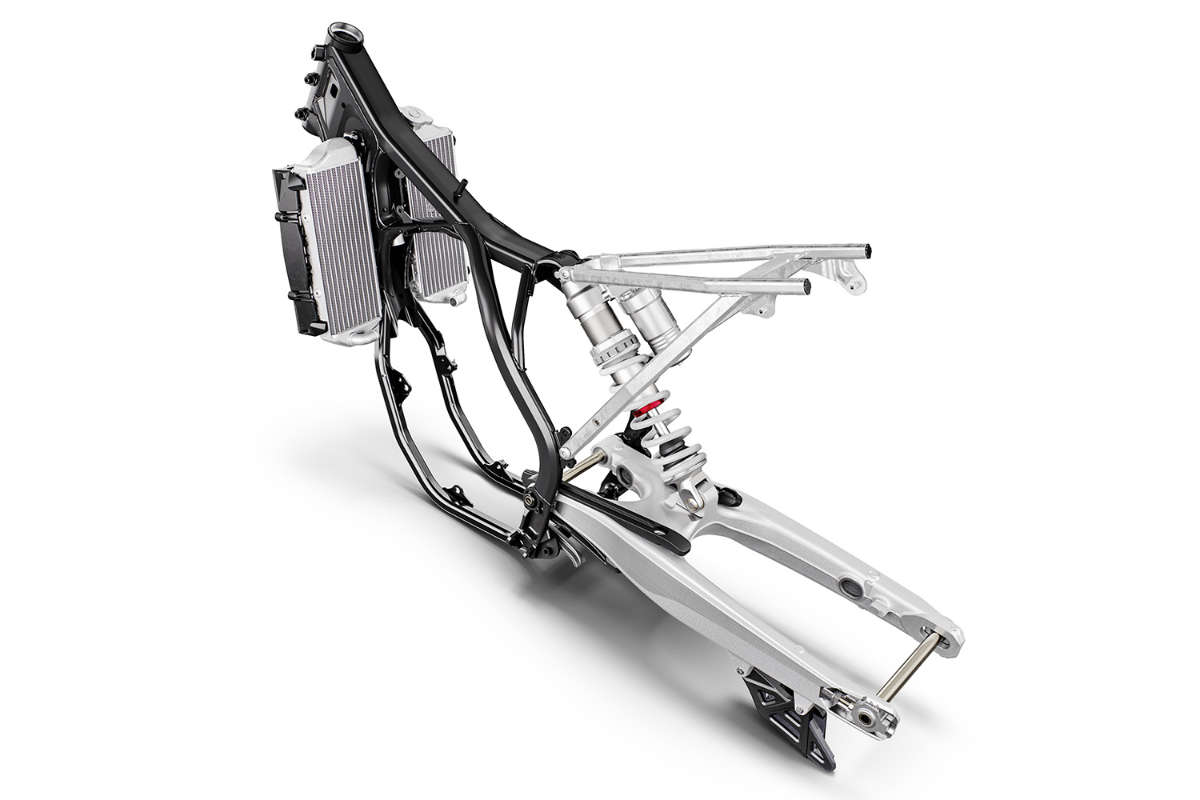 All KTM EXC frames for model year 2020 feature the same geometries as before but are re-designed in several key areas to improve stiffness and provide better feedback to the rider.
Connecting the cylinder head to the frame, the lateral engine headstays of all models are now made of aluminum, enhancing cornering precision while reducing vibrations KTM says.
Newly designed lateral frame guards feature a non-slip surface texture and the one on the right-hand side also provides heat protection against the silencer.
In the 250/300 EXC frames, the engine is rotated downwards by one degree around the swingarm pivot for improved front wheel traction.
The subframe is made of strong, especially lightweight profiles and now weighs less than 900g. To increase rear fender stability, it has been lengthened by 40mm.
Exhaust systems get heavy attention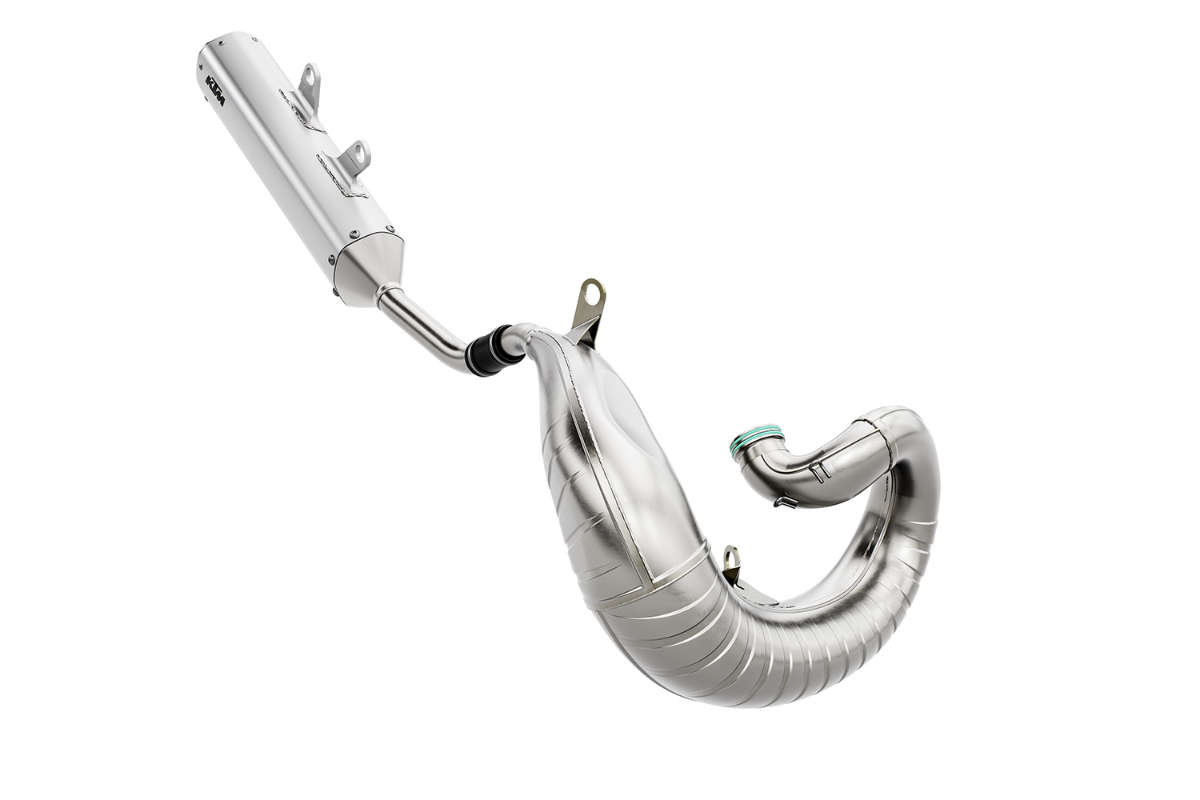 The KTM engineers put a lot of effort into developing completely reworked exhaust systems for all 2020 EXC models. KTM says the new components are key factors behind the enhanced power delivery and performance of the new bikes, while providing slimmer ergonomics and reliable compliance with racing noise limits.
The 250 and 300cc models feature new heavy duty exhaust pipes made by KTM using an innovative 3D stamping process that makes it possible to provide the outer shells with a corrugated surface.
This renders the pipe a lot more rigid and resistant against rock and debris impacts, while significantly reducing noise KTM claims. At the same time, the exhaust pipes have an oval cross section for increased ground clearance and reduced width.
The two-stroke silencers with their new profile and new end cap have an increased volume as well as reworked internals developed individually for each model.
The previous polymer mount for the muffler has also been replaced with lightweight, welded aluminum brackets.
New perforated inner tubes and a new, lighter damping wool combine to provide more efficient noise damping and enhanced durability at approximately 200g less weight (on 250/300cc models).
The four stroke models now feature two-piece header pipes for a more user-friendly dismantling, while providing better access to the shock absorber.
A new, slightly wider aluminum sleeve and end cap result in more compact and shorter main silencers, bringing the weight closer to the center of gravity for increased mass centralization.
New radiator position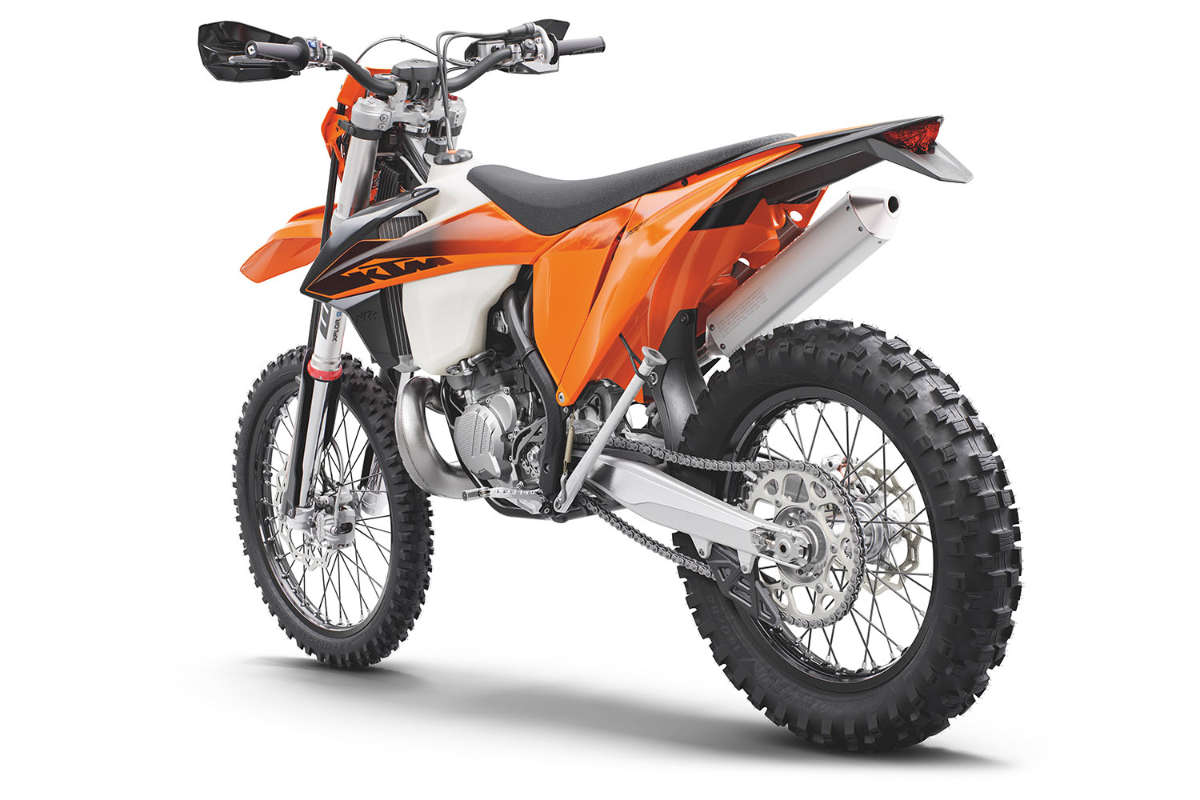 All the new KTM EXC models feature re-designed radiators mounted 12mm lower than before, which lowers the center of gravity.
The reworked delta distributor, integrated into the frame triangle, features a centre tube enlarged by 4mm for a 57% greater cross section, increasing coolant flow from the cylinder head to the radiators.
At the same time, a new radiator shape and new spoilers combine to enhance the ergonomics.
Carefully optimized using 'computational fluid dynamics' modelling (CFD), the improved coolant circulation and air flow to the engine increases the cooling efficiency.
The 450 EXC-F and 500 EXC-F models are fitted with an electric radiator fan as standard.
Fresh airbox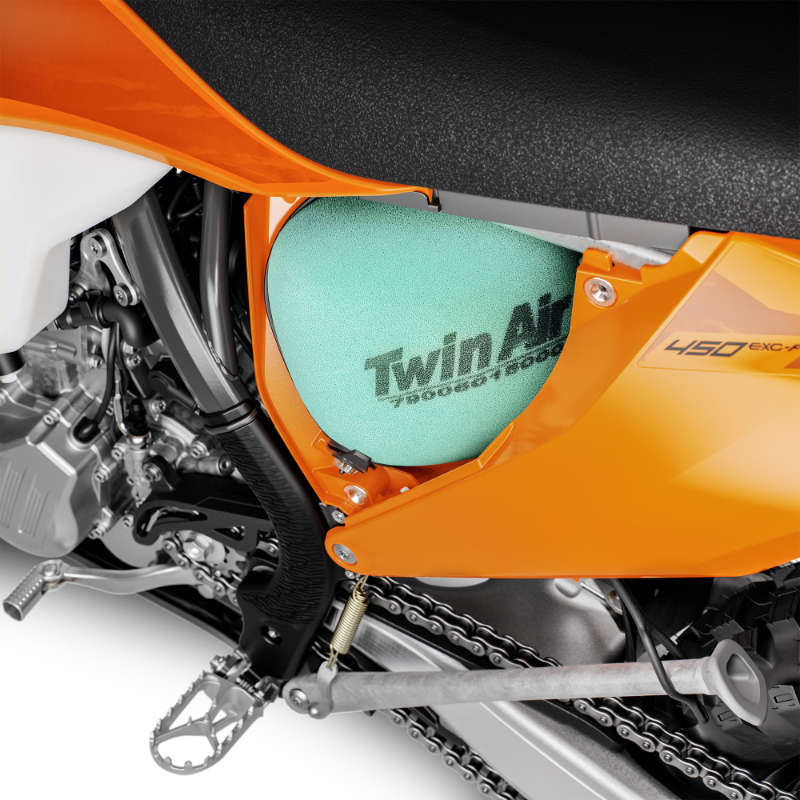 The new air filter box has been completely reworked in terms of gas dynamics, which KTM says enhances intake airflow for improved performance and throttle response. In addition, the new design offers improved protection of the air filter against clogging.
The large Twin Air filter element is mounted on a rigid cage, which at the same time forms the air filter box mount.
All two-stroke models feature new intake funnels adapted to the new engine and engine position, accommodating also a new intake air temperature sensor.
Re-designed fuel tank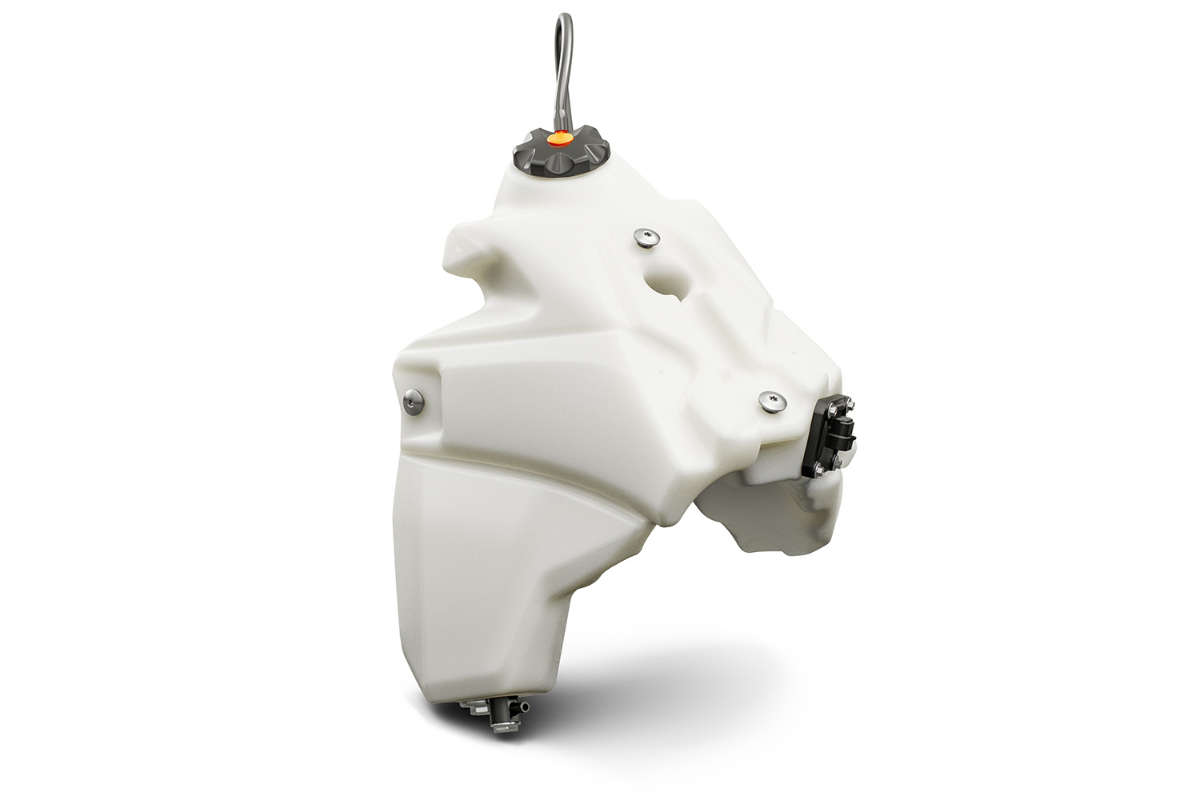 All models of the new EXC range are fitted with re-designed, lightweight polyethylene fuel tanks, improving the ergonomics, while holding slightly more fuel than their predecessors. All tanks are fitted with a fuel pump and a fuel level sensor.
Re-designed TPI oil tank
The KTM EXC TPI models are fitted with a newly designed oil tank featuring reworked, more flexible mountings for enhanced durability. In addition, the outlet is fitted with a cleanable mesh filter in order to protect the oil pump from dirt.
New wiring harness
A reworked wiring harness and packaging concentrate most of the electrical components in a single area below the seat. This makes them more easily accessible, while increasing the reliability of the electrics even further.
New shape bodywork
KTM's Enduro Factory Racing Team were involved in shaping the bodywork of the latest EXC model generation, together with specialists from KTM R&D and Kiska Design. Their common goal KTM says, was to achieve complete harmony between rider and bike.
This results in all-new polymer components that provide perfect ergonomics and contact points for the rider, combined with maximum freedom of movement and improved handling.
The I-beam design of the front and rear fenders creates maximum stability from the least possible amount of material through a well-thought-out structure and mounting. The new tail light design is a perfect fit for the new rear fender shape and number plate hanger.
New seat design
The new shaped seat has more foam padding, delivers increased comfort, minimizing fatigue on extended enduro events, KTM claims. It is secured with a single lateral screw now also, helping you remove the seat quickly and easily.
New WP XPLOR forks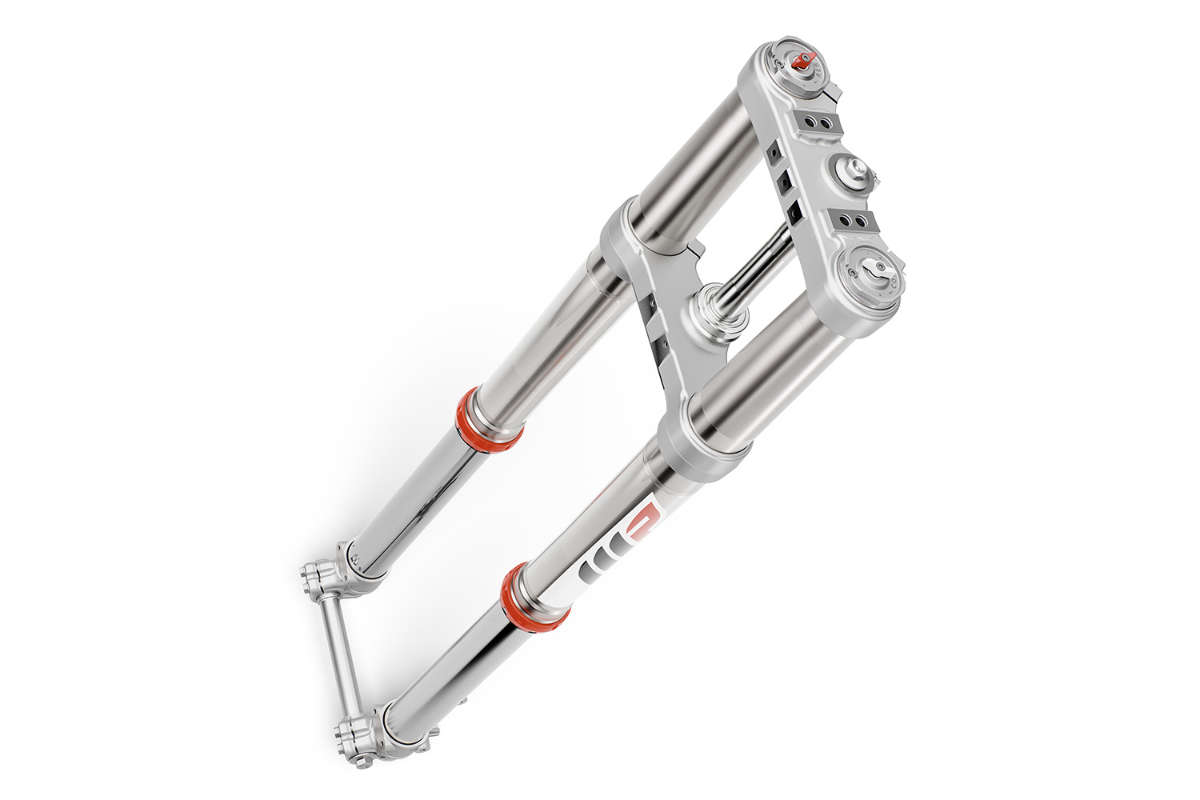 All EXC models are fitted with the WP XPLOR 48 upside-down fork as previous. The split fork design has springs on both sides, but with separate damping circuits, with the left-hand fork leg damping only the compression stage and the right hand one only the rebound.
For 2020 the fork receives a new, mid-valve piston to provide more consistent damping, as well as new upper fork caps with new clicker adjusters for easier adjustment, in addition to a new color/graphic design.
New settings keep the front end higher for enhanced rider feedback and improve bottoming out resistance.
Standard on the SIX DAYS models and optional on the standard models, the three-stage spring preload adjuster are been reworked for easier operation without tools.
WP PDS shock absorber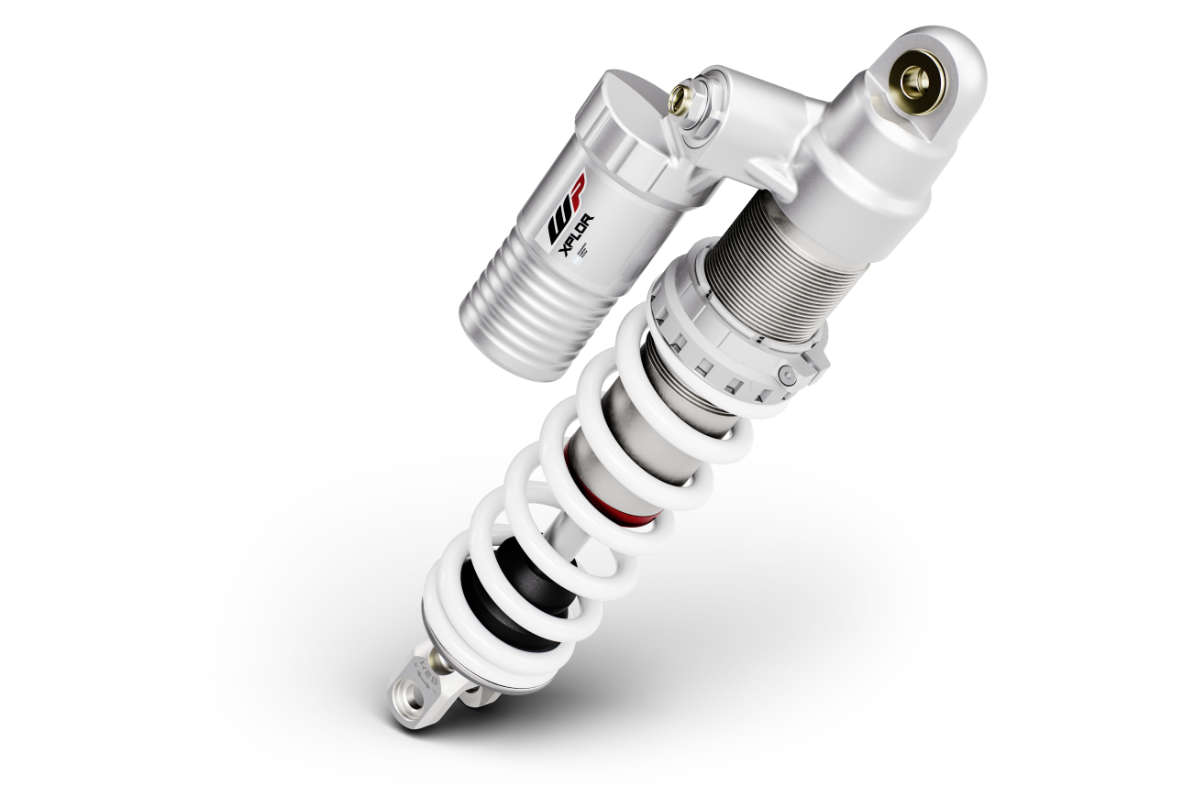 The WP XPLOR PDS (Progressive Damping System) shock absorber is directly linked to the swingarm without a linkage system.
For MY2020, an 'optimised' second piston and cup with a reworked shape and seal increase resistance against bottoming out without diminishing the ride.
The new XPLOR PDS shock has improved damping characteristics and better "hold-up" matching the new frame and reworked front-end set-up KTM claims.
The new 150cc EXC TPI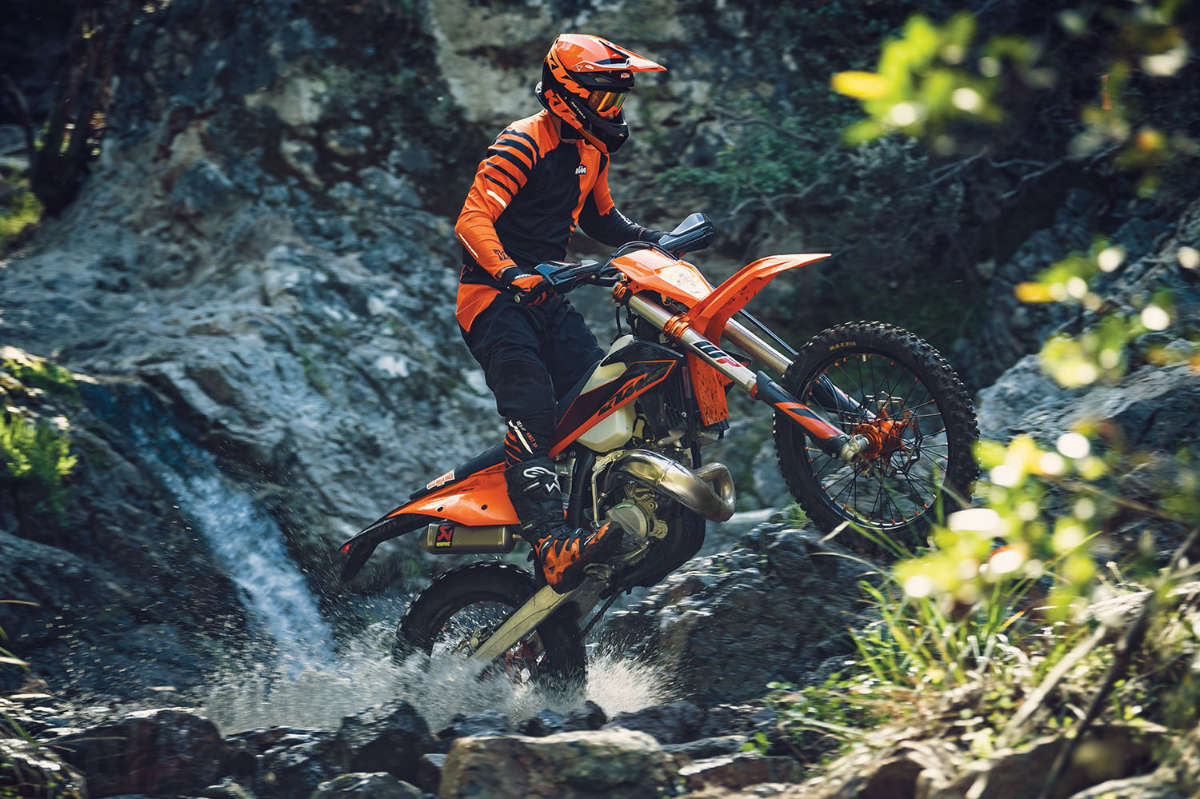 We'll run a separate post with all the details about the 150 TPI but, in a nutshell, it is a completely new engine in a chassis with all the updates you've read about above. The 150 takes onboard all the attributes of its larger capacity, 2T model siblings: transfer port technology, electronically controlled ignition timing and fuel injection using sensor data from intake air pressure, throttle position and coolant temperature. A new (for 2020 EXC two-strokes) ambient air pressure sensor enables the ECU to adapt the injection parameters to fast changes in altitude.
In short it is a light and lively two-stroke with all the reduced weight benefits that brings in comparison to the 250 four stroke machine. At the same time also has the low-maintenance benefits of the two-stroke and, by now, proven reliability of the TPI models.
KTM continues to develop its selection of KTM PowerParts, enabling riders to customize their machines. KTM enduro fans can also find a wide range of riding gear, protection and casual wear in the PowerWear collection.
2020 KTM EXC models will be arriving in dealers worldwide from June onwards.
For more information visit www.ktm.com