Tested: 2020 Sherco enduro model range
First test riding impressions of Sherco's 2020 enduro model range from the press launch – it's evolution not revolution with engine changes and new rear shock for the Factory models improve performance and handling.
Sherco have been quietly going about their business building enduro and trials bikes for over 20 years now. Since 2004, the French-based company has been manufacturing bikes for enduro and all the time building a reputation as a competition-focused manufacturer.
With a model range built around the enduro and extreme/hard enduro camps, Sherco's seven model range consists the SE 125/250/300 two-strokes and 250/300/450/500 SE-F. The higher specification Factory model line-up includes 250/300 two-strokes and 250/300/450/500 four strokes. Add to that the four, non-homologated Cross Country SC and SCF models: 125 and 300 two-strokes plus 300 and 450 four strokes.
After a bigger revamp last year, the 2020 model updates are more about evolution not revolution. The new graphics are the obvious external change but under the covers changes to the engines is where the majority of work has taken place in essence to reduce weight and, in the case of the big capacity four strokes, reduce engine noise. A new KYB rear shock absorber on the Factory models is notable chassis change also.
Sherco MY2020 model changes in a nutshell: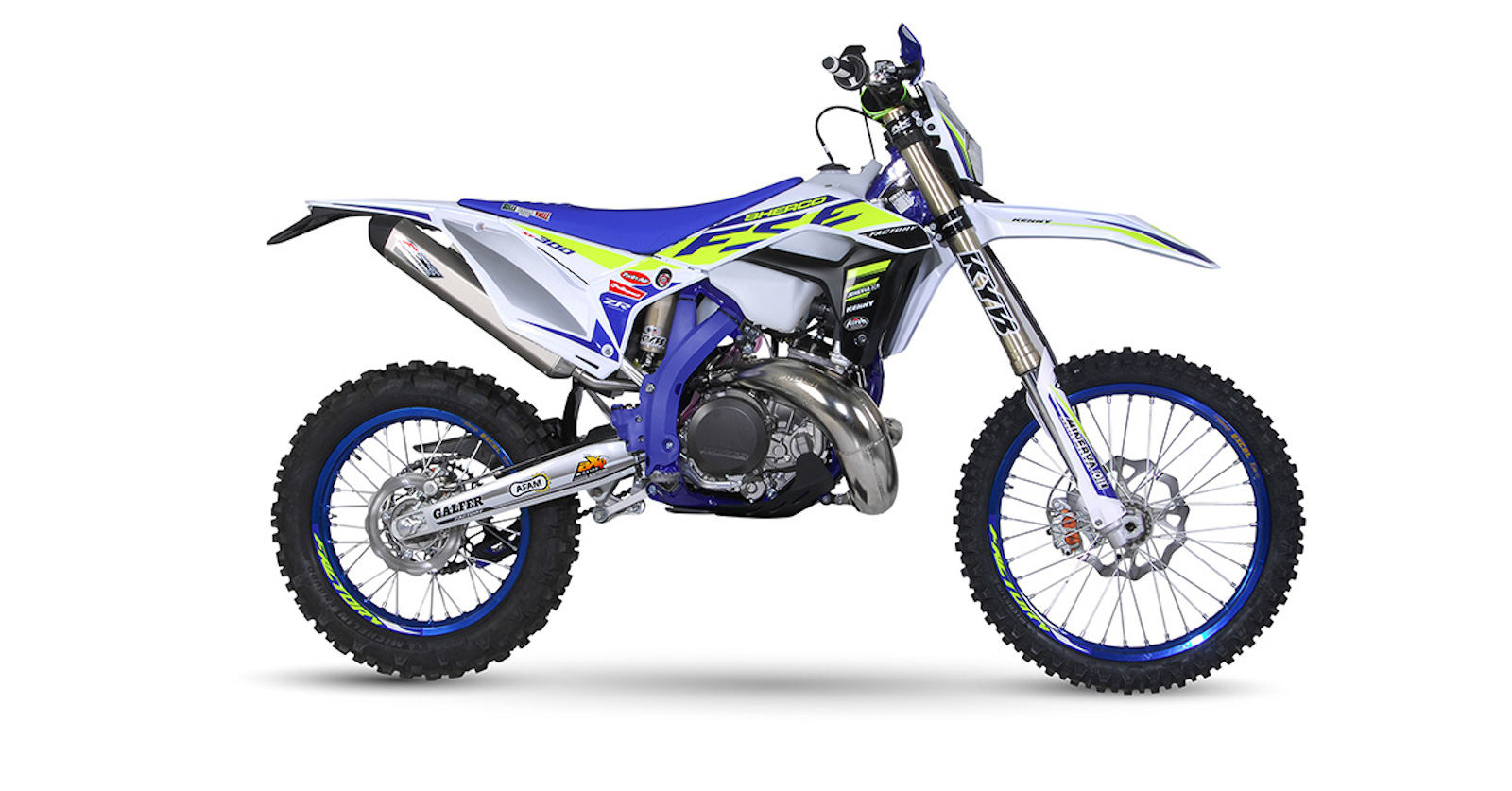 All enduro models have reduced friction in the suspension linkage and improved build quality to increase servicing.
Two stroke 250/300 model air intake funnel is adjusted to improve low and mid-range power and suit extreme riding better.
250/300 2T engines 15mm shorter intake pipe from carb to cylinder to improve low speed response. It is now also one part instead of two saving weight.
250/300 models have a modified reed valve to improve sealing, increase air flow and performance. New construction is plastic charged with fibreglass/carbon/viton.
Following on from that the central engine casting is modified to increase flow and boost mid-range plus widen the powerband.
Lighter clutch hub on 250/300 2T engines to reduce inertia and lever weight for extreme riding.
Reduced size master cylinder piston and clutch cylinder piston also reduce lever effort.
Clutch lubrication flow is increased.
250/300 models have easier access fuel tap and now 1.5litres when you switch to reserve.
Blue frame protectors on the Factory models.
Factory and XC models run the 48mm KYB forks and a new 50mm KYB shock to increase stability at high speeds and improve bump absorption.
New drilled front final drive sprocket/gear.
The SC models are basically the Factory model without lights or a racing wiring harness and with stiffer suspension settings.
Factory and XC models get an AFAM steel rear sprocket.
All Racing models get a 150g lighter plastic muffler end cap.
250/300 four stroke bikes have a lighter starter system sprocket assembly to improve starting – improves performance for dead engine race starts.
250/300 4T improved gear selector for a claimed 60% improved accuracy.
Bigger 450/500 4T engines are 600g lighter thanks to lighter crank, clutch disc material, clutch hub, primary transmission, balancing shaft, freewheel sprocket, oil pump sprockets.
450 4T has a new cam chain for reduced friction and noise to meet Euro4 engien noise regulations.
The 125 two-stroke has an adjustable height power valve giving more options for settings.
New piston profile on the 125 2T to improve the wear uniformity and stability.
New engine map on the 125 for improved high-speed performance.
Riding impressions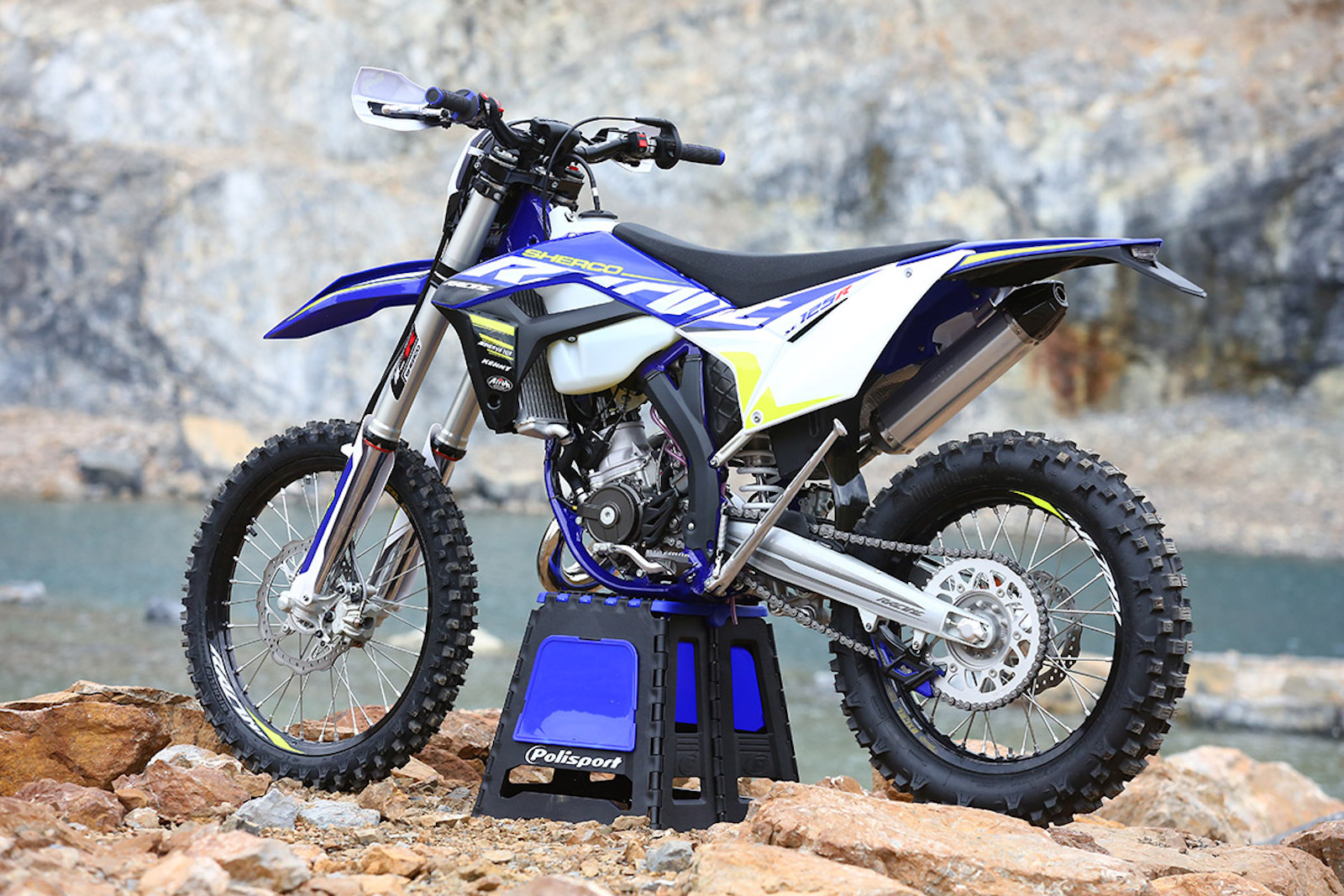 Sherco's 2020 graphics looks great in the early morning light on the banks Lake Maggiore as we begin the riding sessions on a mixed test track through trees, a grass special test and some mixed terrain on a longish loop.
With so many of the detail changes being internal the first test sessions are more about the differences between the models, particularly the Racing and Factory models, than spotting major differences.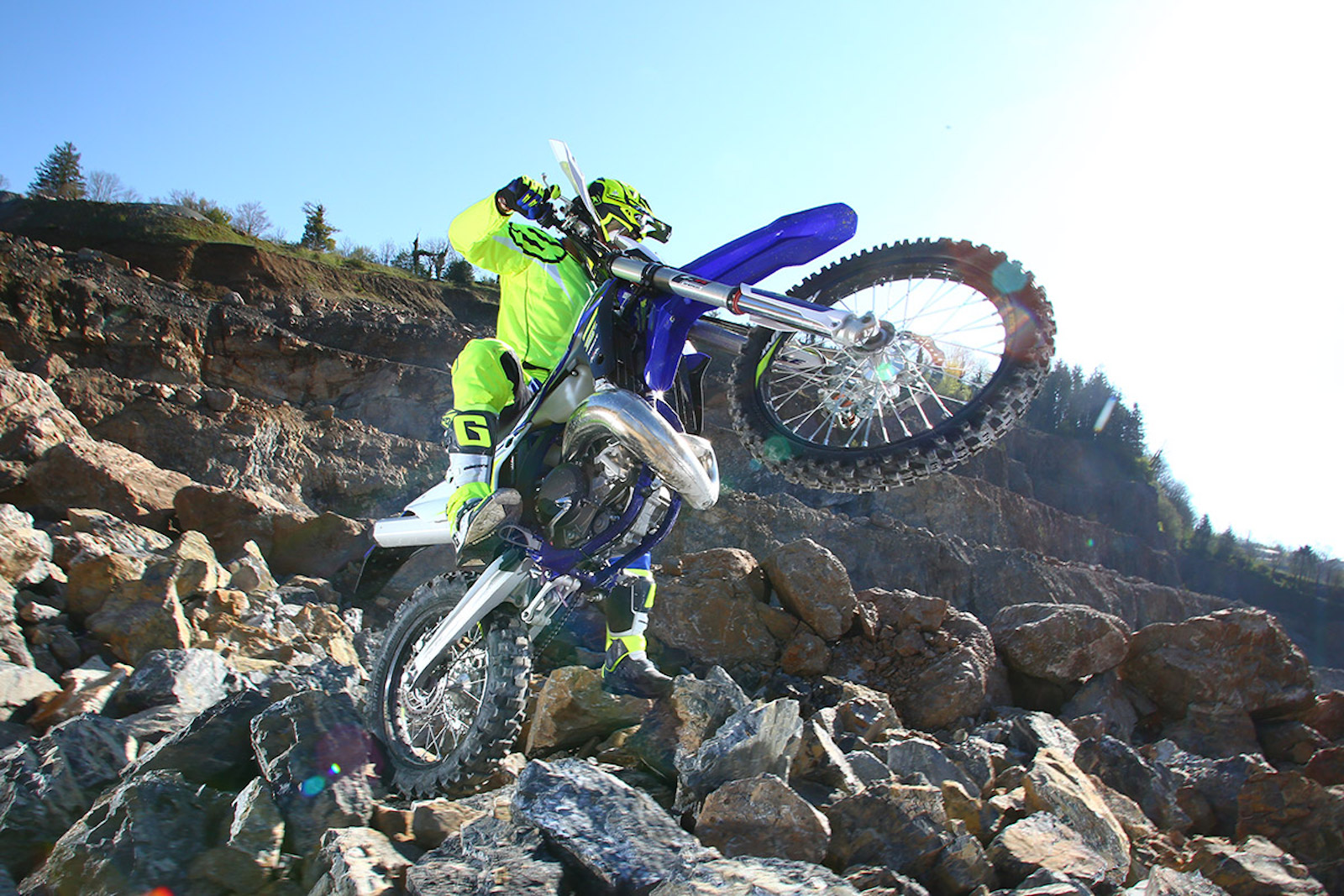 Significantly the WP suspension fitted to the standard, Racing models has not been upgraded for 2020 and though it remains fine for what you might call normal riding, the updates we've seen to the WP kit on KTM and Husqvarna standard 2020 models has left the Sherco stock kit behind slightly.
It is when you're pushing harder you find the clear benefits of the KYB suspension on the Factory editions and the 2020 KYB kit is playing its hand.
The improved stability from the beefier shock means it copes better with the bumps, grips and drives better out of turns. Put simply it is easier to ride the KYB-kitted Factory bikes faster than the WP-kitted Racing models.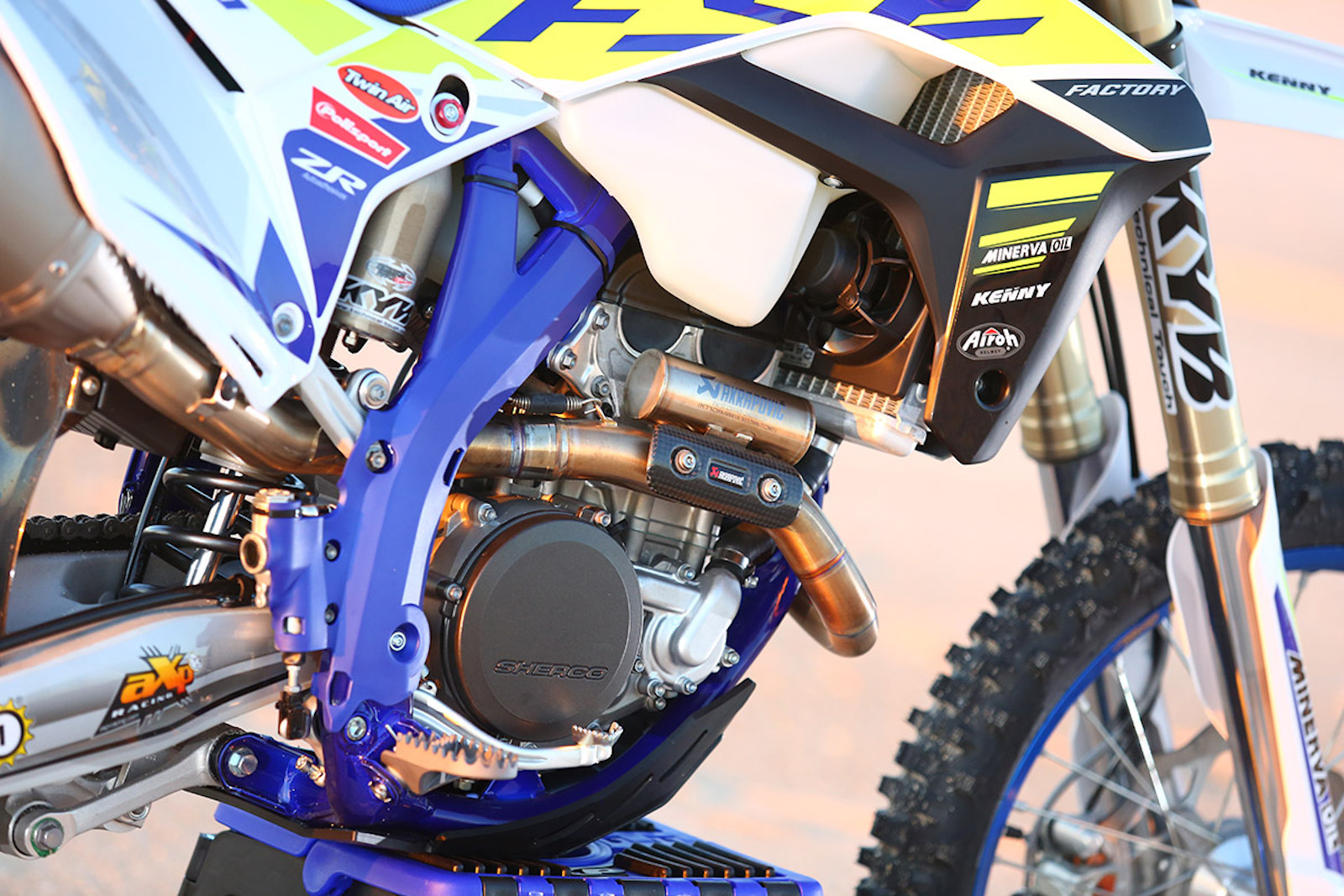 Sticking with the Factory bikes kitted with their upgrade parts (bars, grips, graphics, sump guard, rims, sprocket, seat, suspension…), the Akrapovic exhaust systems across four stroke models and FMF systems on the two-strokes make an appreciable difference both in terms of power and weight. Weight affects the handling and with the added zip of power it is like having a sharper tool to do the job which boosts confidence.
On the 250 and 300 two stroke models the lighter clutch lever makes a noticeable difference. The lighter clutch hub on 250/300 2T engines to reduce inertia and reduced size master cylinder piston and clutch cylinder piston have given the two-stroke enduro bikes a lever pressure which feels more like a trials bike. On those long days when you're on the clutch a lot it will help fatigue of your left arm.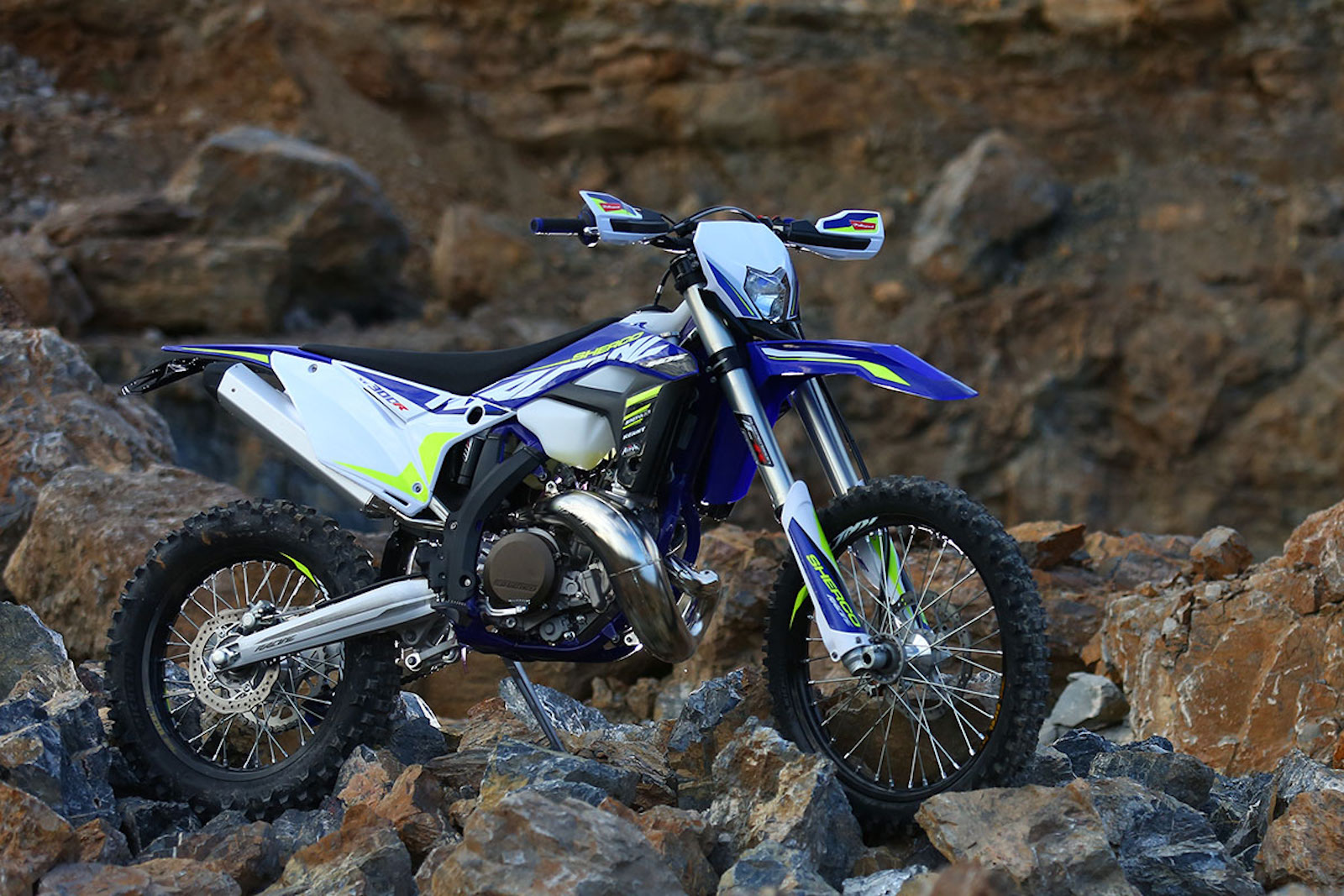 Having a new fuel tank design incorporating 1.5 litres on the reserve fuel tap on the 250 and 300 2T bikes is positive upgrade for 2020 also. Knowing when you turn that tap you have more to play with is a thing to rely on.
Our tester actually preferred the 250 two stroke model on the day, saying it felt more within his control where the 300 at times can be too much. There's a big hit of power with the 300 that sure works if you're riding up Erzberg hills but for more average events maybe you don't need so much.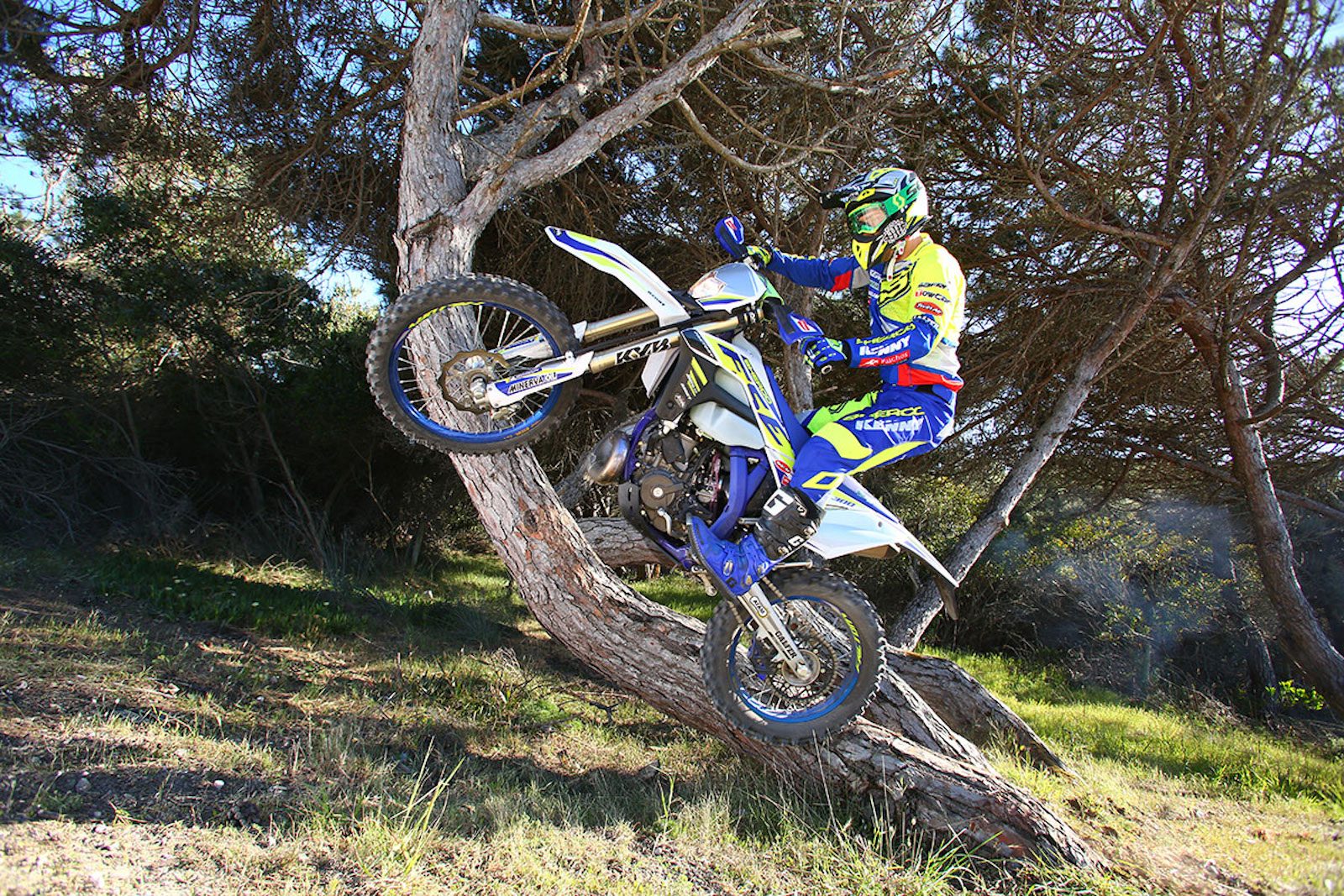 In the four stroke range the favourite remains Sherco's peachy 300 which is the right amount of everything: power, weight, stability and control. Almost as manageable as the 250 SE-F in terms of weight but with more power it takes some beating for confidence and grin-factor around the grass special test set up as part of the launch venue in Italy.
Sherco sticking with carburettors on two-strokes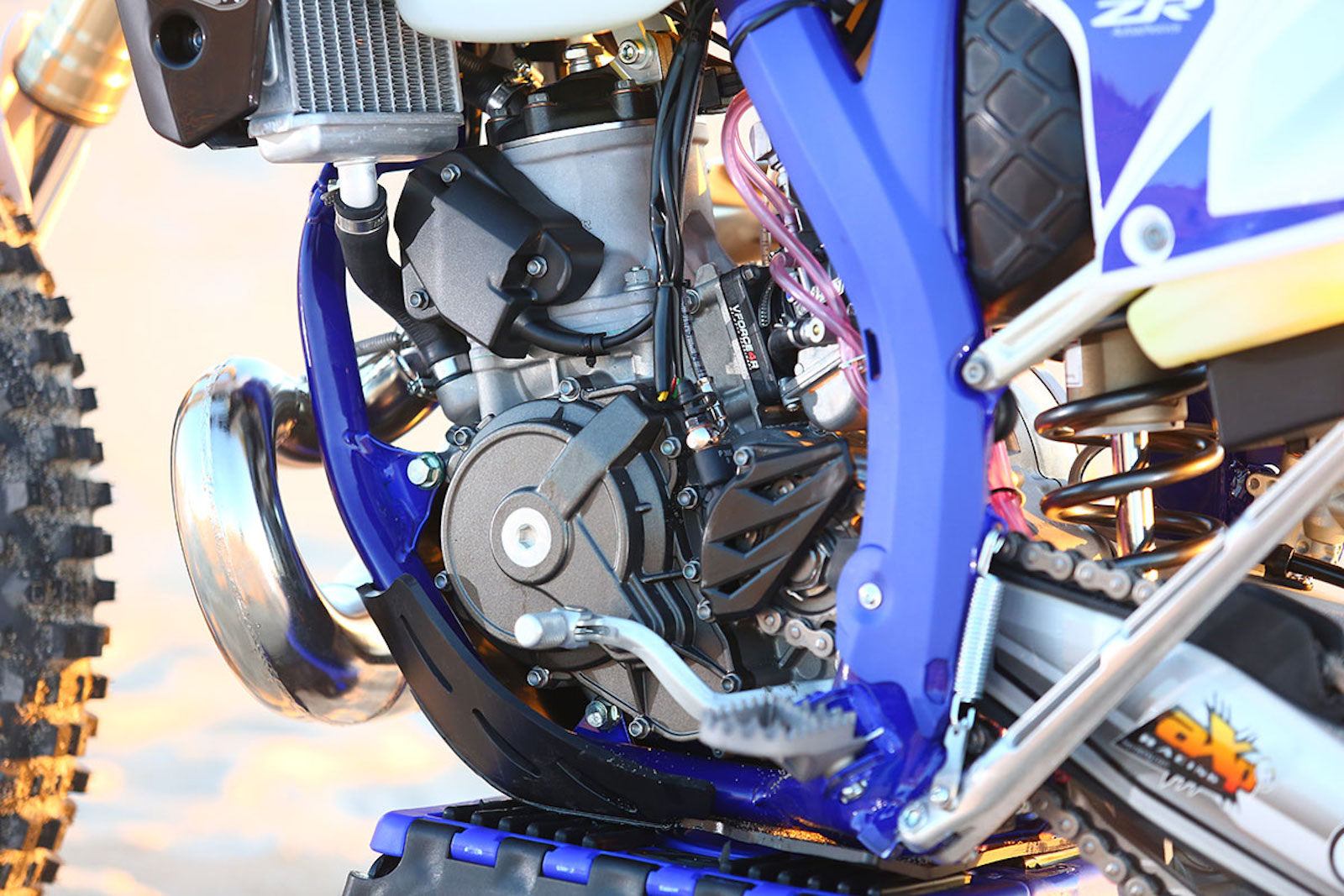 Sherco's point of view on the fuel injected two-stroke engine remains as it has for the last couple of years: simply they have it in development but they are not ready to use it.
Basically it costs more to produce a fuel injected 2T and that would naturally reflect in the price to the customer. The other major factor is the performance, in their view, is not as good as the carburetted two-stroke so it makes no sense to deliver a bike which doesn't work as well and costs more.
While manufacturers don't have to make that jump for European emissions regulations (Euro 4 is still current until 2024) then they will stick with carburettors on the two stroke models.
Something for everyone? You could say that with Youth 125 racers catered for with a ripping machine very much ready to go racing in the Factory Edition kitted model. The big 500 answers the call of big capacity trail riders at the other end of the scale.
It is in the middle of their range where Sherco continue to deliver the goods with the 300cc two and four stroke models, particularly the Factory models which are both incredibly competitive packages straight from the box whether your leanings are towards extreme or traditional enduro.