KTM 300 EXC TPI Long Term Test Mule Blog – Stubble field racing
The Enduro21 long term test KTM 300 EXC TPI gets some workshop love but not before blowing the cobwebs out with some stubble field racing.
The beauty of riding a stubble field enduro is awesome. There's nothing like it. This is the wide-open playground you dream of when you're playing the usual game of follow my leader like you're stuck on a busy road in heavy traffic. Racing stubble fields is like suddenly being given an empty freeway on a Sunday morning.
Happy days! The trouble is those days don't last and as much as that glorious race is still living with me, time and the Northern European winter waits for no rider so I made the most of these big, old fields.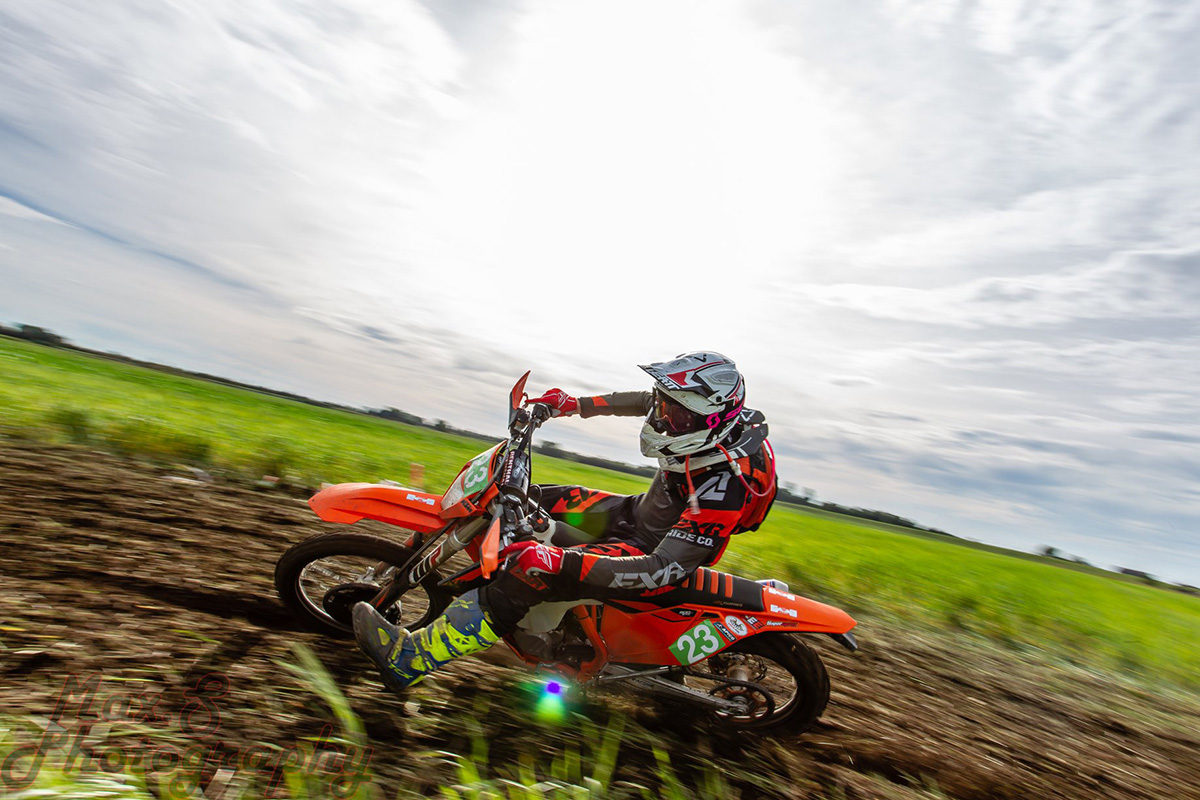 I've been loving the set-up of the bike lately. Renthal FatBars, Raptor lowered titanium pegs and the FMF Fatty sparked extra life into the bike, like someone had sharpened the tool. Next up is a muddy and rocky round one of the British Extreme Enduro Championship which at time of writing I'm clocking up an impressive zero hours practice for…
Having said how good the FMF exhaust system feels chamber feels I'm going to take it off for the extreme event in favour of the stock item. It'll be good to go back to that but the chief reason is simply to keep the FMF system out of trouble. The stock pipe has a KTM Power Parts carbon protector on it too so it makes sense.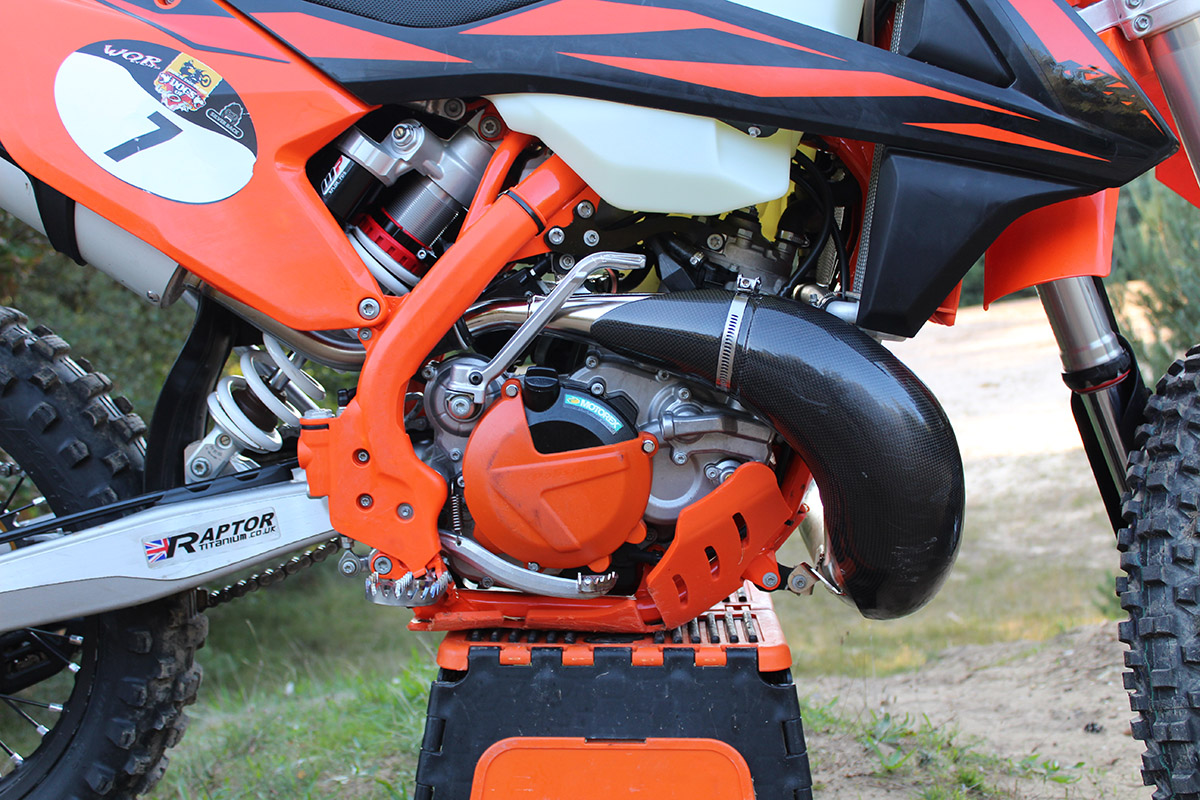 Workshop quality time
Some workshop time didn't bear any massive fruits to the TPI this month: fitting bearing protectors and a upgraded chain guide was about it. Honestly I've also spent way too much time deciding which hand and radiator guards to fit ahead of the extreme race. Chiefly I can't decide if the additional weight is worth the additional protection. Surely if I ride carefully it'll be ok, right..?
What we bolt on to our bikes depends a little on where you ride, what kind of riding you do and what you're worried about. Some of those part can be major performance upgrades (exhausts, suspension), while others will be protection products aimed at saving your bike (sump and radiator guards or hand guards).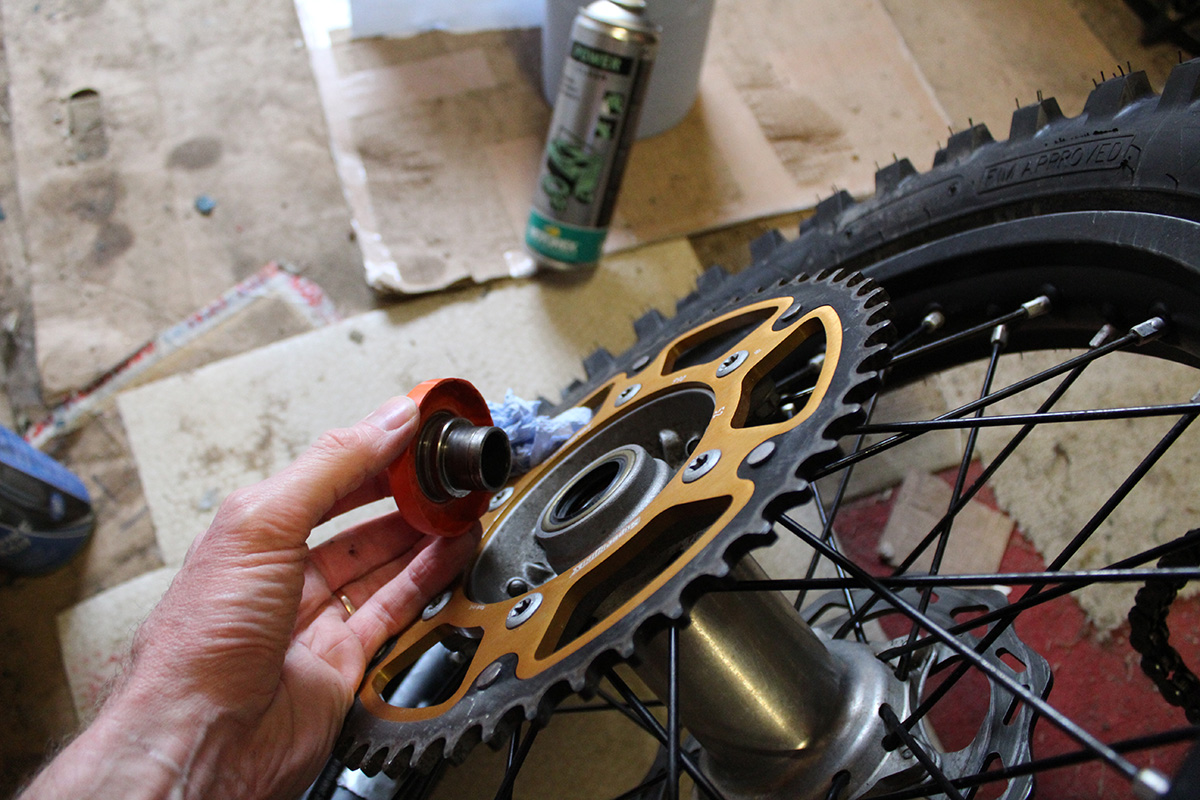 Some parts can be super-simple though, like these bearing protectors. They are from the KTM Power Part catalogue.
In theory you don't need these. Bearings on modern motorcycles are sealed units designed and built to last – even in the tough conditions we ride our bike in. Additionally KTMs (and most bikes) have a seal outside the bearing in the hub already.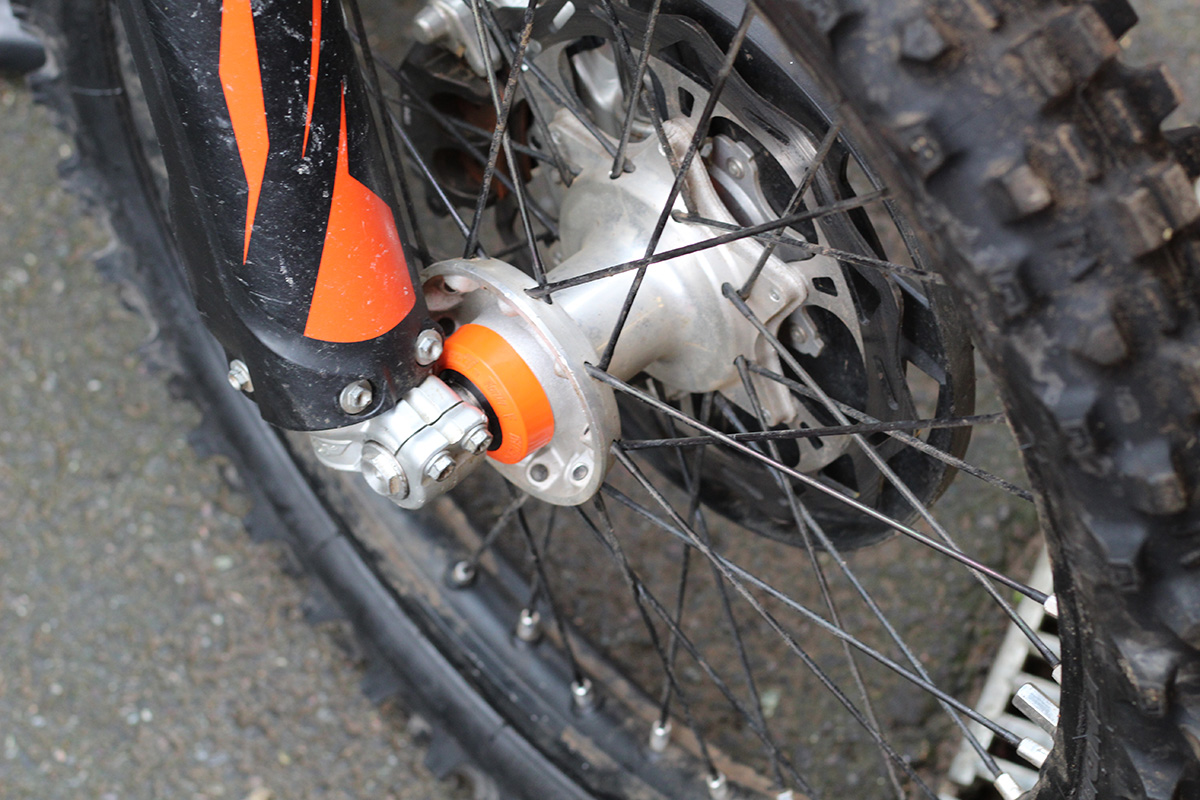 Why would you fit them then? To act as an extra layer against water, mud or sand penetrating the bearing and increasing the life-span of your bearings.
With the wheels out and everything cleaned, the protectors slip on the back-side of the spacer, before re-fitting the spacer. I found the protectors on the rear had to be quite forcefully pulled over the spacer to make sure it was correctly fitted. It is easy to think you have it in place only to find the rear wheel no longer fits between the swingarm and rear brake caliper mount.
It is an easy job though and we found no problems with the KTM Power Part front disc protector in place either.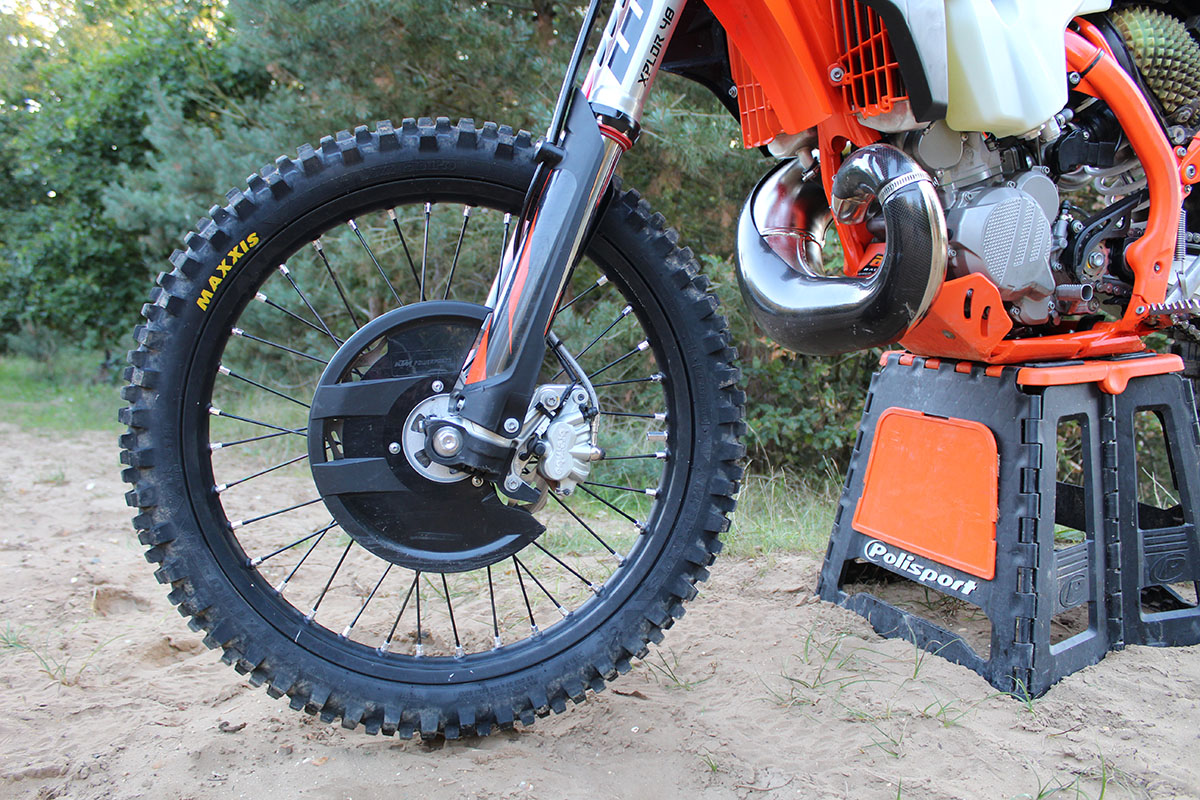 TM Designworks chain guide
The TM Designworks chain guide is just as easy to fit and quite an upgrade over the standard part. Reasons to fit a heavy duty chain guide like this are obvious: it's gonna protect the chain better! The rear disc is getting a healthy chunk extra protection too with this guide.
Fitting requires the chain to be split to both remove the standard guide and fit the new part. What I liked about this chain guide is it was a simply switch with the standard bolts. Some guides need different bolt, maybe don't quite fit quite so well and introduce issues. The TM Designworks part bolted straight on.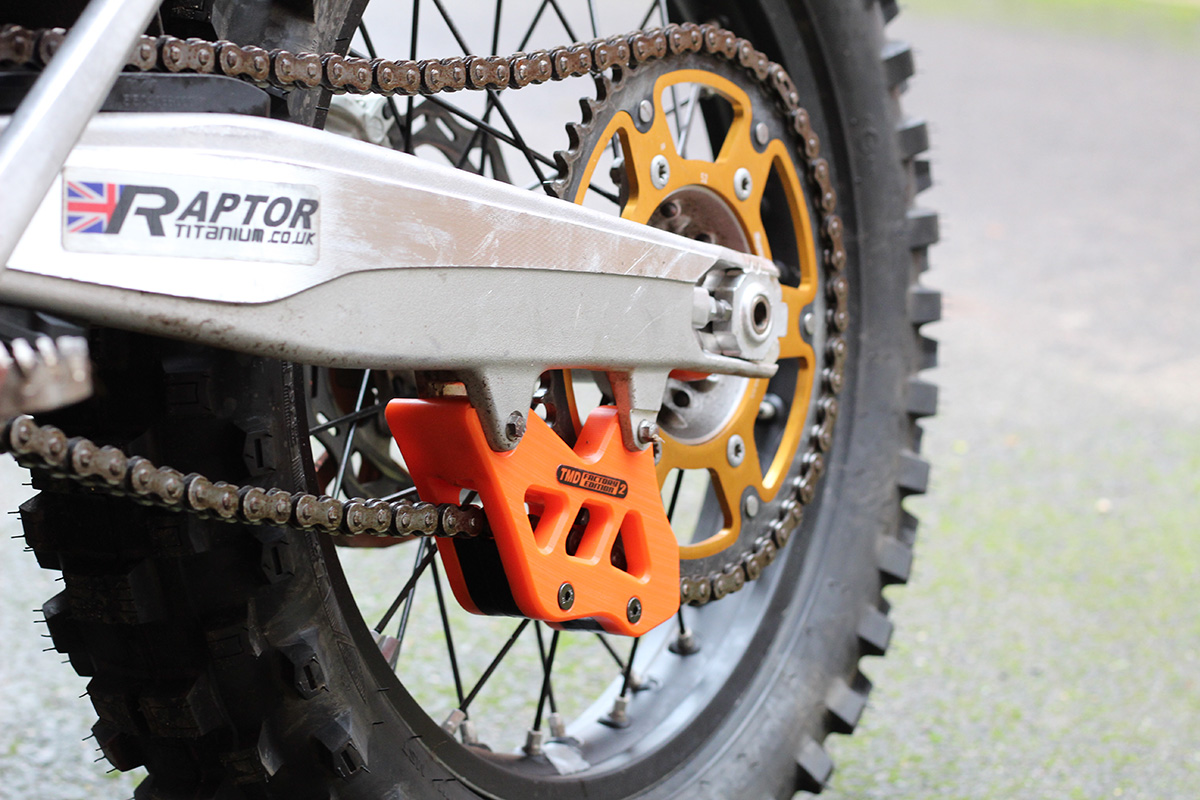 There's no doubt you can spend bigger and more meaningful bucks on your bike than a set of bearing protectors or a beefier chain guide. In the muddy world of enduro where we ride though, especially at this time of year, added 'protection' like this is way of keeping the crud out and protecting parts to keep you riding.
Thanks to all the people who have been in touch about their TPI models. It is much appreciated and fascinating to learn what people do to personalise their bikes. Keep 'em coming.
All parts fitted are available from: ktm.com/powerparts/
Photo Credit (action): Max Silvester Photography