First Look: New, limited edition 2019 Gas Gas Enduro GP models
Taking a first look at the new Gas Gas Enduro GP 250 and 300 two-stroke models – limited edition enduro models built for racing…
Gas Gas has unveiled the new Enduro GP – a two-model line-up inspired by the official team's race bikes and featuring a whole heap of race-focused upgraded parts.
World championship podiums and very strong national record around the globe, Gas Gas have been making waves in 2018 with a well-priced stable of bikes.
As in previous years, the Spanish manufacturer has released special edition 250 and 300 two-stroke models equipped with more focused racing parts aimed at giving us a bike straight from production line, which is ready for high-level enduro competition.
Gas Gas Enduro GP Edition highlights
Rekluse clutch cover and housing, exclusive for the GasGas Enduro GP edition, with increased clutch efficiency and cooling.
Higher compression cylinder head, improves torque and power delivery.
Exclusive FMF exhausts system tailored to GasGas Enduro GP model.
Renthal Fatbars and Renthal grips.
Machined X-Trig anodized red triple clamps.
Stronger handlebar supports increase rigidity.
New setting Kayaba fork for the Enduro GP model with an anti-friction treatment (DLC coating) in black.
Front axle puller for quick and easy removal of the front wheel.
Front floating brake disc to increase braking performance and feel.
New set of Goldspeed rims with machined anodized red hubs and reinforced spokes.
Enduro GP seat cover with improved grip and 'factory' official team design.
Exclusive graphics and plastics for the Enduro GP model.
Black anodized aluminium rear sprocket.
New Regina Z-Ring Light running 520/135 ZSA chain which reduces friction by 40%.
New dry/rain dual-ignition map.
Dual ignition map
The Gas Gas R&D department has worked hard with the Factory Racing team to introduce some exclusive parts to the Enduro GP.
One of the developments is the new dual map ignition on all its 2019 version models. Under normal conditions, the 'dry' map allows maximum power delivery. In 'rain' mode power delivery is softened for an easier time gaining traction on slippery terrain.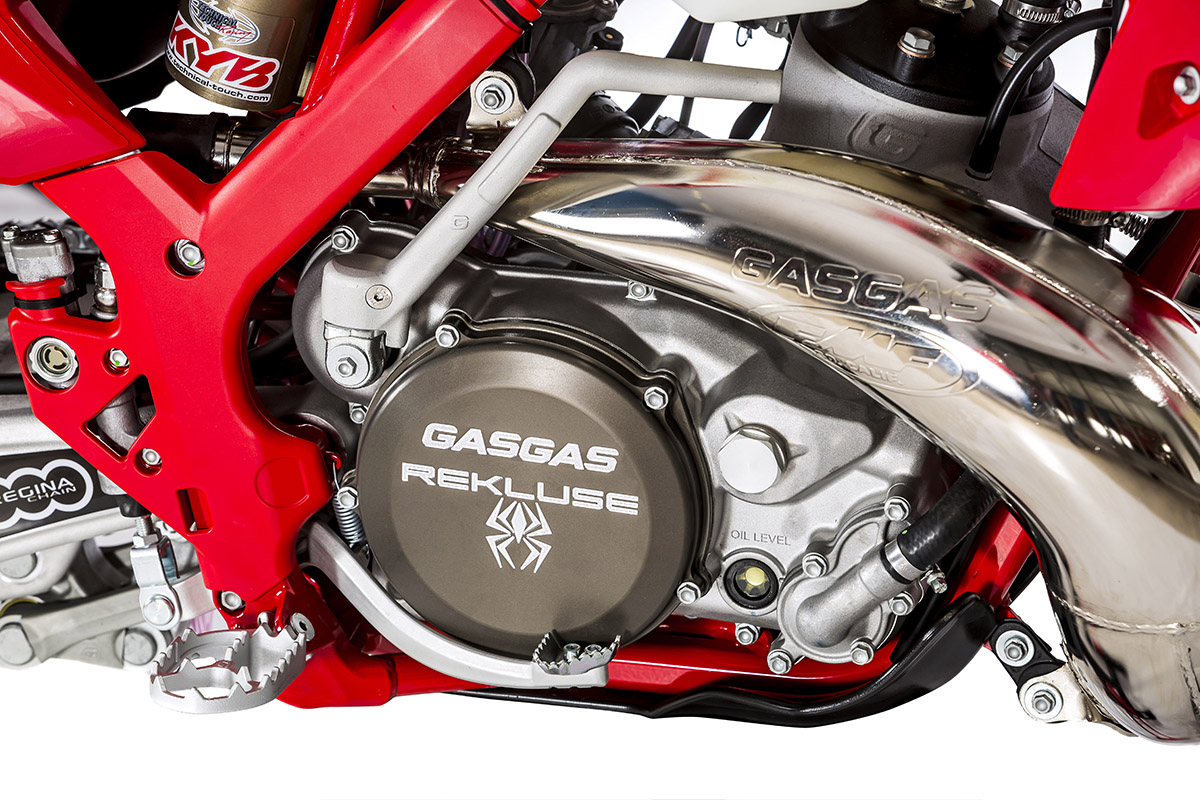 Gas Gas say this new dual map complements other important developments in the engine, like the new higher compression cylinder head and the new clutch cover and housing. Both are manufactured exclusively for this model by Rekluse along with the full FMF exhaust system.
The new components aim for more power but also "sensitivity and precision" when riding.
'Factory' parts
The new Gas Gas Enduro GP graphics reflect the official bikes used by Christophe Nambotin, Danny McCanney, Antoine Basset and Eemil Pohjola to compete in the Enduro World Championship.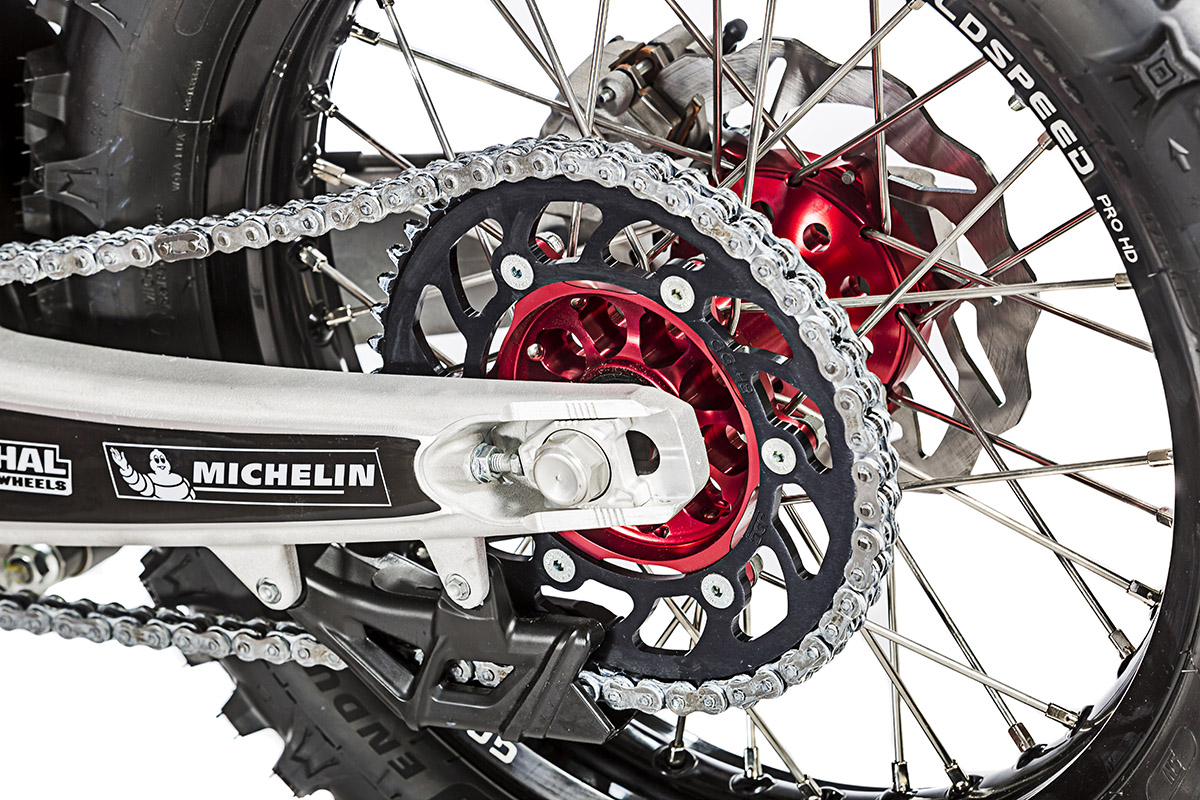 That 100% focus on racing pedigree is also reflected in details like its new seat cover, new black anodized aluminium rear sprocket and the new 'light running' Regina Z-Ring chain, which Regina claim reduces the friction by up to 40%.
Chassis and suspension
Details make the difference in competition and that has led Gas Gas to make "a firm commitment" to use racing parts in the chassis and suspension of these new models.
The front end of the GP models incorporates a host of features to improve feeling of control for the rider.
Renthal grips and FatBar handlebars, X-Trig machined handlebar supports and triple-clamps, anodized in red, look great but also improve performance and feel.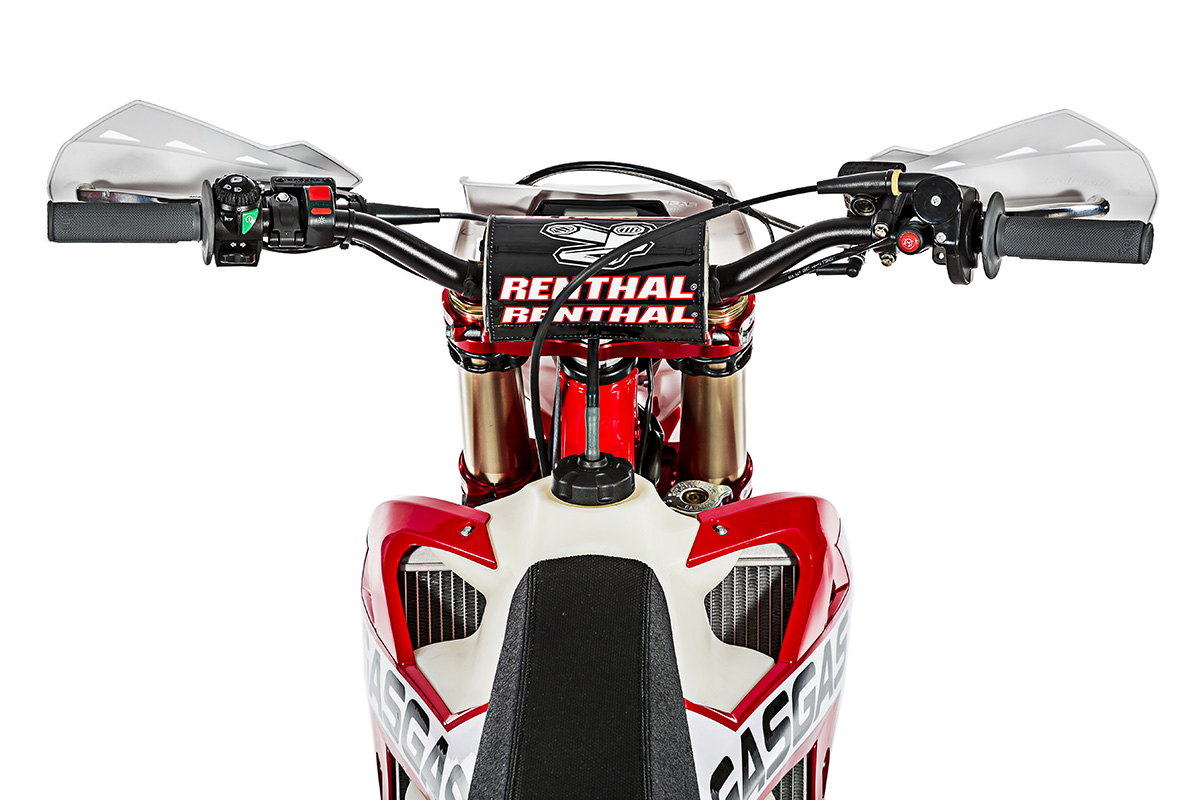 New Kayaba Enduro GP forks have black anti-friction coating (DLS coating) to improve quality and rider confidence. An axle puller has been added to the front spindle to help rapid removal of the front wheel.
Braking control is improved also with NG full-floating brake discs, 260mm on the front and 220mm on the rear – calipers and master cylinders remain from Nissin.
New Goldspeed rims with machined red hubs and reinforced spokes sport Michelin Enduro medium compound tyres.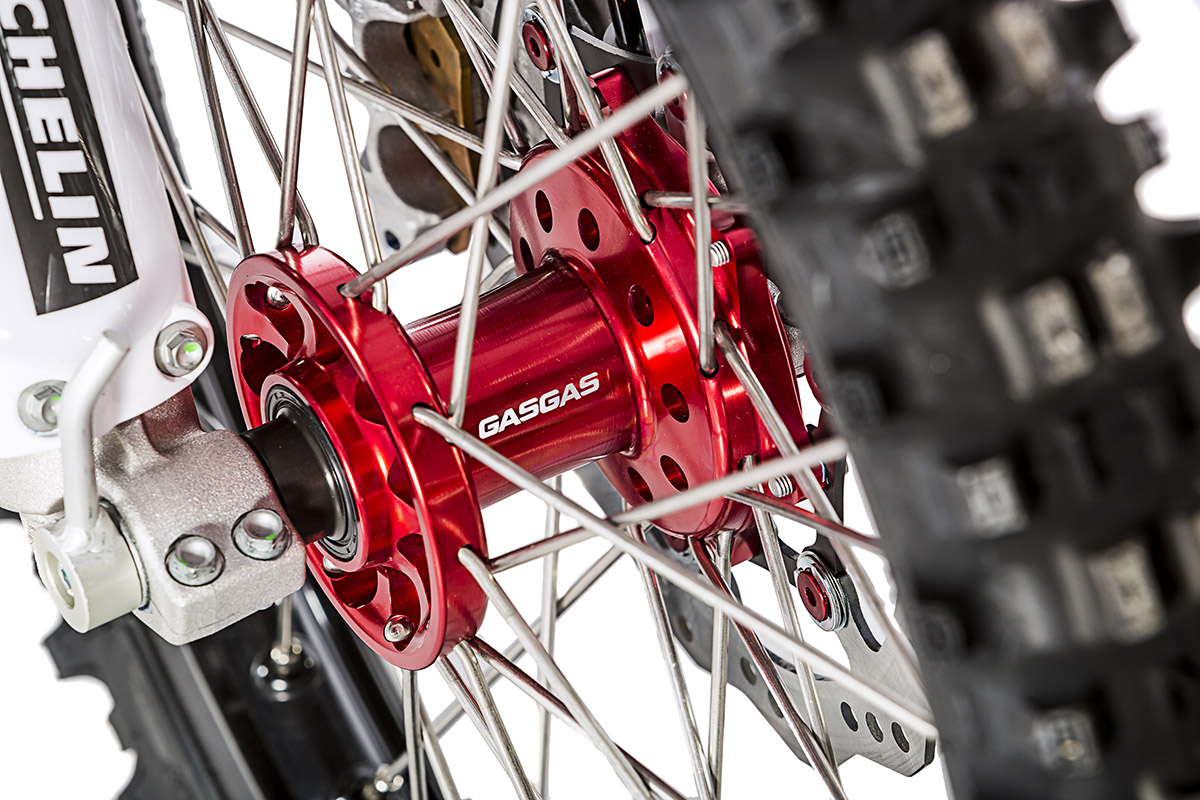 The new Gas Gas Enduro GP models are inspired by the machines ridden by the brand's official riders at the top of the Enduro World Championship. The special edition bikes are available in a limited production run of 700 units from Gas Gas in two engine capacities, 250 and 300cc.
The Enduro GP models will be available from official Gas Gas dealers. Prices are not currently set.
More information: GasGas.com