KTM 300 EXC test mule - TPI at Hawkstone Park 
Our long term test KTM 300 EXC TPI gets a Kardashian-style make-over ahead of the Fast Eddy Hawkstone Park Cross-Country.
Our long term test mule KTM 300 EXC TPI has done it's time in stock-spec. We've played with it, raced it and reached the point where itchy workshop fingers are ready to make some changes.
The test mule's job in life is not just to give us chance to test KTM's creation but also to get us in the mix racing, riding and testing parts. Which is why when the chance to race at the Hawkstone Park Cross-Country presented itself, we stuck the entry in.
I'm not, and never will be 'world's best' at anything but I can ride a bike ok and love the challenge of a big event. The chance to race the World Enduro Super Series at a classic off-road venue, Hawkstone Park in the UK, was too much to pass up. Buzz the same track as Taddy Blazusiak, Graham Jarvis and the boys? Yup, we'll have some of that.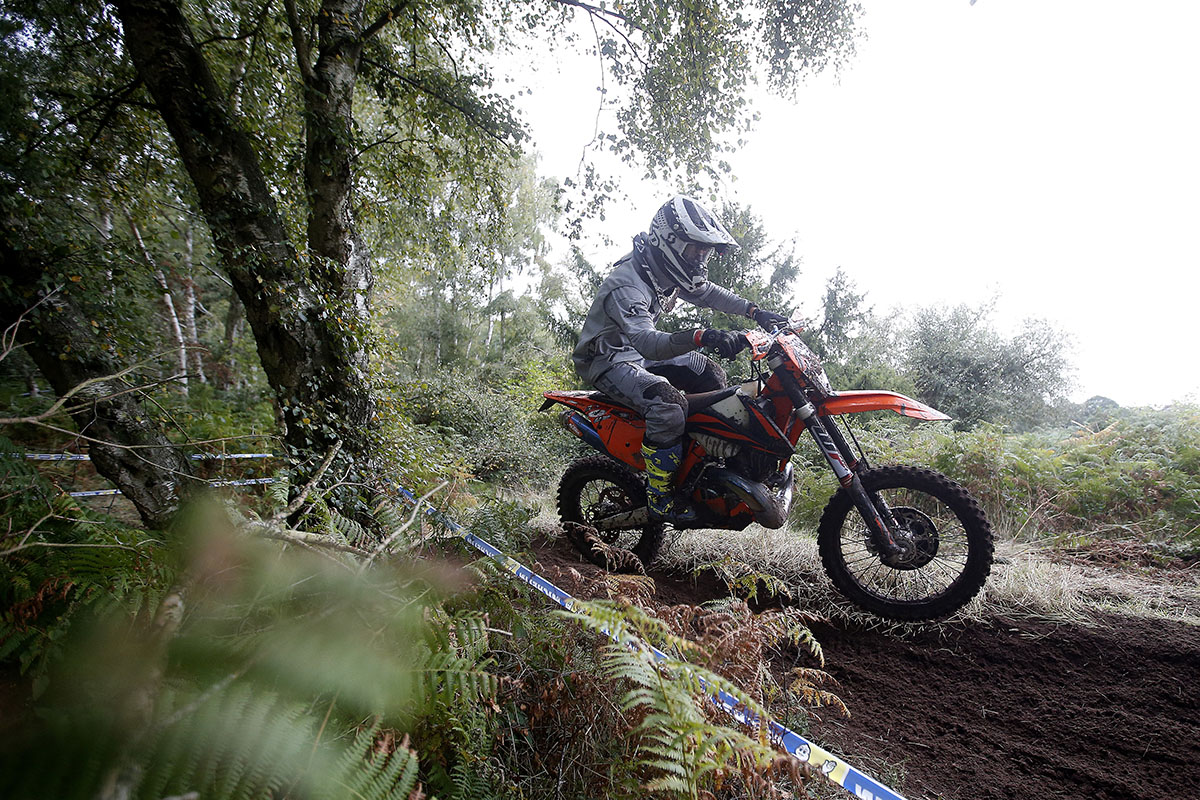 Getting all rad
I'm in it for the challenge too and getting to Hawkstone Park in Shropshire was a bit of a mission. It's part of the deal that we tip-off every now and then. Sometimes we have a big one and that's exactly what I did leading up to Hawkstone. Five days before the race I crashed heavily while trying to get some much-needed sand practice for Hawkstone, duffing myself and the KTM 300 EXC TPI up in the process.
KTM enduro bikes crash well. I know this from experience but I proved it again with this one. The outcome wasn't too bad: the soft bits (radiators) bent, the plastic bits got scuffed but the fundamental parts simply took the heavy blows and got up ready for another bout.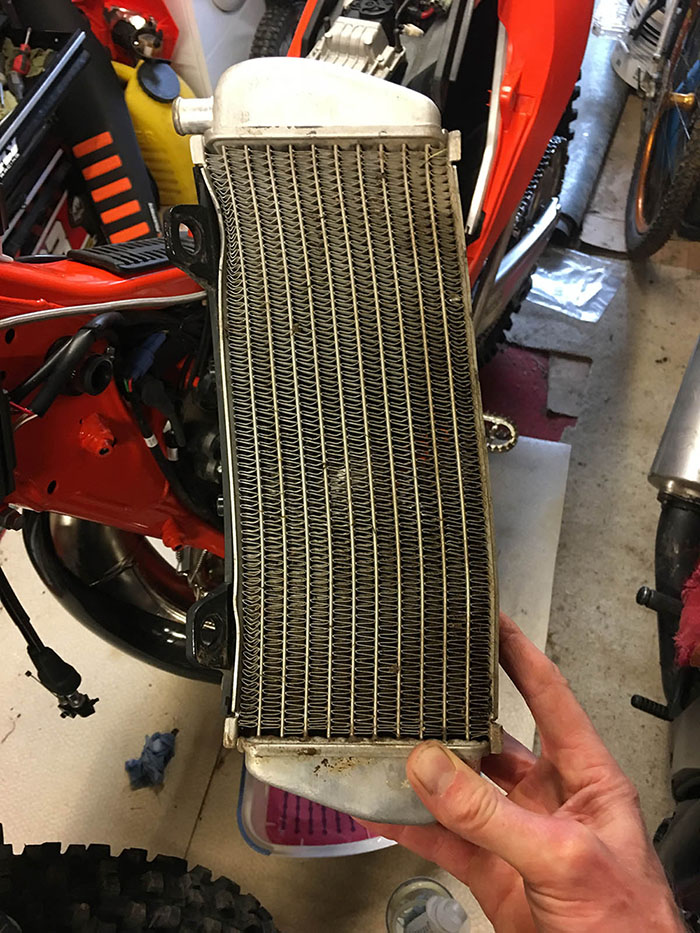 When the dust had settled and I'd straightened a few things out, it was the radiators that were looking the most sorry for themselves. The right side rad was serviceable but the left one was bent and needed replacing. It wasn't leaking but it was bent the point where the side panels could not fitting properly.
Yeah, stronger radiator guards might have helped but in this case I'm not so sure. It took a hell of a side-swipe and then got ridden over by another bike. We'll never know.
It turns out everyone is bending radiators at this time of year and they were in short supply when I tried to get a new one. Despite being all packed up and half way to Turkey for the Sea to Sky race, Eurotek KTM (eurotekktm.com) came up trumps with a replacement delivered the next day.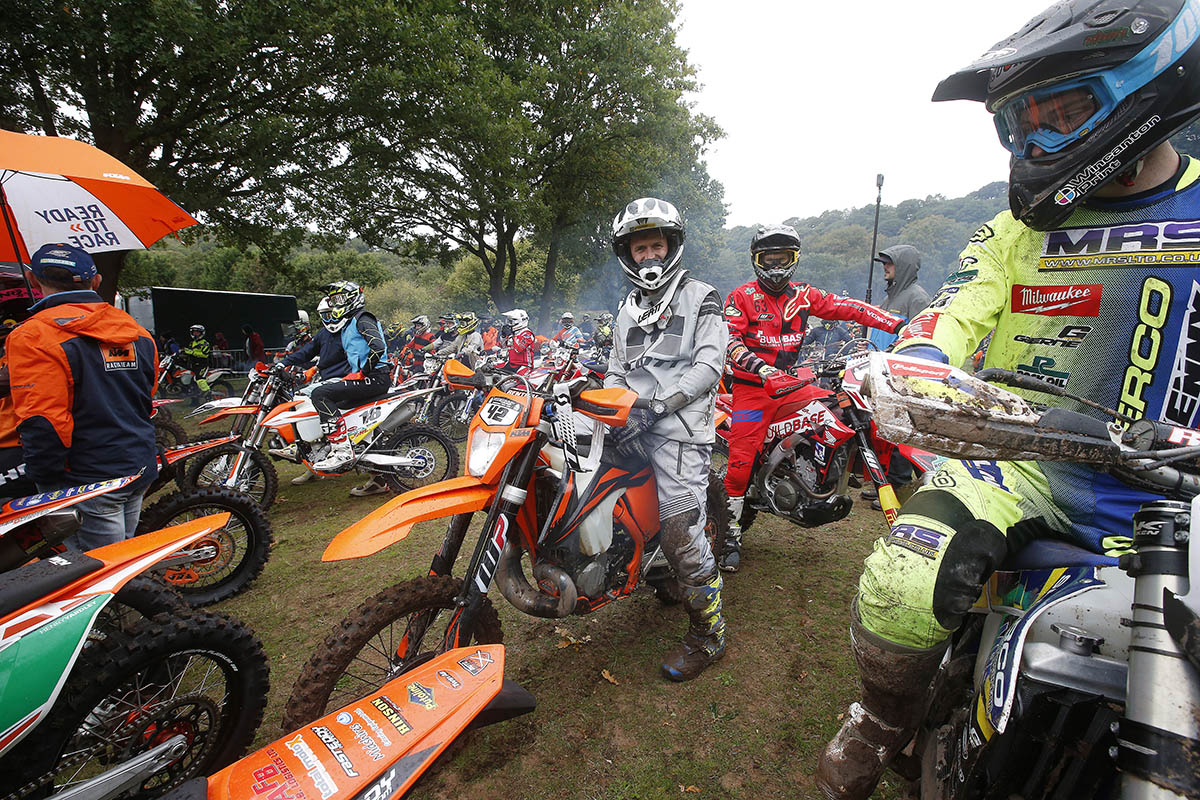 Saturday at Hawkstone was a sprint race format – three shots of two loops (mx and enduro) around Hawkstone's famous track and hillside, each timed accumulatively.
It was a blast and the 300 two-stroke TPI felt punchy and alert on Hawkstone's hills and rocky outcrops. I faded a bit in the enduro tests, and the MX test was both awesome and horrendous as the track was sloppy like wet cement in places.
It was great crack literally following in the wheel tracks of awesome riders Garcia, Blazusiak, Bolt and Jarvis and wondering how the hell they go so fast.
Sadly that's as far as it went. I qualified for Sunday's main race at Hawkstone but all day it had been dawning on me I wasn't fit to tackle two-and-a-half-hours of cross-country. The crash earlier in the week left me with pains in my neck and shoulder and I took the decision to duck out of the main feature race – not something I make a habit of. Sometimes you gotta use your head not your heart.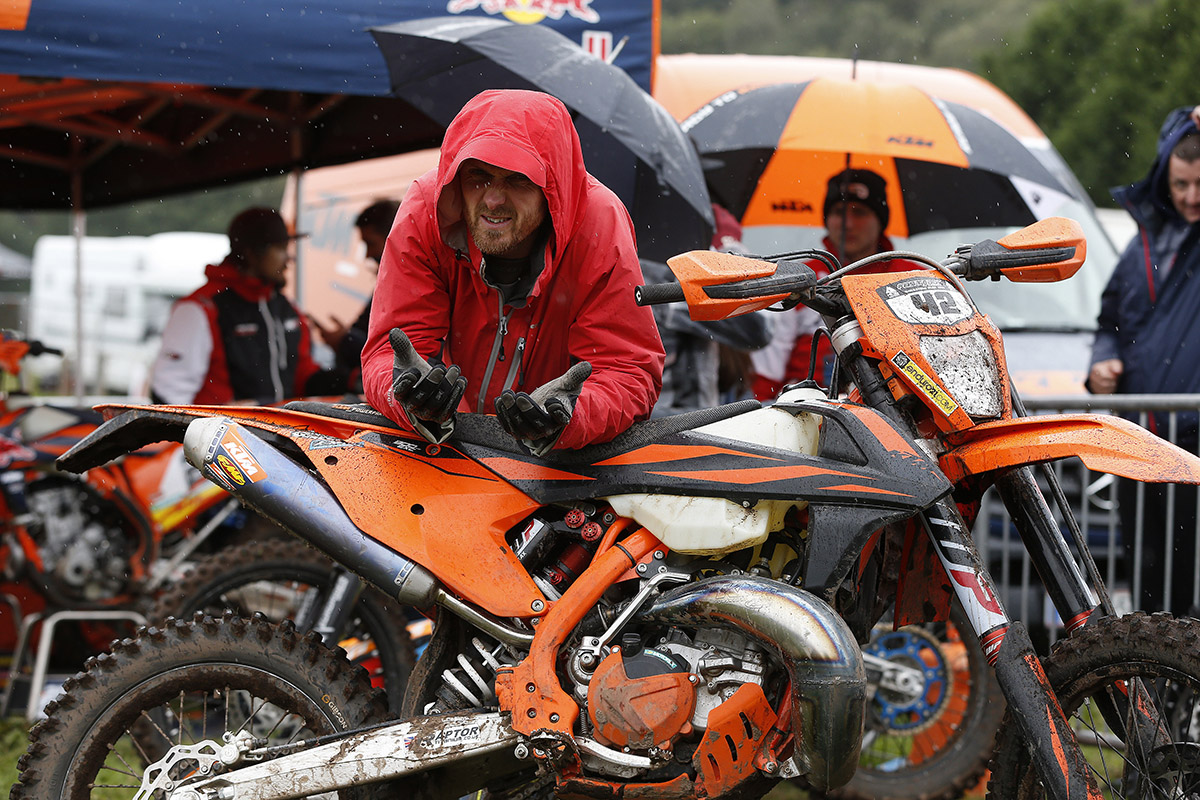 A whole heap of saucy parts
Before heading to Hawkstone we spent some quality time in the workshop making sure everything on the 300 was primed and ready, including fitting some saucy new parts. All of these will feature in separate "tested" posts on E21. We'll get down to the nitty gritty of how they performed but, by way of a quick list, here's what we fitted…
FMF Factory Fatty and Titan tail pipe
KTM have helped us out with some parts from the Power Parts catalogue for the 300 EXC and high on the 'want' list for many people is the FMF exhaust system.
The Factory Fatty expansion chamber matched with the bold, blue FMF Titan Powercore 2.1 tail pipe pimped the test mule big time. Broader, smoother power? More traction and better throttle control? Yes please.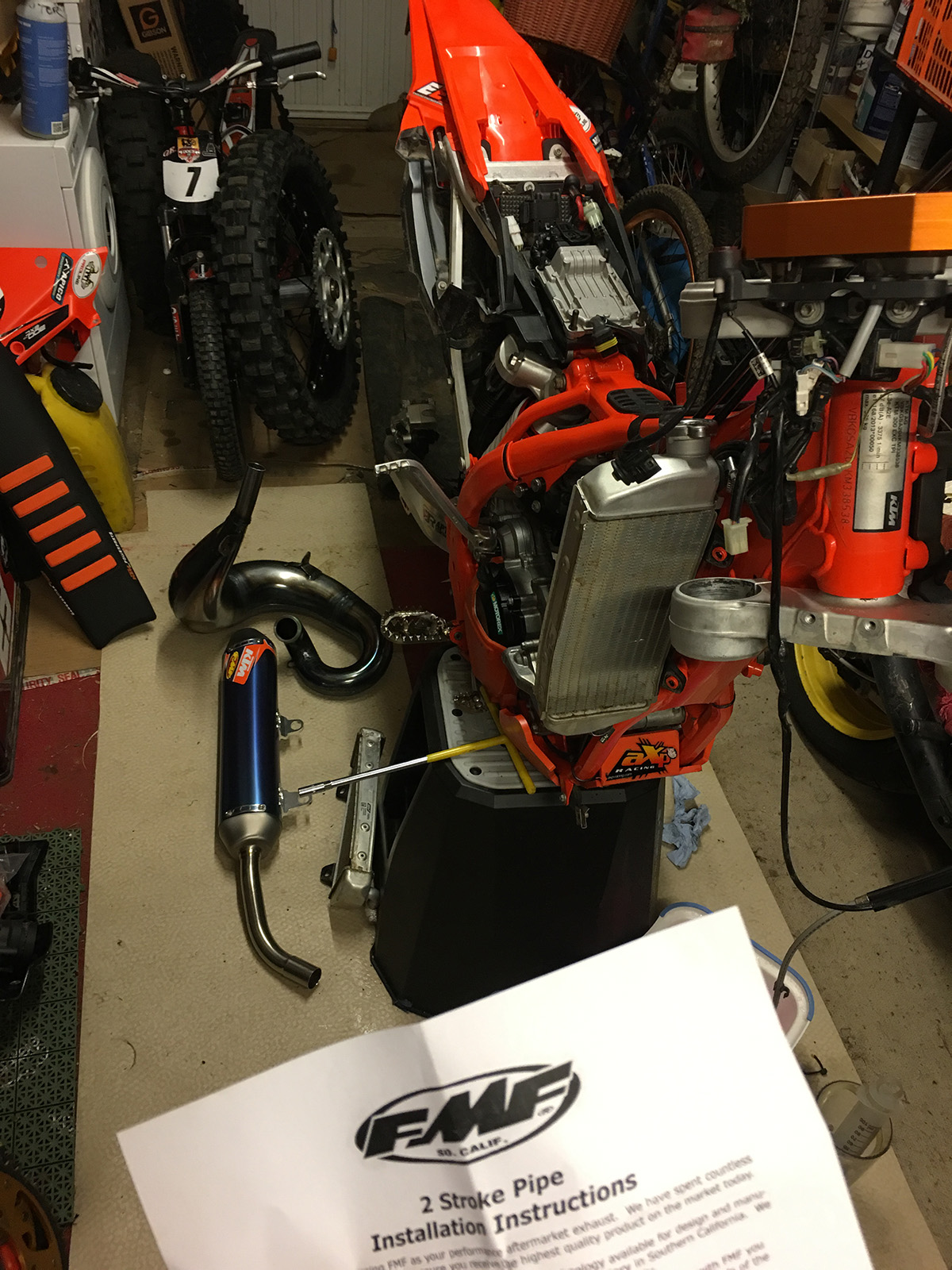 WP Cone Valve and Trax shock
How to transform you standard EXC in three easy steps: remove both fork legs and replace with WP Cone Valve forks, remove stock shock and replace with WP Trax unit.
WP stepped up with the loan of some off the shelf Pro Components for this race only (sadly!). My weight (around 80kg) was correct for the standard spring rates and all Gareth Edmunds from WP did was a few clicker changes to give me a more support to hit the rough track harder.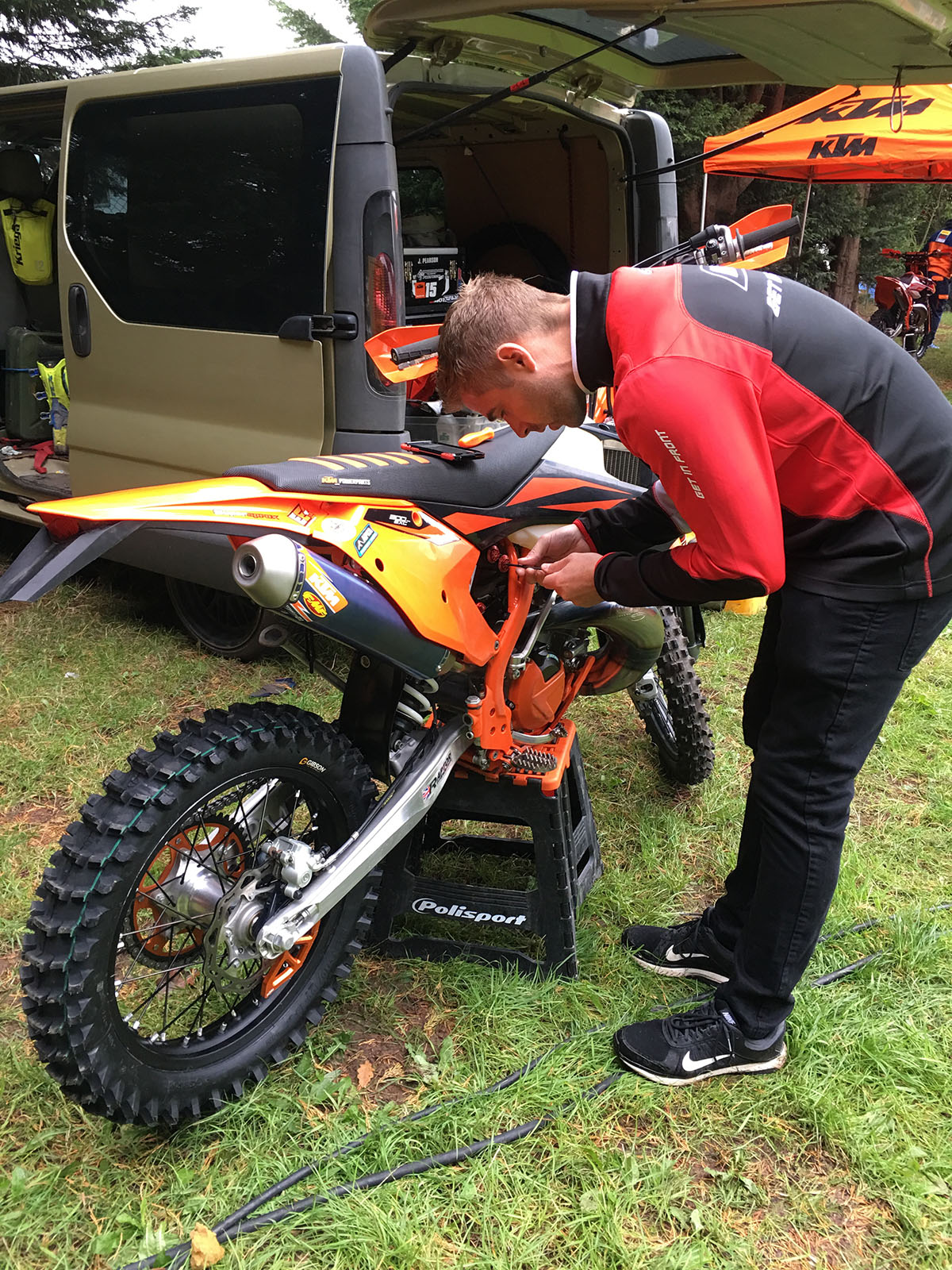 I'm under no illusion this is an expensive upgrade to fit to your bike but it made a dramatic difference to the handling of the TPI and it takes no time to work out why the factory guys run it.
We ran a full test report on the Cone Valves and Trax shock on a seperate post: Tested: WP Cone Valve forks and Trax shock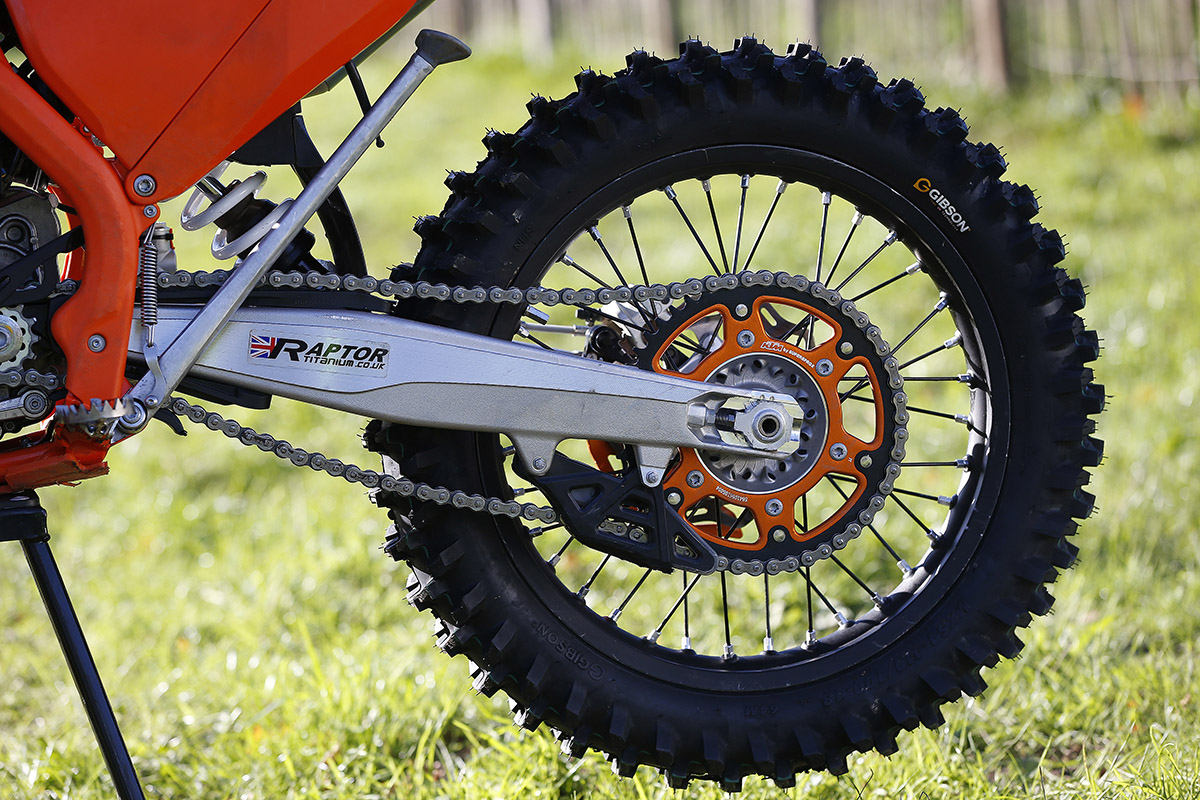 Gibson MX51 Sand Tyre
Taking advice from Gibson for Hawkstone's sandy terrain we fitted the MX51 sand tyre, which they do in 18 inch wheel size.
Discussing the pros and cons of sand tyre versus normal tyre with the tyre dude at Hawkstone was so in depth we didn't notice he'd put it on backwards first time around – we switched it the correct way before riding but you might spot the error in the picture.
The consensus was 50/50 on this track where heavy and often wet sand around the main MX track is contrasted by the looping woods section with some tough rocky and rooty climbs.
After a day riding I'm still undecided which was best but I did notice no-one else I saw had a sand tyre fitted which probably tells you something. Without doubt the sand tyre worked on the main MX track but across the rocky and root-infested hillside it struggled and actually popped off the rim in the end.
Renthal bars
I've replaced the stock Neken bars for Renthal's Fatbar – partly again because of the crash. They are fitted as standard on many MX bikes and the unbraced bars have that trademark tapered design which allows some flex.
I took Renthal's advice and fitted the 'CR High'/Ricky Johnson bend (part number 605-01) which suited me fine.
Powerparts steel sprocket
Because of the tough sand conditions at Hawkstone, and because it seems like a no-brainer, I also bolted on the SuperSprox/KTM steel tooth sprocket. It boast longer life and is lighter than the standard sprocket so makes sense. So far I've stuck with standard gearing on the 300.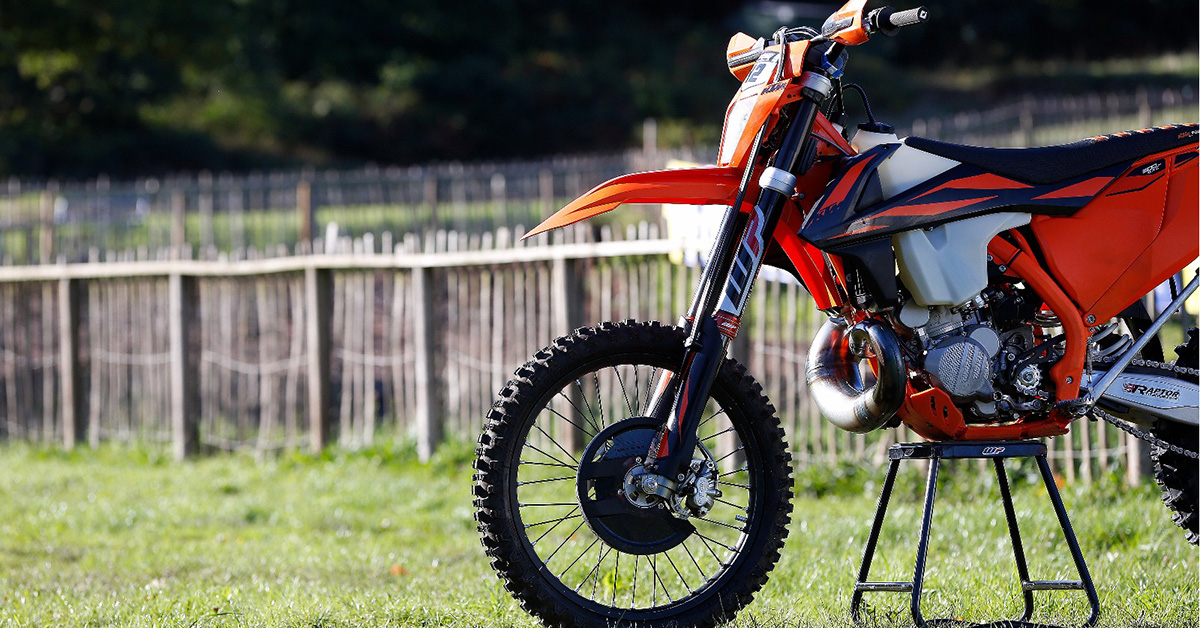 Factory seat
Another addition from the KTM Power Parts catalogue is the Factory Seat. Set at the same height as standard, its waved surface (the orange bits) acts as a grippier "hold" on your riding pants. In the sloppy riding conditions at Hawkstone it made a noticeable difference almost to the point of being too grippy and pulling my pants down.
FunnelWeb Proline Air Filter
Last but by no means least was the new Proline air filter from FunnelWeb. Conditions were mixed at Hawkstone with dust in places and some real wet slop in others, conditions where you need to be sure of the air filter sealing perfectly in the air box.
That whole thing of increased surface area you get with the FunnelWeb trademark pitched surface sure makes sense when you think about it and, as ever, taking the filter off at the end of the day proved inside was immaculate and no dirt made it into the sensitive TPI insides.
For now, that's it. As mentioned above the big bolt-ons here will feature real soon on E21 as separate product posts where we'll review and look closer at how they performed.
Next up for the TPI is a front brake fettle to settle an ongoing issue with a soft-ish lever.