Tested: 2019 Honda CRF450L
Trail friendly, dual-purpose and ready to take on any terrain you fancy. Is Honda's new CRF450L bringing trail bikes to a new generation?
Honda's new CRF450L nestles in the big red's motorcycle line-up somewhere between the CRF250L and the Africa Twin – if you were expecting the CRF450L to be an enduro bike you might be surprised.
This fully homologated, road legal, dual-sport bike is pitched very much to the side of where we usually focus on Enduro21. Not an enduro bike, Honda says, but a trail friendly dual-purpose bike ready for dirt roads, country lanes and even city commutes.
On paper then the Honda CRF450L is anything but. Based heavily upon the motocross model, CRF450R with 70% of parts in common Honda says. The idea behind the 450L steers away from the 450R's pure purpose.
The L is all about being a dual-purpose machine deliberately quiet, smooth, balanced in chassis and power delivery on and off road. It is capable and friendly to ride in equal measure and welcoming non-expert off road riders to the trail and, as quickly becomes clear when you ride it, filling a gap in the market for a modern and reliable trail bike.
High service intervals – this ain't no MX bike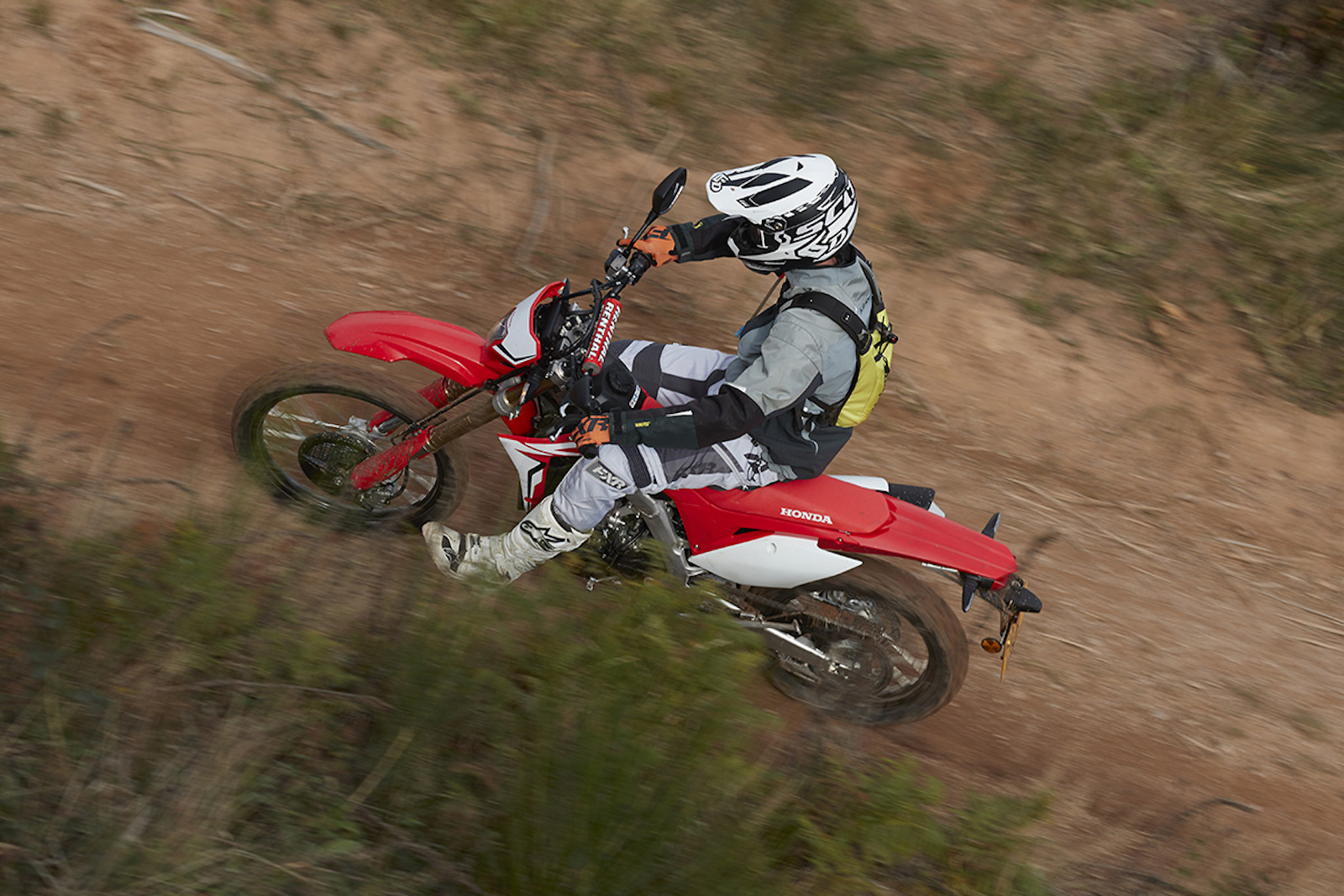 A big fact bursting out of the presentation at the Honda Off Road Centre in the UK, is the hike in servicing and reliability the 450cc engine has compared to the MX machine. 30,000kms (18,000miles) between major service intervals is huge for a four stroke competition dirt bike but actually perfectly normal for a trail bike. Oil changes are still pretty frequent at 1000kms but to be honest that's good practice and is hard to argue with.
Halving the power output of the CRF450R (25bhp and just under 25ft-lb of torque) seems a lot on the spec sheet. The processes of making it user friendly – growing crank inertia by 12%, fitting a quiet and Euro4 compliant exhaust system – all take a toll on ultimate power but not, Honda says, on usable torque.
In it for the ride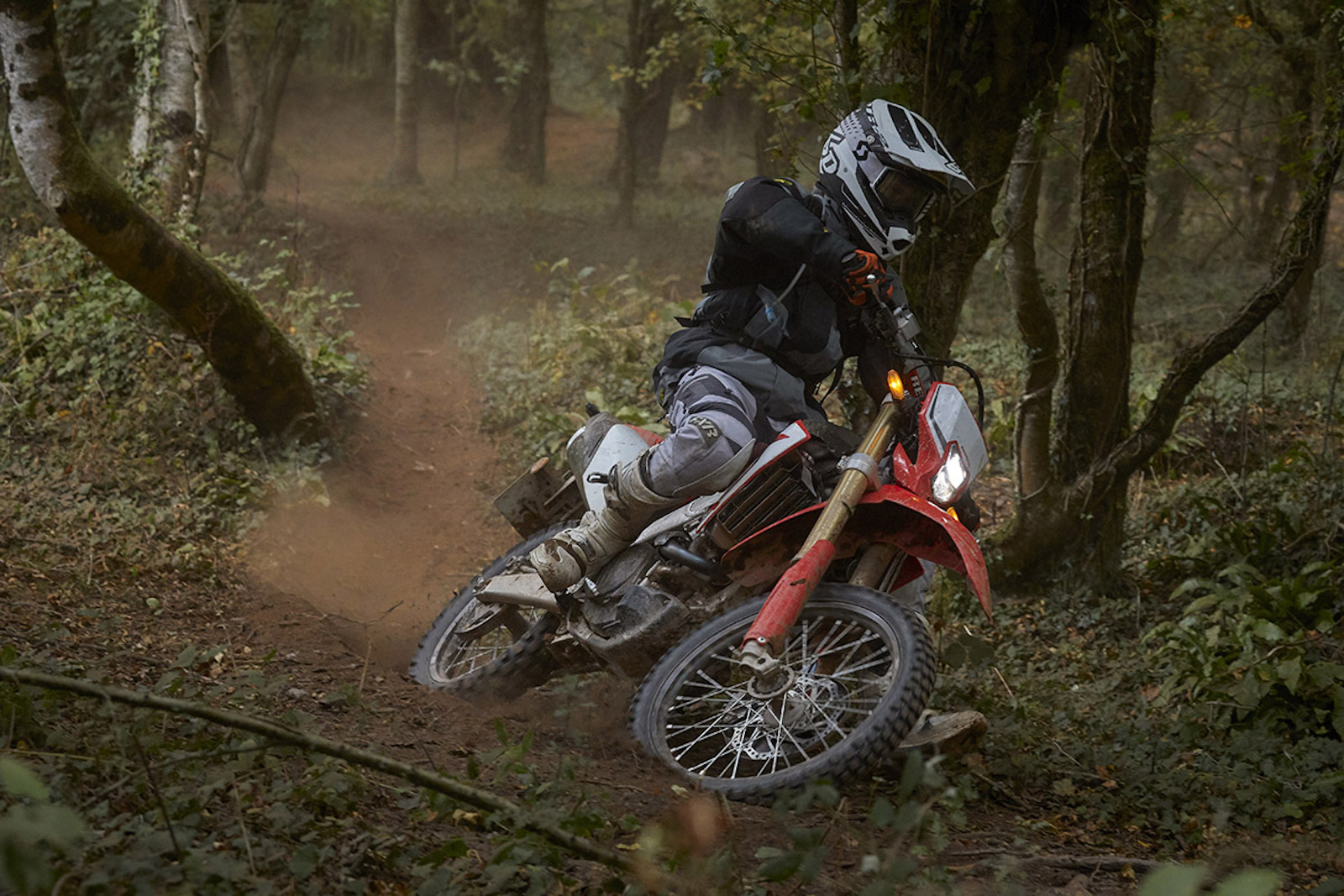 Riding the 450L comes as a surprise. The current crop of 450 MX machines are a step ahead, a new generation of powerful and agile weapons which have the genuine feel of a 250. Using that next-gen chassis as a basis for this trail bike very quickly makes sense because it simply means you get on this bike and feel comfortable straight off.
The road ride out to the off-road site gave chance to feel the CRF450L on twisty asphalt first before the dirt. The six-speed gearbox needs plenty of use I found but gives you 70mph comfortably, plus options to cruise quietly through villages past schools without frightening the locals or scaring horses. The exhaust note is very friendly in that regard too.
On the dirt we were straight into a slick, hard pack surface and it's hard not to be put off initially by the dual-purpose IRC tyres. The conditions would have tested any tyre but still it was a tentative start. It was a relief to head under the trees into dry and loamy conditions where they began to show themselves as more versatile.
Considering the abuse we put them through these IRC Trail tyres stand up well to dual sport use and they feel better as the day wears on. But if you wanted to spend more time off road then I'd plump for something with better edge grip.
Less is more?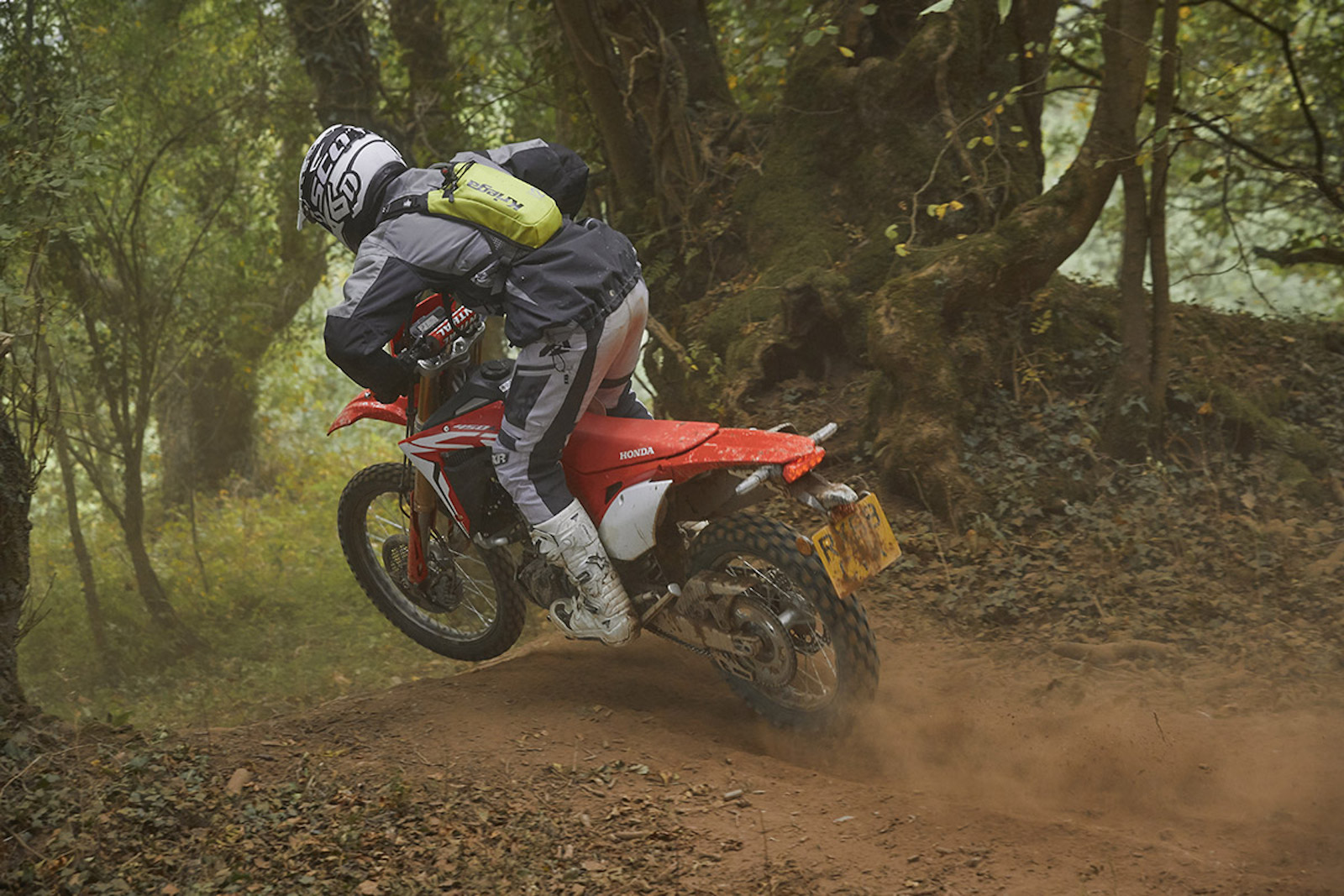 Having half the power of the CRF450R makes you wonder why, and certainly if, the 450L is going to be a deflating riding experience. It's not. Straight away the chassis is agile and you feel like a boss. It is accommodating as a bike – not too tall, not at all fierce but friendly and familiar.
As you'd expect, the power isn't anything like as sharp as a 450 enduro or MX machine and for this bike that's a good thing because no-one buying it needs that edge. In fact there are no sharp edges anywhere waiting to catch a novice rider out. No sharp brakes or too eager throttle delivery, no sudden power surges ready to induce the death grip hand cramps on the bars.
Here's the thing though, I rode all day with some pretty handy off road riders and no-one really complained about a lack of power or performance. Like everyone around me, I was surprised how good it was.
Sure we weren't doing special tests but we did spend some hoonigan time ripping round the woods behind former world motocross champion, Dave Thorpe and he is no slouch on a dirt bike. The power isn't mind blowing but it is torquey enough to get up anything and have a blast doing it.
Weight for it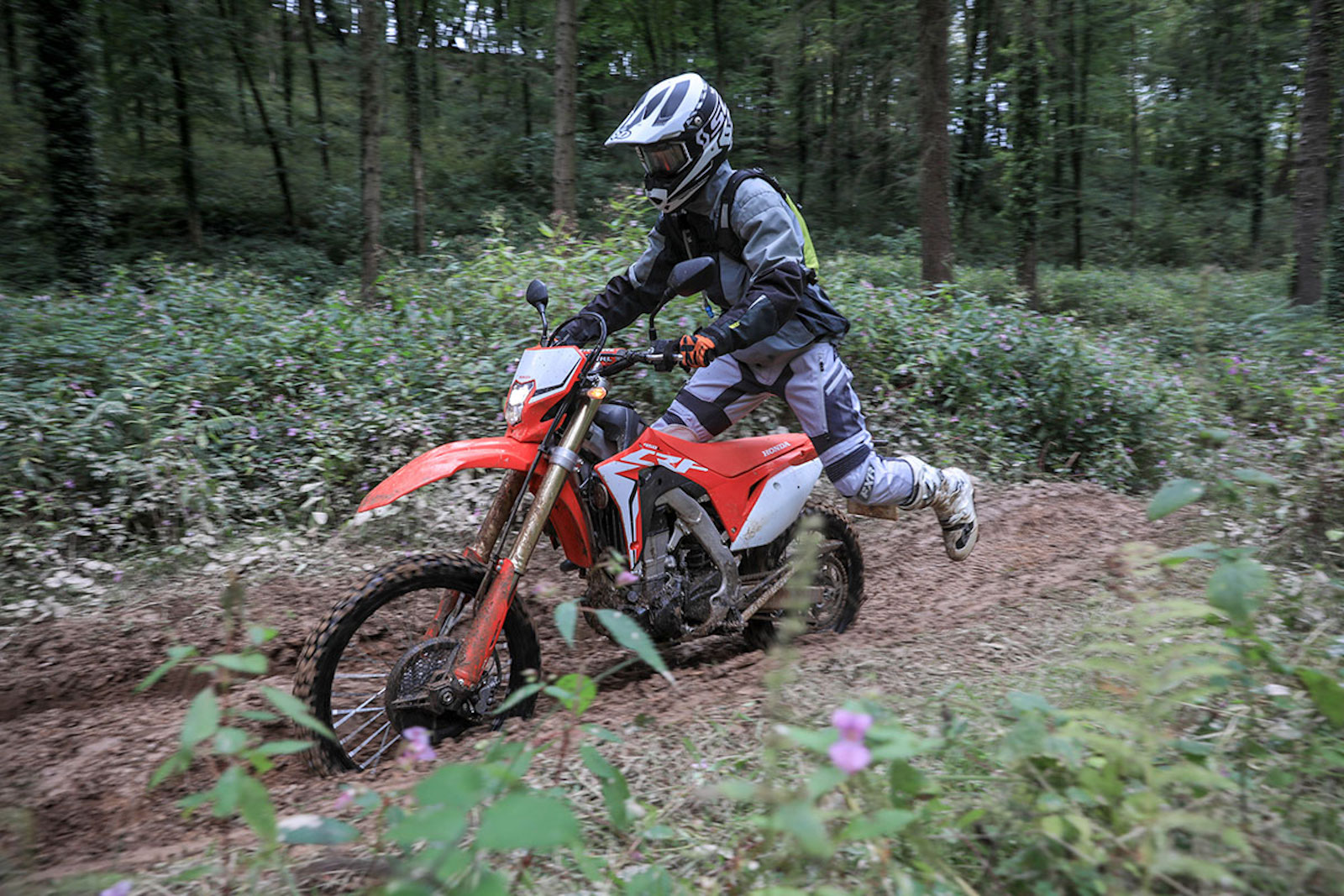 The CRF450L is a decent amount heavier than the CRF450R (131kg/288lbs fully wet is 20kg heavier than the R and 10kg heavier than the RX) but again that's something you can look at on paper and be put off by. Do you notice it when you're trail riding? Not really. The CRF seventh generation frame is slender and riders agile in the 450L and there's incredibly neutral feel to it. A slightly longer wheel base (18mm with 6mm longer trail) plus a narrower 120 section rear tyre make it stable and balanced wherever you're riding.
The Euro4 compliant and very social exhaust is adding a lot of weight alone so if weight was an issue I think there's at least one easy solution.
Showa suspension making a difference
Perhaps the biggest surprise in this package is the Showa suspension. "Based on the CRF450R" pops up again and it'd be easy to mistrust the marketing speak. Historically dual-purpose or trail bikes come with standard suspension you might associate more closely with a small boat than a dirt bike. This Showa kit bucks that trend.
It is basically the same as the donor 450R models only detuned Honda claims. In reality its best trick is to be supportive at the bottom of the stroke and have good bottoming resistance to the bigger hits we dish out. Even though it is soft in the initial stroke, especially at the back, when you do hit things it soaks it up. Less sag would be my quick fix to address the back end and I think you'll find worse stock suspension on some enduro bikes.
Dual-sport not enduro sport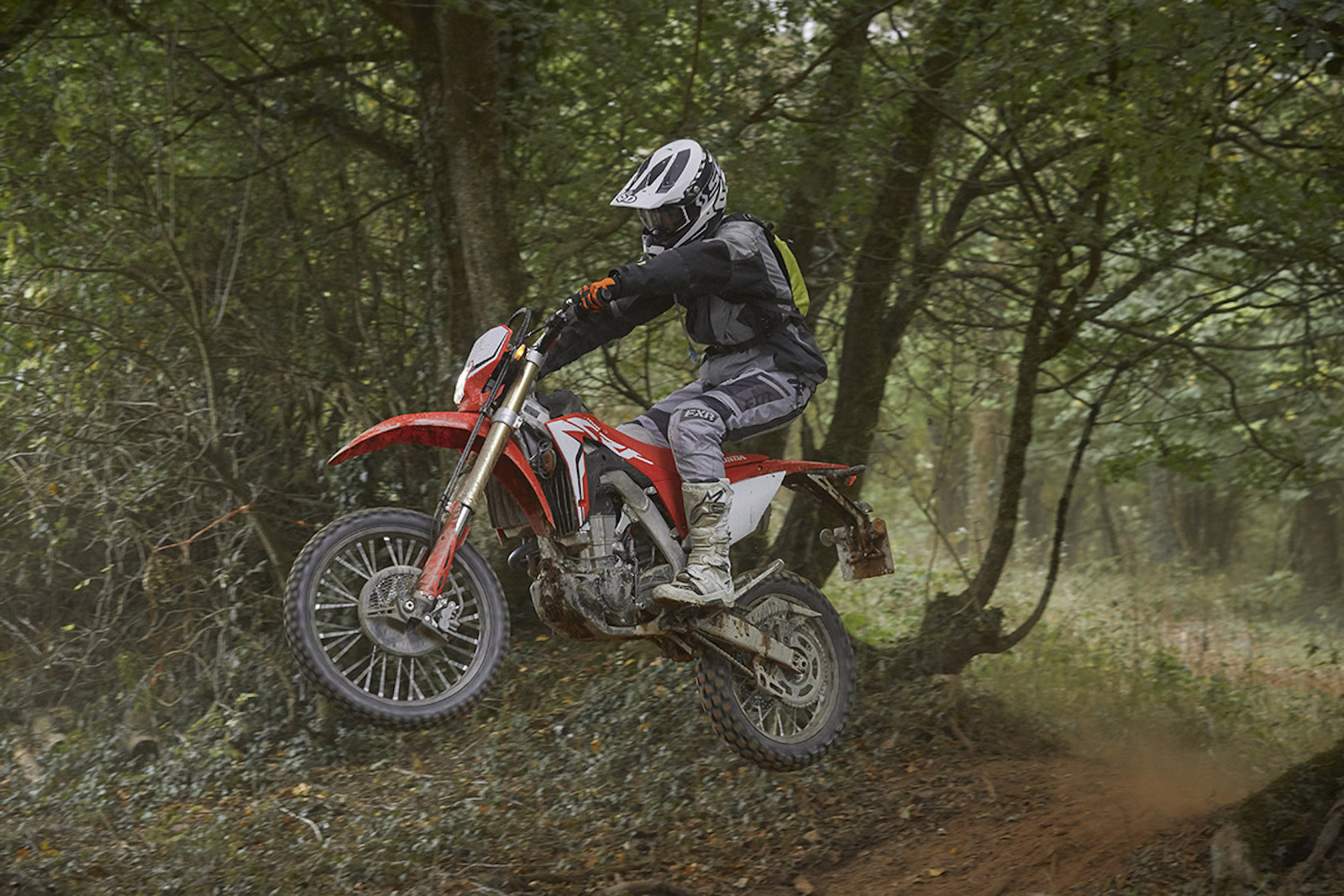 Dual-sport is the buzz phrase on repeat through the Honda press introduction. The CRF450L is at once an adventure bike, commuter, trail bike and enduro bike. Take this bike out of the enduro bike market and where does it sit? In a non-existent trail bike category? Angling to be the coolest courier on the block? Sunday funday kinda bike? Yup, it'll do that and more. Could you race this in a club enduro? No doubt about it.
A different set of tyres, a tweak to the rear suspension and a different exhaust system (saving weight) and you'd be good to go. The front brake lacked a bit of bite for my liking so I might change the pads too and a set of handguards would be a good call for deflecting the bushes and adding credibility. Other than that, she's ready for action.
I'm going to throw it out there as a great basis for a rally bike too. Imagine it with a bigger tank, nav-tower and rally tyres. Pure sauce.
On the road price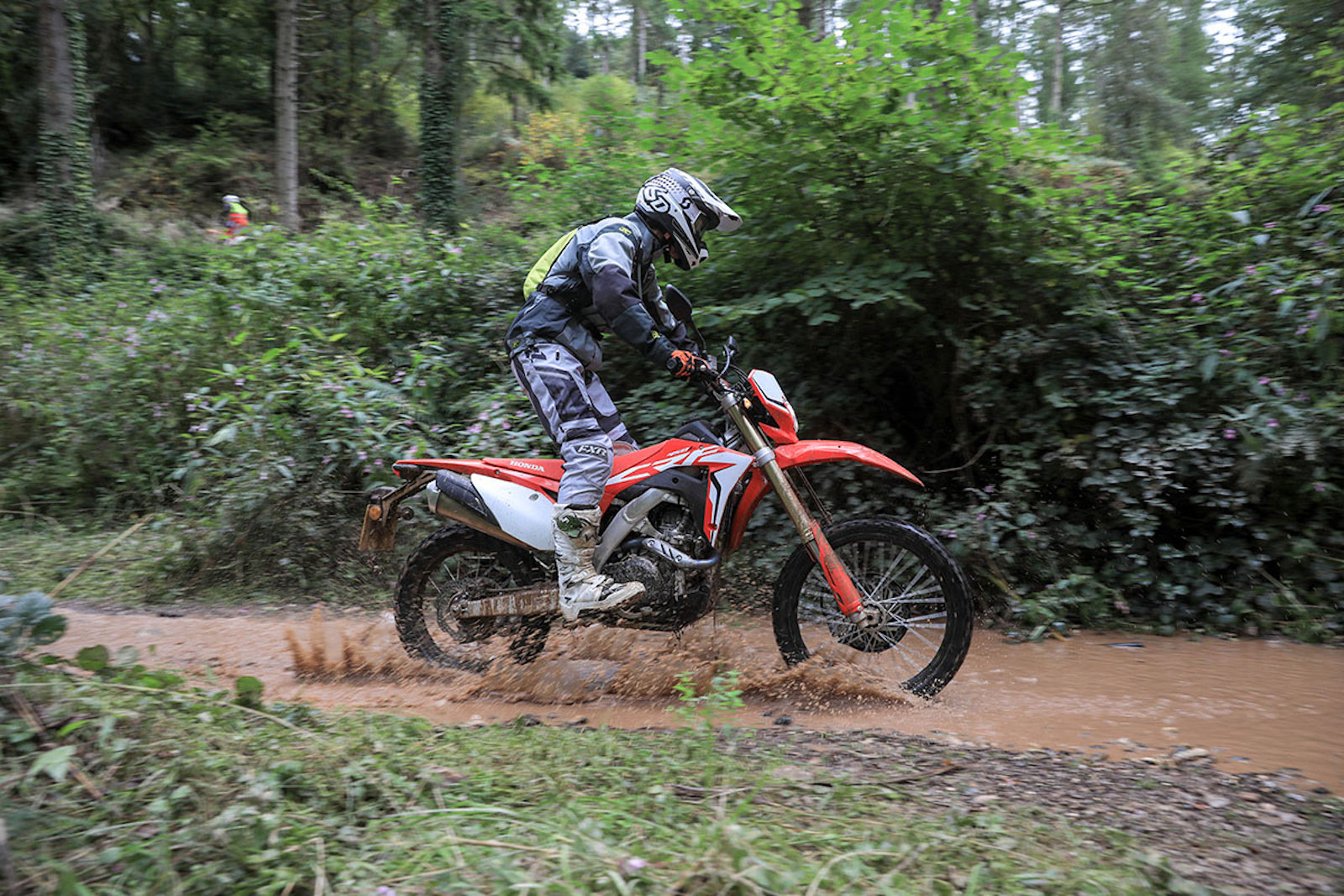 Unavoidably the issue of price comes into it. Many people will look at the CRF450L, the specs and certainly the retail price figures and immediately baulk. I would too and have to admit I could not afford ten grand on a dirt bike (£9469/$10,399USD on the road). There is a question mark in my head as to why a bike evolved from another bike (CRF450R/RX) could cost more money? Two grand extra? Why the price isn't comparable to the CRF250L?
Honda has the CRF450L deliberately pitched into the wider market and into the Honda line-up with road bike buying customers in mind as much as anyone. People do spend 20 grand on adventure bikes readily so why not half as much for the 450L?
It makes sense when you see it that way but equally it makes me scratch my head because this bang-up-to-date version from a great trail bike tradition could be so popular across the globe because it fills agap in the market. That price point knocks a whole heap of potential customers off the customer list and that is a shame.
The world was surely ready for a new version of those old trailies like the XR, XT, KLR and DRs. The CRF450L is that bike 30 years better. Honda rightly deserves praise for building that bike and something which is way more capable than I expected.
Honda CRF450L Technical Specifications: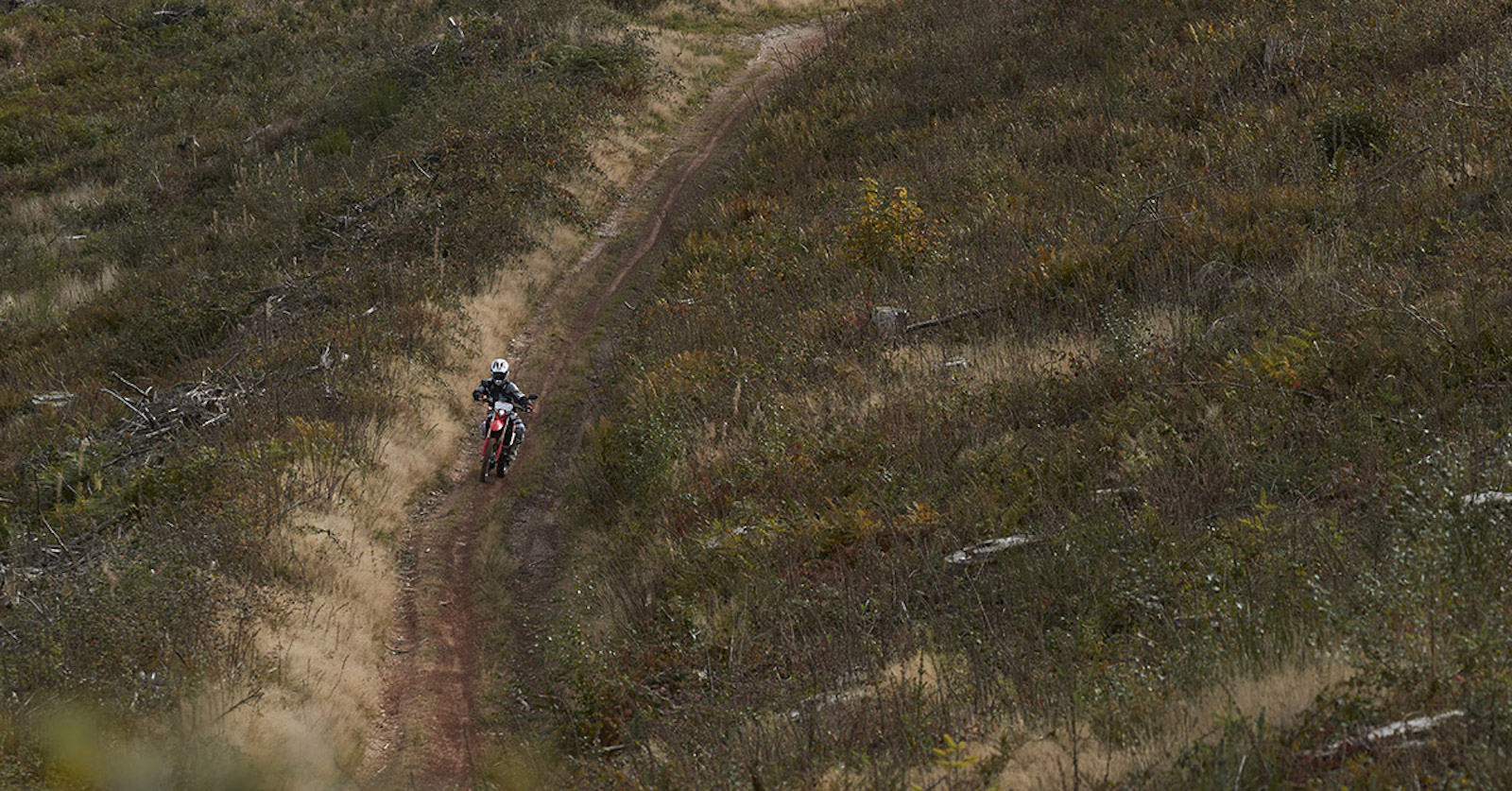 Engine: 449cc, liquid cooled, four-stroke single
Bore and Stroke: 96.0mm x 62.1mm
Compression Ratio: 12.0:1
Carburation: PGM-FI Fuel injection
Ignition: Digital CDI/E-start
Clutch: Wet, multi-plate
Transmission/Final Drive: six-speed/chain
Chassis: Aluminium twin tube
Dimensions: (L´W´H) 2,280mm x 825mm x 1,260mm
Wheelbase: 1500mm
Caster Angle: 28.5°
Trail: 122mm
Seat Height: 940mm
Ground Clearance: 315mm
Fuel Capacity: 7.6 litres/titanium tank
Kerb weight: 130.8kg
Suspension: Front 49mm Showa steel-sprung USD fork,
Rear Showa monoshock using Honda Pro-Link system
Tyres: IRC Trail, 80/100-21 front, 120/80-18 rear
Brakes: Single disk/dual piston caliper front, single piston caliper rear
More information for your territory: powersports.honda.com