2023 Dakar Rally daily details revealed – coast-to-coast route, new rules and long days
The 2023 Dakar Rally route has officially been announced in Paris with nearly 5000 kilometres of timed special planned across 14 days racing between the Red Sea and The Gulf of Arabia with it all beginning on New Year's Eve...
All eyes were on Dakar race director David Castera as he highlighted many of the key points of the 2023 edition of the Dakar today, December 1 in Paris. Key points included a precise 4704 kilometres of timed special planned (over 8500km in total travelled) making it one of the longest Dakars in recent history.
Spread across 14 days – an extra two days on top of the more recent Dakar's – that will mean eight days straight before a rest day in Riyadh.
Also present at the big reveal today, Adrien Van Beveren points out, going fast will certainly not be the only key to success this year where endurance will be key for the bikes and riders.
Rule changes favour the brave
New rule changes this year will be implemented including a crucial one to stop the yo-yo effect from day to day. For 2023 riders can be awarded time bonuses for leading a stage for a. set distance. For example, if a previous stage winner leads the next day for 200km they will get a five minute bonus time award. The aim is to reward the fastest riders for their efforts and stop unfairly penalising competitors by pitching them out front for everyone else to follow.
Similarly, the new rules include splitting roadbooks through the entry, basically meaning not everyone is following the same route everyday, again, also aiming to stop riders following each other so much.
"We want more difficulties, more dunes and longer distance" was the competitor feedback immediately after the '22 Dakar. The organising team has been in planning ever since and the 2023 edition will certainly deliver.
2023 Dakar Rally by day in a nutshell:
The rally will be based in a Sea Camp a couple of hours north of Jeddah for the first five days or so with technical and administration processing going on in what they plan to be a "convivial" village atmosphere.
Day one officially will be on December 31, New Year's Eve with a 10 kilometre prologue along the Red Sea coast. The prologue is important because it determines start order for stage one with the fastest riders able to choose their start positions.
Stage one of over 600km in total loops out and back to the Sea Camp and will not feature too much navigation as they ease into the race but a good warm-up for the race ahead is promised on a stage with rocks, sand and dunes.
Stage two tracks a similar overall distance with 431km of special from the Sea Camp to Al Ula which Castera explained will be stony, dusty and rocky and no real sand sections.
An "absolutely magical" start to stage three will see the first major tests of navigation on this day in canyons and open desert.
Loops out from Ha'il will feature for the next couple stages and a promise of sand mountains early on stage four before tricky navigation later aiming to catch riders out with pinpoint roadbook reading required, they say. Expects some changes in the leader board this day!
Sand, sand and more sand continues on stage five which is based in the Saudi capital of off-road racing. Fields of dunes and a "slalom-type section" will be part of the course as different riders will follow separate navigation to prevent them following each other.
The longest stage 877km in total heads south to Al Duwadimi on day six with a special of 466km.
Stage seven will feature varied terrain they say with plenty of stones on a looping route over 470 km it is the longest timed special and a day which could be decisive in the results for its toughness.
Al Duwadimi to Riyadh is stage eight and the last day before the rest. A mixed stage they say with valleys and mountains as much as wide-open desert before some fast piste in the last 200km ahead of a rest and a regroup in Riyadh.
January 9 – rest day in Riyadh
Stage nine gets a bit busier with the navigation as the event heads to Haradh on a 710km total route.
Stage 10 looks an odd one on paper and it will be an early one starting at 3:30am for the first riders facing a long liaison of 623km to the timed special start. The special is a "deliberately short" 114km as we head deep into the sand of the Empty Quarter.
Stage 11 is the first part of the '23 Dakar's only marathon stage. Rider face the Empty Quarter for a few days of "nothing, just empty sand seas and dunes" which means it can be hard mechanically but no so much on the tyres and mousses as we've seen in previous years. It is a part of the rally which can be a dream or a nightmare for competitors who then must face a night alone in a tent on the desert floor after prepping their own bike.
Stage 12 is another short 185km but though distance and speeds will be lower, days will be long because of the tough dunes.
Big dune descents will greet riders as they leave the Empty Quarter and head towards the finish along the Gulf of Arabia coast on stage 13. Shaybah to Al Hofuf is the penultimate stage and again, though it looks short (154km of timed special), it will be a long day of 669km in total to get the distance covered – so expect another early start boys and girls.
January 15 and stage 14 is an easier day to conclude the rally along the Gulf coast to Dammam after a fast race along the shoreline at times. By now we should know the winners but it is never over until it is over at the finish and podium at a pink coast, harking back to the historic Lac Rose finish location in Africa.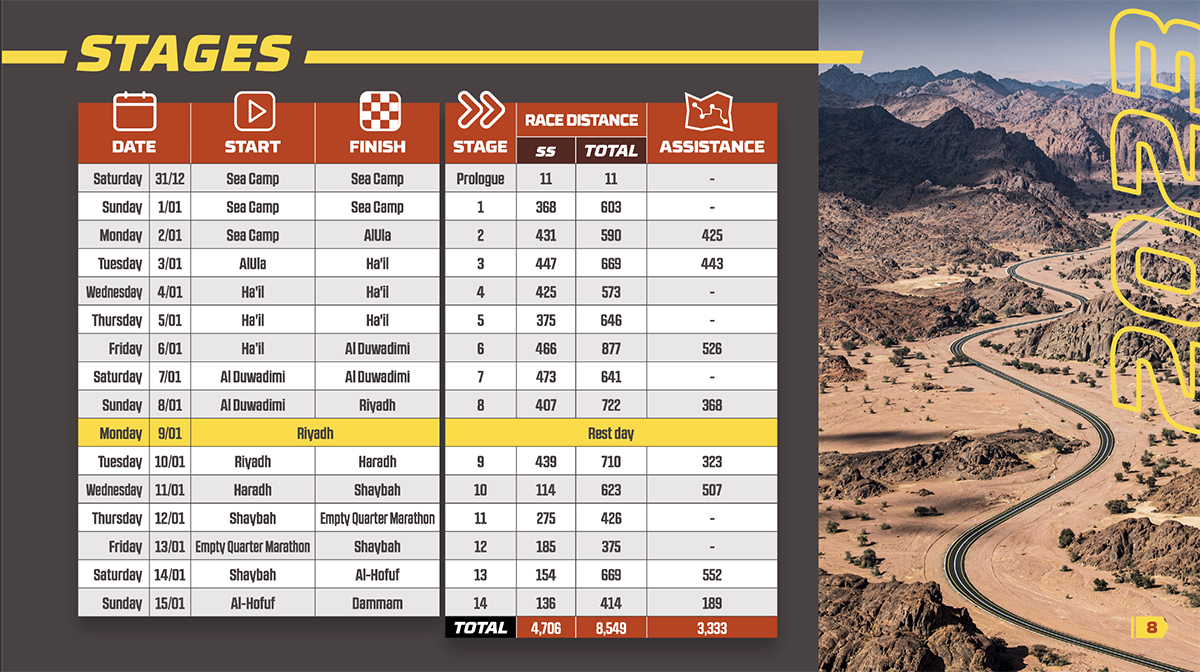 Six factory teams will line up among the 145 bikes and quads with, to our minds at least, at least 10 riders who could win including five former Dakar champions. One third of the bike entry are rookies, it will again feature as round one of the World Rally-Raid Championship and under 23 in Rally 2 categories. We'll also see Alex Salvini making his debut on the Fantic, a first official entry from China with the WU PU DA HAI DAO Rally Team, three women racing including Sandra Gomez on the factory Reiju, and 27 Malle by Motul riders going solo without assistance.
FYI Enduro21 will be there at the '23 Dakar, bringing daily news, views and interviews direct from Saudi Arabia. Stay tuned!
Photo Credit: Rally Zone