Desafio Ruta 40: Shocking stage 2 for Toby Price as Tosha Schareina leads
Round four of the FIM World Rally-Raid Championship, the Desafio Ruta 40 in Argentina, is proving to be a dramatic one as stage two causes Red Bull KTM teammates Toby Price to trade rear suspension parts meanwhile Tosha Schareina takes another stage win to maintain the overall lead.
The first part of stage two in Argentina was a fast one with gravel tracks and then navigation was more important in the second half with demanding terrain: chott, fesh-fesh, dunes and sand. Classic Argentina you might say with riders mindful of the stage one tyre and rear mousse problems in the early, fast section before some navigation to concentrate on and some dunes to "relax" in.
Toby price in pieces
The three leading riders in the provisional W2RC standings, Toby Price (62 points), Luciano Benavides (55 points) and Adrien Van Beveren (53 points), were neck and neck at the front of the DR40 after stage one but 24 hours later proved to be drama-filled.
The story of the day came after refuelling where Toby Price almost had a big one when his WP rear shock absorber exploded. He tried to fix it himself but had no option but to wait for assistance.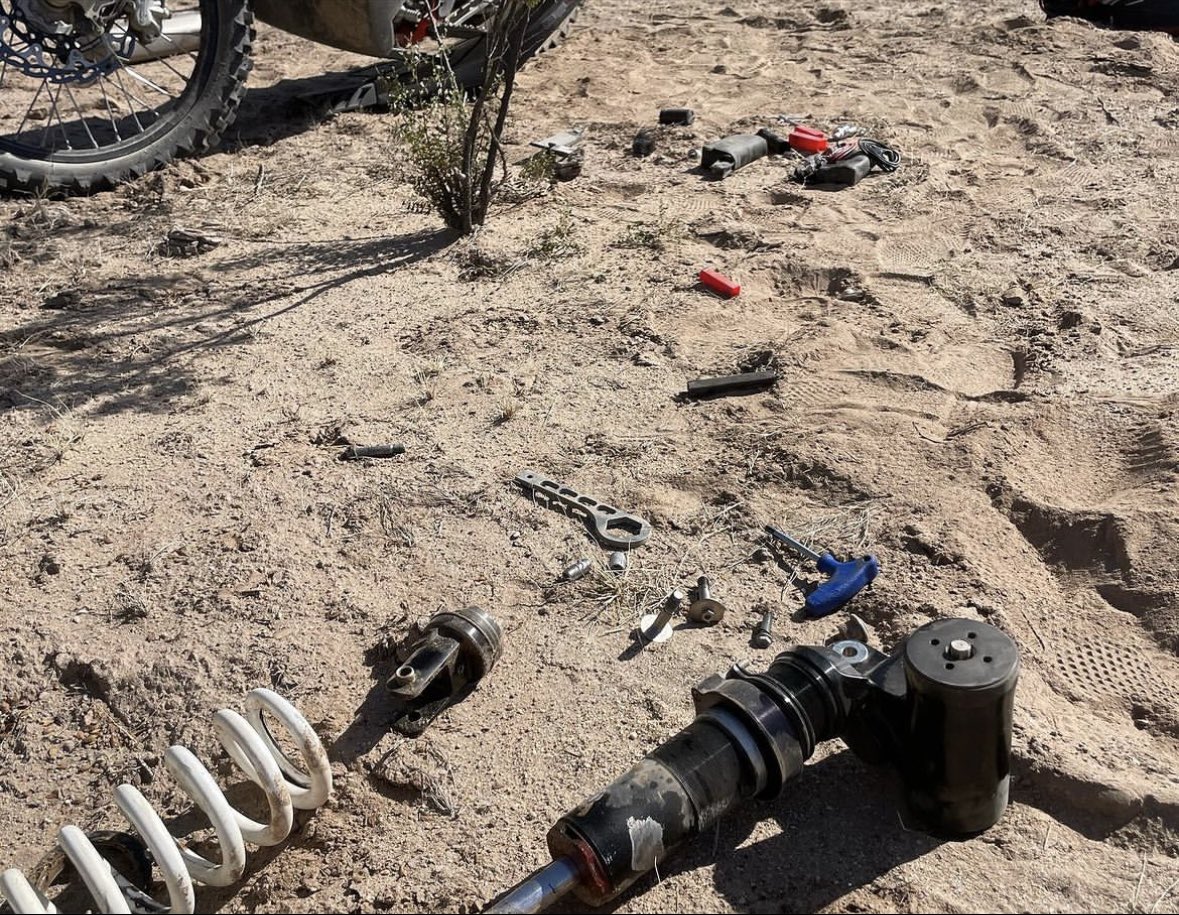 Already out of contention due to blowing his rear mousse on stage one, Price's KTM teammate Matthias Walkner came to the rescue and handed over his rear shock, sending the Australian on his way, one-hour down. It's all allowed within the regulations but Walkner takes a DNF for the sake of his teammate.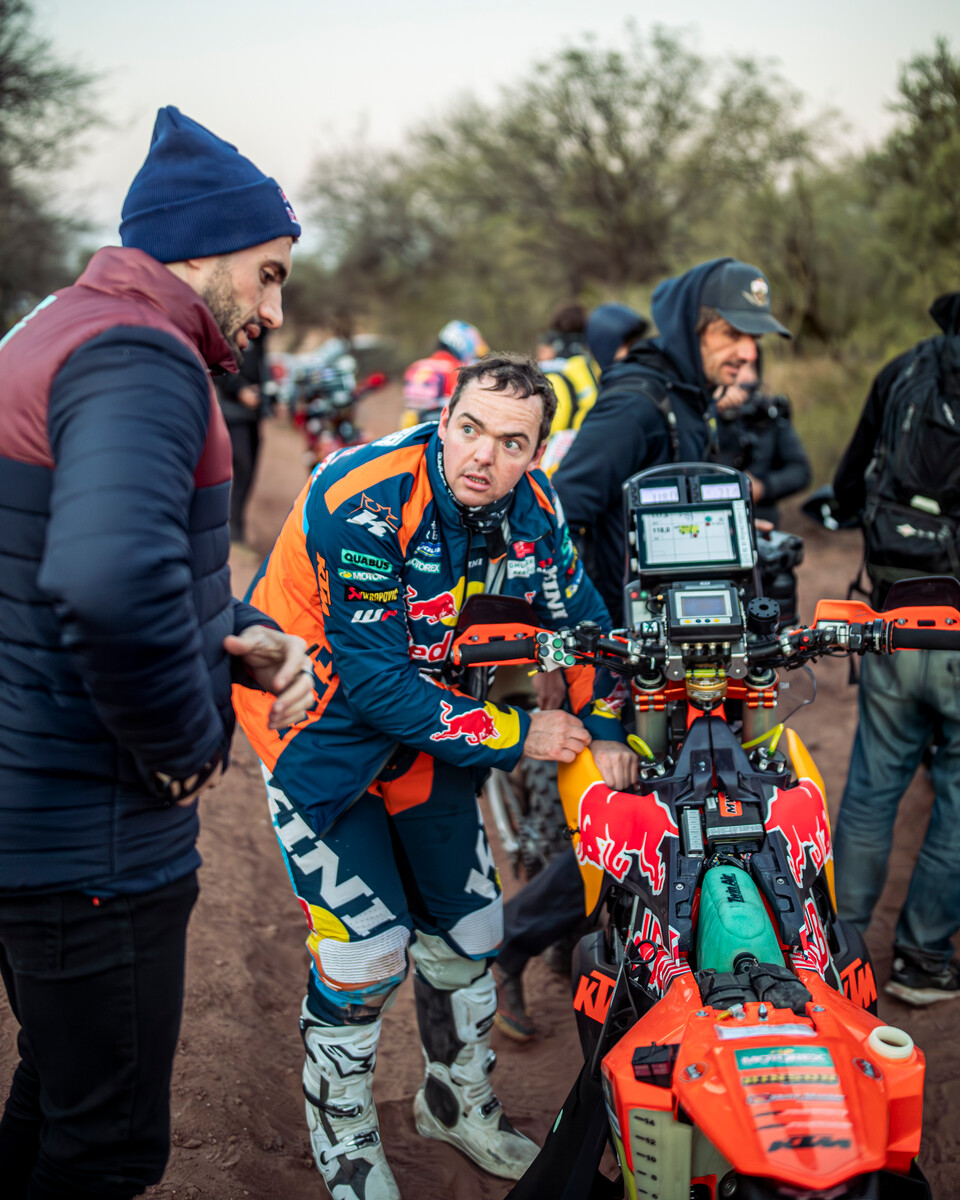 As for his main rivals for the championship, Luciano Benavides outgunned Adrien Van Beveren today, not least because AVB went the wrong way for five or six kilometres. The Argentinian meanwhile was only second fastest behind a rider who is proving a revelation since getting on the factory-supported Honda, Tosha Schareina.
The Spaniard is not registered for the World Championship having only jumped on the CRF450Rally two rounds in, but he's won yet another stage. Both Schareina and Benavides benefitted from bonus time today having lead the stage for significant amounts of time with the new ruling for this season really paying off for their efforts heading the field for this second day.
Ricky Brabec made amends for his problems on day one with a second place provisionally on the stage behind Tosha but with time bonuses awarded to Luciano, the American dropped to P3.
Desafio Ruta 40 stage 2 results:
1. Tosha Schareina (Honda) 3:27:40
2. Luciano Benavides (Husqvarna) 3:32:22
3. Ricky Brabec (Honda) 3:35:19
4. Ross Branch (Hero) 3:38:12
5. Ignacio Cornejo (Honda) 3:39:06
6. Adrien Van Beveren (Honda) 3:39:51
7. Sam Sunderland (GASGAS) 3:40:10
8. Pablo Quintanilla (Honda) 3:40:43
9. Sebastian Buhler (Hero) 3:44:34
10. Bradley Cox (BAS KTM) 3:46:54
(Toby Price P18 1:08.30 behind)
Provisional Standings after Stage 2
Pos. Rider Constructor Time/Gap
1 SCHAREINA Tosha 68 Honda Team 07:22:40
2 BENAVIDES Luciano 77 Husqvarna Factory Racing 07:27:23
3 VAN BEVEREN Adrien 42 Monster Energy Honda Team 07:36:00
4 EVAN BRANCH Ross 16 Hero Motorsports Team Rally 07:37:18
5 BRABEC Ricky 2 Monster Energy Honda Team 07:42:51
6 QUINTANILLA Pablo 7 Monster Energy Honda Team 07:43:15
7 CORNEJO José Ignacio 11 Monster Energy Honda Team 07:43:32
8 BÜHLER Sebastian 110 Bühler Racing Team KTM 07:48:17
9 SUNDERLAND Sam 3 Gas Gas Factory Team 07:48:25
10 COX Bradley 49 BAS DAKAR KTM RACING TEAM 07:58:07
Cox takes charge of Rally 2
In Rally2, Michael Docherty (BAS World KTM Racing) hit a mechanical like so many in the special and is another DNF. His troubles left the door wide open for his teammate and fellow South African Bradley Cox to win the Rally2 stage and climb up into the top 10 overall.
Romain Dumontier (HT Rally Raid Husqvarna Racing) finished within a minute of the Cox, while Duust Rally's Konrad Dąbrowski and Jean-Loup Lepan floundered at over 11 minutes down and Paolo Lucci (BAS World KTM Racing) conceded over 17 minutes.
"Dudu" slashed his deficit in the overall to Lucci (whom he trails by 3 points in the world championship) by 16 minutes, which also happens to be the time he lost as a result of penalties for changing his engine after the prologue (15 minutes) and speeding in yesterday's special (1 minute). The two Rally2 title contenders are almost back to square one, with the Italian leader of the championship holding on to a razor-thin four-minute margin.
Stage three
Stage three loop around Belén, heading north to the Pie de Medano area, which the Dakar visited more than once. The first part will take place to the east of Ruta 40, while the second part will jump to the west of this strip of asphalt which the race gets its name from.
Sand will be the name of the game with tracks, dunes and navigation on the menu. Halfway through the first part of the special, the highest dunes will peak at 2,600 metres above sea level. The second part of the special, coming after the refuelling stop at km 164, will be more of the same, with a combination of sandy tracks and dunes. A gruelling stage in true Dakar style.
· Stage 3: Belén – Belén
· Total: 466 km
· Road sections: 198 km (95 + 103)
· Special: 268 km
Photo Credit: A.S.O. Julien Delfosse + Toby Price + Cin Cin Movies