Team Italy crowned 2022 Enduro Vintage Trophy champions
Team Italy's three-rider squad of Doing Enrico Tortoli, Giorgio Grasso and Tulio Pellegrinelli have claimed the 2022 FIM Enduro Vintage Trophy after four days of action in Santiago Do Cacem, Portugal.
The annual celebration of vintage enduro motorcycles from the early 1970s through to the early 1990, the FIM Enduro Vintage Trophy concluded on Sunday MX races following two days of tests and challenges for old bikes (and bones).
With the hard work done in those two days, the final day of competition in Santiago Do Cacem saw all competitors take to the track for the event's final MX races – just as with the ISDE format.
Enrico Tortoli, Giorgio Grasso, and Tulio Pellegrinelli all completed their respective races without incident to claim a commanding margin of victory in the overall Vintage Veterans Trophy Team competition.
"I've really enjoyed racing here in Portugal," said former enduro world champion, and Vintage Veterans Trophy Team winner Giorgio Grasso. "At the end of the four days we got the win we were looking for. The big change we made as a team from previous years was that we came here well prepared in every aspect – we were really ready. The race was not too difficult, but at the same time there were some tricky aspects, so it's great to get through the four days with no troubles. For myself, Tulio, and Enrico, it's been a great week."
Team Germany ended the event in second which they too had held since day two of the competition onwards. Uwe Weber, Johannes Steinel, and Sven Roth kept themselves ahead of local favourites Team Portugal, Paolo Fragoso, Antonio Silva, and Filipe Guerra who rounded out the Vintage Veterans Trophy Team podium.
2022 Enduro Vintage Veterans Team Trophy overall results: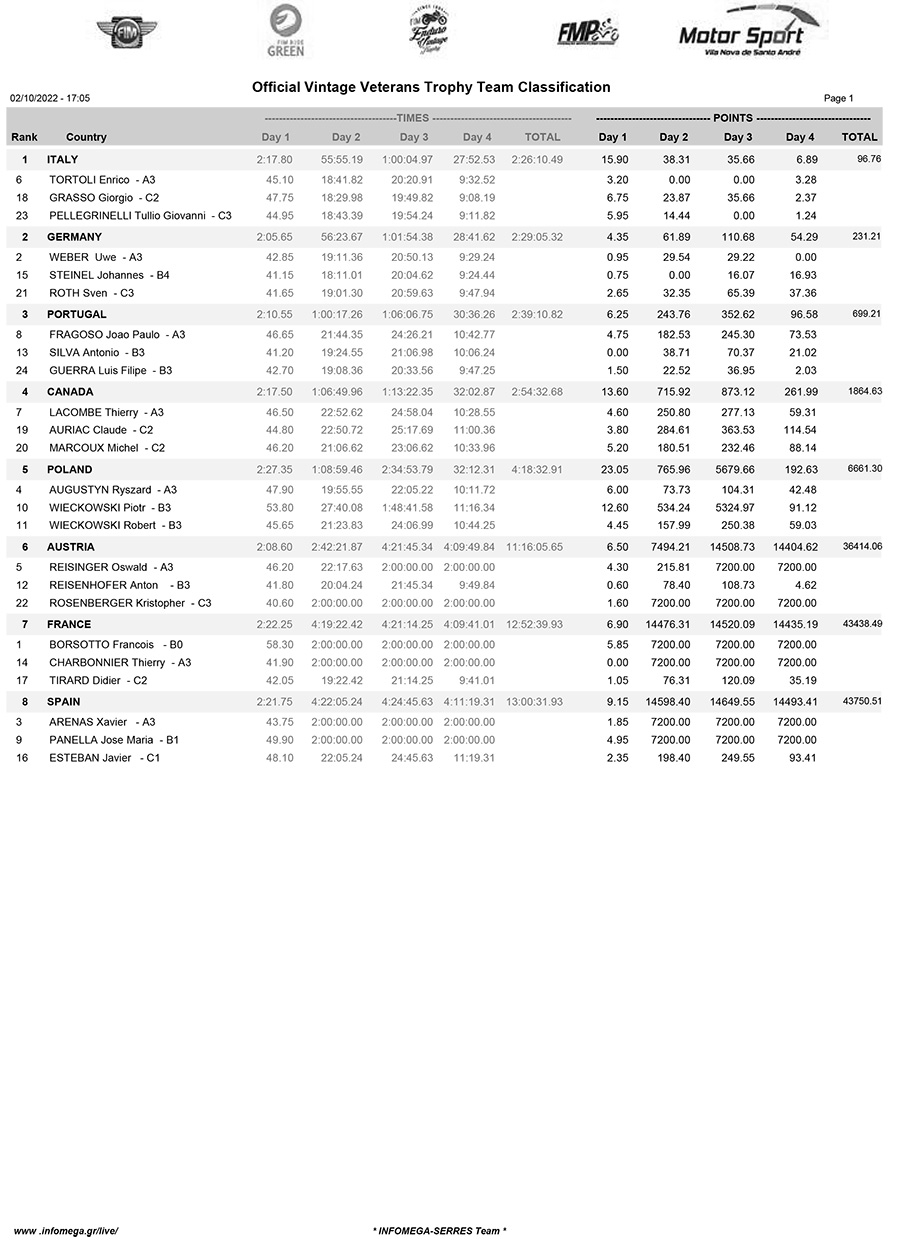 Team Canada earned a well-deserved fourth ahead of Poland. All five teams got all three of their riders and their vintage motorcycles to the end of each day of competition with Austria, France, and Spain completing the Vintage Veterans Trophy Team results.
Italy were also victorious in the Vintage Silver Vase Club Team award with Maurizio Bettini, Luigi Mazzoni, and Mario Graziani of MC Pantera 1 team. They finished ahead of Spaniards Xavier Soler, Ivan Gomez, and David Carrion from Motoclub Cerdanya 1 with MOTO Club Pantera riders Marco Ghilardi, Roberto Cancelli, and Carlo Badii third.
At the end of four days of challenging racing, 11 Vintage Silver Vase Club Teams managed to get their three riders, and their vintage bikes, to the finish.
Fred Hoess puts USA on top of scratch results
Topping the Individual class at the 2022 FIM Enduro Vintage Trophy, American Fred Hoess ended his four days of racing in Portugal with a highly impressive final day performance, setting one of the day's fastest times during the final MX races.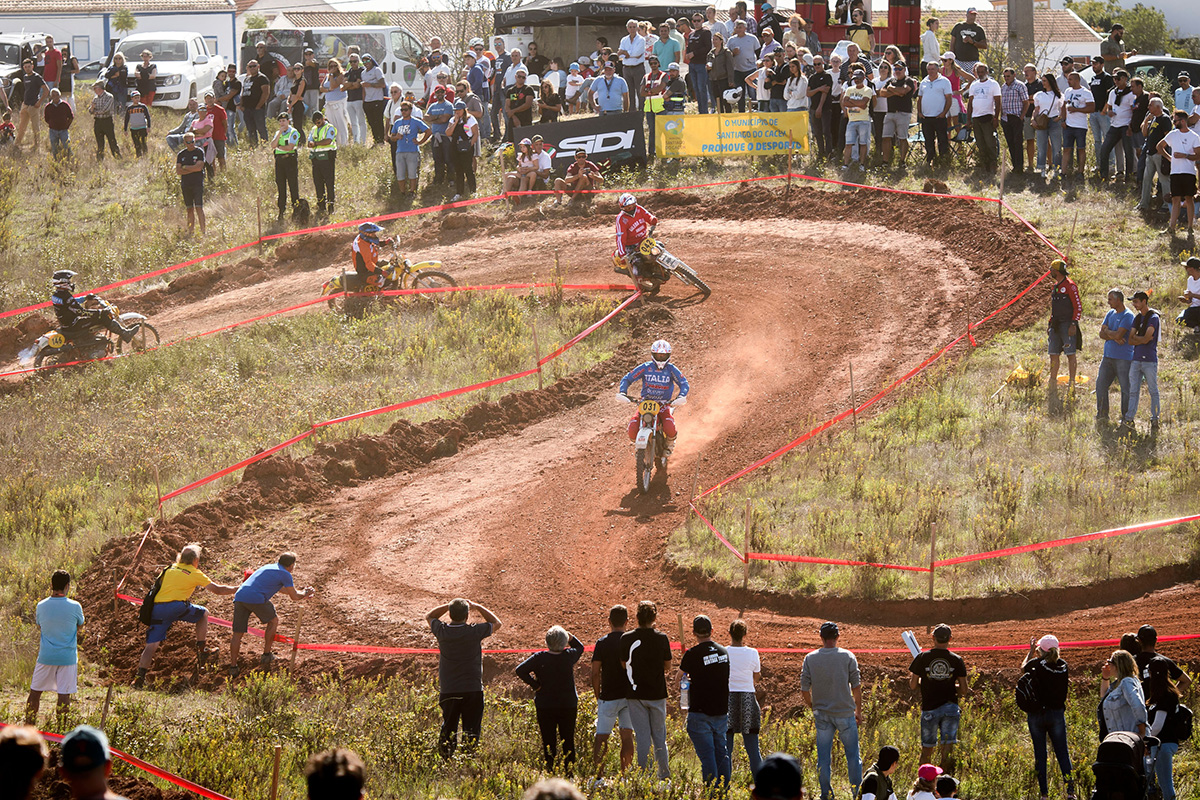 Added to his day three victory, Hoess topped the Individual class ahead of Giorgio Volpi, with Adriano Micozzi third.
2022 EVT individual overall results: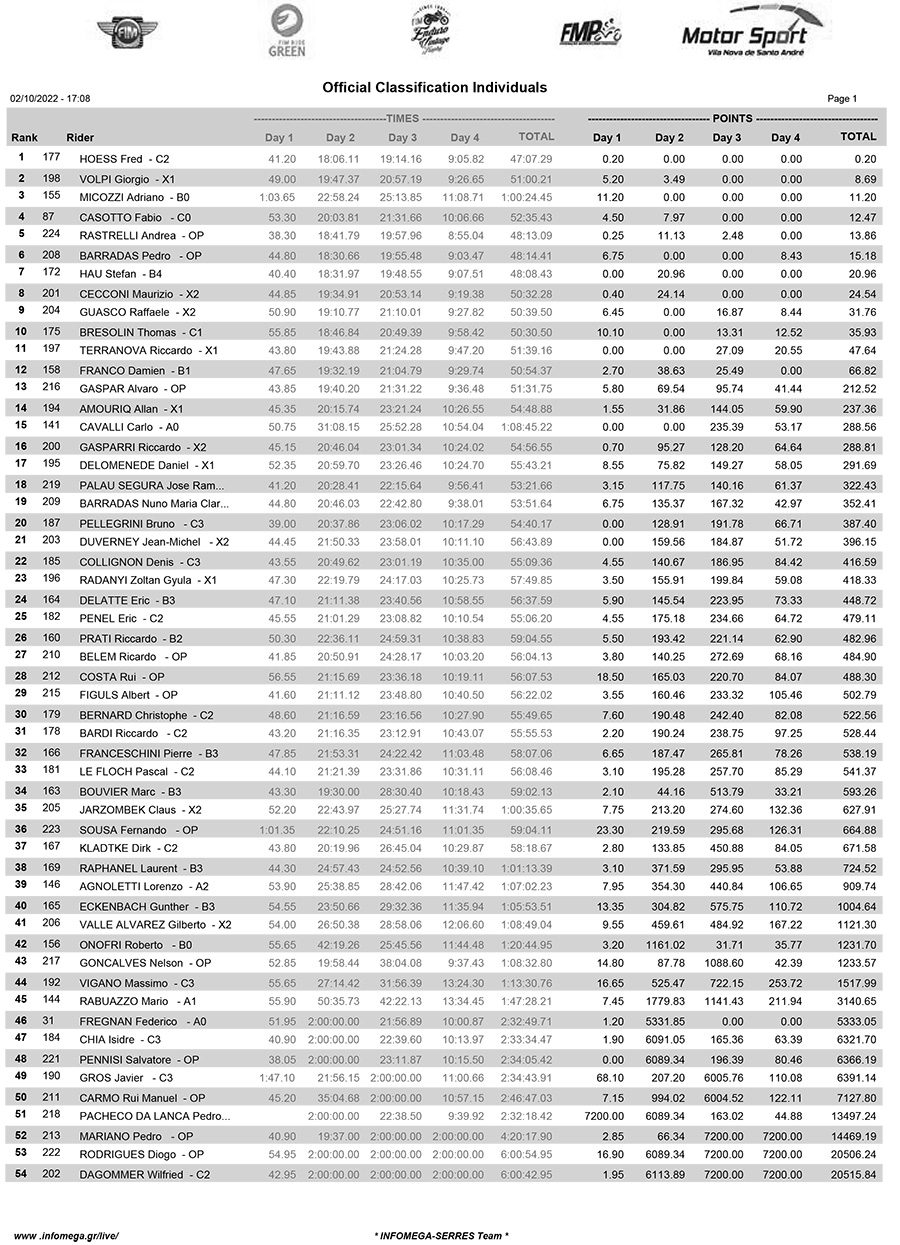 Photo Credit: Nuno Laranjeira