US Sprint Enduro: Girroir delivers at Promise land with 2023 title
Johnny Girroir clinches the 2023 US Sprint Enduro championship series two rounds early at Promised Land MX as Ruy Barbosa makes history as the first Pro2 rider taking the overall win on his Phoenix Honda 250.
FMF KTM's Johnny Girroir wrapped the US Sprint Enduro Series Championship Presented by Moose Racing in the Pro class two races early, claiming a second-placed overall finish at the Promised Land MX US Sprint Enduro, round six of the series in Oldtown, Maryland.
It was also a momentous round six for Ruy Barbosa who took his Phoenix Racing Honda 250 to the overall win in very difficult riding conditions on Sunday.
Free-for-all first day
During the two-day event in Maryland, Saturday was a free-for-all, as four riders went into the final test with a legitimate chance to win the day but it was RPM Racing's Angus Riordan who came from behind to take the victory by 0.6 seconds over Phoenix Honda Racing's Cody Barnes, both Pro 2 riders – quite different circumstances from the previous race.
The previous race in Virginia saw Riordan holding a 12-second lead going into the final test only to throw it away when he took a nasty crash. This weekend, four riders stood within five seconds of each other entering the final test with Riordan trailing Barnes by four seconds but then emerged the victor by 0.6 seconds for the day win.
"The final enduro course was getting really rutted and it was really rocky with a lot of exposed roots and in that last time through I just slowed it up a bit and rode smooth and I think I actually went faster," said Riordan. "I just got outside of the main lines and tried to square everything up and be smooth."
Current Pro-class points leader, FMF KTM's Johnny Girroir, was in that mix and came out fourth overall on Saturday. But finishing first Pro rider was more than enough to wrap up the '23 series title.
"It's good to get the title out of the way," said Girroir. "I was probably riding a little too cautious in the beginning. I was 1.2-seconds down going into that last test and I missed a line and got sideways in the rocks and they got me. I think I missed the overall by four seconds today, which is nothing. The title is the main objective, and we got that. It feels good to get it wrapped up."
Barbosa shines in the slime
Indeed, rain all night and through the morning left Sunday's course a slippery mess forcing the day to be shortened to four tests instead of six.
Shining in the slime, Ruy Barbosa won three of those four tests (two cross tests and one enduro test), to take the day win plus the overall win for the weekend, not to mention winning the Pro 2 division.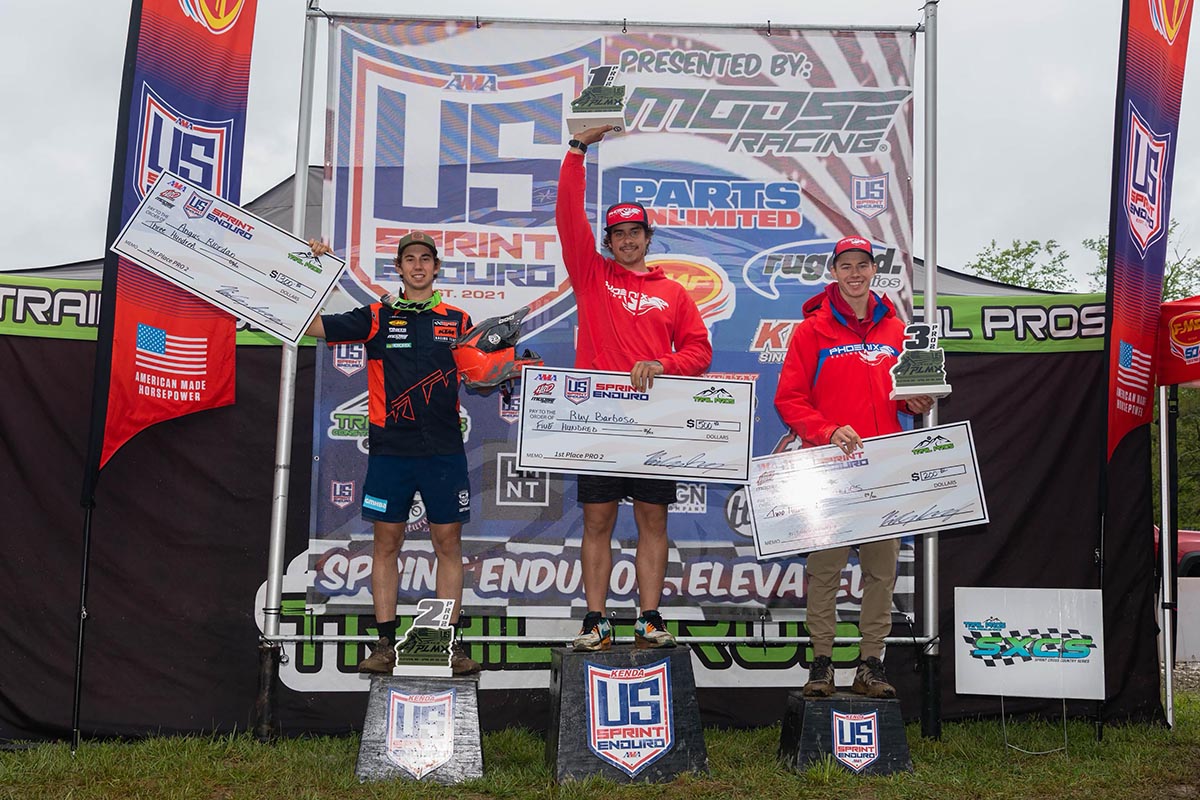 "Today was a really different day because all last night and this morning it was raining," said Barbosa. "I was just smart with the lines and got a good gap on the guys. I was on a 250 but I fight with the bike and I fight with the track and I get a good time and I win. I was riding really smart on the bike."
New champ Girroir was second on Sunday, followed by Riordan and Barnes for a repeat top four, albeit in a different order.
"The enduro test was pretty tough," said Girroir. "I rode conservatively, maybe too conservatively, but we had the title and that's what matters."
Husqvarna rider Gavin Simon was fifth overall and top ProAm rider. "I feel like I'm a mud rider and I just held it open all weekend and hoped for the best. I kind of zig-zagged across the ruts and just went for it," said Simon.
The next four riders were ProAm riders, Jason Tino (Hsq), Precision Offroad Racing's Dominik Morse, Cole Forbes (KTM) and Tyler Braniff (Yam).
Sam Forrester (Hsq) was the top Open A rider in 10th overall. AmPro Yamaha's Zach Osborne was 11th overall. Jeff Leatherwood was the top B rider.
Promised Land US Sprint Enduro overall results:
Gutish one minute clear of Archer for Women's Pro win
Over and Out Racing's Rachel Gutish won the Pro Women's division by over a minute ahead of Am Pro Yamaha's Rachel Archer for her first win of the season. The GASGAS rider also finished 17th overall for the weekend.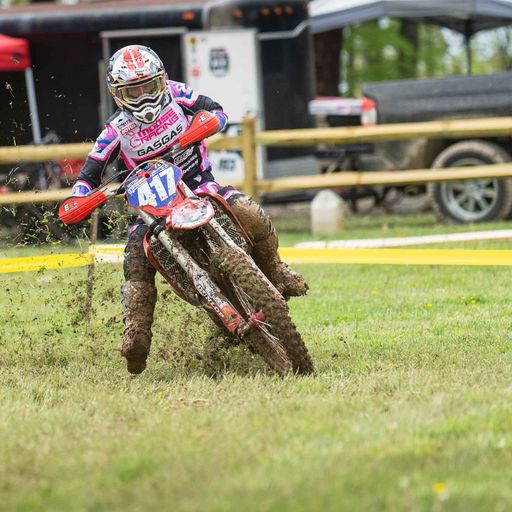 "I had a really strong ride this weekend, it was very technical and that is my strong point," said Gutish. "There was a rock garden and a lot of roots and I felt comfortable in those conditions. I felt I made up a lot of time in those areas and considering the amount of rain we got, I think it was a case of Archer having a lot of problems."
Gutish won three of the four tests on Sunday and four of the six tests on Saturday.
Youth round-up
In the Youth Divisions, rising star Austin Tsakanikas was once again the overall Youth winner for the weekend and first place in the Super Mini Senior (14-15) class, taking the victory on Saturday by almost three minutes over Austin Bittinger, with Tyler Yost another seven minutes back in third.
Tsakanikas cleaned house on Sunday as well, winning, by two and a half seconds over over Austin Bittenger to claim the overall. Austin frazier was third on Sunday. Tsakanikas also rode in the afternoon and took top amateur B results.
Sibling Mason Tsakanikas topped Ryan Smith by 2.7 minutes on Saturday to win the Super Mini Junior (12-13 division) and then returned on Sunday to top Yost again for the overall with Trace Yost finishing third.
Brenan Mazzola beat Logan Shafer by almost three minutes to win the 85 Sr (12-15) division in the dry on Saturday, On Sunday, in the mud, Mazzola was first ahead of Shafer with Daniel Moore in third,
Brody Boland topped the 85 Junior division on Saturday by 1:41 minutes over Noland Hudson with Nathaniel Oswald in third, another four seconds back. On Sunday, in the rain, it was Broland, Oswald and Hudson, giving Broland the overall.
Rylan Roberts topped Rylan Engle on Saturday to top the 65 Senior class by nearly nine minutes, with Donnie Ryan another three-and-a-half minutes back. On Sunday, the results came in the same order, Roberts, Engle and Ryan,
Lola Grozbean took a big win over Nicole Rupert by 22 seconds to win Saturday's Girls (10-16) division, while Kate Ansley rode hard to finish third another two minutes back. On Sunday, Lola took the win again over Rupert, but this time Josie Grozbean was third.
In the 65 Junior class, Colt Chaney topped Aubrey Tsakanikas on Saturday with Mason Ramsey in third, Sunday was an exact duplicate of Saturday's results.
The Trail Bike class is growing and on Saturday, Jackson Mackenzie took the win over Eli Ketterling and Jaxon Bittinger. On Sunday,Gavin Frazier took then win over Mackenzie with Ketterling in third.
In one of the largest morning classes, the 50 Senior (7-8) division, James Dietrich took Saturday's win over Oliver Stewart and Maura Tsakanikas. On Sunday, Tsakanikas came on strong to get the win over
The 50cc Junior division (4-6) class was a battle between Carson Zink and John Dietrich, with Zink getting the win. On Sunday, Zind won agina with Dietrich in second and Gracelyn Bunch finishing third.
The US Sprint Enduro Series resumes action on May 27-28 for the High Voltage Sprint Enduro in Dilliner, Pennsylvania, for round seven of the series.
More information: www.ussprintenduro.com
Words Credit: Shan Moore
Photo Credit: Mack Faint